OWC
Type F

3-Pin Power Cable
3-Foot Length
Outside the USA?
Have an
OWC Mercury Qx2
,
OWC ThunderBay 4
, or
OWC Mercury Rack Pro
and looking to use it internationally? Simply replace the included US power cord with this 3-prong type F replacement power cord commonly used in Europe, Germany, Austria, the Netherlands and Russia.
The standard PC connector (IEC C13) cable was made commonplace by PC power supplies. Today, they can be found providing power connections for many different products such as computers, monitors, printer, projectors and HDTV's.
This cable end fits this type of outlet: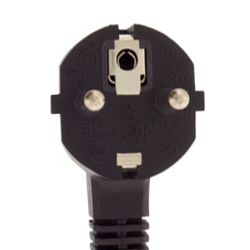 This cable end fits this type of port: