OWC
960GB




Mercury Electra™ MAX 3G SSD


2.5" Serial-ATA 9.5mm Solid State Drive
Used | OWC Tested
The Workhorse of Choice for Photography and A/V Pros
When you need the highest levels of capacity and speed, the Electra MAX 960GB SSD is the pro user's choice. Built for demanding everyday real-world uses, this big, fast SSD delivers the performance you can count on.
The Mercury SSD line features:
DuraWrite™ extends the endurance of your Solid State Drive (SSD).
Intelligent Block Management & Wear Leveling automatically distributes data evenly across the entire SSD.
Intelligent Read Disturb Management spreads the active read/write across the flash components eliminating data corruption caused by constant use.
Intelligent "Recycling" for advanced free space management gradually re-writes data across the SSD over time to ensure data never gets corrupted.
RAISE™ (Redundant Array of Independent Silicon Elements) protects the data on your drive similar to having a RAID setup.
Best-in-Class ECC Protection for longest data retention and drive life.
For more information on OWC return policies,
click here.
This internal 2.5" SATA SSD delivers the highest transfer speed, endurance, and performance available today.

With sustained reads up to 254MB/s and writes up to 250MB/s, up to 100X greater data protection than enterprise class Hard Disk Drives, and RAISE technology for RAID like data protection and reliability, the OWC 960GB Mercury Electra MAX 3G SSD line delivers unbeatable performance. It's also designed and built in the U.S. from domestic and imported parts.
High Performance Internal Storage
Replace your conventional hard drive with a reliable solid state drive. Unlike traditional hard disk drives, OWC SSDs have no moving parts, resulting in a quiet, cool, and highly rugged storage solution that also offers near instantaneous system response.
Note: This drive is designed for use in Mac and PC systems and is not supported or recommended for use in external, bus-powered enclosures. This drive is supported for use in external enclosures that utilize a power source Independent from the interface bus.

Dual bay units such as the Mercury Elite Dual Mini and the Guardian Maximus Mini do NOT support two 960GB Mercury Electra MAX SSDs simultaneously, even when utilizing a power supply.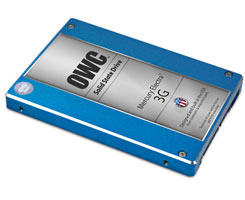 Highlights
One of the fastest Internal SATA 2.5″ SSDs available.
Designed and built in the USA from domestic and imported parts.
OWC's SSD vs HDD Shootout!
OWC's A Closer Look