OWC
200GB

Mercury Enterprise® Pro 6G SSD
2.5" Serial-ATA 9.5mm Solid State Drive
Offers Highest Storage Performance and Reliability for:
Mission Critical 24/7 Server usage
I/O-intensive storage arrays and high-end workstations
Small to medium-sized businesses (SMB)
Professional media creation/editing industries
OWC's Mercury Enterprise Pro 6G Solid State Drives are designed and built for mission-critical deployments that demand the highest performance and data reliability. With data rates exceeding 500MB/s, up to 100x greater data protection, and up to 90% lower Total Cost of Ownership (TCO) compared to the highest-rated hard disk drives, the Mercury Enterprise Pro 6G SSD is the new standard of Enterprise-class storage.
Proprietary OWC Paratus™ Power Technology ensures any existing writes will be committed/retired to prevent data loss and the drive will be shut down properly during an unexpected power interruption.
Enterprise class processor maximizes high-density NAND flash memory performance
Toshiba Enterprise Toggle Synchronous (eMLC) 10K PE NAND Flash Storage for more than 3x the reliability and lifespan of standard MLC NAND
Maintains highest levels of balanced read/write performance (up to 60K IOPS & over 500MB/s data rates)
SATA Revision 3.0 (6Gb/s) interface with NCQ
Qualified for use with all RAID levels
Built Specifically to Handle I/O Intensive, Mission Critical Uses
Designed for I/O-intensive enterprise servers, storage arrays, and high-end workstations as well as small to medium-sized businesses (SMB) in the financial, telecom, web/mail, gaming, public security, retail, and professional media creation/editing industries, the Mercury Enterprise Pro 6G is ideal for:
Highest performance, lowest latency
Intense input/output (I/O) workloads
Online transaction processing (OLTP)
Data warehousing, data mining, and web serving
Dynamic tiered storage solutions
Transaction intense Tier 0 storage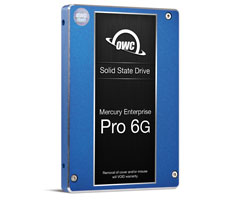 Highlights
One of the fastest Internal SATA 2.5″ SSDs available.
OWC's SSD vs HDD Shootout!
OWC's A Closer Look
ROI as Fast as the Drive
By deploying Mercury Enterprise Pro 6G SSDs for an I/O-intensive task such as an Extract Transform Load (ETL) process, an IT department can reduce data sessions involving up to 25 million records from eight hours to two hours. With six hours of newfound data analysis, an IT staff can execute multiple sessions on the same day. That's a competitive advantage that can be used to deliver an immediate ROI impact on the bottom line.
Double the Data Security
Highest-level security protocols are used to ensure data stored in the Mercury Enterprise Pro 6G is safe from loss, theft, or repurposing. Data is automatically stored in a highly secure AES-128 hardware double encrypted format.
Up to 90 Percent Lower Total Cost of Ownership
The Mercury Enterprise Pro 6G offers up to 90% lower TCO compared to traditional hard drives because fewer SSDs are required to achieve the same IOPS performance level that multiple hard drives provide. With fewer drives required: