Mercury EXTREME™ Pro RE 3G SSD 50GB
SATA 3.0Gb/s Solid State Drive
High-Performance Storage for Power Users and RAID environments.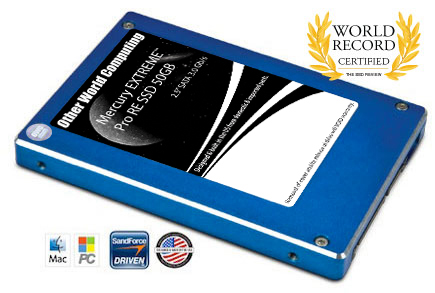 When only the fastest and most reliable Solid State Drive on the market today will suffice for your data storage and backup, look no further than the OWC Mercury EXTREME Pro RE 3G SSD.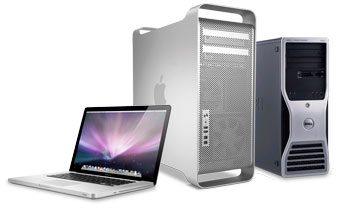 Get maximum mobile performance and battery life from your notebook.
Turn your Mac Pro or PC desktop into an EXTREME performance single drive or RAID workstation.
---
The Mercury EXTREME Pro 3G SSD line features industry leading SandForce® DuraClass™ Technologies:
DuraWrite™ extends the endurance of your Solid State Drive (SSD).
Intelligent Block Management & Wear Leveling automatically distributes data evenly across the entire SSD.
Intelligent Read Disturb Management spreads the active read/write across the flash components eliminating data corruption caused by constant use.
Intelligent "Recycling" for advanced free space management gradually re-writes data across the SSD over time to ensure data never gets corrupted.
RAISE™ (Redundant Array of Independent Silicon Elements) protects the data on your drive similar to having a RAID setup.
Best-in-Class ECC Protection for longest data retention and drive life.
---
This internal 2.5" SATA SSD uses a high performance SandForce Driven™ processor with DuraClass™ technology to deliver the highest transfer speed, endurance, performance, and power efficiency available today.

With sustained read and write times over 260MB/s, up to 100X greater data protection than enterprise class HD's, and RAISE™ technology for RAID like data protection and reliability, the OWC Mercury EXTREME Pro 3G SSD line delivers unbeatable performance that's designed and built in the U.S. from domestic and imported parts and backed by a three year warranty.

Adding to...
a Mac Pro HDD bay?
Adding to...
a 5.25" optical bay?
Adding to...
a laptop optical bay?


Use the OWC Mount Pro 2.5" to 3.5" SATA / SSD HDD Converter Tray!


Use the OWC Multi-Mount Hard Drive adapter brackets!

Use the OWC Data Doubler Optical Bay Hard Drive/SSD Mounting Solution!
Consistently Fast & Reliable
28% Enterprise class over-provisioning along with RAISE technology offers real-time redundancy and data protection against data loss from flash cell failure. The over-provisioning provides exclusive capacity for wear-leveling and cell replacement so you can enjoy years of reliable, high-data load operation without any performance compromise.
No Risk, No Hassle 30-Day Money Back Guarantee.
For more information on OWC return policies, click here.