OWC
120GB




Mercury Accelsior™


PCI Express Solid State Drive
No drivers* are required making Accelsior a simple
Plug and Play bootable solution.
3 Year Warranty
One Of The Easiest Upgrades You Can Install
If you can install a memory module, you'll find adding this high-performance card into your desktop/tower machine a breeze. By utilizing the fastest data interface available in a Apple Mac® Pro or PC-the PCIe slot-Mercury Accelsior offers nearly 3x faster performance than a 3Gb/s SSD...and beyond even 6Gb/s SSDs!
Experience supercharged speeds up to 758MB/s read and 743MB/s write and stop waiting for I/O-intensive apps like Photoshop, Final Cut Pro, or Avid Pro Tools to render, capture or process. With up to 100K IOP/s, business critical applications are given an instant boost while Accelsior's extreme performance speed dramatically reduces game level-loading, object streaming, and save times for more play time and less waiting.
Mac and PC Bootable with No Driver* Setup
Bootable on PCs and the only Mac-bootable/supported PCIe SSD available, Mercury Accelsior delivers near instant startup and app launching. And with a driverless* setup, it's truly a Plug and Play, high-performance solution
A More Efficient & Reliable Computing Experience
Massively boosting data transfer rates is only one of the benefits to the Mercury Accelsior. With its SandForce Driven™ SSDs, you'll enjoy a more responsive and productive computing experience, cooler and quieter processing, and greater energy efficiency compared to standard hard drives.
User Friendly, Professionally Robust
Simple enough for mainstream business use, yet robust enough for professional multimedia production environments, the OWC Mercury Accelsior is the clear choice for pro audio and video studios producing HD-quality work. This game changing performance upgrade is designed and built in the U.S. from domestic and imported parts and backed by a three-year warranty.
The Mercury SSD line features industry leading SandForce® DuraClass™ Technologies:
DuraWrite™ extends the endurance of your Solid State Drive (SSD).
Intelligent Block Management & Wear Leveling automatically distributes data evenly across the entire SSD.
Intelligent Read Disturb Management spreads the active read/write across the flash components eliminating data corruption caused by constant use.
Intelligent "Recycling" for advanced free space management gradually re-writes data across the SSD over time to ensure data never gets corrupted.
RAISE™ (Redundant Array of Independent Silicon Elements) protects the data on your drive similar to having a RAID setup.
Best-in-Class ECC Protection for longest data retention and drive life.
Accelsior Now Supports Sleep Mode!
We're pleased to offer
this driver
that enables Accelsior to be used as an OS X start-up/boot volume in a Mac Pro or Xserve.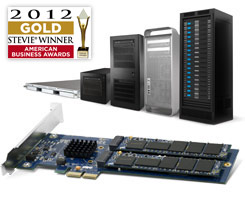 Highlights
The only Mac bootable, Mac supported PCIe SSD available
Easy, no drivers* required installation
Dual LSI® SandForce SF-228X processors
Sustained Data Transfer Rates of up to 758MB/s read and 743MB/s write
Features High-Performance, Tier 1 Synchronous-NAND
Up to 960GB Capacity Today
Upgradeable to Future Released Higher Capacities
May also be used in external Thunderbolt expansion chassis.
3-year warranty
OWC's SSD vs HDD Shootout!
OWC's A Closer Look
Note about compatibility and throughput:
Compatibility:

Fully compatible with Mac Pros and PCs offering an available PCIe 2.0 x4 slot or better.

For full throughput on PCs:

PCIe 2.0 x4 slot or better is required. Use of a PCIe 1.0 x4 slot will reduce performance.

For full throughput on Mac Pros:

2009-2010 Installing Accelsior into any open x4 or x16 PCIe 2.0 slot will deliver full throughput up to 785MB/s.

2008 Mac Pros have two x16 PCIe 2.0 slots, which enable Acceslsior to deliver full throughput up to 785MB/s. Installing Accelsior into of the two x4 PCIe 1.0 slots will result in Accelsior being addressed as a gen one, one-lane card with performance limited to real world 190-200MB/s data rates.

2006-2007 Mac Pros utilize PCIe 1.0 slot which cannot be configured (even with the Expansion Utility in OS X) to address Accelsior as anything but as a first generation one-lane card. As a result, Accelsior performance will be limited to 190-200MB/s data rates. If maximum data rate speed up to 285MB/s is desired, we recommend the installation of a 2.5" OWC Mercury SSD in an open Mac Pro drive bay.
Note: The use of two or more Accelsior SSDs requires OS X 10.6.8 or later.
Note: Bootcamp: 2008 Mac Pro (with model ID MacPro3,1) only supported in PCIe slots #3 & #4. All models: To boot Windows via Bootcamp on Accelsior, only one Accelsior SSD can be installed.
Note: 2006 - 2008 Mac Pros (model identifiers MacPro1,1; MacPro2,1; MacPro3,1): Due to an Apple limitation, any volume located on a Mercury Accelsior SSD will not appear in the "option boot" menu. A volume installed on an Accelsior can be set as the Mac Pro's boot volume through the "Startup Disk" pane in System Preferences.
Currently not supported for use in: Dell PowerEdge R620, T620 & HP DL 380 G7
120GB Mercury Accelsior PCI Express SSD Specifications:
Specifications
Controller
Dual LSI® SandForce SF-2281 series processors with 7% Over Provisioning
NAND
Tier 1 Major Multi-Level Cell (MLC) High-Performance Sync-NAND Flash
Form Factor
Low Profile PCI Express
Interface
PCIe 2.0 x2
Capacity1
120GB useable capacity
Total Flash Memory Components - 128GB
8GB allocated to real-time data redundancy & error correction
Formatted Capacity2
111GiB
SMART Attributes
Standard
Native Command Queuing
up to 32 commands
AHCI Compliant
Plug and Play installation, no drivers* required
Manufacturer Model Number
OWCSSDPHW2R120
RoHS Compliant
Yes
Format
Physical
Height (max)
120mm (4.74″)
Width (max)
20.7mm (0.81″)
Length (max)
180mm (7.1″)
Weight
85 grams +/- 4 grams
0.18 lbs +/- 3.0 oz
Reliability3
Data Reliability
ECC Recovery: Up to 55 bytes correctable per 512-byte sector
Security
Chip Based Data Encryption: 128-bit AES-compliant
Warranty
Performance4
Sustained Sandy Bridge
Reads (up to)
758MB/s
Sustained Sandy Bridge
Writes (up to)
743MB/s
Sustained Ivy Bridge
Reads (up to)
761MB/s
Sustained Ivy Bridge
Writes (up to)
761MB/s
Random 4K Read
Up to 100,000 IOPS
Random 4K Write
Up to 100,000 IOPS
Write Latency
less than 0.1ms
Read Latency
less than 0.1ms
Environmental (Operating)
Temperature (°F)
32°F to 158°F
Temperature (°C)
0°C to 70°C
Environmental (Non-Operating)
Temperature (°F)
-67°F to 302°F
Temperature (°C)
-55°C to 150°C
Acoustics
Idle (Typical)
0.0 bels
Seek (Typical)
0.0 bels
Operating System Compatibility5
Windows
Vista and higher
Server 2008 and higher
Mac OS X
10.6 and higher
Mac OS X Server
10.6 and higher
Ubuntu Linux
9.04 and higher
Fedora Linux
14 and higher
Manual
Benchmarks
Click any of the benchmarks below to view the results.