OWC
Thunderbolt 2 Dock
Thunderbolt 2 | USB 3.1 Gen 1 | FireWire 800 | HDMI Gigabit Ethernet | Audio In & Out
12 Ports of incredible connectivity
Dual Thunderbolt 2 ports for daisy-chain support
For all Thunderbolt & Thunderbolt 2 equipped Macs
Ultra-HD 4K and multiple display support
5 USB 3.1 Gen 1 ports, including 2 high-power ports
FireWire 800 for storage and legacy devices
Finally, a Thunderbolt Dock Done Right
12 Ports of phenomenal flexibility, all united to your Mac with just one lightning-fast Thunderbolt 2 cable. OWC Thunderbolt 2 Dock is the new foundation for your perfect workspace. Awesome performance meets incredible connectivity, the OWC Thunderbolt 2 Dock offers the ultimate in convenience and flexibility to streamline any workflow. With just one Thunderbolt cable, connect up to five USB 3.1 Gen 1 devices, Gigabit Ethernet, a FireWire device, HDMI, audio in, and audio out.
The Amazing Performance of Thunderbolt 2
Capable of an astounding 20 Gbps of throughput, the OWC Thunderbolt 2 Dock utilizes this phenomenal bandwidth to eliminate data bottlenecks, and effortlessly supports direct connection of up to ten devices, as well as daisy-chaining five additional Thunderbolt devices.
Connect More Displays
Configure the ultimate display setup to meet the needs of your workflow. Add a dazzling ultra HD 4K display, two high definition displays, or one 4K display and one high definition display. Even connect a VGA, DVI, or DisplayPort monitor utilizing the Thunderbolt 2 Dock's built-in HDMI and Thunderbolt ports.*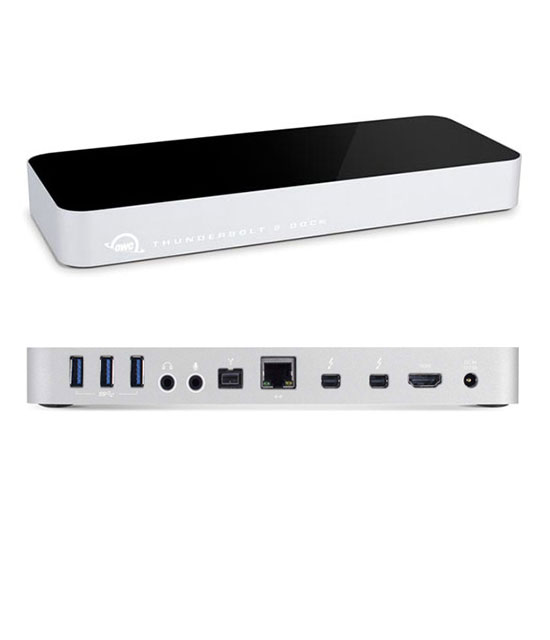 OWC's upcoming Thunderbolt 2 Dock puts all other docks to shame. Derek Kessler, iMore.com & Managing Editor of Mobile Nations
More Power to Work
The Thunderbolt 2 Dock features 5 fully-powered USB 3.1 Gen 1 ports for powering hard drives, SSDs, or optical drives, including 2 side-mounted, high-powered ports providing up to 1.5 Amps of power – perfect for charging iPhone, iPad, tablets, smartphones, and other USB-charged devices.
Everything You Need in a Dock. And More.
The OWC Thunderbolt 2 Dock is the unmatched expansion platform for your Thunderbolt-equipped Mac, with exceptional connectivity, and dependable performance. Whether adding USB 3.1 Gen 1 to an older Mac, Gigabit Ethernet to a newer MacBook Pro, or ensuring backwards compatibility with your existing FireWire 800 peripherals, the Thunderbolt 2 Dock keeps you connected.*Dual monitor support requires the use of at least one Thunderbolt display. If you connect a display to the HDMI port, then the only display that will work through the Thunderbolt port is a Thunderbolt display. If you are not using the HDMI port, then you can use a Mini Display Port cable or adapter to connect a display to the Thunderbolt port.
OWC Thunderbolt 2 Dock Specifications:
Chipset
Interface / Ports
2 x Thunderbolt 2 (20 Gb/s)1
5 x USB 3.1 Gen 1 (5 Gb/s)

(3) USB 3.1 Gen 1
(2) USB 3.1 Gen 1 high-power charging

1 x FireWire 800
1 x HDMI 1.4b
1 x Gigabit Ethernet
1 x 3.5mm Mono Audio Input
1 x 3.5mm Stereo Audio Output
Power Supply
Universal auto-switching
Input: AC 100-240V
Output: 12V 6.0A
Adapter plugs for international use sold separately.
Display Support
DisplayPort 1.2 with support for up to 4K/60Hz, or HDMI 1.4b with support for up to 4K/30Hz
Max Data Rate
System Requirements
Works with any Thunderbolt or Thunderbolt 2 equipped Mac running OS X 10.9.4 or later
Windows is not supported
Dimensions
Width: 9.05 in / 23 cm
Height: 0.98 in / 2.5 cm
Depth: 3.54 in / 9 cm
Weight
Product Drivers
High-power USB support is required for compatibility with the Apple SuperDrive and Apple USB keyboard, and is required to enable high-speed charging for Apple iPads, iPhones and other higher-power capable devices. To enable high-power USB support, an easy software update is required, including restart following this installation. Click here to download
Notes
Dual monitor support requires the use of at least one Thunderbolt display.
DVI, VGA, DisplayPort, or other connection requires the use of a mini DisplayPort adapter.
USB 3.1 Gen 1 ports are only bootable on Mid 2013 and later Macs.
Thunderbolt, FireWire, and Ethernet are bootable on all Macs with a Thunderbolt port.
1. One Thunderbolt 2 port must be connected to the computer.