OWC
Envoy Pro EX
Thunderbolt 3
240GB External Solid-state Drive
Mac / PC / Thunderbolt 3
Your Future is Faster
Envoy Pro EX Thunderbolt 3 is the extreme performance portable SSD that works as fast as you do.

Super fast, portable, bus-powered and bootable, all at the phenomenal speed of Thunderbolt 3 — up to 40 Gbps. Rugged, stylish, and compact, Envoy Pro EX Thunderbolt 3 delivers professional-grade portable SSD performance, wherever you are. And with an integrated cable, it's the perfect package to match your Thunderbolt 3 workflow on site, on set, or in the wilderness.
Faster than anything before
The phenomenal new Envoy Pro EX Thunderbolt 3 is fast, capable of a total bandwidth of 40Gb/s and a sustained data rate up to 2600MB/s. The secret is the perfect combination of phenomenal bandwidth offered by the Thunderbolt 3 interface and ultra high-performance single-blade M.2 SSD, wrapped up in the rugged, stylish Envoy Pro EX enclosure. Now you can work in real-time with the most I/O heavy transfer tasks like working directly with multistream video.
Tough enough to keep up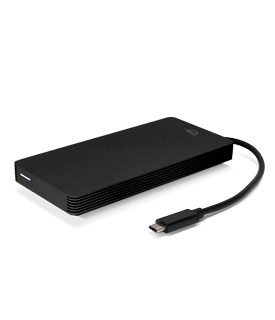 A portable drive isn't much good if it can't handle what you throw at it. Envoy Pro EX Thunderbolt 3 excels at keeping on keeping on. Fully bus powered, and with no moving parts, it's already light years ahead of the competition. Add into the equation MIL-STD-810G drop test compliance, and you've got a true portable powerhouse that won't let you down on the road.
It's the drive you need.
Whether you need a high-performance project drive to edit dailies on set, or a perfect, portable boot drive, Envoy Pro EX Thunderbolt 3 has you covered, doing double duty as both. Designed for details, it always runs cool and quiet, and looks great in matte black. And with the integrated Thunderbolt 3 cable, you're always ready to go. Available in multiple capacities, there's an Envoy Pro EX Thunderbolt 3 designed to suit your portable Thunderbolt 3 workflow.
Product Specifications:
OS Requirements
macOS 10.13
Windows 10
Windows Server 2016
Hardware Requirements
Total Capacity
Device Port
(1) Thunderbolt 3 Integrated (Captive) Cable
Performance
Read: Up to 2600MB/s
Write: Up to 1600MB/s
Interface (chipset)
Thunderbolt 3 (Intel DSL 6340)
Drive Interface
I/O Bandwidth
Plug and Play Support
Environment
Environmental (Operating)

Temperature (°F) 32° — 158°
Temperature (°C) 0° — 70°

Environmental (Non-Operating)

Temperature (°F) −40° — 167°
Temperature (°C) −40° — 75°
Dimensions
Height: 65 mm (2.6 in)
Width: 292 mm (11.5 in)
Length: 20 mm (0.8 in)
Cable Length: 150 mm (5.9 in)
Weight
Manufacturer provided specifications for Other World Computing p/n TB3ENVPR02 UPC#: 812437025675
NOTE: The Envoy Pro EX with Thunderbolt 3 cannot be used with Thunderbolt/Thunderbolt 2 enabled systems via the the Apple Thunderbolt 3 (USB-C) to Thunderbolt 2 Adapter. The Apple adapter does not support Thunderbolt 3 or USB-C devices with captive cables.
Includes
OWC Envoy Pro EX with captive Thunderbolt 3 cable
Carrying case
User guide