OWC
New Condition | Open Box
The best networking, media, and docking for pro video production and demanding data workflows.
High-Bandwidth and Flexibility for Demanding Hi-Res Needs
Pro-level docking stations should be ready to handle any situation that you encounter in a production workflow. The OWC Thunderbolt 3 Pro Dock is your on-location and post production "mission control" with an unrivaled combination of super-fast 10Gb Ethernet, CFast and SD card readers, two Thunderbolt 3 ports, three USB 3.1 ports, and full support for eSATA devices and drives.

With this unique productivity configuration, you can upload and work with 4/8K RAW video and RAW photo files immediately at speeds up to 370MB/s. Collaborate in a shared workflow environment via the 10Gb Ethernet port to keep your projects streaming from file setup to final renders with headroom to spare. Add a second 4K monitor via the DisplayPort interface or a 5K monitor connected to the second Thunderbolt 3 port. Daisy chain up to six Thunderbolt devices. All while powering your laptop and managing the typical USB 3.1 devices you need to get the job done.
Add Media Versatility to DIT Carts
When you're on location, your cart needs the power of versatility. With conveniently accessible front-side CFast and SD 4.0 card readers, the Thunderbolt 3 Pro Dock helps you manage multiple card uploads efficiently. It's a huge asset when you're covering live events like conferences, festivals, and concerts where you're working with multiple videographers and photographers.
See More, Access More
Need more work view space? Need to access a large on-location DAS drive? No problem. The Thunderbolt 3 Pro Dock offers a DisplayPort for adding another 4K display, plus additional ports including an eSATA port with port multiplier support, so you can access multiple drives within a multi-bay RAID.
Pro Audio Video AVB Ready
Time-sensitive data such as audio and video media streams require Audio Video Bridging (IEEE 802.1Qav, AVB) ready gear. No sweat…you can stream vast volumes of high-quality data to multiple destinations in real-time with very low latency over existing network cable via the Thunderbolt 3 Pro Dock's 10Gb Ethernet port.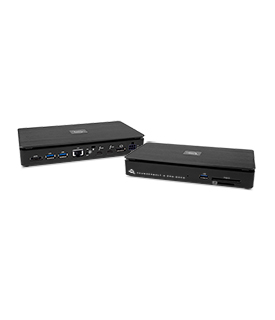 Highlights
Lightning-fast 40Gb/s transfer speeds: (2) Thunderbolt 3 ports
Easy media ingest at speeds up to 370MB/s: CFast 2.0 Card Reader and SD 4.0 Card Reader
Bandwidth to edit from your server: 10Gb/s Ethernet port
AVB ready: perfect for use in pro audio and video applications where synchronization of data streams is critical
Power while working: notebook charging via Thunderbolt 3
Connect your peripherals: (3) USB 3.1 Gen 1 ports
See your work: Connect two 4K displays or one 5K display
Securely powered: locking power connection
Multi-bay external drive access: eSATA port with port multiplier support
Thunderbolt certified for Mac and Windows
Small Footprint, Big Connections
Sized similarly to a single external drive enclosure, the Thunderbolt 3 Pro Dock's aluminum case helps keep cart weight streamlined while easily fitting into a cart drawer or small box during cart breakdown.
With two Thunderbolt 3 ports, the Thunderbolt 3 Pro Dock offers incredible potential to connect multiple devices to take on the biggest projects. You can daisy-chain up to 6 Thunderbolt devices to the Thunderbolt 3 Pro Dock for studio-level storage, RAID arrays, eGPUs for graphics processing, or all of these combined and connected at 40Gb/s bandwidth.
Discover new ways to meet the challenges of any workflow:
Thunderbolt 3 Pro Dock + Thunderblade = the ultimate on-site workflow drive
Thunderbolt 3 Pro Dock + ThunderBay = high capacity RAID workstation
Thunderbolt 3 Pro Dock + OWC Express 4M2 = compact, customizable 4-bay RAID array
Thunderbolt 3 Pro Dock + Envoy Pro EX (VE) = rugged capture kit for video pros
Thunderbolt 3 Pro Dock + Mercury Helios FX = high-end graphics process workstation
Download the
OWC guide to daisy-chaining
to learn tips and tricks for the best connections.
Conquers Workflows and Combats Clutter
When you're back in your office or studio, the Thunderbolt 3 Pro Dock has the power and ports you need to manage your workflow and take control of your workspace. The Thunderbolt 3 Pro Dock is compact, so you can comfortably manage your peripherals and keep your workspace free of clutter. Its 10Gb Ethernet connection keeps you connected at top speeds, and with 60W charging power, your notebook is charged up and ready to move.
The right ports, right where you need them
Our engineers evaluated thousands of possibilities in discovering the optimal port configuration for nearly any environment. With its 10 ports of connectivity thoughtfully placed, the Thunderbolt 3 Pro Dock delivers convenience while keeping desktops clutter–free. The docking station's front is designed for the easy connection of your portable devices and media cards, while the rear features a multitude of ports for your static devices so cables stay out of sight.
Front-facing:
(1) USB-A (USB 3.1 Gen 1) port
(1) SD card reader slot
(1) CFast 2.0 card reader slot
Rear-facing:
(2) Thunderbolt 3 (USB-C) ports
(1) DisplayPort 1.2 port
(2) USB-A (USB 3.1 Gen 1) ports
(1) 10 Gigabit Ethernet port
(1) eSATA port
Safely Disconnect Drives with a Click
The Thunderbolt 3 Pro Dock comes with the
OWC Dock Ejector
software to safely disconnect all connected drives in a single click. An exclusive OWC engineering design, Dock Ejector ensures all data is written before disconnection while saving time and protecting against data loss.