OWC ThunderBay 4 mini
RAID 5 Edition
4.0TB

4-bay external drive
Dual Thunderbolt 2 | RAID 5 | 4 Drive Bays | Mac
Performance + Redundancy
Experience the first and only software RAID 5 technology developed for the Mac with the ThunderBay 4 mini RAID 5 Edition. Optimized for 2.5" drives and perfect for SSDs, ThunderBay 4 mini RAID 5 Edition delivers outstanding performance and reliability for the most demanding applications, including workflows involving 4K, 2K, uncompressed HD, and multi-stream SD video.
Up to 400MB/s read / 390MB/s write sustained RAID 5 performance
Up to 532MB/s read / 520MB/s write sustained RAID 0 performance
Preconfigured in RAID 5 for optimal data redundancy
75% faster rebuild times than hardware RAID
---
Do more with a ThunderBay enhanced workflow.
Expand production capabilities for industry-leading creative platforms like Final Cut X, Avid Pro Tools, and Adobe Lightroom with this incredibly fast and portable 4-bay storage solution. ThunderBay 4 mini RAID 5 Edition is preconfigured in RAID 5 and supports RAID 0, 1, 4, and 1+0 arrays to achieve the optimal balance of storage, performance, and data-redundancy your workflow demands.
The RAID 5 Advantage
With RAID 5, the four drives inside ThunderBay 4 mini are merged for increased capacity and tremendous performance gains over a single drive. Special redundancy data, called "parity information," is also stored across the drives, allowing your data to remain completely safe so you can maintain your mission critical workflows worry-free.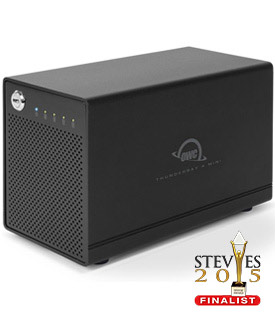 OWC award-winning U.S. based support for both the ThunderBay 4 drive and SoftRAID software is included with your purchase.
3 Year OWC Solution Limited Warranty
Thinking Outside the Enclosure
OWC unlocks the incredible performance and flexibility of ThunderBay by pairing the drives with a robust software RAID solution. Powered by the SoftRAID engine, ThunderBay 4 mini RAID 5 Edition delivers advanced RAID modes, real-time health monitoring with email notifications, and best-in-class rebuild speeds. Unlike traditional software RAID solutions, SoftRAID 5 for ThunderBay's revolutionary volume optimization allows you to quickly configure your drive for specific workflows. Now, you can experience the absolute best performance whether recording audio, editing 4K video, or creating a multimedia server.
Flexible and Robust
Take full advantage of the flexibility offered by the ThunderBay 4 mini and SoftRAID engine. Easily build and reconfigure complex RAID arrays, or connect multiple ThunderBays to create even larger RAIDs with up to 16 drives for optimal performance and redundancy. Now, users can enjoy robust RAID options with near enterprise-grade storage and performance for a fraction of the cost.
Certified and tested.
Each ThunderBay undergoes OWC's regimented multi-hour drive "burn-in" to ensure you experience the amazing performance of your drive right out the box.
---
4 drive bays plus so much more.

Cool + Whisper Quiet
A durable, heat-dissipating, aluminum unibody shell features a "flow-thru" vented design coupled with a 60 mm whisper-quiet fan.

4K Display Support
Dual Thunderbolt 2 ports let you connect any display that your computer can support, including 4K displays.

Vibration Dampened
ThunderBay's drive isolating design reduces sonic resonance, and is aided by rugged, vibration-absorbing, non-skid feet.

Flexible Expansion
Daisy-chain up to six ThunderBays on a single Thunderbolt port for expansive storage, RAID, and performance options.

OWC Thunderbolt Cable
ThunderBay comes with an OWC one-meter certified Thunderbolt cable, with other lengths from 0.5 meter to 30 meters available separately.