OWC ThunderBay IV
RAID 5 Edition
12.0TB

4-bay external drive
Dual Thunderbolt | RAID 5 | 4 Drive Bays | Mac
Performance + Redundancy
Experience the first and only software RAID 5 technology developed for the Mac with the ThunderBay IV RAID 5 Edition. Empower your workflow with up to 35% faster RAID 5 performance and exponentially faster rebuild times than comparable hardware based RAID arrays.
Up to 675MB/s read and 618MB/s write RAID 5 performance.
Up to 895MB/s read and 862MB/s write RAID 0 performance.
Exponentially faster rebuild times than hardware RAID.
Activate advanced features, such as drive monitoring, e-mail notifications, and more when you install the included SoftRAID for OS X.
---
Conventional wisdom turned on its head.
Hardware RAID has long been thought to be superior to software RAID, but we've now combined the massive performance and capacity of ThunderBay IV with a robust, proven software RAID engine to provide breathtaking performance, flexibility, and reliability.
Software RAID + ThunderBay = WHOA!
Over a year ago, OWC partnered with SoftRAID to bring enhanced storage capabilities to the Mac, and we're now seeing that dream become a reality. SoftRAID combines advanced RAID modes, fast performance, monitoring, e-mail notification, and fast rebuild capabilities that only software RAID can deliver.
Monitoring + Notifications
Software RAID easily lets you setup drive monitoring and e-mail notifications to keep you informed about your ThunderBay's performance and drive health. Helping you to maintain mission critical workflows.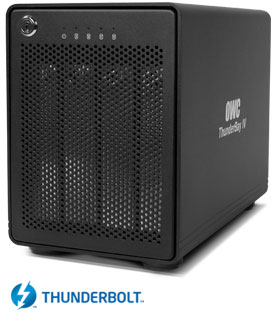 OWC award-winning U.S. based support for both the ThunderBay IV drive and SoftRAID software is included with your purchase.
3 Year OWC Solution Limited Warranty
Better than Hardware RAID Performance
ThunderBay IV with SoftRAID offers faster performance than many competing 4 or even 5-bay hardware RAID external drives – benefiting from modern processors that are both fast and designed for exceptionally high-performance RAID management with no real-world impact on apps or tasks.
Flexible + Robust
SoftRAID is extremely flexible and can easily be updated, reconfigured and used across multiple enclosures to provide an amazing amount of robust options to empower you to make the most of your ThunderBay workflow.
Backed by OWC
Should you ever have a question or troubleshooting need, you can rely on OWC's award-winning U.S. based support for both the ThunderBay IV drive and SoftRAID software.
---
Empower your workflow with RAID 5 performance and up to 20TB capacity.
Edit, view, stream, and produce more with ThunderBay in your 2K, 4K, and audio production workflow.
The RAID 5 Advantage
RAID 5 merges the four drives inside ThunderBay together for exponential performance gains over a single drive, the combined capacity of three of the drives, and data redundancy that allows the array to still work even if one drive were to fail!
Edit, Experiment, Create, Design
With ThunderBay's performance capabilities you can complete projects faster, have more time to experiment, and push your creations to the next level.

Enhance editing capabilities in video apps like Apple Final Cut Pro, Adobe Premiere, and Avid Media Composer. Empower greater audio production capabilities in audio apps like Avid Pro Tools and Logic Pro X. Edit large photos in apps like Adobe Photoshop, and browse large photo libraries in apps like Apple Aperture and Adobe Lightroom. Simply put, you can do more with a ThunderBay IV enhanced workflow, and with a RAID 5 array you get data redundancy on top of great performance!
---
4 drive bays plus so much more.

Time-Tested Cooling
Built on OWC's time-tested enclosure cooling technology, ThunderBay utilizes an open "flow-thru" vented design with an oversized 92 mm, low-turbulence, noise-quieting fan to keep the drives running cool and reliably.

Multi-Drive
Daisy-chain up to six ThunderBays for massive storage capabilities and increased performance, or connect multiple ThunderBays to multiple Thunderbolt ports to achieve exponential speed capabilities.

Vibration Dampened
ThunderBay's drive isolating design reduces sonic resonance, and is aided by over-sized, rugged, vibration-absorbing, non-skid feet.

DisplayPort 1.2 Support
Dual Thunderbolt ports let you connect the display of your choice that your computer can support, including 4K displays.

OWC Thunderbolt Cable
ThunderBay comes with an OWC one-meter certified Thunderbolt cable, with other lengths from 0.5 meter to 30 meters available separately.
Includes
OWC ThunderBay IV High-performance 4-bay Thunderbolt drive
SoftRAID 5
High-Quality, Certified, Double-Shielded 1 Meter Thunderbolt cable
External UL listed 3 prong power cable
2 keys for front panel lock
User guide
Utility software bundle for Mac
OWC 3 Year Solution Warranty with 48-Hour Turnaround Time
Complimentary 1 Year Level 1 Data Recovery
Product Specifications
Chipset
Interfaces Supported
JBOD / RAID Support
JBOD: Utilize each of the four drives independently
RAID: Use the included software RAID or one of your choice to setup the ThunderBay IV for multi-drive performance or data redundancy.
Standard Mechanism
*1GB = 1,000,000,000 bytes. Total accessible capacity varies depending upon operating environment (typically 5-10% less). The actual total capacity will depend on your own defined file settings/preferences.

**OWC reserves the right to replace or upgrade to equivalent or better components.
Drive Rotation Speed
Drive Cache Size
32MB per drive, 128MB total for the solution
Port Configuration
Thunderbolt – (2) Thunderbolt ports
Format
Comes pre-formatted for SoftRAID and configured as a RAID 5 volume.*
*If utilizing on a Mac with OS X 10.8.5 or earlier, the SoftRAID software must be installed prior.
Max Data Transfer Rate
Port/Interface Bootability
It can be used as an external startup drive using Thunderbolt port.
System Requirements
Works with any Mac that supports a Thunderbolt drive.
Software Included
Power Supply
Internal UL Listed U.S./International Auto Switching 100 ~ 240v, 50/60Hz input, 12 Volt 16.66 Amp output Power Supply (power cords for International use sold separately).
External Case Dimensions
9.65″(D) x 5.31″(W) x 6.96″(H)
245.11mm x 134.87mm x 176.78mm
Enclosure Weight (no accessories)
Approximately 8.6 pounds (3.9kg)
Product Manual
Operating Environment:
Temperature
(operating) 5°C – 42°C (41°F – 107°F)
(non-operating) -40°C – 65°C (-40°F – 149°F)
Relative Humidity
(operating) 8% – 90% RH (Non-condensing)
(non-operating) 5% – 95% RH (Non-condensing)
Shock
65G 2mS; (non-operating) 175G 2mS
Vibration
(operating) 1.0G (5 – 300Hz)
(non-operating) 5.0G (5 – 500Hz)
Support
Includes OWC's award-winning U.S. based support for both the ThunderBay IV drive and SoftRAID software.
Warranty
3 Year OWC Solution Limited Warranty
The best warranty is one you never have to use, but should the need occur – OWC is proud to provide a superior level of support and warranty coverage to our customers. Even when not used, we understand the peace of mind afforded by a longer warranty period. OWC's industry leading coverage is a testament to our confidence in the reliability of the solutions that we offer. OWC solutions are engineered to demanding quality standards in order to deliver the most reliable, highest performance available on the market in each storage category.
View more information about the 3 Year OWC Solution Limited Warranty
Note: Do not disassemble or otherwise open your OWC solution prior to the conclusion of the 3 Year OWC Solution Limited Warranty period. Doing so will void the remainder of the OWC warranty.
Manufacturer provided specifications for Other World Computing p/n TBSRT12.0S UPC#: 812437020380
Software

SoftRAID 5 for ThunderBay
OWC has partnered with SoftRAID to bring software RAID 5 to the Mac. SoftRAID combines advanced RAID modes, fast performance, monitoring, e-mail notification, and fast rebuild capabilities that only software RAID can deliver. ThunderBay 4 models with drives come preconfigured in RAID 5, and are plug and play ready with OS X 10.9 or later. Advanced features such as drive notification and monitoring require SoftRAID installation.
Benchmarks
Click any of the benchmarks below to view the results.
RAID 5 (Stripe with Parity) Test Results