Philips
AJ7050D/37


Docking Station for iPod, iPhone, & iPad
iOS / Lightning / USB 2.0 / 3.5mm
Wake Up to Great Music
Charge your iDevice With This Alarm Clock
Play and charge your iPod/iPhone/iPad via Lightning connector, and get rich and clear sound. This chic alarm clock radio features an extra USB port that allow you to charge additional device at once and wakes you in time.
Fast Charging and Play Music Via Lightning Connector
Enjoy your favorite music while charging your iPod/iPhone/iPad via the new Lightning connector! Just dock it directly on the speaker to play your hand-picked tunes in superb sound. It also charges your device quickly while playing, so you don't have to worry about the battery running out.
8W RMS Total Output Power
This system has 8W RMS total output power. RMS refers to Root Mean Square which is a typical measurement of audio power, or rather, the electrical power transferred from an audio amplifier to a loudspeaker, which is measured in watts. The amount of electrical power delivered to the loudspeaker and its sensitivity determines the sound power that is generated. The higher the wattage, the better the sound power emitted by the speaker.
FM Digital Tuning With Presets
Digital FM radio offers you additional music options to your music collection on your Philips audio system. Simply tune into the station that you want to preset, press and hold the preset button to memorize the frequency. With preset radio stations that can be stored, you can quickly access your favorite radio station without having to manually tune the frequencies each time.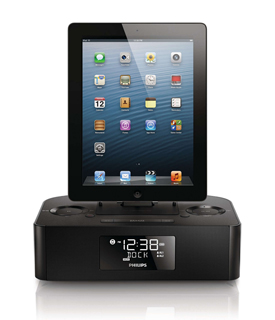 Highlights
8W, FM, Dual alarm
USB port for charging
Compatible with iPod/iPhone/iPad
Fast charging and play music via Lightning connector
Dual alarm to wake you and your partner at different times
Auto Clock Synchronization with iPod/iPhone/iPad When Docked
When connect and dock, this docking system will automatically synchronize the clock with your iPod/iPhone/iPad within a few seconds. With this convenient feature, you do not need to set the time manually.
Weekday/ Weekend Alarm Setting to Complement Your Lifestyle
Designed with modern day lifestyles in mind, this clock radio has a dual alarm feature, allowing you to set different alarm times for weekdays and weekends or even vary the alarm settings for couples. The alarm settings can be tailored for the same alarm times for the entire week from Monday to Sunday. Or you can set the alarm for an early start on weekdays from Monday to Friday, and lazy lie-ins for Saturday and Sundays. Whichever you choose, this convenient features saves you from the hassle of fiddling with different alarm times every single night.
Audio-in for Easy Portable Music Playback
Make one easy connection and enjoy all your music from portable devices and computers. Simply plug your device to the AUDIO-IN (3.5 mm) port on your Philips set. With computers, the connection is typically made from the headset output. Once linked, you can enjoy your entire music collection directly, on a set of superior speakers. Philips simply delivers better sound.
Dual Alarm to Wake You and Your Partner at Different Times
The Philips audio system comes with two alarm times. Set one alarm time to wake you up and the other time to wake up your partner.
Wake Up to Your iPod/iPhone/iPad Music or Radio Tunes
Wake up to music that you love best. Select your favorite radio station or soothing tunes from your iPod/ iPhone/iPad and make a difference to your mornings. The clock starts to play your selection softly, with gradual increases in volume, till it reaches the volume level you chose. Now you can control how you wake up and start your day right every single time.
Time and Alarm Backup for On-Time Wakeup Even With Power Cut
When there is a power failure, this intelligent clock will still maintain and keep its reliable time and your settings. The scheduled alarm remains active even when its display is off - all thanks to a pre-installed battery. When the power comes back on, there is no need to adjust the clock or reinstate settings. More amazingly, even if power supply is not restored, the battery provides enough energy for the buzzer to go off at the alarm time you have set - making sure you never wake up late.
Product Specifications:
Philips Part Number
Connectivity
1 x Lightning connector
1 x USB 2.0
1 x 3.5mm Audio
Clock Type
Time Format
Display
Type: LCD
Backlight Color: White
Enhancements: Brightness control
Alarm
Number of Alarms: 2
Alarm Source: Dock, FM radio, Buzzer
24Hr Alarm Reset: Yes
Snooze: Yes, 9min
Sleep Timer: 15, 30, 60, 90, 120 min
Speakers
Built-in Number: 2
Main Speaker: Bass Reflex Speaker System
Sound
System: Stereo
Enhancement: Digital Sound Control, Dynamic Bass Boost
Tuner Bands
Frequency Range
Auto Digital Tuning
Station Presets
Antenna
Cradle Playback Mode
Charging iPhone & iPod
Fast forward &amp backward
Play and pause
Next & previous track
USB Charging
Power
Main Power: 100-240V, 50/60 Hz
Output Power (RMS): 8W
Power Type: AC input
Backup Battery: AA (not included)
Number of Batteries: 2
Compatibility
iPad with Retina display, iPad mini
iPhone 5
iPod touch 5th gen, iPod nano 7th gen
Dimensions
10.35" x 6.42" x 5.31" (26.3 x 16.3 x 13.5 cm)
Weight
Warranty
Manufacturer provided specifications for Philips p/n AJ7050D/37 UPC#: 609585212800
Includes
AJ7050D/37 Docking Station for iPod, iPhone, & iPad
Quick start guide