Sabrent
USB 3.0 Universal Docking Station
Mac / PC / Linux / USB 3.0 / DVI / HDMI / Audio I/O / GbE
for Mac, PC, and Microsoft Surface
Connecting Differently
Connect all your accessories through a single USB cord.
Upgrade your Windows Laptop, Windows Desktop, Windows tablet (except Windows RT), Mac, Macbook, Macbook Air Macbook Pro and more. Improve productivity when you multiply your screen space with one or two high-resolution external monitors. The sturdy stand holds the tablet upright to provide an additional display
With today's technology comes portability.
Now with one simple USB cord, you can have access to up to two Full-HD displays (HDMI and DVI-I) for mirroring/extending your desktop to external monitors, as well as Gigabit Ethernet network data, microphone, speakers, external hard drive, optical disk drive, printers, USB keyboard, mouse and many other USB devices.
Two Highly Integrated USB 3.0 Inputs
Taking advantage of SuperSpeed USB 3.0's bi-directional throughput, The DS-RICA gives you the ability to connect up to two additional USB 3.0 ports.
Two USB 2.0 Inputs
Expand by connecting up to two USB 2.0, or 1.1 devices - Great for printers, USB keyboard, mouse and many other USB devices.
Two USB Charging Ports
Two additional charging port (2.4A) offers enough current to charge either a smartphone or a tablet at high speed.
Multiple Display Monitor
With the HDMI, DVI ports and VGA adapter, you can connect multiple monitors in HD 1080P allowing you to multi-task and be much more productive.
10/100/1000 Gigabit Ethernet Port
The Sabrent DS-RICA Comes with Gigabit LAN port (RJ45) now you can quickly download large files, stream movies, and get work done. Perfect companion for Apple Macbooks, Microsoft Surface Windows tablets, Ultrabooks and laptops without Gigabit Ethernet Port, or with slower Ethernet Port.
Product Specifications:
Sabrent Part Number
Color
System Requirements
OS X 10.6 or later
Windows 7 or later
Interfaces
(2) USB 3.0 Type-A
(1) USB 3.0 Type-B
(2) USB 2.0 Type-A
(2) USB 2.0 Type-A 2.4 A charging
(1) DVI
(1) HDMI
(1) RJ45 GbE
(1) Audio In
(1) Audio Out
Dimensions
Height: 5.1 in (13.0 cm)
Width: 2.4 in (6.1 cm)
Length: 4.8 in (12.2 cm)
Weight
Warranty
Manufacturer provided specifications for Sabrent p/n DS-RICA UPC#: 819921012142
Includes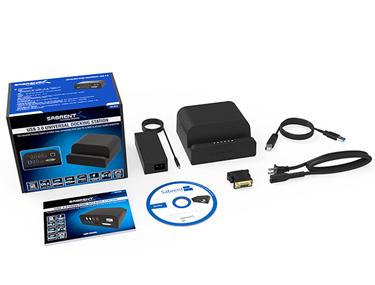 USB 3.0 Universal Docking Station
USB 3.0 Extension Cable
DVI to VGA Adapter
DC 12V power adapter
Installation Driver CD and User Manual