Seagate
Mac / PC / Linux / Gigabit Ethernet / USB 3.0
Working Together Works Better
A complete network storage solution and private cloud for power users and businesses with up to 50 employees
One of the best things about owning a NAS is the ability to collaborate, share and access files from anywhere when on-the-go. Seagate enhances that experience with Seagate Sdrive™ software for PC, Mac, Android, iPhone and iPad. The Sdrive software for PC and Mac gives you the most intuitive access to the files stored on your NAS from anywhere you have an Internet connection. Sdrive software makes the NAS appear as another drive connected to your computer, so you can drag-and-drop, view thumbnails and open files with your favorite programs. The Sdrive app for mobile devices keeps you connected to your files with enhanced security. All files are encrypted before they leave the NAS and only the Sdrive app on your mobile device, combined with your user credentials, can decrypt and access the files.
High Performance Intel Processor on Board
A 1.70GHz dual-core Intel processor, with 2GB of RAM, provides up to an impressive 200MB/s of file transfer performance. That is powerful enough to support up to 50 users, and to help give the creative pros in your group the ability to access and collaborate on large, complex files.
Seagate NAS OS 4 Keeps You Organized, On Task
Effortlessly configure and set up multiple devices with this clean, intuitive interface. From your laptop or desktop workstation, and equally from your tablet and smartphone, Seagate NAS OS 4 incorporates some of the best NAS software features so you can keep your projects available, secure and running smoothly.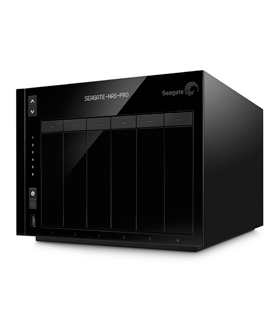 Highlights
Centralize your storage - backup, access, collaborate and share files with PC and Mac
Your business's own secure and private cloud; Share files with colleagues and clients around the world
Stay connected to your files from anywhere with free apps for iPhone, iPad, and Android devices
Choose the right blend of performance and data redundancy with available RAID 0 and 1 configuration options
High Capacity—Centralized
From 6TB to 30TB of storage capacity, decide on what's right for you. Start centralizing and accessing all your digital assets from there, and everywhere—securely.
Performance You Can Rely On
With excellent file transfer performance, the Seagate NAS will almost certainly fit your company's profile and keep up to 25 users connected without a need for an IT department.
Working Remote, Need Files? Check the Sdrive.
The Seagate Sdrive™ is the easiest, most intuitive way to connect to your NAS if you're away from the office and need to look for or grab a file. From any desktop or laptop, access your NAS by clicking the Sdrive icon (from Computer or Finder). Go ahead and drag-and-drop files, or search for that particular file and open it directly with its native application. From your smartphone, you can securely and easily access your files from the Sdrive as well.
Reliability Is Built In
NAS uses Seagate NAS optimized drives—exclusively—in capacities up to 5TB. NAS HDDs are designed specifically for NAS applications running 24x7 and are much more reliable than standard desktop hard drives. With improved vibration tolerance and advanced management capabilities, the industry-leading NAS HDDs on board can support several optimum power and performance profiles so you can strike the right balance.
These Are the Apps You're Looking For
It's true. There seems to be an app for everything, and NAS has apps to make certain business functions easier. Check out the surveillance app, the antivirus app, and a great app that helps you back up to the cloud... with more apps on the way.
Product Specifications:
Seagate Part Number
Interfaces Supported
Dual Gigabit network interface
Failover and link aggregation
Jumbo frame
DHCP and static IP
IPv4 / IPv6
Dynamic DNS
Hardware
1.7Ghz dual-core Intel® 64-bit processor
2GB DDRIII
Small desktop form factor Chassis
Power on/off button
LED for power and disk activity
System reset button (pinhole)
One-touch backup
Kensington Security Slot
File System
Internal: EXT4
External: EXT2, EXT3, EXT4, NTFS, FAT32, HFS+
Port Configuration
2 x USB 3.0 Ports
1 x USB 2.0 port
2 x 10/100/1000 Base-TX
JBOD / RAID Support
JBOD
RAID 0
RAID 1
RAID 5
RAID 5 w/hot spare
RAID 6
RAID 10
Color
Suppoted Clients
Windows XP®, Vista, 7, 8
Windows Server 2003/2008R2/2012
Mac OS X 10.6 and later
Linux /Unix
Supported Browsers
Internet Explorer
Firefox
Safari
Google Chrome
RAID and Data Management
SimplyRAID (default)
Auto RAID migration, volume expansion, and HDD mix and match
Volume encryption
Rescue mode for volume recovery
Network recycle bin
Security
HTTPS access to management UI
Windows Active Directory support
Password authentication and access control
User, user group
Secure Shell (SSH)
AES 256-bit volume encryption
CHAP authentication for iSCSI target
Mutual CHAP
System Management
Web-based GUI through HTTP/HTTPS
System resource monitoring (CPU, memory, network)
Hardware monitoring (chassis, board, fan status)
S.M.A.R.T. info
Event log and management
Product discovery with Seagate Network Assistant
NAS OS installer for diskless setup
Rescue mode and restore to factory settings
Automatic and manual firmware update
System configuration backup / restore
Alert management and email notification
Languages
English
Spanish
German
French
Italian
Dutch
Chinese Traditional
Chinese Simplified
Korean
Portuguese
Russian
Czech
Power
150W, 100 ~ 240V AC, 50/60Hz
Temperature
Operating: 0° to 40°C
Nonoperating: -40° to 65°C
Humidity
Operating: 0 to 80%
Nonoperating: 0 to 95%
Certifications
Dimensions
6.69" x 9.29" x 8.58" (170 x 236 x 218 mm)
Weight
Warranty
Manufacturer provided specifications for Seagate p/n STDF12000100 UPC#: 763649059395
Videos
Includes
Seagate NAS Pro 6-Bay
Ethernet Cable
Power Cord
Quick Start Guide
Software

Seagate NAS OS 4
Feature-rich operating system for Seagate NAS servers
Built in-house by Seagate, NAS OS 4 delivers business-focused features in an easy-to-use web-based interface, simplifying setup and management. NAS OS 4 is tuned specifically for our range of NAS servers to deliver optimal performance, reliability and efficiency.

Antivirus App
With the Daily Updates engine, Seagate Antivirus will protect your data and systems from the most volatile threats. Manual Scan lets you add large amounts of content or schedule a scan when your NAS isn't in use; the choice is yours. Event Reporting allows you to easily sift through your scans with filtering capabilities.

Surveillance Manager
Turn your Seagate NAS into a full-featured NVR (Network Video Recorder) with Seagate Surveillance Manager. With support for up to 16 cameras and automatic camera detection, you can spend more time monitoring your business and less time with setup. Get up and running right out of the box with one free camera license. Desktop and mobile apps allow for playback and monitoring from anywhere you have an Internet connection. With Seagate NAS and Surveillance Manager, you can keep your physical assets and virtual assets secure in one place.