Sonnet Technologies
Fusion F2QR


Portable Rugged RAID Storage
Mac / PC / Linux / USB 2.0 / FireWire 800 / eSATA / Energy Star
Portable 2-Drive Hardware RAID SATA Storage System with Quad Interface
Small Package, Great Performance
Reliable Performance
Mounted side by side in a tough aluminum enclosure about the size of two stacked CD cases, the diminutive Fusion F2QR can house two, 2.5-inch hard drives. Based on the multiple-award-winning Fusion F2, a portable two-drive RAID SATA storage system recognized for its performance, reliability, whisper quiet operation and shock-resistant characteristics, this compact device adds a built-in hardware RAID controller for configuring the drives, a quad interface enabling connection to almost any computer, and a greater storage capacity.
Internal Hardware RAID
A built-in high performance RAID controller manages Fusion F2QR's drives and supports RAID 0 (fast), RAID 1 (safe), concatenated (span) and even JBOD (Just a Bunch of Disks) configurations, so you can choose the setup that best suits your needs. Whether you choose RAID 0 for the best performance, RAID 1 for a mirrored backup of your data, or JBOD to work with more audio tracks, changing the drive configuration is simple using included configuration application software. The application also provides information on the health of the drives when they've been configured as a RAID 1 set.
Simple Connectivity
Connecting Fusion F2QR to your computer is simple. This portable storage system features a quad interface that requires just a single data cable to connect the enclosure to an eSATA host controller card for the fastest data transfers possible-this efficient interface simplifies setup and cuts cable clutter without compromising performance. You can also connect via a single FireWire® 800, FireWire 400, or USB 2.0 cable, the drives can be accessed at the full speed of the respective interface. Sonnet even includes all the cables so you can connect your Fusion storage system right out of the box.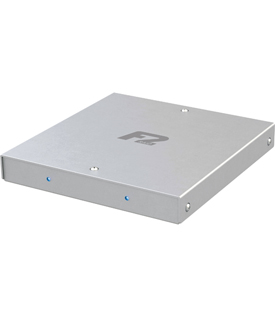 Highlights
Ultra Portable— Supports two 2.5" SATA drives mounted side-by-side for a total of up to 3TB or 4TB storage, all inside a compact aluminum case
Integrated Hardware RAID Controller— Supports RAID 0, 1, Span, & JBOD configurations
Flexible Connectivity— SATA, FireWire 800, FireWire400, and USB 2.0 interfaces enable single cable connection to most computers
Durable & Dependable— Both of F2's drives bays are individually shock-isolated, virtually eliminating cross-coupled vibration
Fast— When set to Fast mode (RAID 0) & connected via eSATA, Fusion F2QR can sustain transfer rates of up to 160 MB/s
Complete Package— Carrying case, eSATA, FireWire 800, FireWire 800 to 400 and USB 2.0 cables included
Flexible Power Options
Fusion F2QR is powered by your computer through a spare FireWire port1 using an included adapter cable. Alternatively, you can power the F2QR by connecting it directly to Sonnet's Qio with an optional 15cm (6") power cable. Other power options include another FireWire device, powered hub, or Sonnet's optional World Travel Power Adapter.
Rugged, Quiet, and Secure
Fusion F2QR was devised as a high-performance, high-reliability alternative to existing portable drive solutions. Encased inside a thick aluminum shell, Fusion F2QR's drives are shock-isolated, not only protecting the drives during transport, but also virtually eliminating cross-coupled vibration-a potential source of soft-error-induced skipped frames. Fusion F2QR is cool, quiet, and energy-efficient: side-by-side placement of its drives increases the metal case's cooling surface area, thereby eliminating the need for a fan, and allowing it to be bus-powered so it can be used even when no grid power is available.
Solid Performance
Connected to a Tempo SATA E4P eSATA adapter installed in a Mac Pro®, and with its drives configured as a RAID 0 striped volume, the compact Fusion F2QR is capable of sustained data transfers at up to 160 MB/s read and 110 MB/s write. With its drives configured as a RAID 1 mirrored volume, sustained transfers of up to 85 MB/s read and 83 MB/s write are possible, providing plenty of performance while keeping the data backed up at the same time.
Qio Companion
Fusion F2QR is a great matching storage solution for Sonnet's award-winning Qio Professional Universal Media Reader. Qio reads from and writes to just about any type of memory card-CompactFlash®, P2, SDHC, SxS, and SDXC-and SATA storage systems with an eSATA interface, all at high speed. Sharing the same compact footprint, the F2QR and Qio can be stacked on top of each other. You can connect the F2QR directly to the Qio using optional 15cm (6") power and eSATA data cables to keep cable clutter to a minimum.
Product Specifications:
Sonnet Technologies Part Number
External Connectors
1 x eSATA
2 x FireWire 800
1 x USB 2.0
1 x 3.5mm power
Data Transfer Speed
Up to 160MB/s, depending on interface & configuration
eSATA Interface Speed: 3Gb/s
RAID Support
Hardware-based RAID 0, RAID 1, span, & JBOD
OS Support
OS X® & Server 10.4.8+
OS X El Capitan compatible
Windows 10, 8, 7, Vista®, XP Pro, Server: 2008, 2003
Compatibility
Mac or Windows3 computer with a compatible host controller card installed (such as Sonnet's Tempo PCIe and ExpressCard/34 line of cards)
Noise
Fusion F2: 35dBA
MacBook Pro: 35dBA
Private Office: 40dBA
Broadcast Studio: 30dBA
Power2
12VDC nominal; 9V min; 24V max
Mating connector 3.4mm (OD) x 1.3mm (ID) x 10mm (L)
RoHS Compliant
Dimensions
5.9" x 6.1" x 0.95" (14.99 x 15.49 x 2.4 cm)
Weight
Warranty
Notes:
Powered by FireWire 400 port on computer or optional powered FireWire hub, or power out port on Sonnet Qio. May also be powered by an optional Fusion F2 World Travel Power Adapter or rechargeable battery pack.
Powered by FireWire 400 port on computer or optional powered FireWire hub, or power out port on Sonnet Qio. May also be powered by an optional Fusion F2 World Travel Power Adapter or rechargeable battery pack.
Creating RAID volumes under Windows requires dynamic disk storage, a formatting option available with Windows Server 2008 R2, Windows Server 2003 SP1, Windows 7 Professional, Enterprise or Ultimate (32- and 64-bit versions), Windows Vista Enterprise or Ultimate (32- and 64-bit versions), or Windows XP Professional (32- and 64-bit versions).
Manufacturer provided specifications for Sonnet Technologies p/n FUS-F2QR-0TB UPC#: 732311008627
Includes
Fusion F2QR Portable Storage Enclosure
1 x eSATA data cable
1 x FireWire 400 to 3.5mm power cable
1 x FireWire 800 cable
1 x FireWire 800 to 400 cable
1 x USB 2.0 A to mini A cable
1 x Documentation