Sonnet Technologies
Tempo SATA Pro 6Gb


4 Port 6Gb/s eSATA PCIe Host Adapter
Mac | PC | PCIe | eSATA
Tempo SATA Pro 6Gb 4-port is versatile. Its fast, 6 Gb/s eSATA interface is well suited to deal with the increased bandwidth requirements of 6 Gb/s SSDs.

Built around a new, second generation chipset, it offers greatly improved performance over older 6 Gb/s eSATA cards.

More onboard cache enables this Sonnet controller to perform even better in the latest computers and Sonnet's Echo Express Thunderbolt Expansion Chassis for PCIe Cards.
Why the Sonnet Tempo SATA Pro 6Gb?
Why choose an eSATA Card? If you're planning to connect external storage to your computer, there's a good chance the enclosure will have two or more interfaces from which to choose, including FireWire®, USB, and eSATA.

Your computer has USB ports, may have FireWire ports, and maybe even a Thunderbolt™ port, too. So if you can just plug into your computer's existing ports, why consider an eSATA card? Consider the facts that the 6 Gb/s eSATA interface offers superior performance to that of FireWire 800 and all USB interfaces, and Thunderbolt storage systems carry a price premium over eSATA storage systems.

Sonnet's Tempo SATA Pro 6Gb 4-port card is cost-effective solution for adding four high-performance eSATA ports to your computer so you can take advantage of this speedy interface4.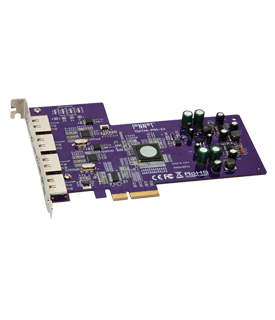 This Card Adds:
Four External eSATA 6Gb/s Ports

See specifications below for system and/or OS compatibility information
Highlights
Cost-effective solution for adding four high-performance 6 Gb/s eSATA ports to your Mac® Pro or desktop PC with PCI Express 2.0 slots
Supports single SATA drive enclosures and multi-bay SATA drive enclosures enclosures Superior performance
Perfect for use in Sonnet's Echo™ Express Thunderbolt™ Expansion Chassis for PCIe Cards
Supports drive hot-swapping under Mac OS X
Supports booting from attached drives under Windows 7
AHCI compliant-no drivers required
Supports Sonnet-exclusive locking eSATA data cables