Win The 2800MB/s Ultra-Fast
OWC Envoy Pro FX SSD

with Universal Thunderbolt/USB +

A Ticket to the Moon

Subscribe to get the latest OWC deals, clearance, tips, news, and advice sent to your inbox. One lucky new subscriber will win an OWC Envoy Pro FX, the first drive of its kind in space. Plus, 100 new subscribers will win a spot on the 1st crowdsourced time capsule on the Moon. Now thru Feb 28, 2021.

We will never sell or trade your personal or contact information. Privacy Promise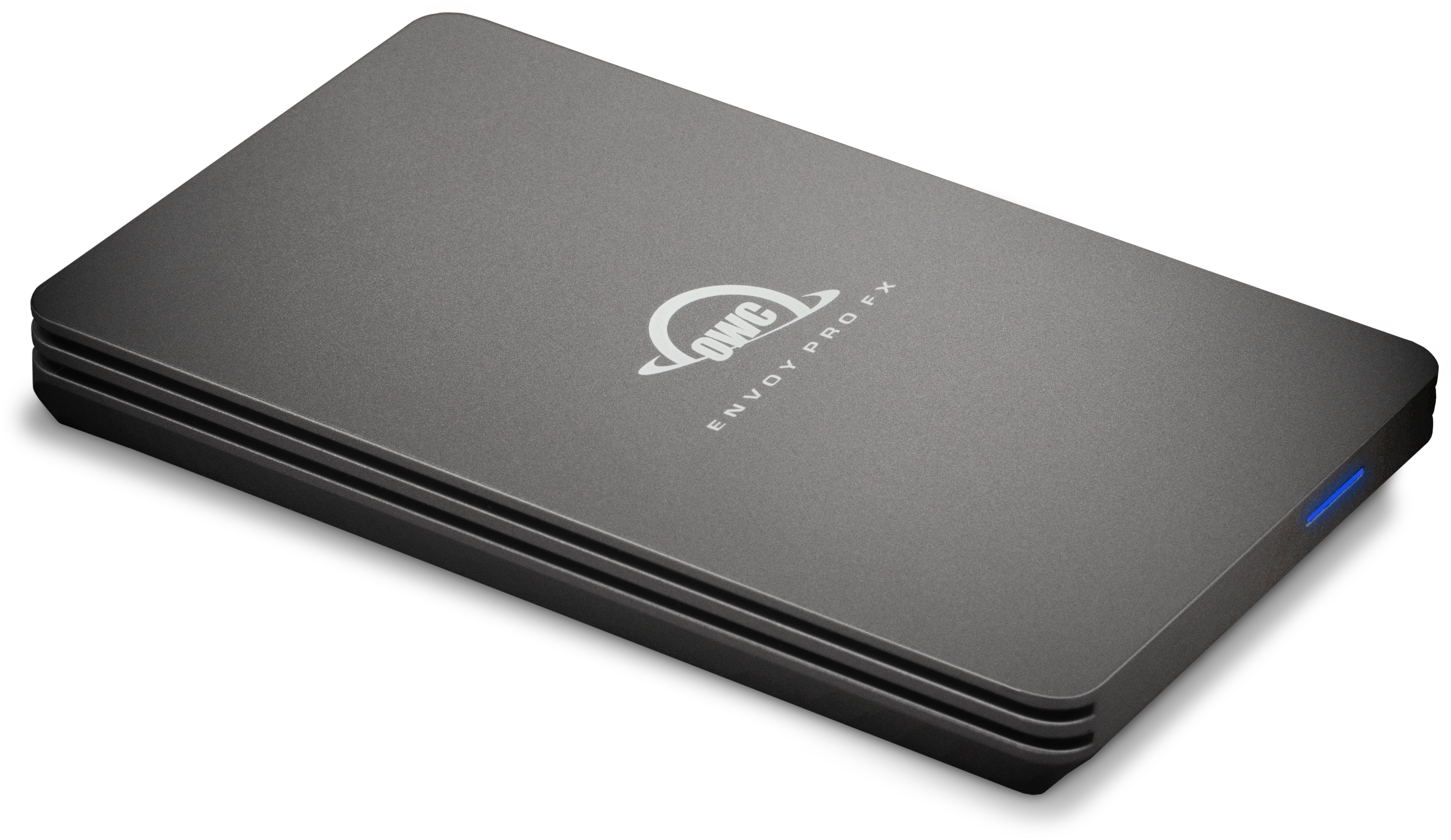 Win: OWC Envoy Pro FX
The first portable SSDs on the market were one small step in mobile storage advancement, often with limited capacity, speeds, and reliability. The Envoy Pro FX is one giant leap For All Computerkind™. The Envoy Pro FX portable SSD provides out-of-this-world performance and is the first of its kind universal Thunderbolt drive to work via USB-C and USB-A. 
Plug it into yesterday's and today's Thunderbolt and USB equipped Macs and PCs. Plug it into tomorrow's Thunderbolt 4 and USB4 machines. You can even plug it into iPad Pro, Chromebook, and Surface devices. Imagine…never having to worry about your external drive interface or compatibility!
Win:

The Galaxy's First Crowdsourced Moon Time Capsule
LUNAPRISE will be joining NASA and SPACEX in their 2021 flight to the Moon. You could be among the lucky 100 new email subscribers to have your messege on this historic flight and delivered on the Moon's surface.
Available to 1,000,000 people (0.00000125% of the population!)
Set to become the first private spacecraft to soft-land on the Moon
Sponsored by NASA and launched atop SpaceX's Falcon 9 Rocket
Submissions are etched on an indestructible nickel nanofiche disc
Includes commemorative gifts to appreciate now and forever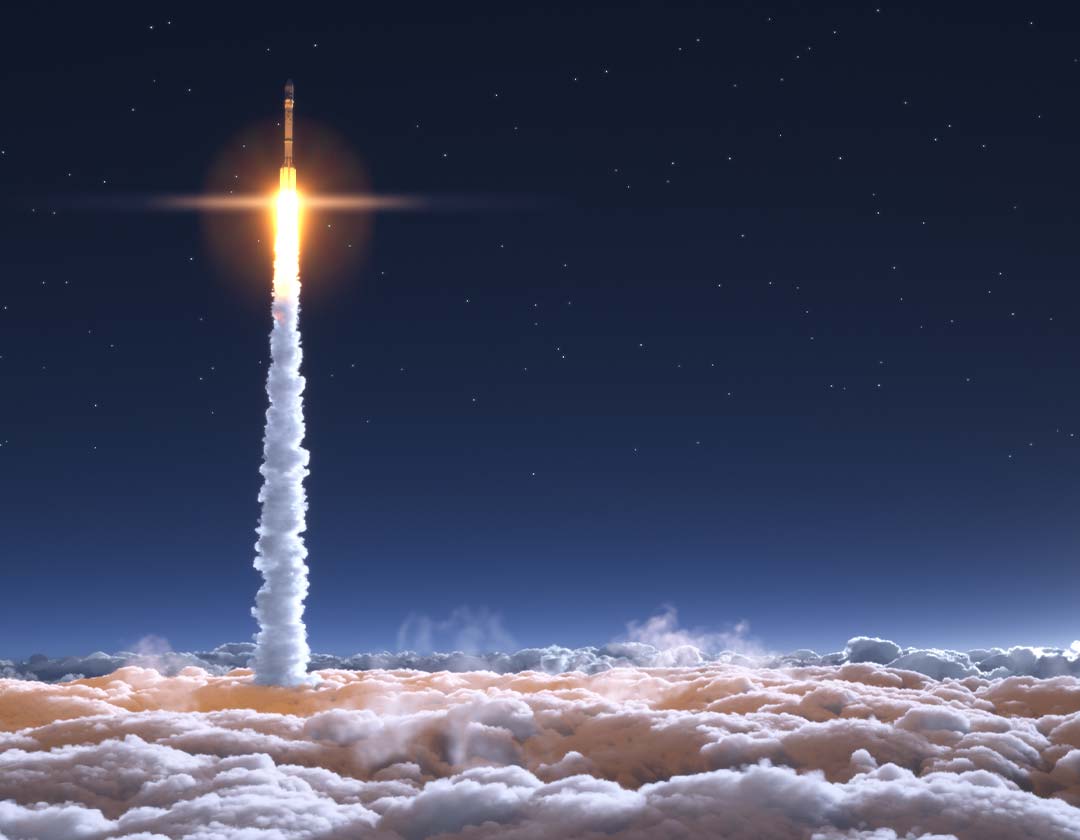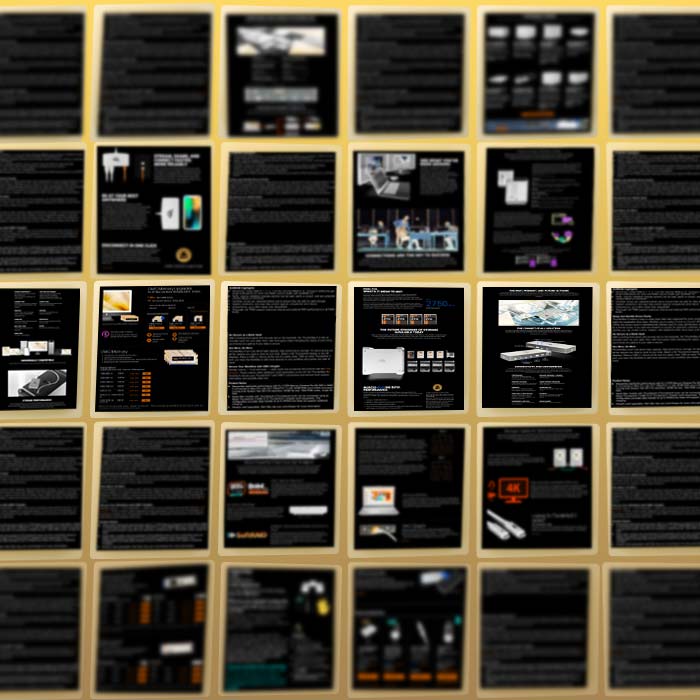 What is a Lunagram?
It's your moment to immortalize a personal message of meaning containing text and imagery, and have that message live on the surface of the Moon. Imagine, someone a million years from now being able see what it was like today. Take advantage of the chance to preserve your memories forever, or give that special someone a once-in-a-lifetime opportunity to leave their legacy on the Moon.
After you submit your Lunagram, LUNAPRISE will etch your message microscopically onto their indestructible nanofiche disc that is built to survive the radiation and temperatures on the Moon, and last billions of years.
If you're among the lucky 100...
After you submit your Lunagram to LUNAPRISE, you'll receive:
A digital and printed copy of your Lunagram to keep for yourself or to give as a gift to someone you honored
A digital and printed certificate, authorizing you or your honoree as one of Earth's 1,000,000
A custom star map to place on your certificate, showing the stars on the special date of your Lunagram
PLUS, you'll receive a BONUS copy of our workbook Mission Possible, a 30-day plan for making your moments here on Earth even more special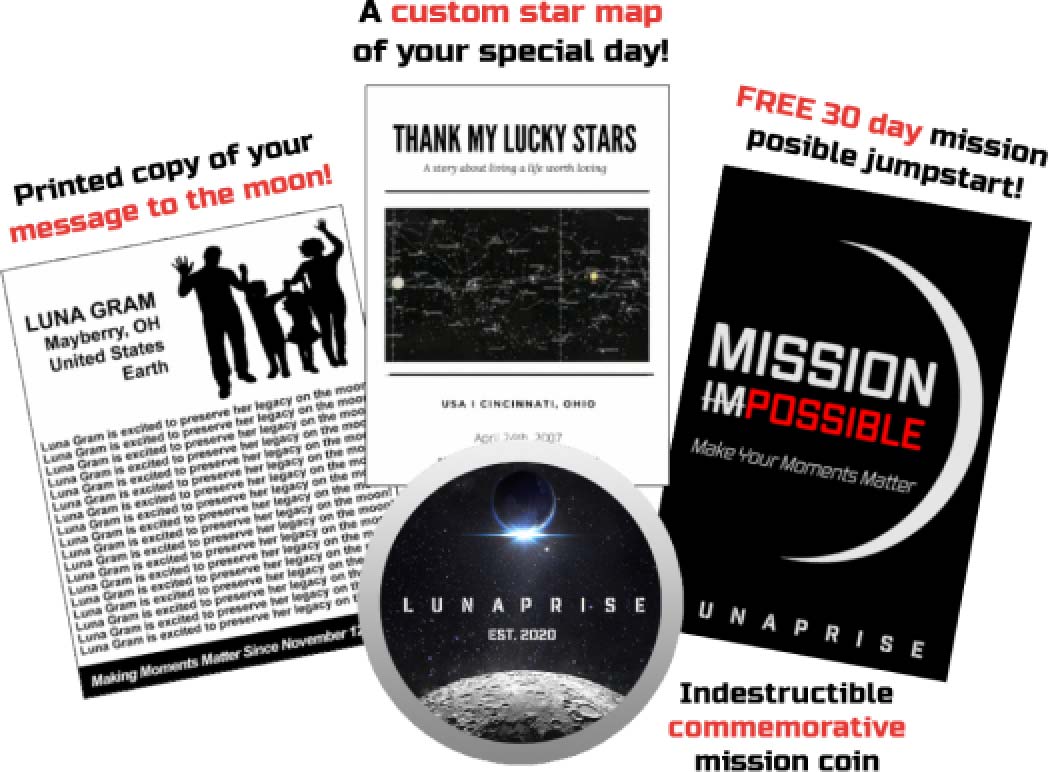 Official Contest Rules
NO PURCHASE NECESSARY TO ENTER OR WIN. MAKING A PURCHASE OR PAYMENT OF ANY KIND WILL NOT INCREASE YOUR CHANCES OF WINNING. VOID WHERE PROHIBITED OR RESTRICTED BY LAW.
PROMOTION DESCRIPTION: Win a Ticket to the Moon Promotion ("Promotion") begins on January 11, 2021 through 2:00 PM CT February 16, 2021 ("Promotion Period").
The administrator of this Promotion is Other World Computing, Inc. ("Administrator"). By participating in the Promotion, each Entrant unconditionally accepts and agrees to comply with and abide by these Official Rules and the decisions of Administrator, which shall be final and binding in all respects. Administrator may be reached by email at pr@macsales.com during the Promotion Period.
ELIGIBILITY: Open to legal residents of the U.S. ONLY who are eighteen years of age or older at the time of entry ("Entrant"). Administrator and its parent, subsidiaries, affiliates, distributors, retailers, sales representatives, advertising and promotion agencies and each of their respective officers, directors and employees ("Promotion Entities"), are ineligible to enter the Promotion or win a prize. Household Members and Immediate Family Members of such individuals are also not eligible to enter or win. "Household Members" shall mean those people who share the same residence at least three months a year. "Immediate Family Members" shall mean parents, step-parents, legal guardians, children, step-children, siblings, step-siblings, or spouses. This Promotion is subject to all applicable federal, state and local laws and regulations and is void where prohibited or restricted by law.
PRIZE: One hundred (100) LUNAPRISE™ Lunagram™ prizes will be awarded. Prizes cannot be transferred, redeemed for cash or substituted by winner. Administrator reserves the right in its sole and absolute discretion to award a substitute prize of equal or greater value if a prize described in these Official Rules is unavailable or cannot be awarded, in whole or in part, for any reason.
This Promotion is open to legal residents of the U.S. and Prize will only be awarded and/or delivered to addresses within said locations. All federal, state and/or local taxes, fees, and surcharges are the sole responsibility of the prize winner. Failure to comply with the Official Rules will result in forfeiture of the Prize.
HOW TO ENTER: Enter the Promotion during the Promotion Period online by visiting https://eshop.macsales.com/shop/macsales_newsletter and subscribing to OWC's Hot Deals newsletter. Only one Entry will be allowed per Entrant during the Promotion Period. Entrants must confirm email subscription for Entries to count.
Automated or robotic Entries submitted by individuals or organizations will be disqualified. Internet Entries must be made by the Entrant. Any attempt by Entrant to obtain more than the stated number of Entries by using multiple/different email addresses, identities, registrations, logins or any other methods, including, but not limited to, commercial Promotion/Promotion subscription notification and/or entering services, will void Entrant's Entries and that Entrant may be disqualified. Final eligibility for the award of any prize is subject to eligibility verification as set forth below. All Entries must be posted by the end of the Promotion Period in order to participate. Administrator's database clock will be the official timekeeper for this Promotion.
WINNER SELECTION: One hundred (100) winners will be chosen from the eligible entries at random on February 18, 2021. The odds of winning will depend on the number of entries received. The winners will be notified via email on or before February 23, 2021. The winners must respond within 48 hours of notification, or Prize will be forfeited, and a new winner will be chosen.
PRIVACY: Any personal information supplied by you will be subject to the privacy policy of the Administrator posted at https://eshop.macsales.com/Service/privacy. By entering the Promotion, you grant Administrator permission to share your email address and any other personally identifiable information with the other Promotion Entities for the purpose of administration and prize fulfillment, including use in a publicly available Winners list.
LIMITATION OF LIABILITY: Administrator assumes no responsibility or liability for (a) any incorrect or inaccurate entry information, or for any faulty or failed electronic data transmissions; (b) any unauthorized access to, or theft, destruction or alteration of entries at any point in the operation of this Promotion; (c) any technical malfunction, failure, error, omission, interruption, deletion, defect, delay in operation or communications line failure, regardless of cause, with regard to any equipment, systems, networks, lines, satellites, servers, camera, computers or providers utilized in any aspect of the operation of the Promotion; (d) inaccessibility or unavailability of any network or wireless service, the Internet or website or any combination thereof; (e) suspended or discontinued Internet, wireless or landline phone service; or (f) any injury or damage to participant's or to any other person's computer or mobile device which may be related to or resulting from any attempt to participate in the Promotion or download of any materials in the Promotion.
If, for any reason, the Promotion is not capable of running as planned for reasons which may include without limitation, infection by computer virus, tampering, unauthorized intervention, fraud, technical failures, or any other causes which may corrupt or affect the administration, security, fairness, integrity or proper conduct of this Promotion, the Administrator reserves the right at its sole discretion to cancel, terminate, modify or suspend the Promotion in whole or in part. In such event, Administrator shall immediately suspend all drawings and prize awards, and Administrator reserves the right to award any remaining prizes (up to the total ARV as set forth in these Official Rules) in a manner deemed fair and equitable by Administrator. Administrator and Released Parties shall not have any further liability to any participant in connection with the Promotion.
To learn more about LUNAPRISE™ Lunagram™ please visit https://lunaprise.com/.