Skip to main content
The Ultimate Thunderbolt SSD for Mac + eSATA Expansion
Expand the capabilities of your Thunderbolt equipped Mac or PCi.

eSATA | Mac | PC
up to
960
GB
up to
617
MB/s
up to
100,000
IOPS

2
Thunderbolt
ports
2
eSATA
ports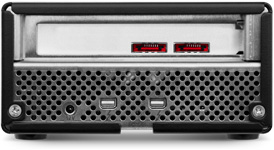 OWC SSD Speed + Thunderbolt and eSATA Expansion Ports
Helios+E2 is the ultimate all-in-one drive. Experience hyper-fast SSD speeds with Thunderbolt enabled Macs. Connect multiple Thunderbolt devices. And add up to 32TB of external storage with two high-speed eSATA expansion ports. Three performance options in one!

From portables to desktop to rackmounts, connect ANY eSATA external drive to Helios+E2


"The best of Thunderbolt's potential... the benefit of the unit is priceless."
– Jim Tanous, The Mac Observer
"...very impressive...robust...enabled us to achieve data rates as fast as an internally-mounted SSD..."
– Justin King, MacNN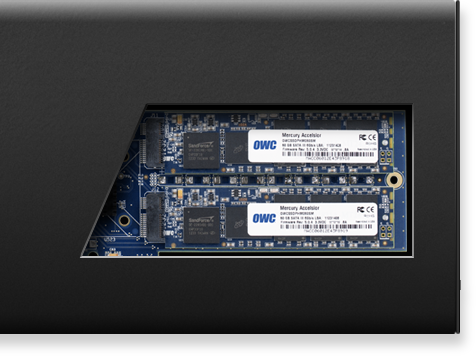 Tap into OWC SSD Power
Inside the Helios lives the pure power of an OWC Accelsior_E2 SSD. Its breathtaking speeds, large capacities, and rugged durability put it in a class of its own. Plus, two eSATA expansion ports let you add more storage as needed.

Go faster than any internal drive can take you with up to 617MB/s and 100,000 IOPS. Helios+E2 is the perfect performance upgrade to any Thunderbolt enabled Mac.

Boost Your Photoshop, Final Cut Pro,
and Avid Pro Tools Workflow.
Stop waiting on I/O intensive apps to render, capture or process. With up to 100,000 IOPS, business critical production apps are given an instant boost in speed, giving you more time to explore, experiment, and finish your projects.

Start working faster with near instantaneous boots and app launches. And save your work faster than ever before.
Connect
Up To Six Thunderbolt Devices Plus One Display
Cool
Ventilated cooling with a variable speed fan.
Mac Friendly
Accelsior_E2 is the only Mac bootable and Mac supported PCIe SSD available with eSATA ports.
Rugged
Go anywhere life takes you with the durable lightweight aluminum enclosure and OWC SSD durability.
Empowered
Automatically powers on/off with the Thunderbolt connected computer.

Hot-pluggable... connect and disconnect while the unit is on.*

Bus-power one Thunderbolt device.**
Make That 240GB a 960GB
High capacity OWC Mercury SSD Blades for Accelsior let you upgrade as your storage needs grow – extending the useful life of your Helios+Accelsior_E2 investment.

Buy Now!
Up to 960GB
from $627.99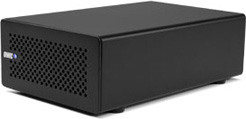 Tap Into the Power
Helios+E2 is the perfect external SSD for high-performance video capture/editing, media transcoding, audio processing, data storage and more.
*If any devices are connected to the PCIe card, make sure to properly remove them before disconnecting Helios.
**Thunderbolt bus-powered device has to be the last device on the chain.
Mercury Helios and Mercury Accelsior are trademarks of New Concepts Development Corporation, registered in the U.S. Patent and Trademark Office. Final Cut Pro, Mac, iMac, MacBook Air and MacBook Pro are trademarks of Apple Inc., registered in the U.S. and other countries. Thunderbolt is a trademark of Intel Corporation in the U.S. and/or other countries. Other marks may be the trademark or registered trademark property of their owners.