"It's just a smart thing... brilliant"

"I recommend the Power2U to all. It installs just like any other outlet – and now, all my friends and family members want me to install these in their homes."


"...genius...this product is the wave of the future..."
"It's one of those things that...just feel like a necessity. Every household...should have at least one...something we highly recommend."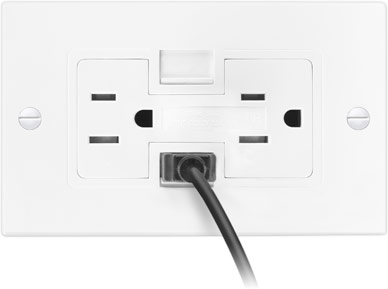 Built-in Power and USB Charging Convenience
Power2U is the convenient and energy-efficient in-wall solution for powering and charging USB devices. Unlike other similar products, Power2U's USB port layout doesn't create "plug barriers". This accessible design enables you to charge up to four devices simultaneously via power outlets and USB.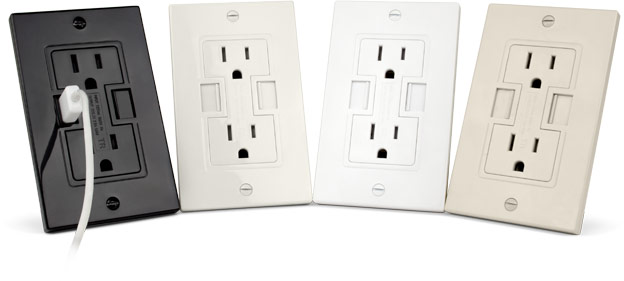 Choice Designer Colors
With a variety of colors to suit almost any decor, the Power2U couples versatile charging with good looks.

Your choice of:
Black, Light Almond, White, or Ivory.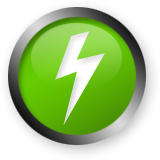 Power2U Energy Efficient Design Features
Smart circuitry only outputs the power required to charge the attached device.
Spring-loaded Safety Shutters turn power off to the USB ports to eliminate "vampire" energy draw when a connecting cable is removed.

Compatibility
Apple iPad (all models)1

Apple iPhone (all models)

Apple iPod (all USB chargeable models)

Android tablets and phones, tablet computers, cellphones, gaming systems (Nintendo, Sony PSP, etc.), Bluetooth headsets, digital cameras, or GPS devices which charge via standard USB
Do-It-Yourself Upgrade With Peace of Mind
Power2U offers peace of mind and confidence being fully UL-Listed with NEC compliant tamper-resistant AC receptacles2. The Power2U is a basic "DIY" upgrade for any 16 cubic inch sized3 electrical box on a 15 Amp or 20 Amp circuit.

The free how-to installation video shows how you can have a Power2U installed in as little as 20 minutes!

Video: Power2U Installation
Video: Answers to Common Power2U Installation Questions
Power2U
15 Amp
For use with 15A circuits typically found in home and residential living spaces.
Buy now
from $20.00
UL Listed E339607
Power2U
20 Amp
For use with 20A circuits typically found in kitchens, bathrooms, garages, business, and commercial spaces.
Buy now
from $27.50
UL Listed E339607
To maintain factory-stated charging duration when charging two iPads or a combination of iPad and any other USB rechargeable device simultaneously, we recommend charging the iPad via the factory wall adapter.
Excludes original Power2U models
Electrical boxes typically range from 15 to 16 cubic inches. To determine the size of the electrical box you intend to install a Power2U into, turn off power to outlet, remove faceplate cover, and measure height, width, and depth of the box. Multiplying those measurements together will equal the cubic inches or volume of the electrical box. If you are unsure of how to do these and/or cannot follow all safety precautions, you should consult an licensed electrician.
Power2U is a trademark of Newer Technology, Inc., registered in the U.S. Patent and Trademark Office. Apple, iPad, iPhone, and iPod are trademarks of Apple Inc., registered in the U.S. and other countries. Other marks may be the trademark or registered trademark property of their owners.