The Mercury Aura® Envoy™ combines elegance and functionality into a sleek, portable external storage solution designed to complement the MacBook Air®—in both appearance and performance. Its super-speed USB 3.0 interface is capable of speeds up to 500MB/s to ensure your workflow moves as fast as you do, and is backwards compatible with USB 2.0. Its bus-powered design means no AC power adapter is required making it an ideal portable Plug and Play solution—just plug the USB cord into your computer and the Envoy is ready to go.

Inspired by the MacBook Air's design, the Envoy's sleek, tapered aluminum body protects your drive and data while withstanding the bumps and dings of everyday life. Inside, the SSD has no moving parts, which makes it a silent, highly rugged storage solution that also offers faster system responsiveness. All this in a lightweight, stylish enclosure you can easily slip into your pocket, backpack or laptop case.
Whether you're buying the complete solution or reusing an existing SSD when upgrading to an OWC Mercury Aura SSD, the Envoy is the ideal solution for your MacBook Air.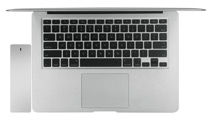 Choose your model:
Also available as:
» 0GB enclosure for 2012 MacBook Air SSDs