Hardware RAID-1 (Mirrored) data redundant solutions
3 Year NewerTech Solution Limited Warranty
48-Hour Warranty Service
USB 3.0 / FireWire 800 / FireWire 400 / eSATA
High-performance solution provides "
Live Activity
" backup/data redundancy of your critical data with Plug and Play simplicity and
whisper quiet cooling fan operation
.
MAX

imum

Performance & Compatibility

MAX

imum

Real Time Redundancy

MAX

imum

Plug & Play Ease, Reliability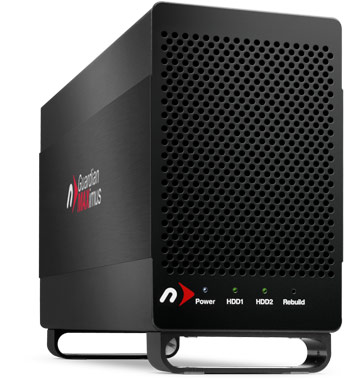 We're Compatible
Our solutions work with OS X Leopard's Time Machine feature to keep an up-to-date copy of all of your files and documents. Go back in time to recover anything with ease. We also support Microsoft Windows and Linux.
included
system requirements
product specifications
One Guardian MAXimus Enclosure
High quality double shielded connecting cables:

One FireWire 800 (9-9 Pin cable)
One FireWire 400 (6-6 Pin cable)
One USB 3.0/1.1
One eSATA

UL Listed U.S./International Auto Switching 100 ~ 240v, 50/60Hz input, 12 Volt 5 Amp output Power Supply (adapter plugs for International use sold separately). For replacement power supply, click here.
Pre-installed Backup and Utility software

Intech SpeedTools Utilities OEM (For Mac OS 8.6 - X only)

Prosoft Engineering Data Backup for Mac OS X v10.2.8 or later

NovaStor NovaBACKUP for Windows 2000 or later

Pre-installed Backup and Utility software.

View detailed software info
Mac Requirements
Apple OS 8.6 to 9.2.2, 10.0.x or later and an available USB 1.1 or FireWire 400 port.
Apple OS X 10.2.8 or later including 'Mavericks' 10.9.x and an available USB 3.0/1.1, FireWire 800/400 port, or eSATA port.

Windows Requirements
Windows 98SE or later and an available FireWire 400 or USB 3.0/1.1 port.
Windows 2000 or later and an available USB 3.0/1.1, FireWire 800/400, or eSATA port.

Linux Requirements
Linux compatible via supported USB and FireWire interfaces.
Features
Up to 6.0TB + 6.0TB (Mirrored) SATA Hard Drive Storage Solution**
Up to 128MB Total drive cache**
Two FireWire 800 9 pin ports
One FireWire 400 6 pin port
One USB 3.0 "B" port -backwards compatible with USB 2.0/1.1
One eSATA port
Front panel drive status LEDs
Shock resistant design

Drive Type
Two paired (identical) 3.5" SATA drives required

Bridge Chipset
Custom Oxford 946 eSATA, FW400(1394A), FW800(1394B), and Ox3100 USB 3.0 Integrated Chipset

Maximum Data Transfer Rate
USB 3.0 - 500MB/s
eSATA - 300MB/s
FireWire 800 - 100MB/s
FireWire 400 - 50MB/s
USB 2.0 - 60MB/s

Security
Kensington™ security slot
Enclosure Size
8.97"(D) x 2.88"(W) x 5.25"(H)
227.84mm x 73.15mm x 133.35mm

Enclosure Weight

(no accessories)

2.335lbs. (1.059kg) (bare enclosure)

Format
Pre-formatted for Mac OSX
Fully compatible w/Windows
(reformating required)

Warranty




**In pre-configured solutions, "add your own hard drive" kits also available.
Guardian MAXimus is a trademark of Newer Technology, Inc., registered in the U.S. Patent and Trademark Office. Apple, FireWire, Mac, OS X and Time Machine are trademarks of Apple Inc., registered in the U.S. and other countries. Other marks may be the trademark or registered trademark property of their owners.