OWC Atlas FXR
Thunderbolt and USB CFexpress Type B Card Reader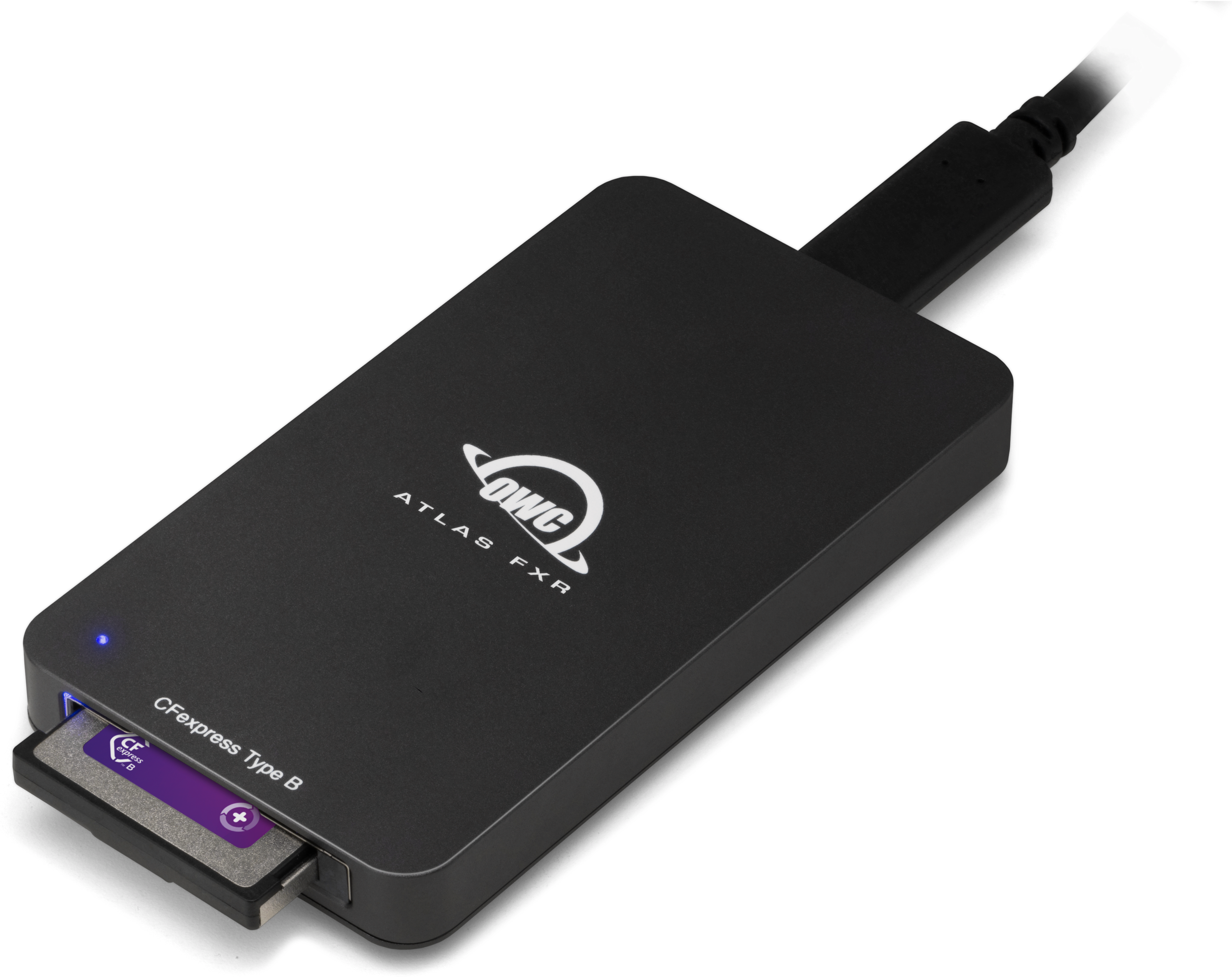 Flexible
Connect
Thunderbolt + USB
Xtremely Fast
1600MB/s
Transfer Speeds
Read
CFexpress
Type B Cards
Rocket Fuel for Your Creative Endeavors
Ultra-compact, universally compatible CFexpress Type B card reader for content creators, professional photographers and videographers, filmmakers, vloggers, and social influencers
Flexible Compatibility
Plug and play with past, present, and future Macs, Windows PCs, iPads, Chromebooks, Android devices, and Surface devices
Travel-Ready
Bus-powered so no power supply or power cable needed
Xtremely Fast
Get the most out of CFexpress Type B cards with your machine
Stable
Non-skid rubber feet keep reader in place
Read at Warp Speed
Ingest video footage and photos at over 1600MB/s1
Plug and Play
Includes a Thunderbolt (USB-C) cable with a tethered USB-A adapter
Ultra-Compact
About the size of a debit card and up to 7x smaller than other single readers
Worry-Free
2 Year OWC Limited Warranty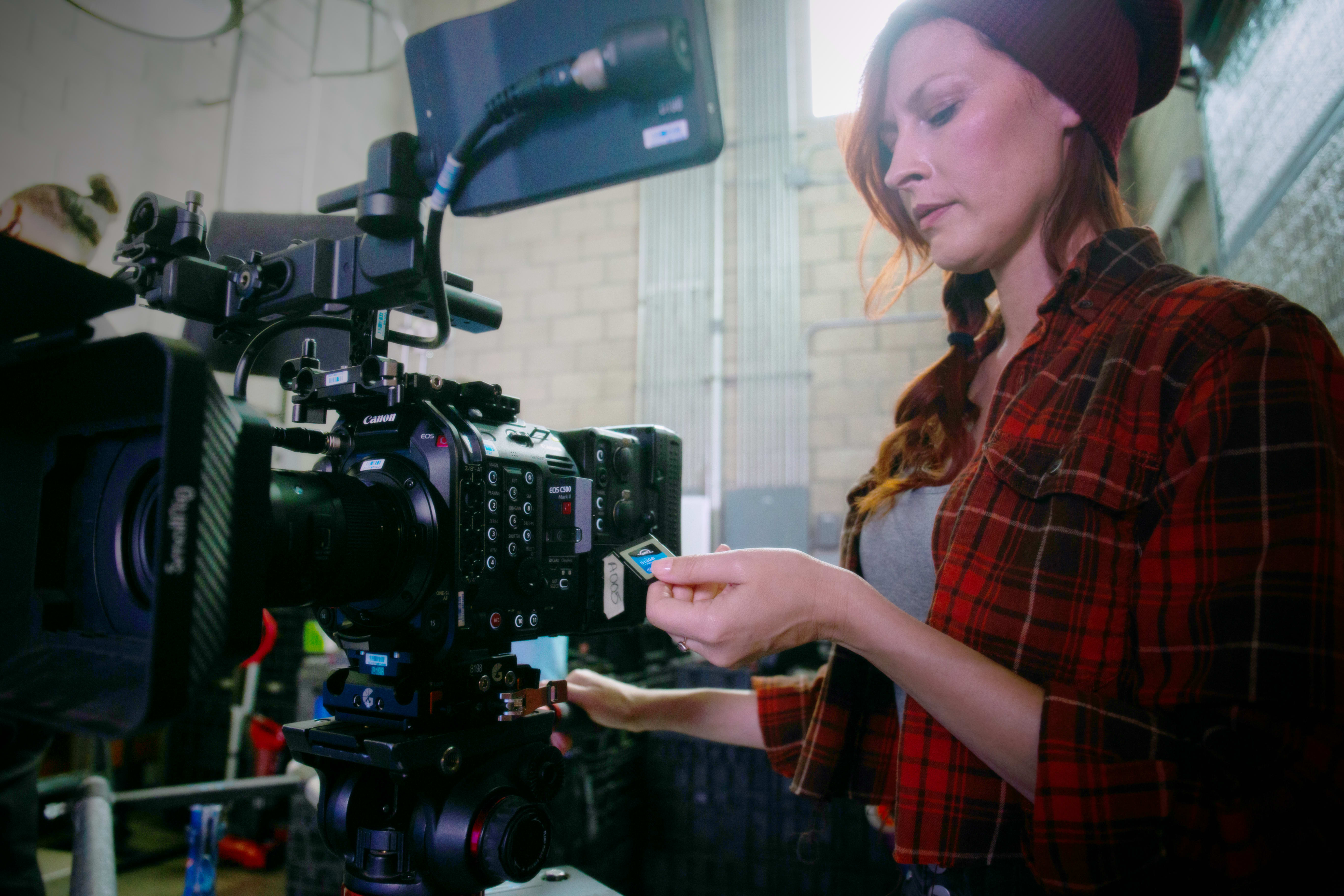 Revolutionize Your Capture to Ingest Workflow
The Atlas FXR will revolutionize your capture to ingest workflow with Flexible compatibility, Xtreme speed, and travel-Ready convenience. Now you can transfer video footage and photos on location, in the studio, or in the edit suite to virtually any Thunderbolt or USB port equipped computer or tablet at over 1600MB/s speed. By taking full advantage of the high-performance potential of CFexpress Type B cards – like the OWC Atlas line – this remarkable card reader will maximize your creative time by letting you offload far faster than downloading from camera to computer.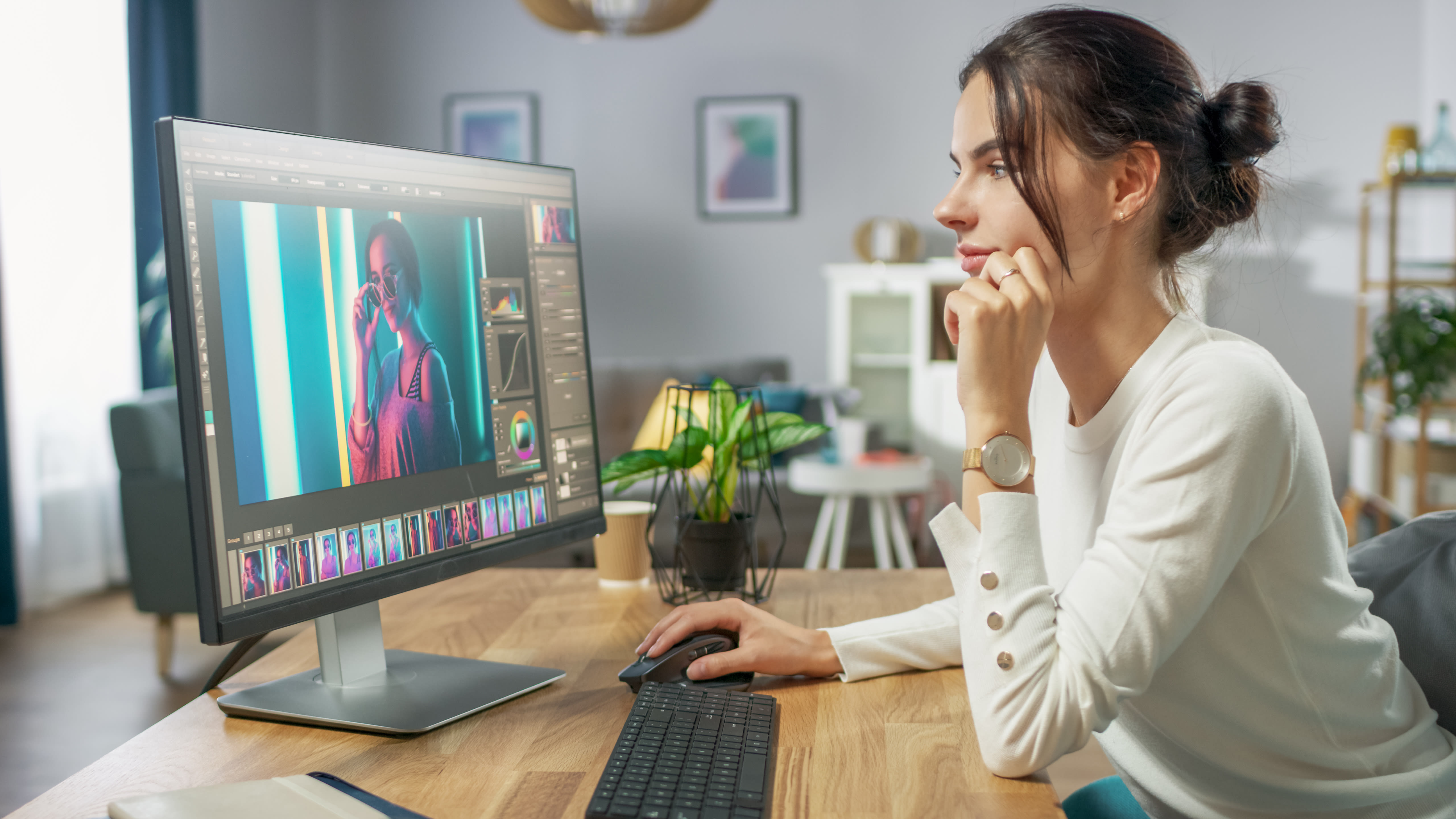 Maximizes Creative Time
Having an efficient workflow is a must in order maximize your creative time. The Atlas FXR eliminates productivity slowdown when transferring content to/from your computer. It "eats up" data at 1.6GB/s which means you can transfer 100 photos averaging 25MB in size in less than 1.6 seconds. That's the OWC Beyond Fast™ performance you can count on to make a difference with your projects or clients.

Minuscule Yet Mighty
Sized similarly to a debit card, the Atlas FXR is the smallest Thunderbolt CFexpress Type B card reader on the market. Nearly 7x smaller than other Thunderbolt CFexpress readers, the Atlas FXR easily fits into the smallest camera bag so you can pack more accessories to help capture incredible content. You can also pair this minuscule reader with a USB-C or Thunderbolt-equipped iPad or a USB-C Android tablet to create a super lightweight yet mightily powerful capture and edit solution.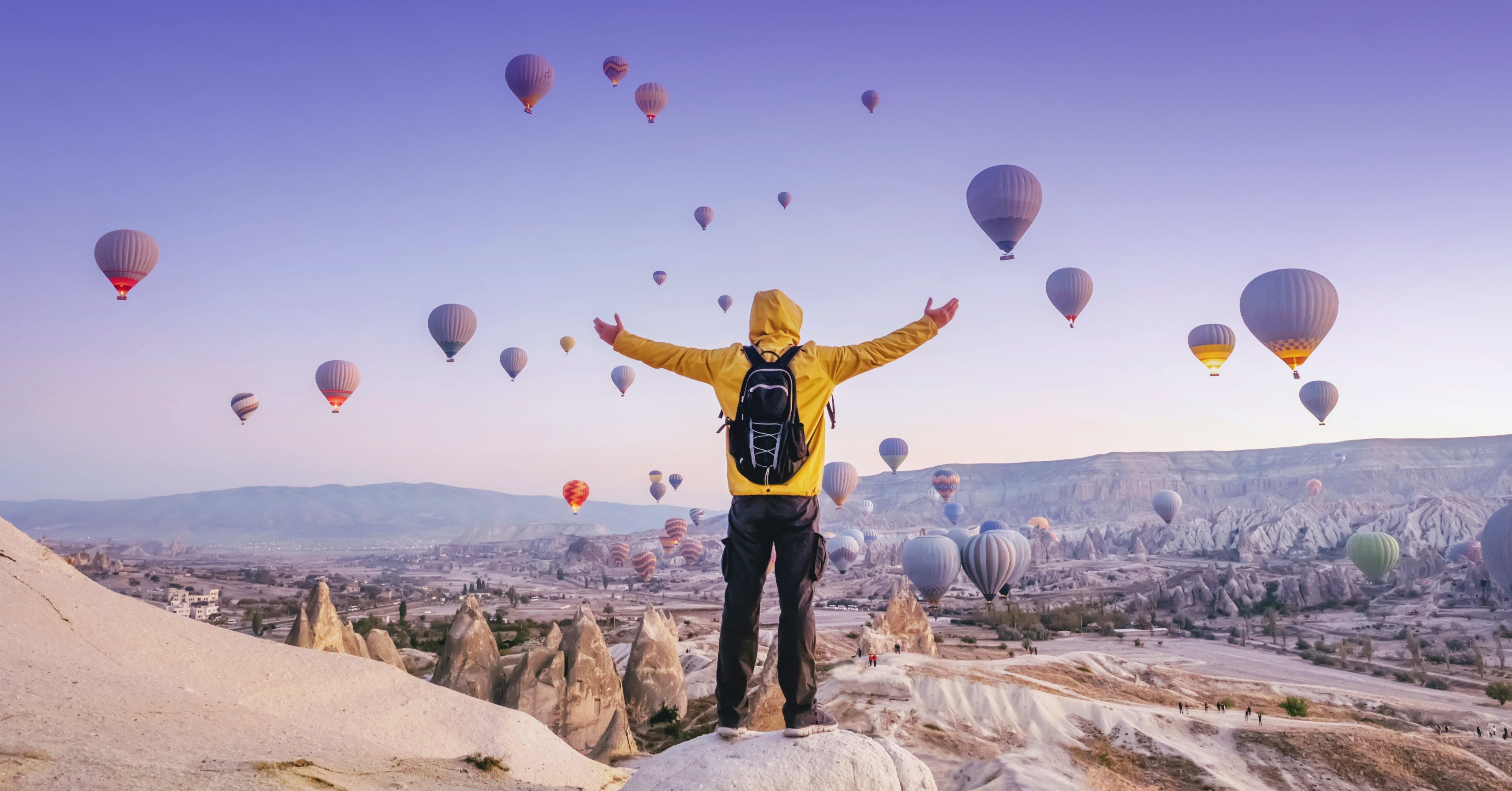 Travel & Daisy Chain Ready
When you need a CFexpress Type B card reader that simply works wherever you take it with whatever device you have, the Atlas FXR is the Plug and Play solution. It's bus-powered via the included Thunderbolt cable with tethered USB-A adapter, so you don't need to lug around a bulky power supply or be handcuffed to an AC outlet. And its bus-powered single port design makes it perfect for use at the end of a daisy chain when you are back on a desktop editing 8K RAW video!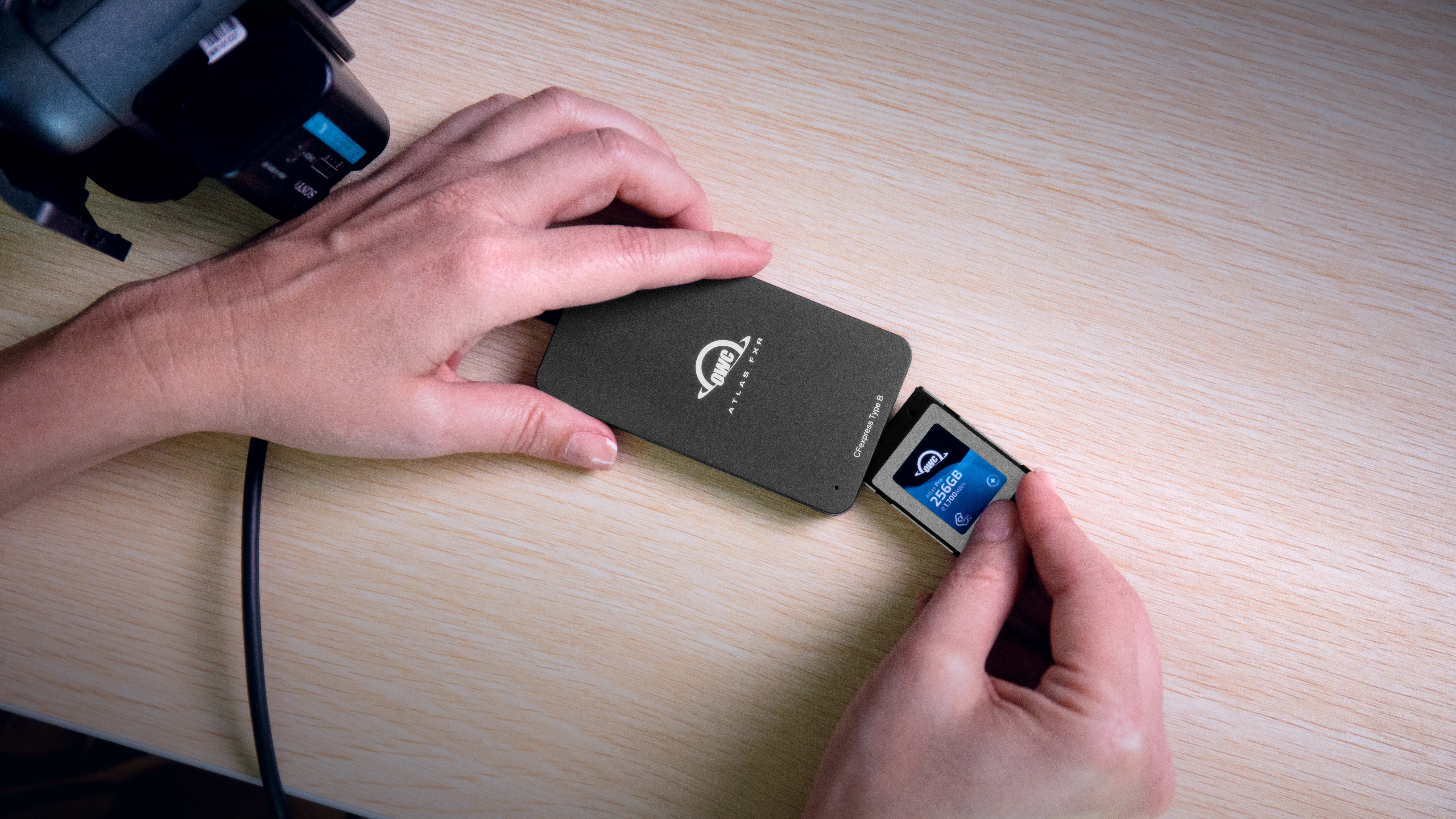 Effectively Cool Details
Details matter when it comes to obtaining the highest performance from your CFexpress card. That's why the Atlas FXR is built with aircraft-grade heat dissipating aluminum and non-skid rubber feet. This ensures a highly effective and silent cooling airflow around the entire reader so your memory card won't overheat and throttle your speed.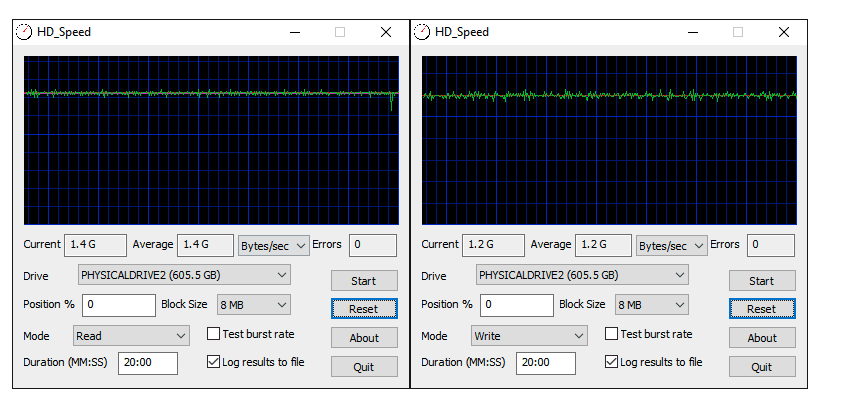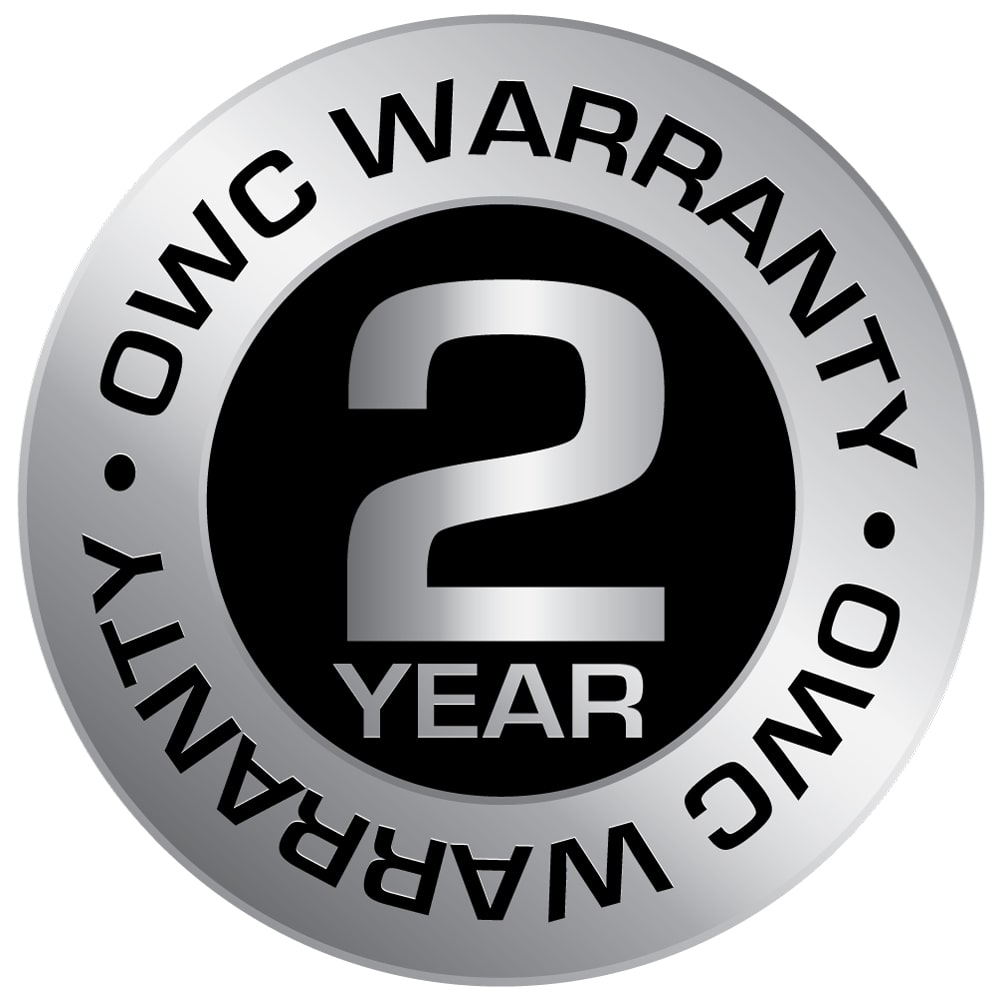 OWC, Trusted by Pros & Enthusiasts the World Over
We build our hardware to the highest standards of reliability and performance. Because 100% reliability is always the goal, we rigorously quality test and back our hardware with a 2 Year OWC Limited Warranty and award-winning customer support.
Learn More
Over 1600MB/s speed when connected to host with Thunderbolt 3 or faster interface. Up to 900MB/s speed when connected to USB host.