OWC Mercury Helios 3S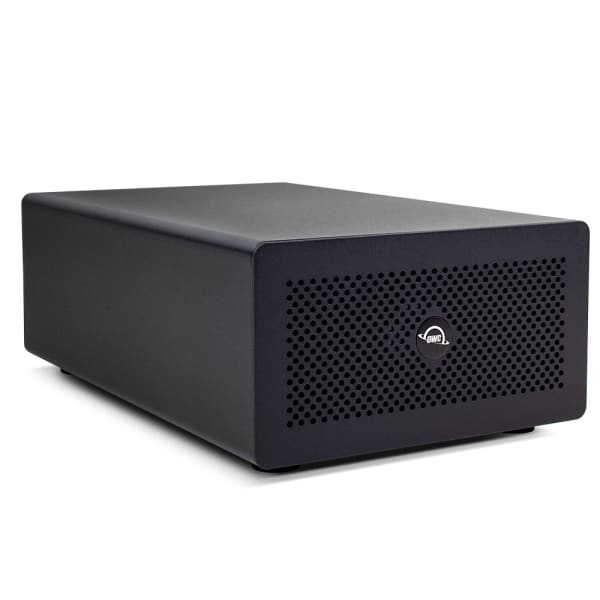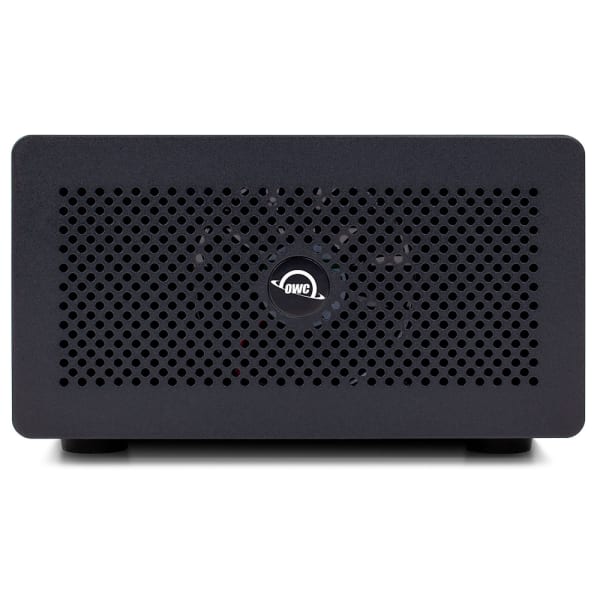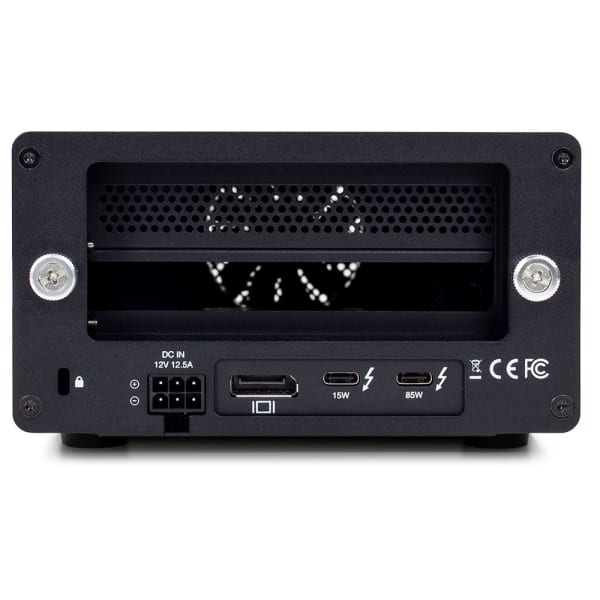 OWC Mercury Helios 3S
---
1
External PCIe Slot
Add half-length, full-height, single or double-width cards
Quick Specs:
Thunderbolt (USB-C)
Mac & Windows
Use PCIe cards with your Thunderbolt (USB-C) Mac or Windows PC
Lightning-fast 40Gb/s transfer speeds: (2) Thunderbolt (USB-C) ports
See more: DisplayPort 1.4 for connecting up to an 8K display
Charge while working: 85W of notebook charging
Secure workflow: locking 12V power connector
Maximum potential: daisy-chain up to 5 additional Thunderbolt devices
Easy card installs: no tools required
---
OWC Mercury Helios 3S
Add an external PCIe slot to your Thunderbolt (USB-C) equipped computer.
OWC Mercury Helios 3S Bundles
Add 10GbE network connectivity with the flexibility of future PCIe expansion.
OWC Mercury Helios 3S + U2 Shuttle Workflow Solutions
Swappable U.2 NVMe storage solution + future PCIe expansion.

Maximize Your PCIe Card Investment
Using a video, audio, storage, network, or even gaming PCIe card with a Mac Pro or PC desktop is a simple matter of inserting your card into an open slot. But what do you do if you have a laptop or even a space-confined desktop like an iMac or Mac mini that doesn't contain a PCIe slot?
The Mercury Helios 3S is an easy to use yet powerful expansion solution that adds an external PCIe slot to your Thunderbolt (USB-C) equipped computer. Now you can maximize your existing PCIe card investment — or expand it! — while enjoying the flexibility of adding professional-class video production, transcoding, audio processing, data storage, and high-speed network connectivity to your machine.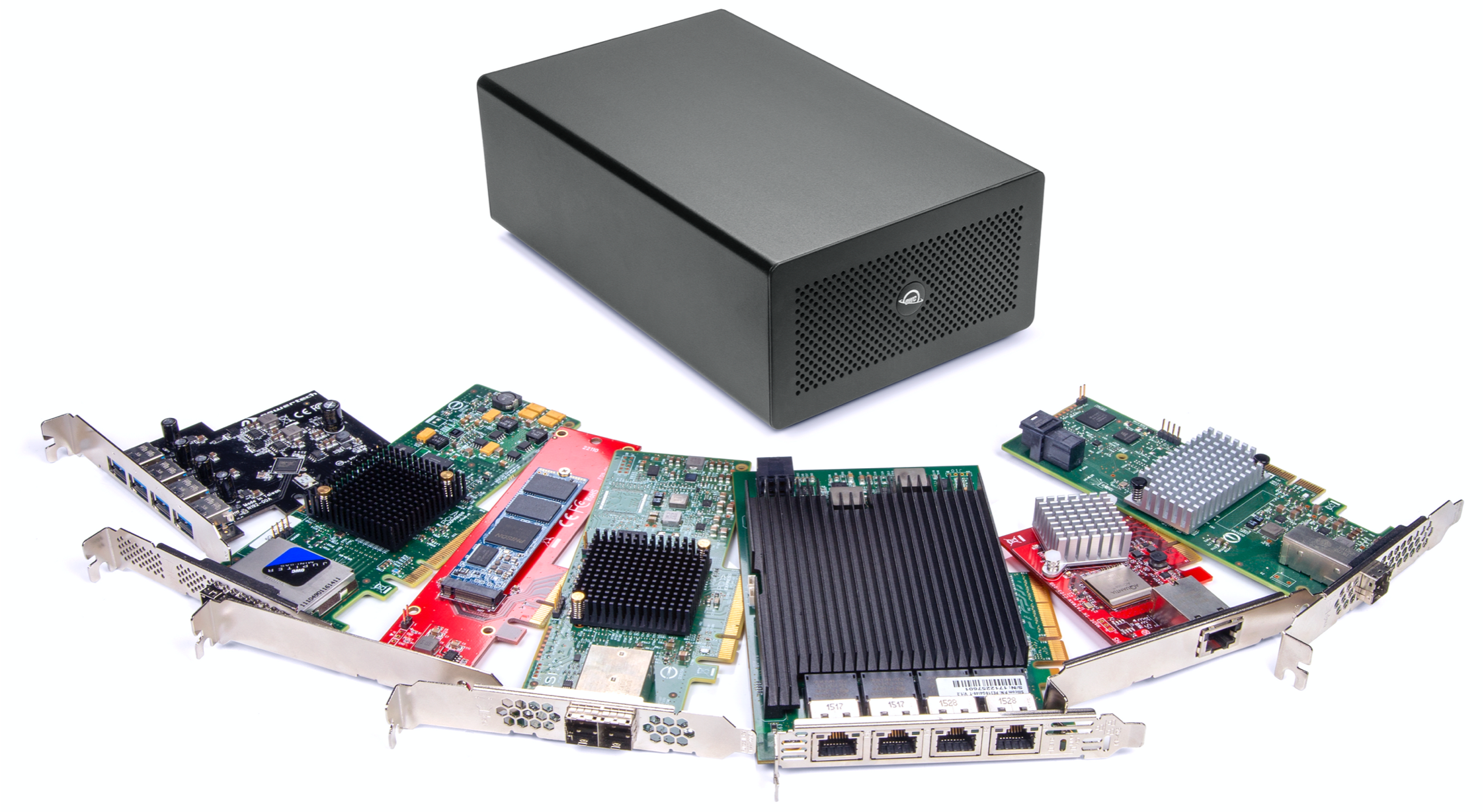 Retask Without Limits
Instead of buying one or more function-dedicated Thunderbolt interface devices, you can use Mercury Helios 3S like a dock for multiple PCIe cards. Capture incredibly high-quality audio with a PCIe audio card and then retask Helios 3S with a PCIe SSD card to edit and archive tracks. You can swap cards in minutes, adding a new level of flexibility to your workflow.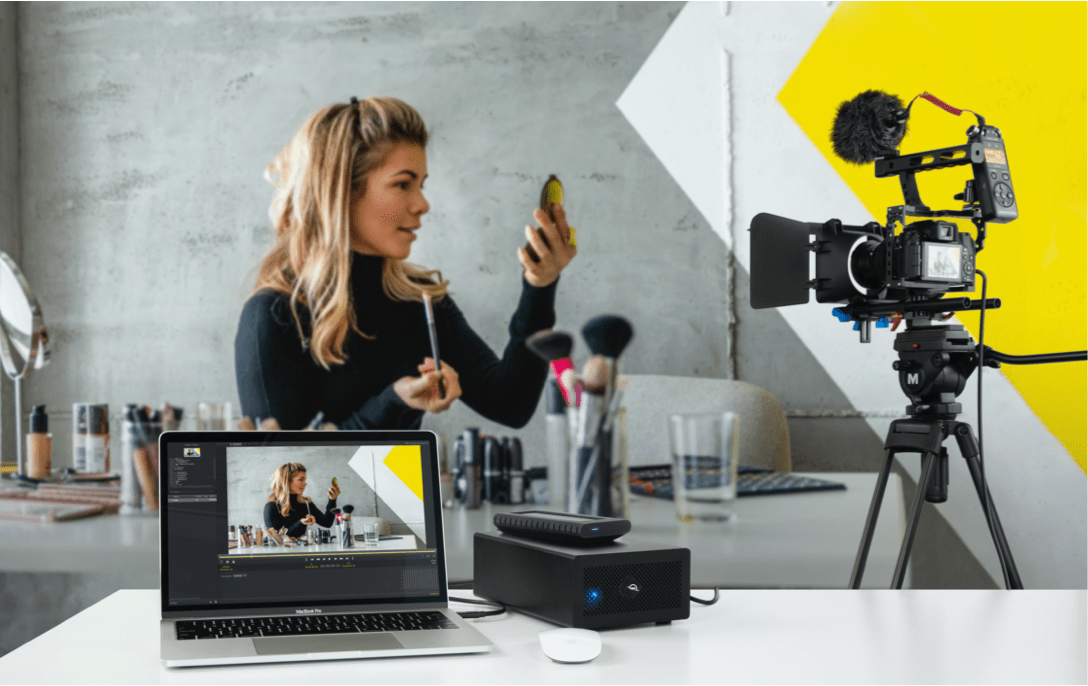 Capture, Stream, and Share in Seconds
With dual 40Gbps Thunderbolt (USB-C) ports, the Mercury Helios 3S offers the bandwidth needed to support data-intensive 4K capture cards to speed up diverse video workflows such as vlogging. Boost your DAW with external DSP acceleration and run larger mixes with multiple plug-ins. Livestream the action in your gaming sessions or share files over a 10GbE or Fibre Channel network without any speed throttling.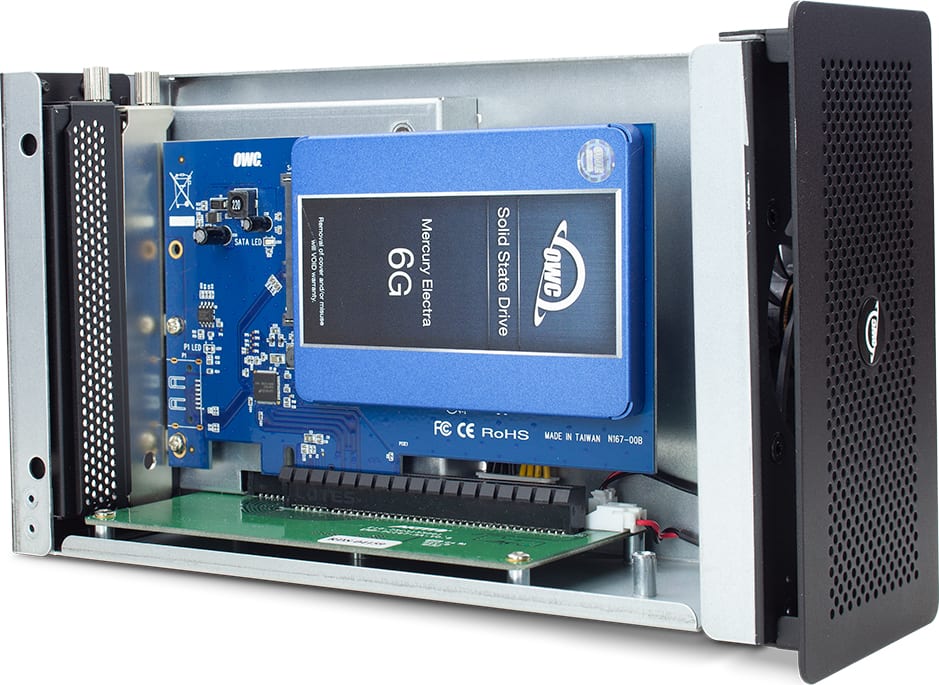 Pro-Level Performance Cards for Every Need
Mercury Helios 3S supports a wide variety of half-length, full-height, single or double-width pro-level PCIe cards from leading brands like AJA, Apogee, ATTO, Avid Pro Tools, Blackmagic Design, CalDigit, HighPoint, Intel, Solid State Logic, Universal Audio, and OWC:
Video capture
Digital audio
Solid State Drive (SSD)
40GbE/10GbE network adapters
SAS controllers
Firewire, USB, or eSATA host adapters
Add New Capabilities to Your Workflow
Mercury Helios 3S leverages the full power of Thunderbolt to deliver added potential to your Mac or PC. Daisy-chain up to five additional Thunderbolt peripherals for incredible capabilities to work or play. Learn the basics of daisy-chaining Thunderbolt devices for maximum performance in this handy infographic. View Infographic.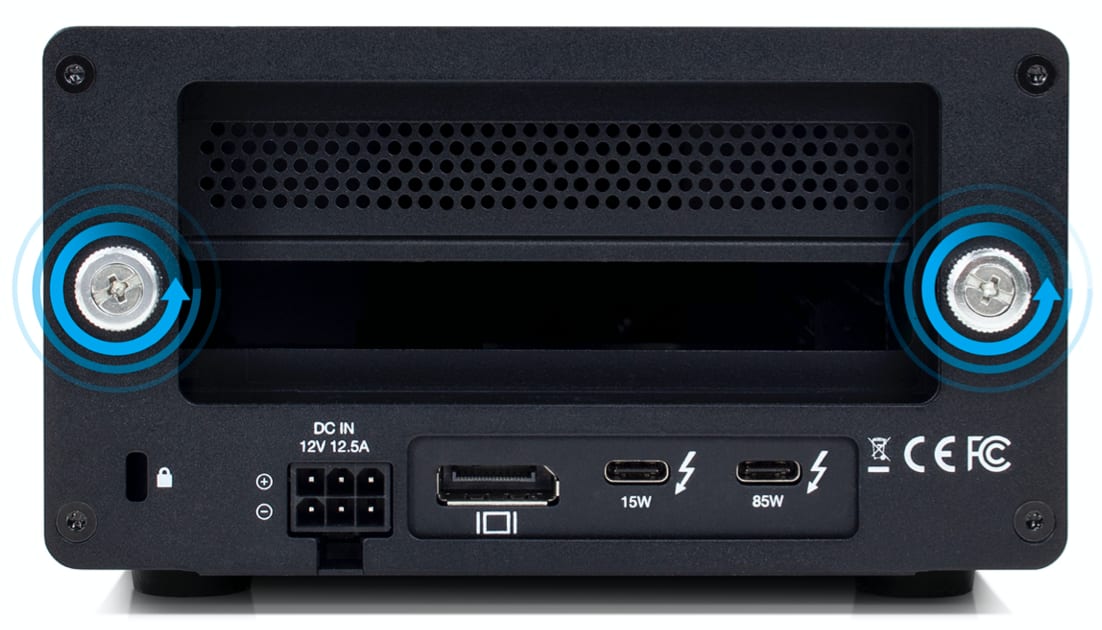 Quick and Easy Card Swaps with Mercury Helios 3S
Disconnect Mercury Helios 3S Thunderbolt cable from computer
Disconnect power cord from Mercury Helios 3S
Remove two thumb screws and swap card
Reconnect power cord to Mercury Helios 3S
Reconnect Mercury Helios 3S Thunderbolt cable to computer
Note: If your PCIe card requires a driver, always follow the manufacturer's instructions for installation.

Thunderbolt Made Easy
We make it easy to choose the right gear. Our Thunderbolt Certified products offer the same performance and functionality whether they are Thunderbolt 3 or Thunderbolt 4. And if you're rocking a beloved Thunderbolt 2 machine, we offer an adapter so you can plug into our universe of award-winning solutions. No hassles, no confusion. That's the OWC Difference.
Apple Mac models with Thunderbolt 2/Thunderbolt ports can be connected using an Apple Thunderbolt 3 (USB-C) to Thunderbolt 2 Adapter and a Thunderbolt 2 cable (available separately). This configuration provides data transfer at up to 20Gb/s but does not support notebook charging.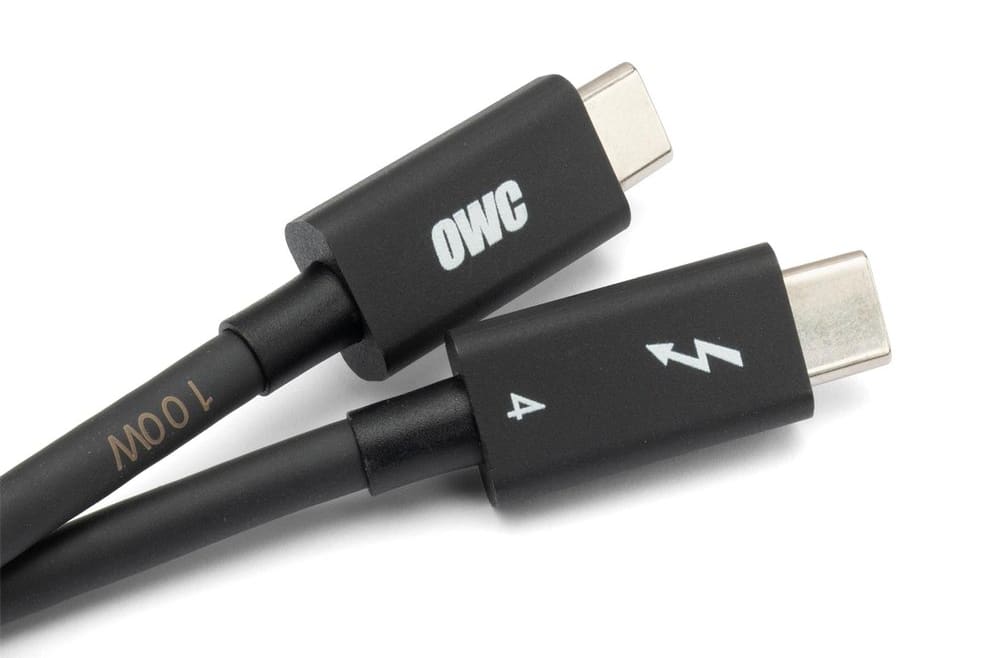 OWC Thunderbolt Cable Included
OWC Mercury Helios 3S comes with a certified OWC Thunderbolt (USB-C) Cable. But if your workflow demands a different length to make the connection, OWC Thunderbolt (USB-C) Cables are the perfect choice.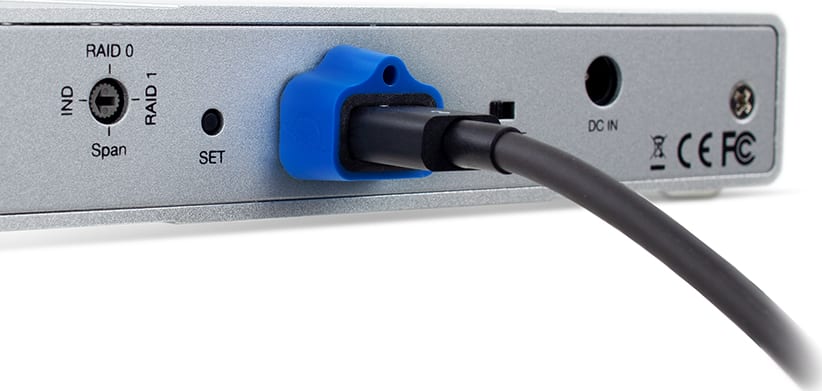 Stabilize Thunderbolt and USB-C Cables
Unexpected disconnects during file transfers or a work session can be devastating. OWC ClingOn custom cable stabilizers (available separately) are the quick and easy way to reduce – if not completely eliminate – cable strain on Thunderbolt and USB-C connections so you can work with confidence even in the highest traffic environments.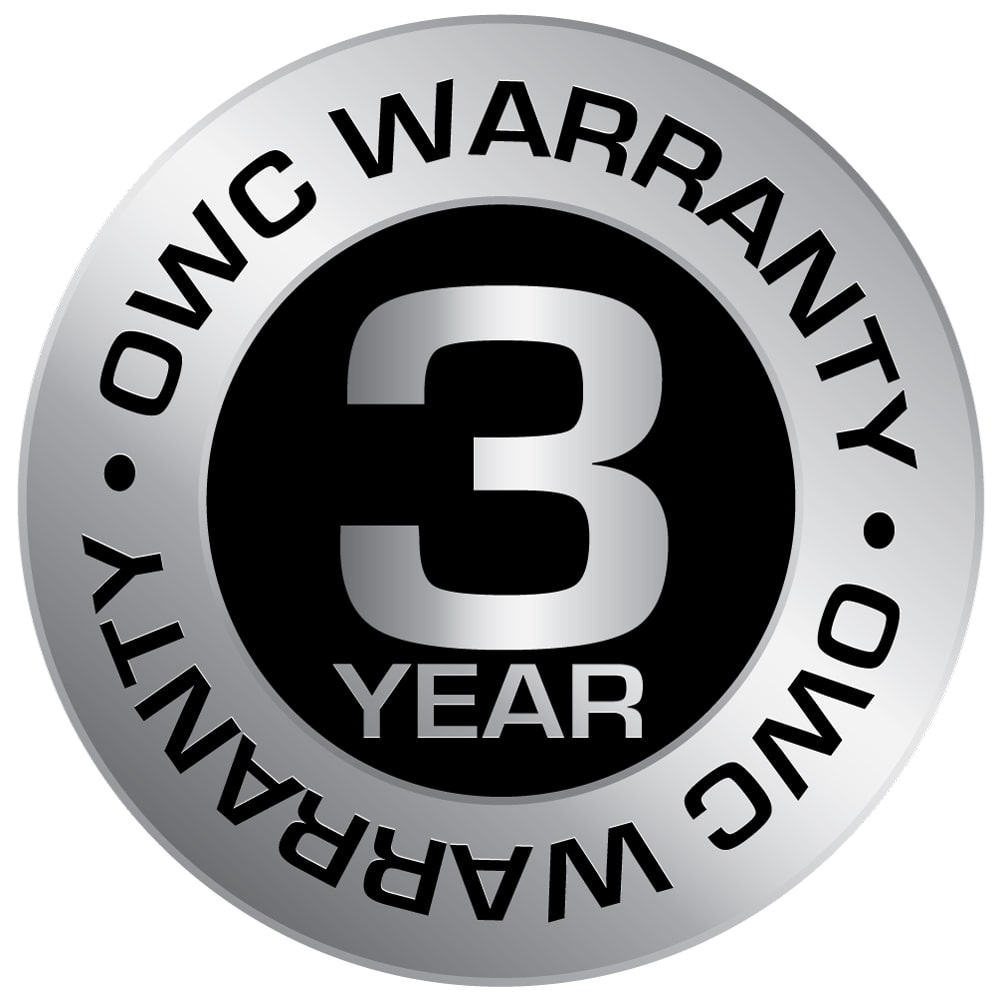 OWC, Trusted by Pros & Enthusiasts the World Over
We build our hardware to the highest standards of reliability and performance. Because 100% reliability is always the goal, we rigorously quality test and back our hardware with a 3 Year OWC Limited Warranty and award-winning customer support.
Learn More
Get More from OWC Mercury Helios 3S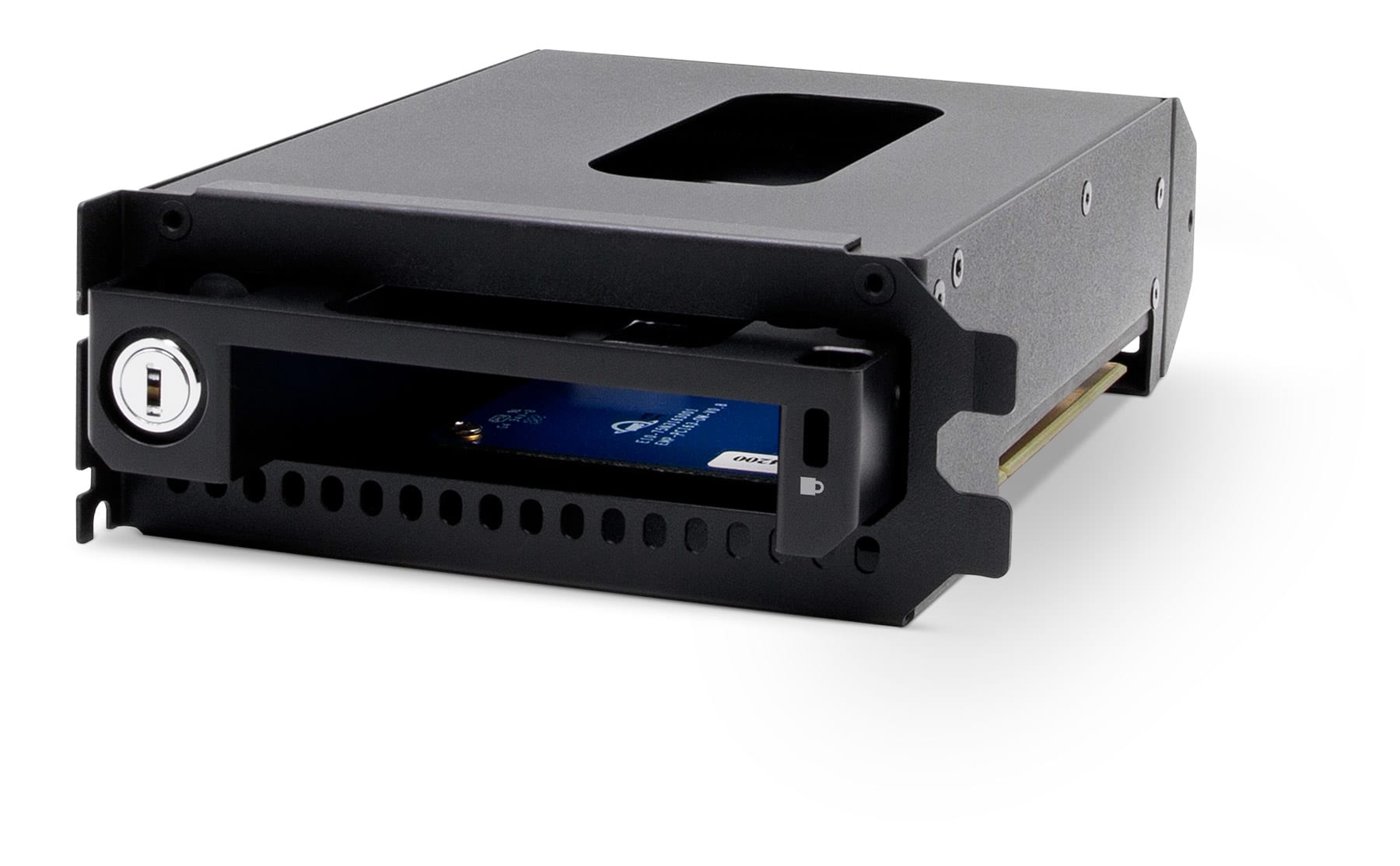 OWC U.2 NVMe Interchange System for Mercury Helios 3S
Add swappable U.2 NVMe drive capability with 2631MB/s real-world speeds!
By combining a locking drive bay and removable tray, the OWC U.2 NVMe Interchange System turns the Mercury Helios 3S into a time and money-saving swappable U.2 NVMe SSD storage solution for high-performance film/video production requirements.
Shop OWC U.2 NVMe Interchange System for Mercury Helios 3S »