OWC Mercury Pro U.2 Dual
Blazingly fast + compact Thunderbolt NVMe SSD Array with a massive storage capacity for diverse needs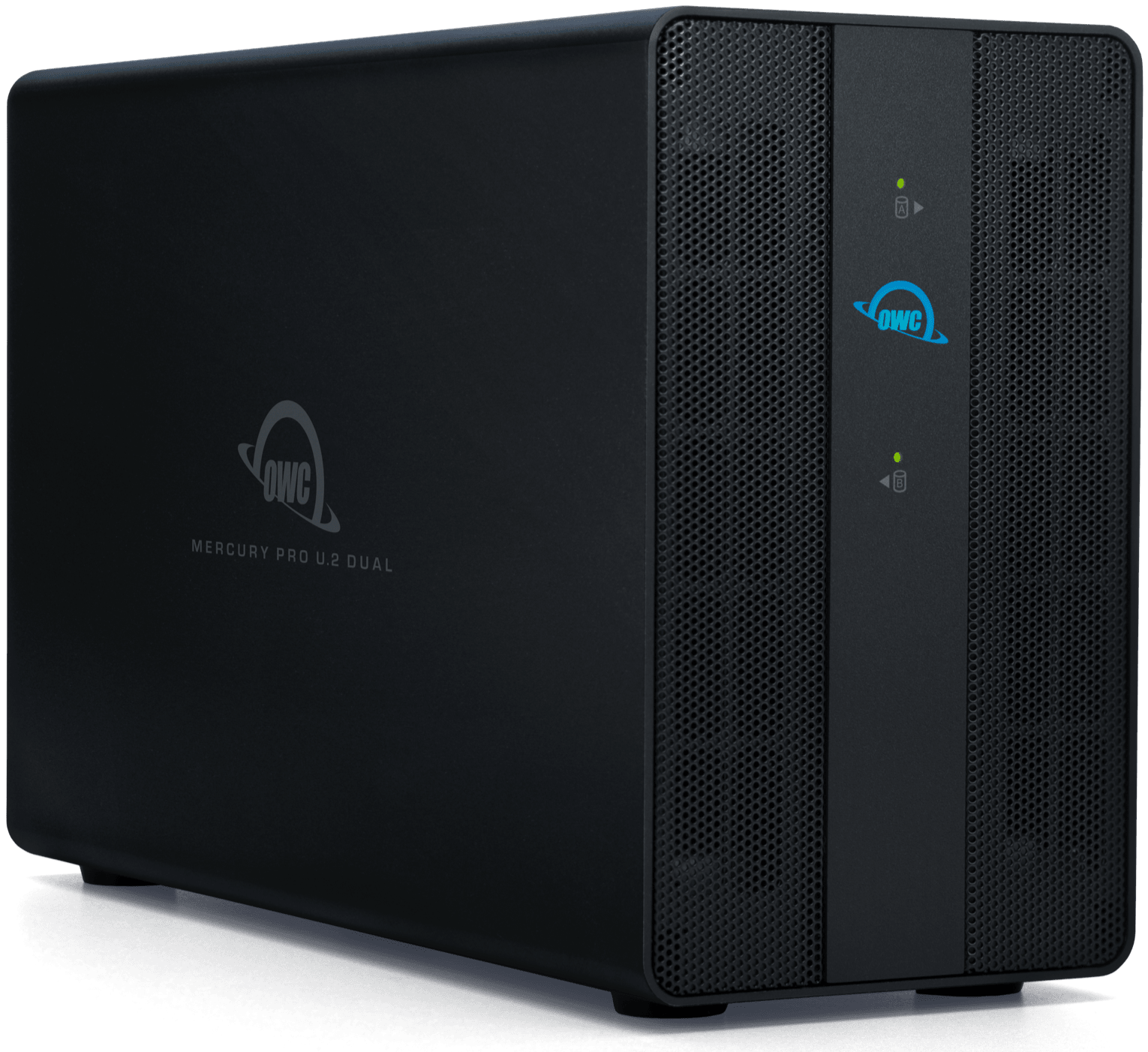 Up To
2800MB/s
Blazing Fast Speed1
More
RAID
Options Than Other Dual Bay Storage
World's Only Dual Bay With
Up to 8
NVMe SSDs
0TB

DIY Enclosure

Add your own RAID software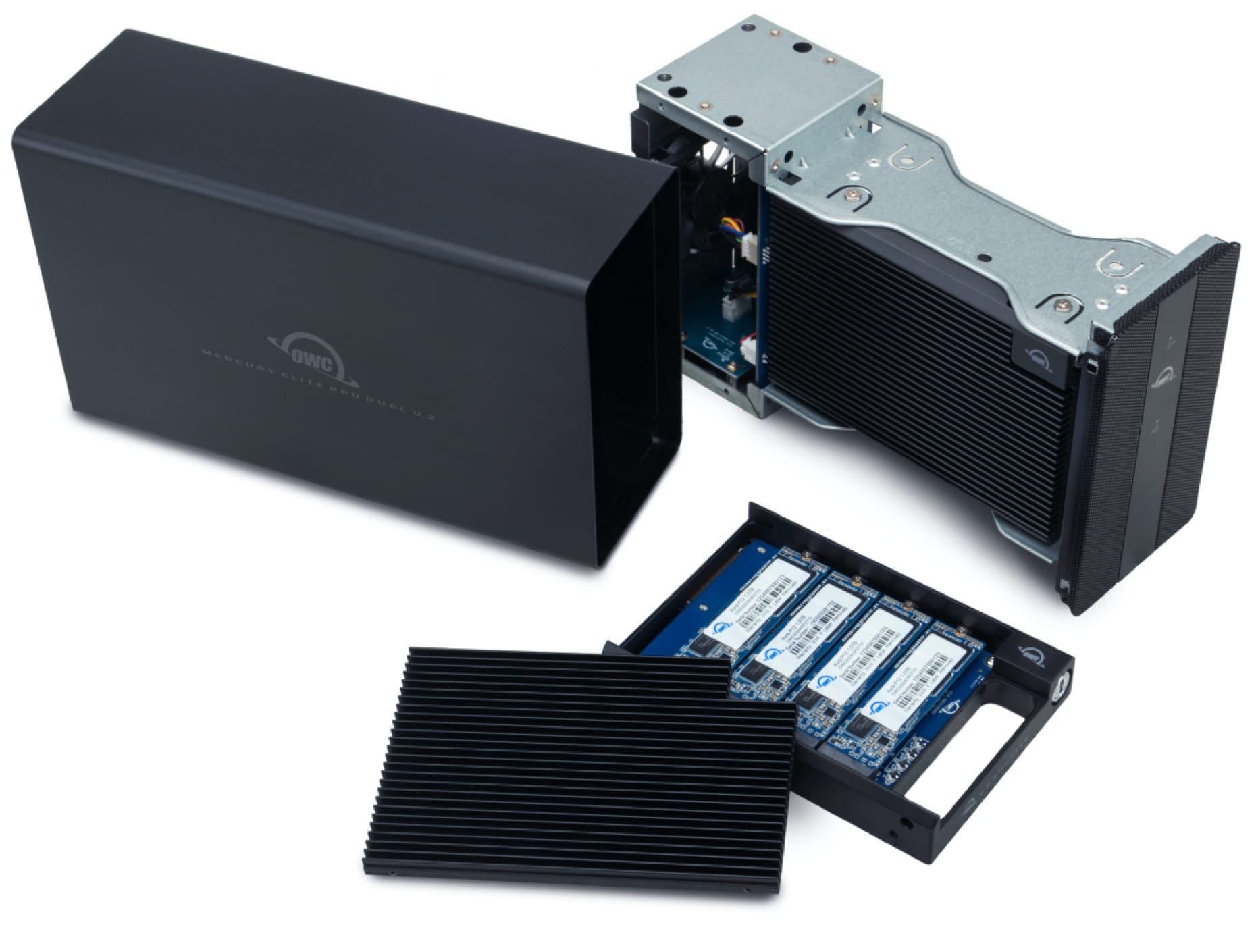 Edit, Ingest, and Backup in a Blink
The Mercury Pro U.2 Dual is powered by up to eight NVMe SSDs, so you can edit high-res files on the fly, ingest and duplicate dailies without a hitch, rip through the tightest of timelines, and backup huge music and photo libraries in a flash. While it offers blazingly fast performance with massive storage capacity, this compact solution is small enough to easily fit on a DIT cart, in a rack, or on your desktop.
Blazing Fast
Utilize Thunderbolt's full 2800MB/s data bandwidth for jaw-dropping speed1
Easy Drive Monitoring
Front panel activity LEDs offer instant status update
Unrivaled Capacity
The only dual bay solution with up to eight NVMe SSDs
Deployment Ready
Solutions undergo a rigorous multi-step performance certification
Easy RAID
Plug and play out of the box or enjoy more RAID variations than traditional dual drive enclosures—up to RAID 10
Compatible
Works with Mac and Windows computers2
SoftRAID Advantage
World's most user-friendly fully featured software RAID package included on 8-drive solutions and optional for 2-drive solutions
Worry-free
Up to 3 Year OWC Limited Warranty and lifetime support3
Additional Connectivity
Add up to five Thunderbolt devices, a display, or your choice of a USB-C or DisplayPort4 device via the second Thunderbolt USB-C port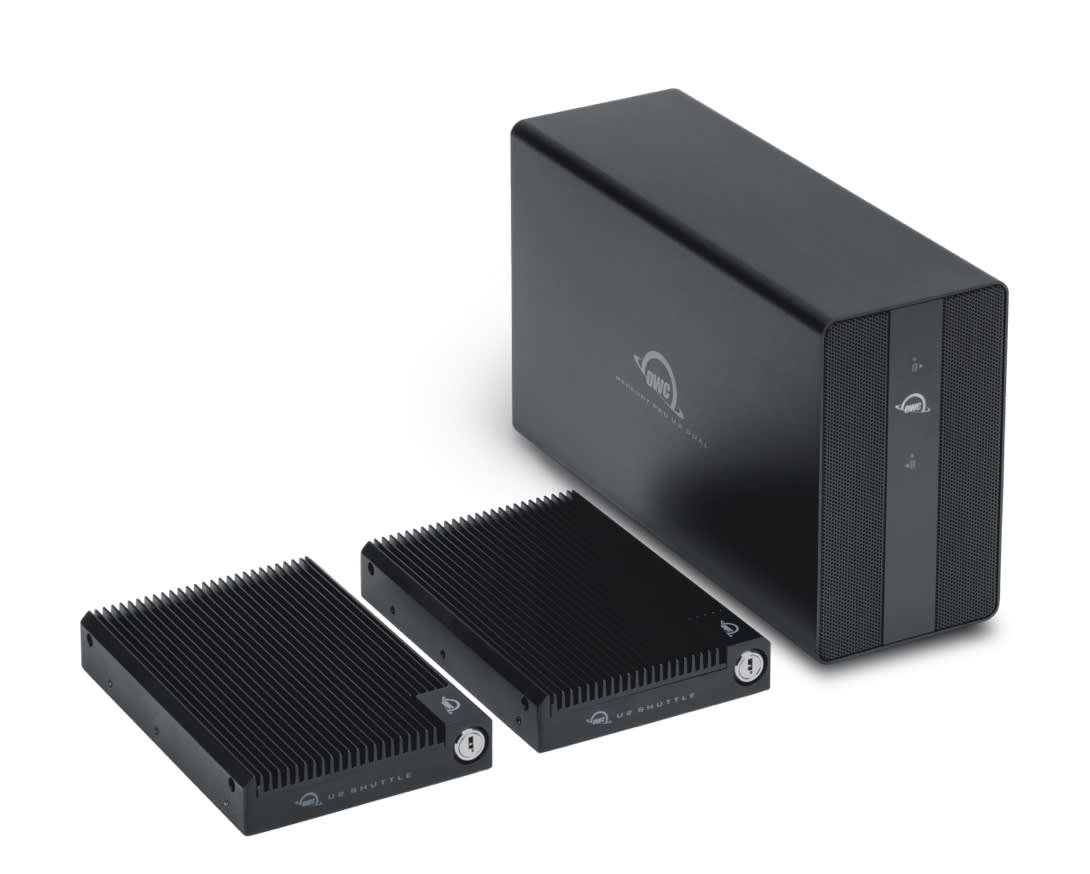 Adaptable Flexibility
The Mercury Pro U.2 Dual easily handles any project backup and storage task you throw at it. Dual drive bays house up to eight NVMe SSDs to tackle nearly any data need imaginable. From personal videos to major motion pictures, from photo shoots to file backups... the Mercury Pro U.2 Dual gives you the necessary capacity and horsepower to get the job done.
Nearly 6x Faster SSD Performance
NVMe U.2 SSD use began in the corporate and server market, where ROI is defined in nanoseconds and dependability is paramount. Now, the Mercury Pro U.2 Dual brings enterprise-level performance to your home or office. Its NVMe SSD array utilizes Thunderbolt's impressive data bandwidth capability, functioning nearly 6x faster than your typical SSD.
Reconfiguration Ready
Need to change your drive configuration? There's no need to buy a costly new enclosure. The Mercury Pro U.2 Dual is ready to change with you.
Reconfigure each bay with either:
Up to four NVMe M.2 SSDs with a U.2 adapter – such as OWC U2 Shuttle5

A 2.5 / 3.5-inch NVMe U.2 SSD

A single NVMe M.2 SSD with a U.2 adapter – such as OWC U2 ShuttleOne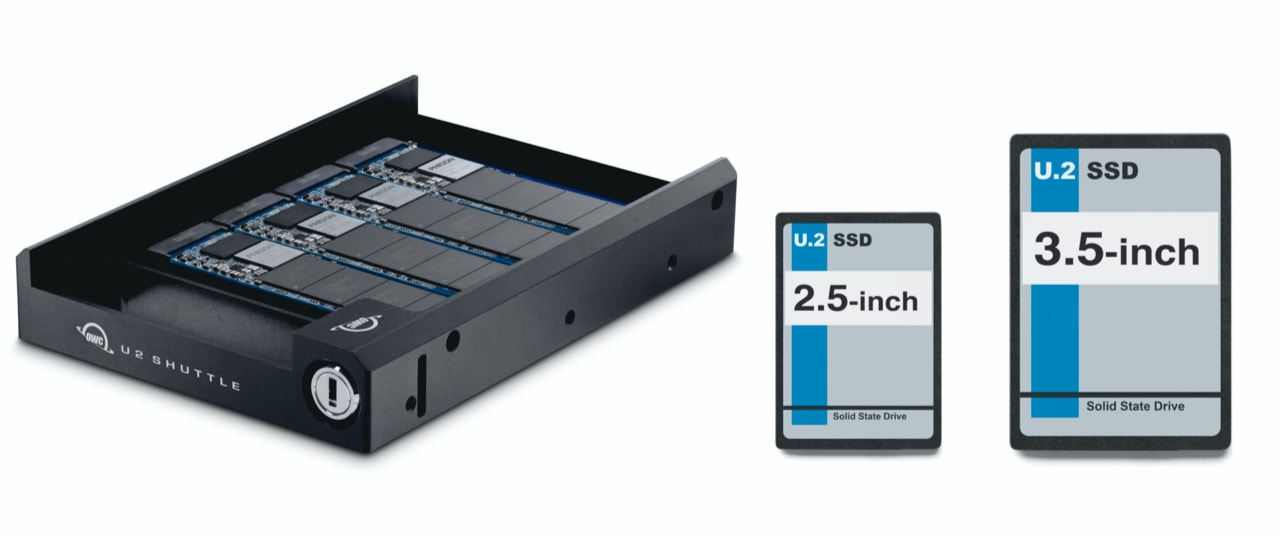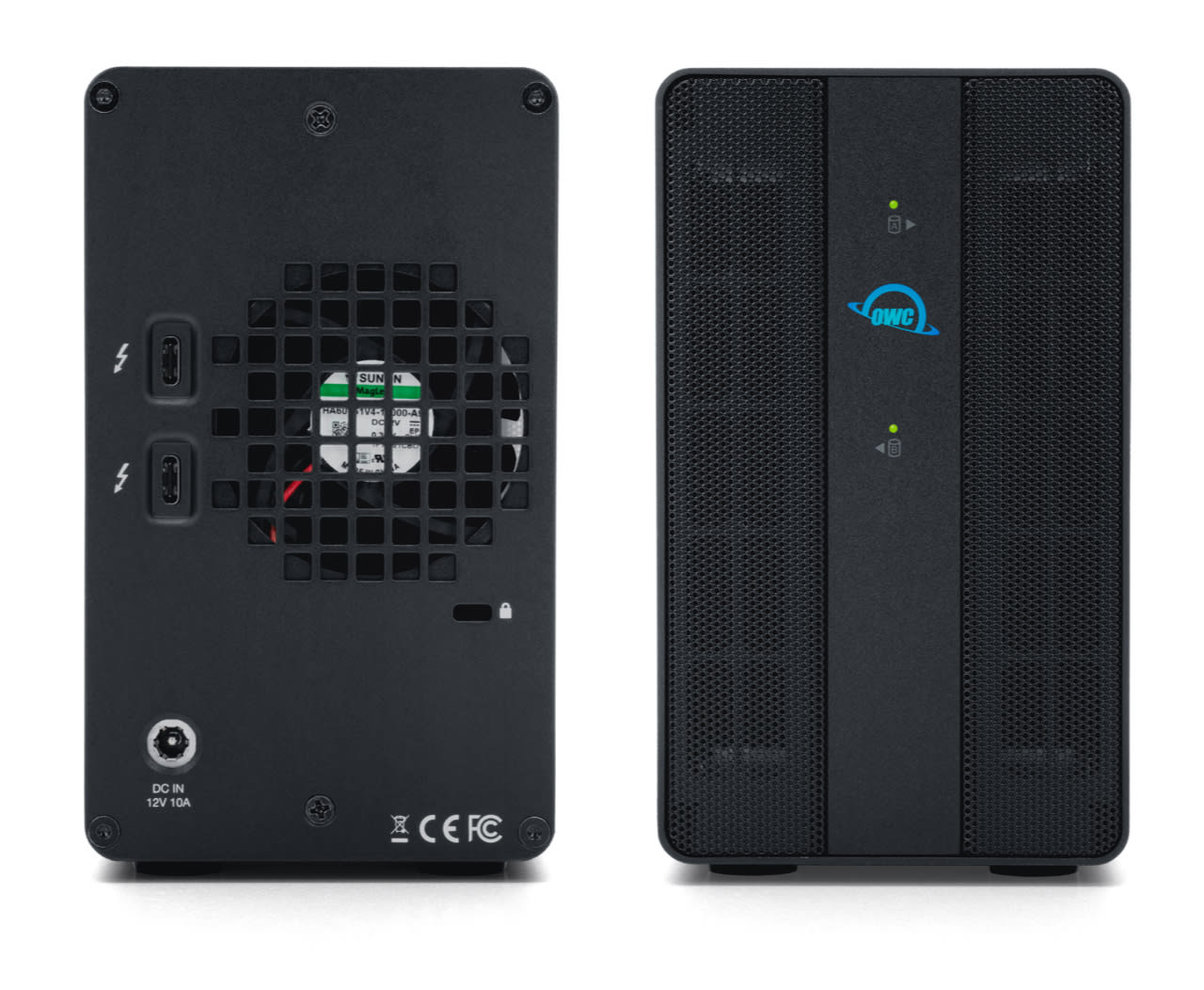 Store More, See More, Do More
An extra Thunderbolt USB-C port lets you daisy-chain devices to your Mercury Pro U.2 Dual to expand your capabilities. Add up to five additional Thunderbolt solutions and merge them with SoftRAID for mind-blowing storage capacities. Attach a 5K display or two 4K Thunderbolt displays. You can even place a USB device at the end of the chain. The Mercury Pro U.2 Dual gives you the freedom to use more of what you need.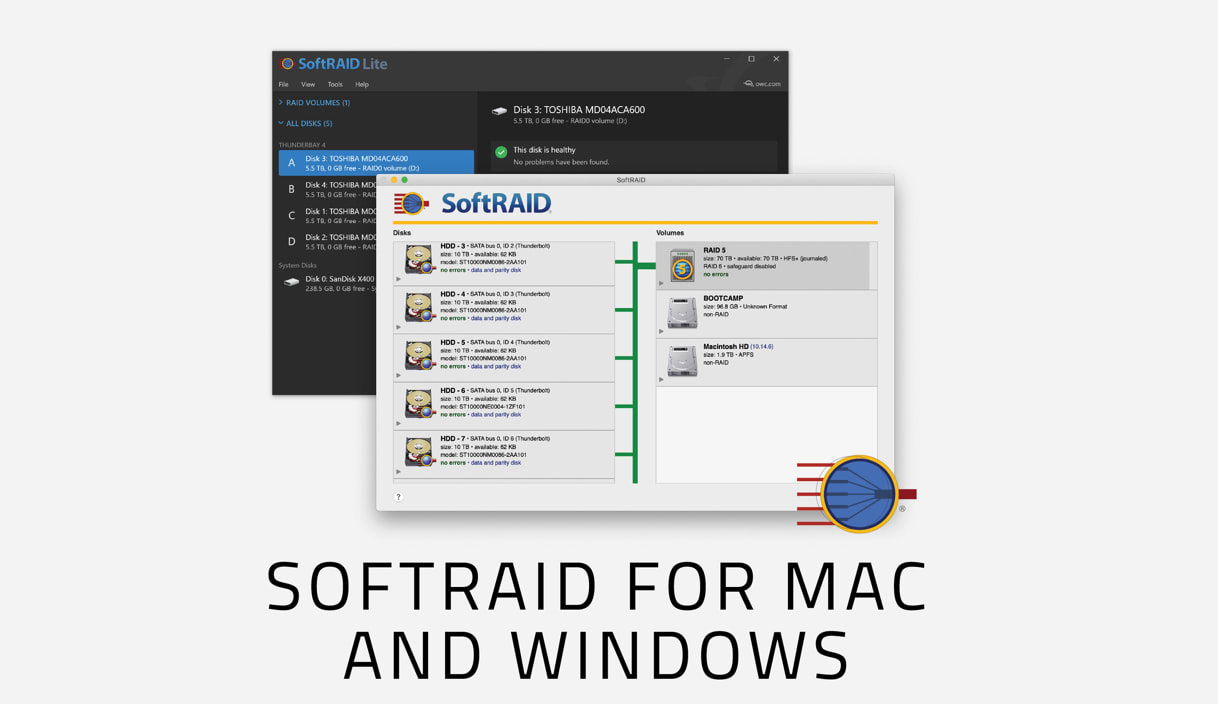 Easy RAID Options
Harness the full capability of this NVMe array with the easiest to use, broadest selection of RAID levels available. SoftRAID, included with 8-drive solutions, is a powerful and intuitive software RAID utility that guides your setup. It offers maximum volume capacity, optimum drive performance, data protection, or a combination of attributes. SoftRAID is ideal for anyone who needs to safely store and backup massive amounts of data, including video editors, audio producers, photographers and graphic designers.
Ready to Work Anywhere
The Mercury Pro U.2 Dual can be taken wherever you need a compact yet super-fast massive capacity storage solution. At 3.3"W x 5.8"H x 9.4"D and weighing just 4 pounds with drives, the Mercury Pro U.2 Dual can travel anywhere your workflow takes you. It connects to Thunderbolt Macs and PCs2 and can work cross-platform using OWC MacDrive 10 Pro software (available separately). Certified for Demanding Use
We understand that creative professionals need to have confidence in the reliability of their gear. That's why every Mercury Pro U.2 Dual solution undergoes a multi-step performance certification prior to shipping, so it always arrives ready for demanding use.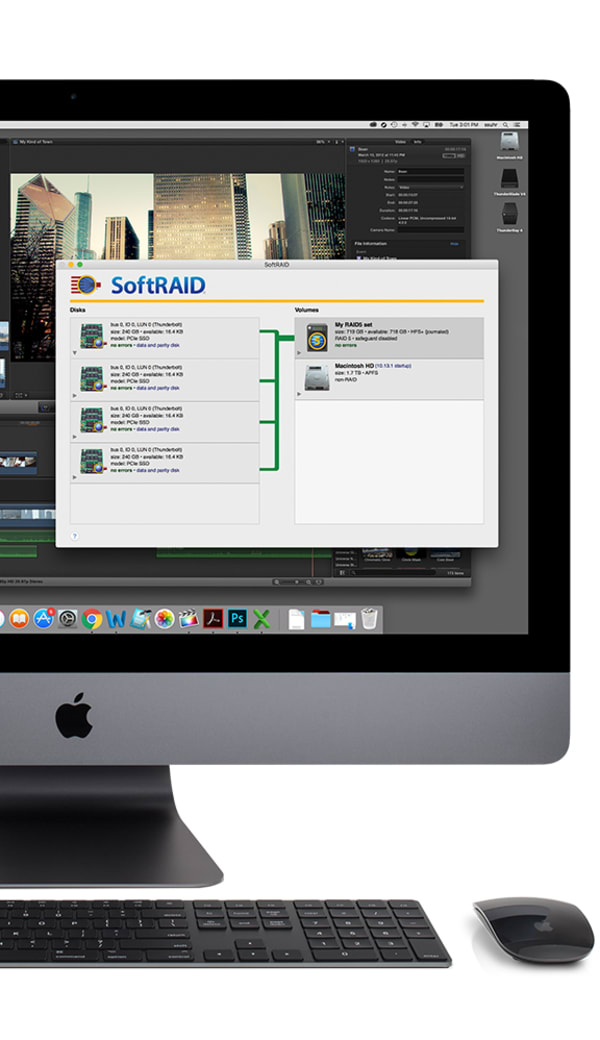 RAID Made Easy
Harness the full capability of your OWC drive array with the included SoftRAID XT, the most powerful, intuitive RAID management software on the market for macOS and Windows. SoftRAID's RAID creation and management technology has been finely tuned to perfection with over 20 years of development to provide rock solid protection of your data and optimize drive performance.
Packed with Features
SoftRAID XT provides an unbeatable combination of speed, protection, and compatibility:
Advanced: Create RAID 0/1/4/5/1+0 (10) arrays1
Protected: SoftRAID Monitor constantly watches your disks and alerts you if problems are detected
Validated: Volume validation ensures sectors can be read and parity is correct
Certified: Checks disks before use to ensure they are safe for data storage
Vigilant: Error prediction helps protect against unexpected failure
Universal: Move SoftRAID arrays seamlessly between Mac and PC2 with built-in OWC MacDrive technology
Beyond Hardware RAID
SoftRAID provides a level of storage performance that you simply can't get with hardware RAID. Software RAID gives you increased power and control over your RAID drives and disks that hardware RAID can't deliver and doesn't lock you into technology that you can't upgrade or expand.

Dive deeper into the benefits of SoftRAID »
RAID 4/1+0 (10) is available for Mac only at this time.
SoftRAID serial numbers work on both Mac and Windows. SoftRAID is licensed per computer. In order to use SoftRAID on multiple computers, you will need a unique, valid license per computer. Additional licenses can be purchased anytime.

Thunderbolt Made Easy
We make it easy to choose the right gear. Our Thunderbolt Certified products offer the same performance and functionality whether they are Thunderbolt 3 or Thunderbolt 4. And if you're rocking a beloved Thunderbolt 2 machine, we offer an adapter so you can plug into our universe of award-winning solutions. No hassles, no confusion. That's the OWC Difference.
Apple Mac models with Thunderbolt 2/Thunderbolt ports can be connected using an Apple Thunderbolt 3 (USB-C) to Thunderbolt 2 Adapter and a Thunderbolt 2 cable (available separately). This configuration provides data transfer at up to 20Gb/s but does not support notebook charging.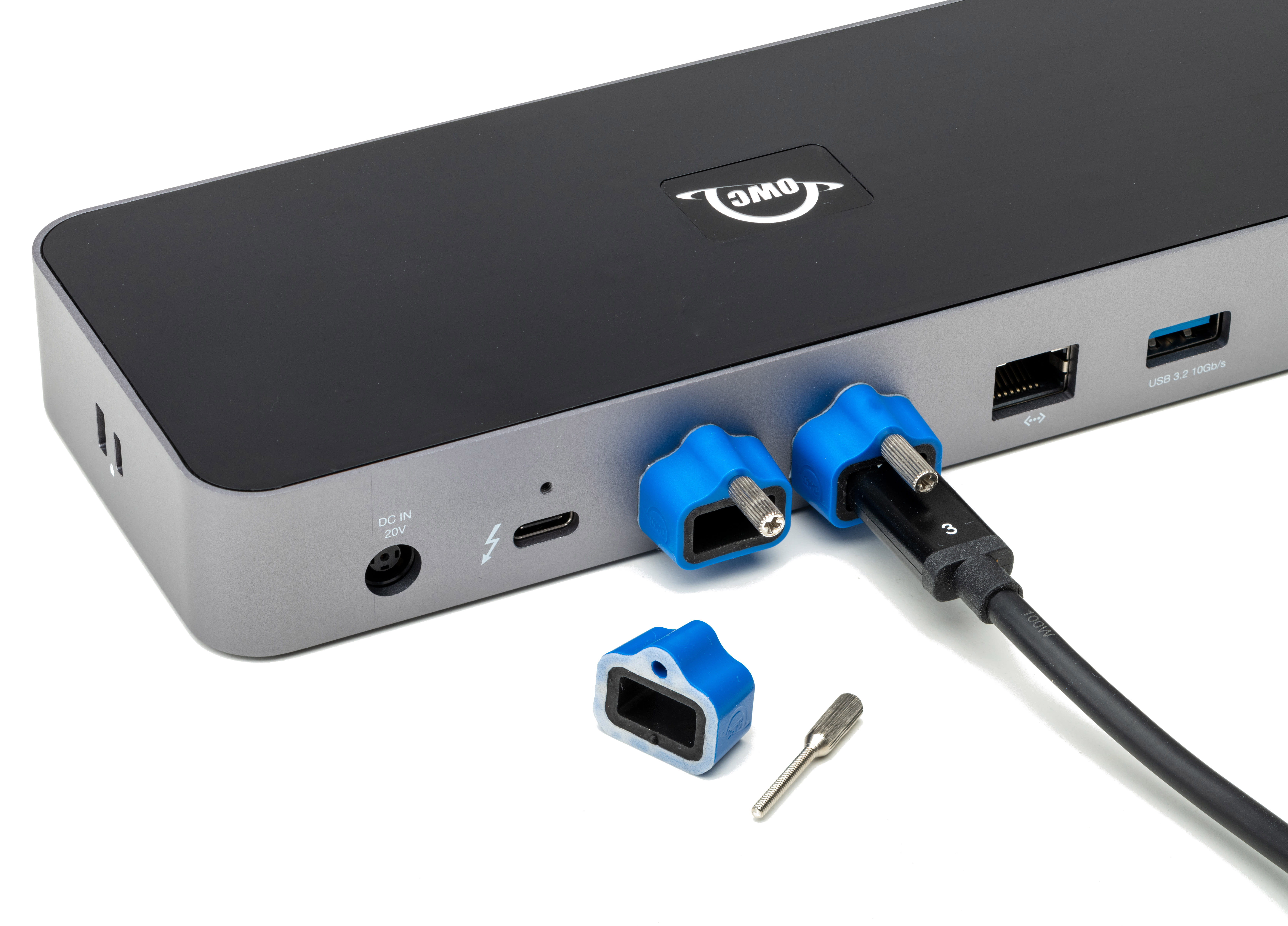 Stabilize Thunderbolt and USB-C Cables
Active workspaces expose gear to bumps, shoves, or even the random tail wag from a pet. OWC ClingOn custom cable stabilizers (available separately) screw into the OWC Dock or OWC Drive housing to reduce – if not completely eliminate – cable strain on Thunderbolt and USB-C connections so you can work with confidence even in the highest foot traffic environments.

OWC Thunderbolt Cable Included
OWC Mercury Pro U.2 Dual solutions come with a certified 0.7 meter OWC Thunderbolt Cable. But if your workflow demands a different length to make the connection, OWC Thunderbolt (USB-C) Cables are the perfect choice.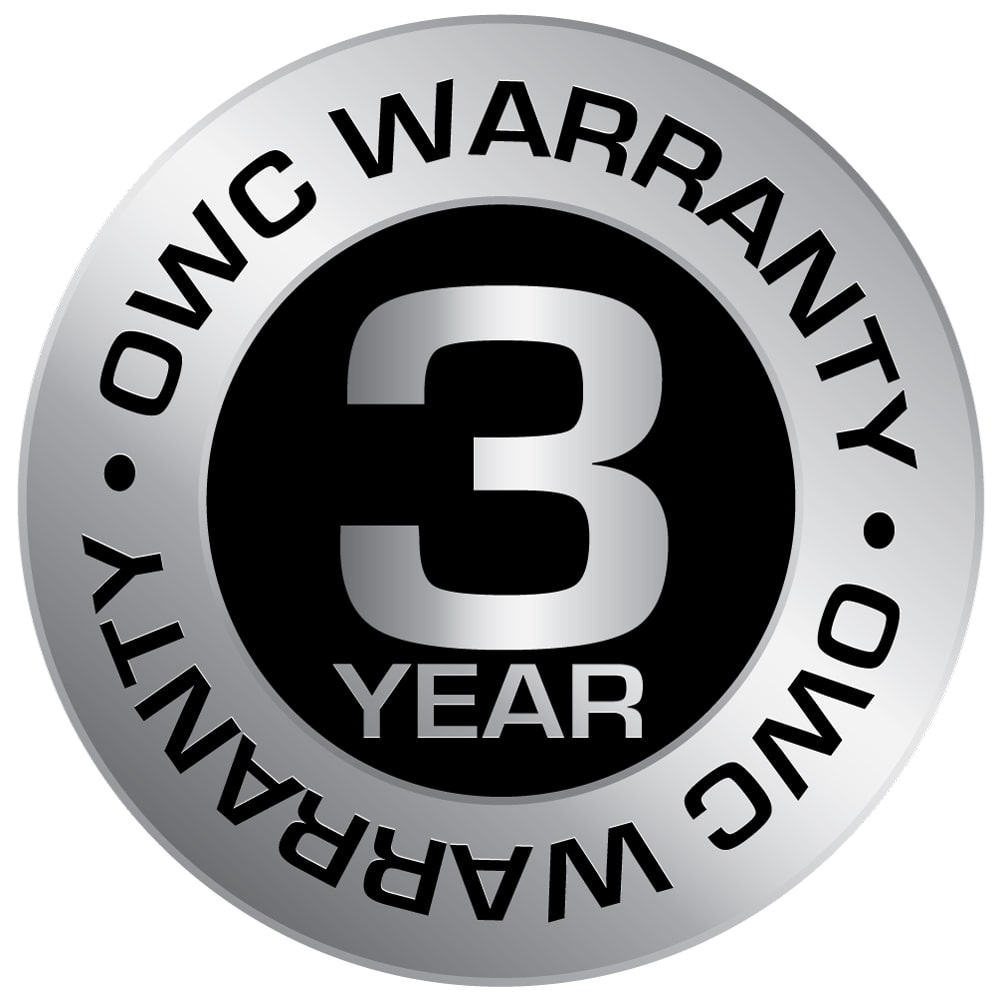 OWC, Trusted by Pros & Enthusiasts the World Over
We build our hardware to the highest standards of reliability and performance. Because 100% reliability is always the goal, we rigorously quality test and back our hardware with a 3 Year OWC Limited Warranty and award-winning customer support.
Learn More
Sequential read/write (max) performance based on testing Mercury Elite Pro U.2 Dual with 8 x 2TB Aura P12 SSDs in RAID 0 equipped connected to a MacBook Pro (16-inch 2019) with 64GB RAM and 2.4GHz i9 processor running AJA System Test (4K-Full resolution, 64GB file size, 10bit RGB codec, single file test). Each of the (2) U.2 drive bays are 2x PCIe lanes and support speeds of up to 1500MB/s. Max performance of 2800MB/s requires using both drive bays in a RAID 0 configuration.
Some Windows PC manufacturers use PCIe resource-limited designs which may be incompatible with switch-based PCIe devices (such as the OWC U2 Shuttle) in select configurations. Please contact OWC support if you experience this limitation.
3 Year OWC Limited Warranty for Solid-State Drive solutions. 1 year OWC Limited Warranty for enclosure only.
Requires use of DisplayPort to USB-C cable or adapter.
Two (2) OWC U2 Shuttle adapters are included with select eight-drive configurations. OWC U2 Shuttle is available separately for DIY enclosures.
Thunderbolt 2/Thunderbolt compatibility requires a certified Thunderbolt 3 (USB-C) to Thunderbolt 2 (mDP) adapter and a Thunderbolt 2 cable (available separately). This configuration provides data transfer at up to 20Gb/s but does not support notebook charging.