Created on: May 24, 2016
Last updated: April 19, 2022
Relevant Part Numbers:
OWCSSDAB2MB02
OWCSSDAB2MB05
OWCSSDAB2MB10 
OWCSSDA13MP1.0
OWCSSDA13MP2.0
OWCSSDA13MP4.0 
OWCSSDPHWE2R120
OWCSSDPHWE2R240
OWCSSDPHWE2R480
OWCSSDPHWE2R960
The OWC Dual Boot Enabler for Apple Boot Camp allows the SSDs listed above to support Boot Camp. The setup for this custom software is very simple — just follow these steps:
1. Download the installer file.
2. Launch the installer package and follow the prompts to install the software.
3. Restart your Mac.
From this point you will be able to set up and use Boot Camp using Apple's standard instructions.
https://www.apple.com/support/bootcamp/
If You Need to Uninstall
1. Launch the Terminal app.
2. Copy and paste the code shown below:
sudo rm -r /Library/Extensions/OWCDualBootEnabler.kext/
3. Press Return.
4. When prompted, enter your administrator password, then press Return again.
5. Once the process is complete, you can quit the Terminal app.
Troubleshooting:
If the Dual Boot Enabler is not installed and you attempt to go through with the installation, you may see a warning message similar to the one shown below in red, and the System Report will incorrectly identify the type of drive you are installing the system to (green).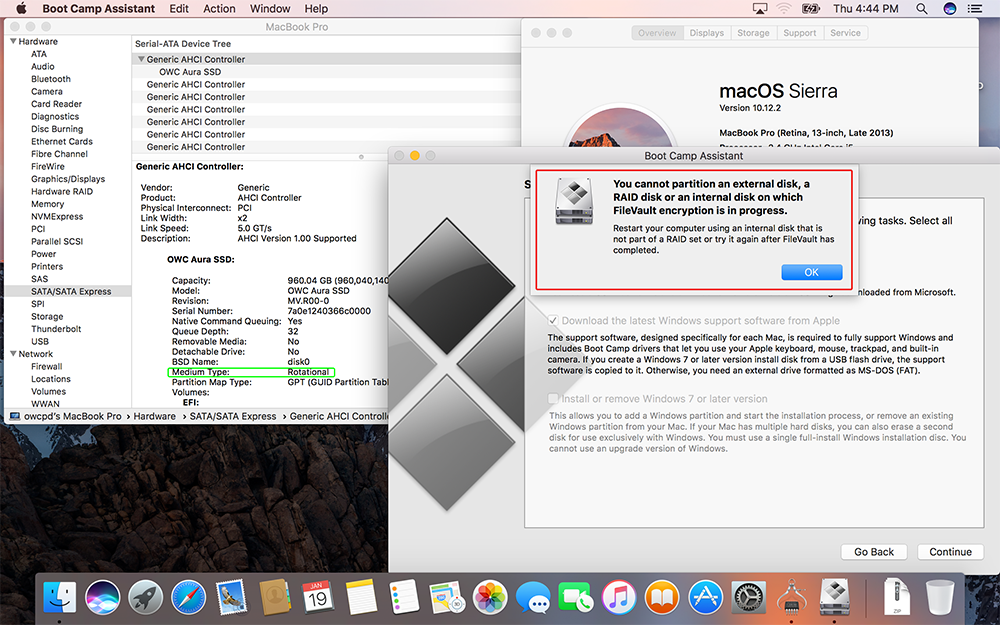 Once the Dual Boot Enabler has been installed, when you reach the same stage of the Boot Camp Assistant's Windows install, no warning message is present and the Aura SSD will be correctly identified.