---
Step 1 - Open up DasBoot.
Upon double-clicking the DasBoot icon, you'll get the first screen, which is really little more than an ad for SubRosaSoft's commercial software. That's cool. They're providing this utility for free, why shouldn't they use it to advertise their other tools? Simply click the Start button in the lower right and you'll be taken to the main screen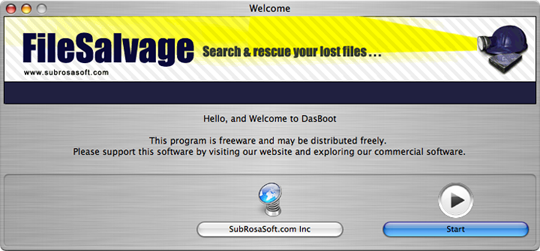 ---
Step 2 - Select your Source Disc

If it is not already selected, choose the Bootable CD you're going to create the new System from. In this example, I'm using a CD for Disk Warrior, as it is bootable on both PPC and Intel Machines.

Step 3 - Select the Destination Disk

If not already chosen, highlight the device you want to install the new "Emergency System" on. in this example, I'm using an old 1G iPod. The 20GB HD has more than enough room for what I need.

Step 4 - Choose Your Weapons...

In the next row down, you have the applications that will be included. DasBoot recognizes many utilities, and will automatically include them. If your favorite utility doesn't show up in the list, simply drag it into the list, and it will be added. If there's an app included that you have decided not to use after all, simply click the icon, and a red "X" will appear. Click it again to give it the green check mark, thus adding it to the list of installed apps.
Step 5 - Push a few buttons.
Once you have the settings ready to go, click the big blue button at the bottom of the screen.
If DasBoot deems it appropriate, a small warning about some devices not being designed for long-term use as boot devices. Read it, and decide whether or not to proceed.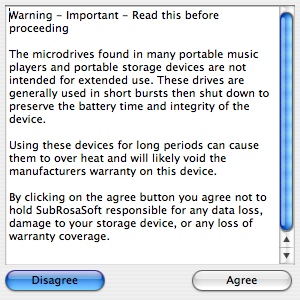 You may want to make sure you're not risking anything incredibly important...
You will then be prompted with a big warning telling you that you cannot undo the installation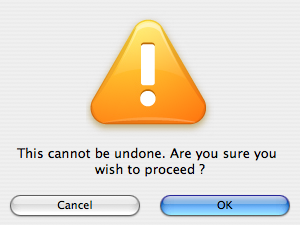 I think they want your attention....
A short "preparation" phase will be immediately followed with a prompt for a Username/Password for setup.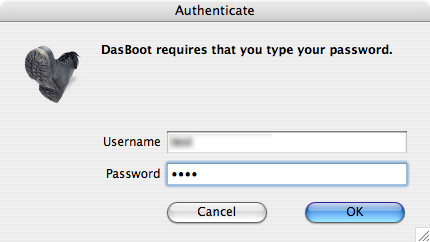 System files = You need Admin access...
Step 6 - Wait
The copy process is a little on the lengthy side. You may want to go get a sandwich.
Step 7 - Done!
After about 10-20 minutes or so, you'll have a bootable utility drive with all yout favorite tools on it. For some odd reason, the icon for the CD seems to get pasted on the drive. A quick Get Info, though will let you access the icon and delete it. When you eject and plug in the device again, all shows up normally.
To use your new drive it, simply plug it into the troubled computer, hold down "option" at startup and select it like any other hard drive. It's that easy!
Once you hit the main screen, a special launcher will load, allowing you to choose which utility to launch. When you're done with that one, you can choose another. When you're done, simply quit the main launcher, and your machine should restart.