LaCie
4.0TB

Rugged RAID
Professional All-Terrain Hardware RAID
Mac / PC / Thunderbolt / USB 3.0
Design by Neil Poulton
Fast and secure anywhere
Professional value
With the LaCie Rugged RAID, you get it all in one package - with zero tradeoffs. It delivers a game-changing blend of PC and Mac compatibility, capacity, speed, mobility, and reliability. As the ultimate solution for on-the-go professionals, the LaCie Rugged adapts to your needs for performance or complete data security.
Versatility anywhere, on any computer
Tailor the LaCie Rugged to your precise needs. Leave it in RAID 0 (striped mode) to maximize speed and capacity. Or choose RAID 1 (mirrored mode), where your data is duplicated across the two drives. So even if a drive fails in the field, your files remain completely accessible. Using LaCie Setup Assistant, it's incredibly easy to make the LaCie Rugged compatible with any Mac computer, PC, or both. And with Thunderbolt and USB 3.0 interfaces and hardware RAID, any computer will recognize the LaCie Rugged2. It lets you transport a massive amount of data – with complete security – and access it freely from any computer.
Innovative design
LaCie has designed acclaimed Rugged storage products for nearly a decade. With the Rugged RAID, LaCie makes your data more mobile than ever. Carry fewer hard drives, fewer cables, and encounter zero roadblocks. With the integrated Thunderbolt cable, you can be sure you never lose your cable, stow it neatly when not in use, while saving space in your luggage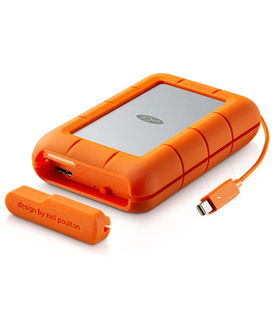 Highlights
Thunderbolt and USB 3.0 for speeds of up to 240MB/s
Bus powered via Thunderbolt for mobile workflows
Hardware RAID 0/1 flexibility for speed or security
Shock, dust, and water resistance for all–terrain use
More speed, less waiting
When getting the win hinges on speed, you need Thunderbolt – the fastest interface on the market. The LaCie Rugged also includes two internal hard drives that are preconfigured in hardware RAID 0 for sustained performance of up to 240MB/s1. At this speed, you can store and transfer content twice as fast as before. It's a time-slashing solution for field-based professionals who collect and move tons of data onto external storage. The LaCie Rugged's RAID system is operating system independent, so any computer recognizes it2.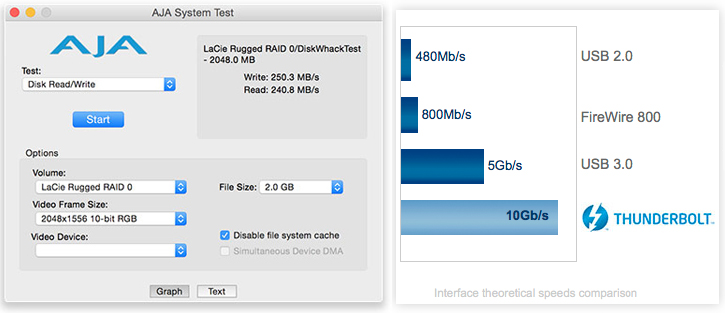 Rugged for true mobility
The LaCie Rugged is tested to withstand drops (In non-operating mode) of up to 1.5 meters (5 feet) and being run over by a 1-ton car3. So whether the LaCie Rugged falls out of your backpack or is crushed by stacks of suitcases in the airplane cargo hold, your data remains safe. With its cap in place, the LaCie Rugged is IP 54-rated for superior resistance to dust and water splashing – even during operation. So even during a dust storm or tropical downpour, you stay confident that your data remains accessible.
Massive capacity, compact footprint
With 4 TB in a portable size, the LaCie Rugged can store the equivalent of thirty 128 GB memory cards. Capacity finally meets mobility.
No power cable needed
Powered through the Thunderbolt cable, the LaCie Rugged lets you access your data anywhere – no power outlet required.
Includes everything you need
The LaCie Rugged includes everything professionals need for secure backup in the field: a backup software suite and compatibility with Time Machine and Windows Backup. It also includes LaCie Private-Public software, which lets you password-protect the entire drive or only certain volumes with AES 256-bit encryption.
Product Specifications:
LaCie Part Number
Standard Mechanism
2 X 2.0TB SATA Hard Drives

*1GB = 1,000,000,000 bytes. Total accessible capacity varies depending upon operating environment (typically 5-10% less). The actual total capacity will depend on your own defined file settings/preferences.
Interfaces
1 x Thunderbolt
1 x USB 3.0 (USB 2.05 and UAS compatible)
Interface Transfer Rate
Thunderbolt - 10Gb/s
USB 3.06 - 5Gb/s
Performance Benchmark
Thunderbolt and USB 3.0 (in MB/s)1

RAID 0: 240 reads | 240 writes
RAID 1: 115 reads | 120 writes
RAID Modes
Rugged Resistance
Dust & Water: IP 54 rated
Shock: drops up to 5' (1.5m) (in non-operating mode)
Pressure: Run over by a 1-ton car (2205lbs / 1000kg)3
Security
Password protection with AES 256-bit software encryption
Power
Thunderbolt bus powered
Included power supply6
Dimensions
1.3" x 3.6" x 5.8" (34 x 91 x 148 mm)
Weight
Warranty
Notes:
These transfer rates were achieved using AJA System Test when connected to a Mac computer via the Thunderbolt interface. Actual data rates may vary depending on operating environment and other factors, such as chosen interface and disk capacity
The file system format you choose for the LaCie Rugged must be compatible with the host computer.
Determined by a test that approximates a real–world scenario in which the hard drive remained functional, despite aesthetic damage, after the product was driven over by an approximately 1–ton car (2205lbs / 1000kg).
LaCie Rugged RAID comes preconfigured in RAID 0.
For optimal performance, the product must be connected to a USB 3.0 host port.
With USB 3.0 it is necessary to use the included external power supply.
Manufacturer provided specifications for Lacie p/n 9000601 UPC#: 093053013301
Video
Includes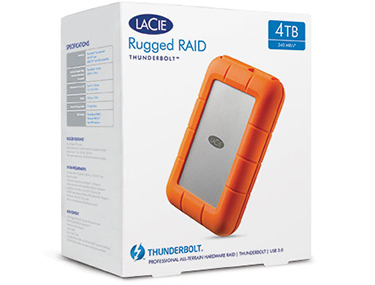 LaCie Rugged RAID with integrated Thunderbolt cable
USB 3.0 cable (USB 2.0 compatible)
Removable cover and spare
Power supply
Quick Install Guide
Software

LaCie Setup Assistant
Easily format and create partitions for use on Mac, PC, or both.

LaCie Private-Public
Allows you to create a password-protected volume called LA-PRIVATE. Once created, LA-PRIVATE will use AES 256 encryption to keep your most important files safe.

LaCie Backup Assistant
Easily format and create partitions for use on Mac, PC, or both.