Naztech
Quick Charge + USB-C


Wall Charger
Mac / PC / iOS / Android / USB-C
4X Faster Charging
Next Generation of High-Speed Charging Technology
This travel-friendly wall charger can deliver 25 watts (5A) of power to two devices simultaneously. Both USB ports are engineered with the next generation of high-speed charging technology: Quick Charge 3.0 and USB-C. The cutting-edge USB-C port delivers an incredible 3A output, while the QC 3.0 port powers up compatible Quick Charge 3.0 devices from drained to 80% full in just 35 minutes!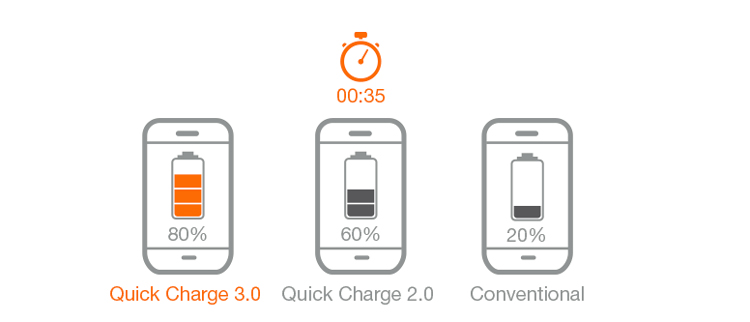 The QC port is a Type-A USB and delivers a tablet-friendly 2.4A output to standard non-QC devices. Blending powerful technology with sleek design, this charger has a soft-touch rubberized finish, travel-friendly foldable prongs, a blue LED power indicator, illuminated USB ports that make it easy to aim cables in the dark, and a detachable 2-in-1 Hybrid charge and sync cable for USB-C and Micro USB devices. Power Heavy Lifestyles Need Flash-Charging Power!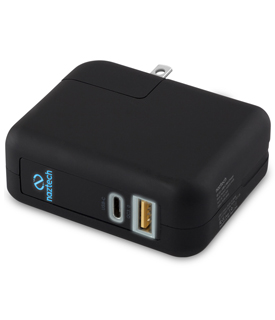 Highlights
Foldable Prongs—This compact charger is designed for travel.
Premium Construction—Built to last, this sleek compact charger has a durable soft-touch rubberized housing with illuminated USB ports to help aim cables in the dark.
Power At-a-Glance—A built-in LED light indicates that the charger is receiving power from your wall outlet.
Made for USB-C
The Type-C port delivers a lightning fast 5V/3A output to compatible devices that feature the new USB Type-C standard including the new MacBook, ChromeBook Pixel, HP Spectre, LG G5, HTC 10 and more.
Dual USB Ports
Charge any 2 USB powered devices simultaneously at full speed via the cutting-edge USB-C and Quick Charge 3.0 ports. The standard Type-A USB port works for Micro USB, Lightning and Qualcomm Quick Charge devices.
Detachable Hybrid 2-in-1 Cable
No need to carry 2 different cables, you can travel light! The included hybrid cable has a built-in adapter that offers a quick and seamless transformation from Micro USB to USB-C.

What Adaptive Charging Means For You
Quick Charge Technology dynamically adjusts the voltage output that is delivered throughout the battery charging cycle for maximum efficiency. You get fast, efficient and safe charging as well as reduced overall power consumption. Less wasted power also means less heat, which helps preserve your device's battery life.