Is your iPod battery wearing out? When you want to take your digital entertainment with you and watch or listen without running out of power, there's only one battery you can count on...NuPower® from NewerTech®! A perfect replacement, this NuPower battery will energize your iPod and rejuvinate it!
The NewerTech, Inc. replacement battery uses the same Lithium-Polymer battery technology as the original battery that Apple used. A detailed instruction manual, and 2 installation tools are included.
2 non-abrasive nylon installation tools.
1 Year NewerTech Product Limited Warranty.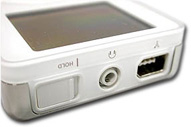 To use this battery, you need a first or second generation iPod with a FireWire connector on the TOP of the iPod like this. If your iPod connects to your computer using a dock connector, this is NOT the battery for your iPod!