OWC Mercury
Elite Pro Dual mini
0GB

Add your own drive enclosure


Bus-Powered, Multi-Interface RAID Storage Enclosure
Mac / PC / USB 2.0 & 1.1 / FireWire 800 / FireWire 400 / eSATA
High Performance Dual Drive, Bus-Powered Hardware RAID Data Storage/Backup with Plug & Play Convenience
With your choice of two 2.5″ Serial ATA (SATA) hard drives OR Solid State Drives (SSD), the latest Oxford chipset, and USB 2.0/FireWire 800/400/eSATA connectivity, the Mercury Elite Pro Dual mini Portable storage solution delivers up to 300MB/s data transfer speeds for demanding data storage and backup needs. All that performance resides in an impact resistant, bus powered (no AC adapter required), heat dissipating 5.6 in (D) x 6.1 in (W) x 1.1 in (H) brushed aluminum enclosure with near silent, fanless operation.
When you want high style in high performance storage, look no further than the Mercury Elite Pro Dual mini
With your own drive mechanisms built into a shock resistant, portable aluminum enclosure, the Mercury Elite Pro Dual mini is ready to go wherever you need a near silent, compact A/V, Digital Photography, Professional Music, Graphics, General Data, and Time Machine ready Hardware RAID storage solution.
HD Video Certified
This model is pre-configured for RAID-1 but can be user re-configured at any time for RAID-0, Span or Independent. Test Certified for HD Video capture and playback of HDV, DVC Pro, and ProRes 422HQ file formats via eSATA and FireWire 800.
RAID 0 Performance Stripe
Both drives are combined together to create a single drive volume that's much faster and provides larger capacity.

RAID 1 Mirror
Both drives are used to write two "mirrored" copies of your data at the same time to provide an instant backup copy of your data.

NRAID (Span)
Creates a larger drive by combining the capacity of two or more drives of the same or varying sizes into a larger drive volume.

Independent Mode (JBOD)
Available as an option via USB and FireWire connections, this mode lets you access each drive as an independent volume. This mode is like having two separate drives connected to your computer.
Drives not included - uses
two 2.5" SATA drives.
Requires two identical model drives for best operation,
operation with non-matched drives is not supported.

OWC NOTE: OWC recommends that all drives used in RAID configurations be identical for best performance. This drive enclosure requires two 2.5" Serial ATA (SATA) drive mechanisms. Most computers produced since 2006 use Serial ATA (SATA) hard drives. Please make sure that the drive you wish to use with this enclosure is compatible. If you need an enclosure for an ATA/IDE hard drive,
click here.
Because the amount of computer bus power provided can vary, use of the
optional AC adapter
may be required for proper operation of higher power draw mechanical hard drives and solid state drives.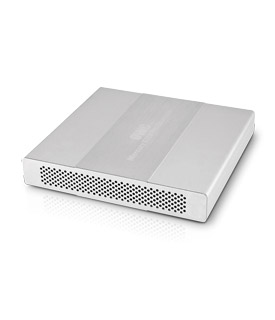 OWC's A Closer Look
OWC's Step-by-Step Install Video