OWC Mercury Elite Pro Qx2
0GB

Multi-Interface 4 Bay Professional
Grade Performance RAID Kit
Mac / PC / USB 2.0 & 1.1 / FireWire 800 / FireWire 400 / eSATA
New Condition | Open Box
The Ultimate Blend of Professional
Performance and Convenience
Install your own set of four matched (same part number and firmware version) 3.5″ Serial ATA (SATA I/II) hard disk drives into this brushed aluminum enclosure with Hardware RAID setting flexibility and experience up to 300MB/s data transfer speed for high performance data storage and redundancy.
User Selectable Hardware RAID Settings
Thanks to a front panel selector switch, the Mercury Elite Pro Qx2 enables easy configuration of the Hardware RAID settings - NRAID, 0, 1, 5, 10 - so you can select the best combination of speed, capacity, redundancy, or any combination of the three.
Re-builds without a computer connection!
RAID 1, 5, 10 enables you to keep working even if one drive fails!
NRAID (Span)
Combines capacity of two or more drives of the same size without any RAID data distribution scheme into one logical desktop volume. Will also combine the capacity of varying size drives based on the lowest capacity drive in the set.
RAID 0 (Stripe)
Data is split into blocks over two or more drives at same time for high speed and large capacity. The ideal RAID setting for demanding video production/editing.
RAID 1 (Mirror)
Data is written at same time to two drives only for highest level of data safety and redundancy.
RAID 5 (Stripe with Parity)
Data is Striped (RAID 0) while incorporating redundancy over three or more drives for the best combination of speed, capacity, and redundancy. The Multi-Interface 4 Bay Enterprise Class Performance RAID Solutions are pre-configured as RAID 5.
RAID 10 (1+0)
Data is Striped (RAID 0) over two Mirrored sets (RAID 1) of drives for fast redundancy.
Hard Drive Not Included - Needs 3.5" Serial ATA (SATA) Hard Drive

OWC NOTE: This drive enclosure requires 3.5″ Serial ATA (SATA) drive mechanisms with the same part number and firmware version for proper RAID mode operation. For recommended hard drives, please click on the product specs tab below. Please make sure that the drives you wish to use with this enclosure are compatible. If you need an enclosure for an ATA/IDE hard drive,
click here.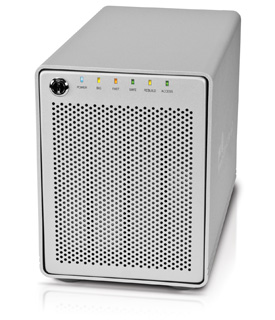 OWC's A Closer Look
OWC's Step-by-Step Install Video