Parallels
1 Year License | Digital Download
#1 choice of Mac users to run Windows on Mac!
The Mac you Love.
The Windows you Need.
Lightning Fast and powerful performance
Graphic and resource hungry Windows applications run effortlessly without slowing down your MacBook®, iMac®, Mac mini®, or Mac Pro®. Run it all without compromise—Microsoft Office, Visual Studio®, Quicken® and QuickBooks™ for Windows, Access, Project, Autodesk Revit® and Inventor, CorelDRAW, ArcGIS, Visio, Internet Explorer, Adobe Photoshop®, and more!
Seamless Integration
Use Mac and Windows applications side-by-side (no restarting required). Launch and access Windows applications right from the Dock, and easily drag and drop and copy and paste between them. If you're new to Mac, you can keep the familiar Windows experience in full screen.
Easy Setup
Choose your existing Windows, Linux, Ubuntu, or Boot Camp® installation or download Windows 10 on your Mac within Parallels Desktop and get started within minutes.
Run Windows and Mac Applications Side by Side
Choose your view. Make Windows invisible while still using its applications, or keep the familiar Windows background and controls on your Mac. And Parellels make it easy to get all of your files, applications, browser bookmarks, and more from your PC to your Mac—just follow the setup assistant.
Works with Boot Camp
Reuse your existing Boot Camp installation. Converting a virtual machine from Boot Camp is easier and more intuitive than ever.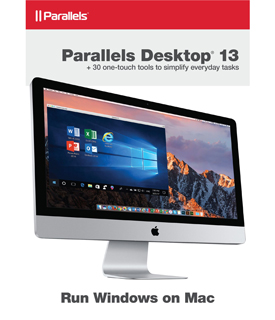 New in Desktop 13
#1 choice of Mac users to run Windows on Mac—no rebooting.
Easily convert your existing PC or install a new Windows OS.
Optimized for Windows 10 and macOS Sierra; ready for macOS High Sierra
BONUS! +30 one-touch tools to simplify everyday tasks.
Over 47% faster access to Windows files and documents.
Includes Touch Bar support for Microsoft Outlook and the Windows Start menu and Desktop.
Touch Bar Support for Windows Applications
Add Windows applications to Touch Bar™ for instant access and customization. Includes support for Microsoft Outlook, Excel, and PowerPoint, as well as additional integration for the Windows Start Menu and Desktop, including Cortana, Task View, and Taskbar pinned elements.
Connect Devices
Connect all your USB, Thunderbolt, and FireWire devices with Windows. Pair your Bluetooth and printer to work with both Windows and macOS.
One-Click Tuning
Select productivity, games, design, or development, and Parallels Desktop for Mac will optimize your VM settings and performance for you.
New Mac and Windows Toolbox
Includes Parallels® Toolbox for Mac and Windows, with over 30 one-touch tools: clean your drive, secure private files, take screenshots, download a video, and more—all with a single click.
System Requirements
Minimum System Requirements (Mac)
macOS High Sierra 10.13, macOS Sierra 10.12, OS X El Capitan 10.11.5, OS X Yosemite 10.10.5
A Mac computer with an Intel Core 2 Duo, Core i3, Core i5, Core i7, Intel Core M or Xeon processor (Core Solo and Core Duo processors are no longer supported)
4 GB of memory (8 GB recommended)
SSD drive is recommended for better performance
850 MB of disk space on the boot volume (Macintosh HD) for Parallels Desktop installation
Additional disk space for virtual machines (varies on operating system installed)
Internet connection
One of the following:
A Windows installation disc, or other installation media for the operating systems you want to use alongside Mac OS X
An Internet connection to download and install freely available operating system such as Ubuntu or Google Chrome.
Notes
If you're using OS X Yoesmite or later, you can setup a second copy of OS X to be used as a guest operating system alongside your main system, without having to purchase or download another copy of OS X.
Manufacturer provided specifications for Parallels p/n PPDFM-SUB-1Y UPC#: 846829005778