SoftRAID
SoftRAID Lite


RAID Utility Software
Mac / RAID 0 & 1
Powered by the advanced SoftRAID Engine
The Essential Software RAID Utility
Software RAID for Mac Made Easy
With the release of OS X El Capitan, Apple removed support for the creation and management of software RAID in Disk Utility. In El Capitan, software RAID can only be created and managed using Terminal commands, leaving a gap in functionality for most people using software RAID with the most current OS. SoftRAID Lite comes to the rescue, bringing software RAID 0 and 1 back to your Mac while adding the unparalleled disk health monitoring of the SoftRAID engine. For anyone who needs the basic speed or data security features of RAID 0 or RAID 1, SoftRAID Lite delivers advanced features built on the same technology as SoftRAID 5 at a value price.
Create & Manage Software RAID 0 & 1
SoftRAID Lite delivers essential software RAID functionality to your Mac, providing support for creation and management of RAID 0 and RAID 1 volumes for any two drive array in OS X, including external drives in an enclosure, or any combination of drives connected externally. SoftRAID Lite is fully bootable and can be installed on any Mac running OS X 10.6.8 (Snow Leopard) or later.
Enterprise-class Drive Health Monitoring
Because it's powered by the SoftRAID Engine, SoftRAID Lite features the most advanced disk-health monitoring tools available for Mac, including SMART reporting, an "hours-of-use" monitor, and block level health analysis. This means you're always aware of the status of the individual drives in your array, keeping your data safer.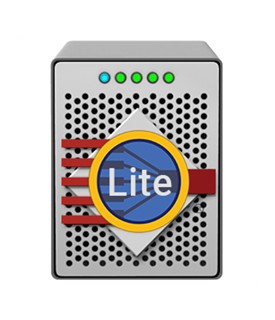 Highlights
Bring Software RAID Back to Your Mac
Up to 86% Faster vs. AppleRAID
Create & manage software RAID 0 & 1 arrays
Convert Existing AppleRAID to SoftRAID too
Enterprise-class drive health monitoring
System-wide predictive disk-failure analysis
Drive Certification
Receive desktop notifications of drive health issues

SoftRAID can now detect problems which are occurring on the Thunderbolt port of a Mac. These problems can cause disks to be ejected while in use. When these errors occur, SoftRAID notifies the user and suggests possible ways to keep these problems from reoccurring.
Predictive Failure Analysis
A benefit of the comprehensive health monitoring, SoftRAID Lite constantly watches for key failure indicators. Going beyond SMART error reporting, SoftRAID Lite reliably predicts more than 50% of catastrophic disk failures several weeks ahead of occurrence, so you have advance warning to protect your data.
Exhaustive Drive Certification
SoftRAID Lite offers a complete, multi-pass drive certification procedure that writes and reads from every sector on the target disk - considerably more thorough than manufacturer testing. In fact, up to 5% of all new hard drives, having passed manufacturer testing, fail SoftRAID disk certification. With SoftRAID Lite, you gain peace of mind, knowing that all the disks in your array are safe to use.
Notifications
The SoftRAID monitor always runs in the background, giving you constant notifications about the health and status of your SoftRAID lite array and alerting you to imminent drive failures.
New Language Support and Error Logging
With the release of SoftRAID version 5.5, both the SoftRAID and SoftRAID Monitor now offer support for English, French, German and Spanish.

Additionally, SoftRAID now includes an entirely new error logging mechanism, which can handle multiple, simultaneous message logging without truncation or scrambling, making it much easier to figure out which disk is failing and why.
Full Version Also Available
If you would like the ability to create RAID 5 volumes, please click
here
for the full version.
System Requirements
Minimum System Requirements (Mac)
Mac OS X 10.6.8 or greater
64-bit Intel powered Mac
Supported Drives
You can use any drive which you attach directly to your Mac. This includes:
Internal and external SATA drives
SSDs (Solid State Drives)
Fibre Channel and SAS drives
USB 2 and USB 3 drives
FireWire drives
Even USB flash drives
Notes:
Current version SoftRAID Lite, fully compatible up to Mac OS X 10.11 'El Capitan'.
SoftRAID Lite is also upgradeable to SoftRAID (retail)
Manufacturer provided specifications for SoftRAID p/n SOFTRAIDLDVD UPC#: 851382006025
Includes
SoftRAID Lite Application
Quickstart Guide
Release Notes