Sonnet Technologies
Echo 15+ Thunderbolt 2 Dock

with Blu-ray Drive & Storage Bay
Mac / PC / Thunderbolt 2 / USB 3.0 / FireWire 800 / eSATA / RJ45 / 3.5mm
The Complete Thunderbolt Dock
Connect Your Peripherals with One Cable
Sonnet's Echo 15+ Thunderbolt™ 2 Dock enables you to connect any computer with a Thunderbolt port to your peripherals through a single Thunderbolt cable (sold separately). Simply plug in your printer, keyboard, mouse, cable modem, external hard drive, display, headphones, speakers, microphone, and iPad®, iPhone®, or iPod®, and other devices to the Echo dock with their supplied cables, and connect your computer to the dock with a Thunderbolt cable. When it's time to disconnect your computer, just unplug the Thunderbolt cable!
Versatile for Your Needs
The Echo 15+ Thunderbolt 2 Dock gives you plenty of interfaces to choose from, including USB 3.0, SATA and eSATA, FireWire 800, Gigabit Ethernet, 3.5 mm audio input, 3.5 mm audio output, and Thunderbolt 2. For your convenience, USB 3.0, audio input, and audio output ports are placed on both the front and back of the enclosure, so you can leave frequently used devices connected to the back, and devices you may need to disconnect more often, to the front.
Blu-ray Disc Player Included
If you've purchased a new computer lately, you may have noticed something's missing-an optical drive. Not to worry, the Echo 15+ Thunderbolt 2 Dock with Blu-ray Disc Player has you covered-it includes a Blu-ray BD-ROM/8x DVD±RW drive to load software, import CDs, burn CDs and DVD-ROMs, and play DVDs. The Echo 15+ Thunderbolt 2 Dock with Blu-ray Drive even includes software that enables Blu-ray movie playback on your Mac computer or attached display.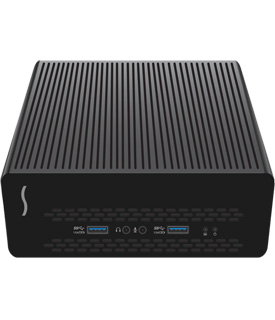 Highlights
Connect devices with just one cable
Thunderbolt 2, USB 3.0, 6 Gb/s SATA and eSATA, FireWire 800, Gigabit Ethernet, & 3.5mm audio interfaces
Adds a Blu-ray drive to your computer
Adds Blu-ray movie play support for OS X1
Supports internal hard drive or SSD installation
USB 3.0 for iOS device charging
Compatible with Every Thunderbolt Mac
Space for Extra Drive Storage
Sonnet designed the Echo 15+ Thunderbolt 2 Dock with extra space, mounting hardware, and connectors for you to install one 3.5" SATA hard drive, or two 2.5" drives, either SSDs (solid state drives) or hard drives. Dual independent 6Gb/s SATA interfaces deliver maximum performance to support a pair of SSDs at up to 750MB/s, or an HDD at its maximum speeds. Add a high-capacity drive to use as your Mac's Time Machine drive, to back up your computer's data, or to store your ever-growing media library. Optionally, you can install a pair of high-performance SSDs for blazing-fast access to applications and files, or a pair of 2.5" hard drives mirrored for redundancy. Whichever choice you make, the drive or drives mount inside the Echo dock, so you can expand your storage without the fuss of adding another external drive enclosure, another power brick, and more cable clutter.
4K Workflow Support
The Echo 15+ is the perfect docking station for connecting all of your peripherals, including the latest ultra HD 4K displays. With all the ports necessary to connect current and legacy devices, the option to add internal storage with support for data transfer rates of up to 750 MB/s, as well as the ability to burn projects to optical media, Sonnet's Echo 15+ Thunderbolt 2 Dock becomes your go-to station for flexible connectivity.
Rugged Aluminum Design
Sonnet designed the Echo 15+ Thunderbolt 2 Dock for maximum flexibility in use. The rugged aluminum case is engineered to effectively dissipate heat and is more than sturdy enough to support the latest Mac Pro, a 27" all-in-one computer, or a large format display up to 34".
iPhone and iPad Charging Hub
With its four powered USB 3.0 ports, the Echo 15+ Thunderbolt 2 Dock will be the hub for charging devices, too. Each port can charge your iPad, iPhone, or iPod, even when your computer is disconnected, off, or sleeping.
Product Specifications:
Sonnet Part Number
Form Factor
External Connectors
2 x eSATA
1 x FireWire 800
1 x RJ-45 (Gigabit Ethernet)
2 x Thunderbolt 2
4 x USB 3.0
2 x 3.5 mm audio input
2 x 3.5 mm audio output (front also optical)
1 x Power
Internal Connectors
2 x SATA power
2 x 6 Gb/s SATA data
1 x 3 Gb/s SATA power/data (reserved for optical drive)
Front Panel Indicators
Power LED indicator
Activity LED indicator for internal and/or external SATA hard drive or SSD
Hard Drive Support
Install one 3.5" hard drive, or two 2.5" SSDs or hard drives inside the dock2
Power Supply
Universal 100W, 100-240V, 50-60Hz
Display Support
Thunderbolt Display: Native support
Mini DisplayPort: Native support
HDMI, DVI, Dual-Link DVI, VGA: With Mini DisplayPort adapter3 (not included)
Resolution: Dependent on computer video controller specifications
Audio Connectors
Microphone: One 3.5mm monaural analog microphone jack in front
Headphones: One 3.5mm stereo headphone jack in front; supports stereo optical digital audio out (miniTOSLINK cable required)
Line In: One 3.5 mm stereo line level line in jack in rear
Speakers: One 3.5 mm stereo speaker jack in rear for powered speakers
Priority: Front I/O jacks have priority over rear I/O jacks
Max Data Rate
Thunderbolt 2: 20Gb/s
USB 3.0 5Gb/s
SATA: Up to 750MB/s (two SSDs, RAID 0)
eSATA: Up to 470MB/s per port
FireWire 8004: 800Mb/s (LSI 643E chipset)
Ethernet: 1000Mb/s, 100Mb/s, and 100Mb/s network speed
Boot Support
Yes: SATA, eSATA, FireWire 800, Netboot5
System Requirements
Mac with a Thunderbolt or Thunderbolt 2 port
Mac OS X 10.93+, Server 10.9.3+ (El Capitan compatible)
Windows computer with a Thunderbolt 2 port6
Windows 10, 8, 7
Internal Blu-ray Player
Blu-ray disc player (BD-ROM/8x DVD±RW drive)
Blu-ray Player Software1 (software included)
Boot support: OS X from DVD
CD Support: Read/Write
Operating Temperature
Dimensions
8.25" x 8.89" x 3.07" (21.0 x 21.1 x 7.73 cm)
Weight
Warranty
Notes:
Includes a Blu-ray BD-ROM/8x DVD±RW drive with Blu-ray player software for OS X. Windows software not included.
Hard Drives and SSD not included.
Mini DisplayPort adapter needed.
FireWire 400 support via FireWire 800 ports requires FireWire 400-to-800 adapter or adapter cable.
USB 3.0 Bootability is currently under testing by Sonnet.
Officially, the Sonnet Echo 15+ Thunderbolt 2 Dock is not supported under Windows, but can be used with a Windows 10, 8, or 7 computer as long as the computer has a Thunderbolt 2 interface and the Echo dock is the first device in the Thunderbolt chain
Manufacturer provided specifications for Sonnet Technologies p/n ECHO-DK-BD-0TB UPC#: 732311010040
Includes
Sonnet Echo 15+ Thunderbolt 2 Dock
1 x Power cord
1 x Power adapter
Documentation