OWC Atlas Dual SD Card Reader Support Guide
Contents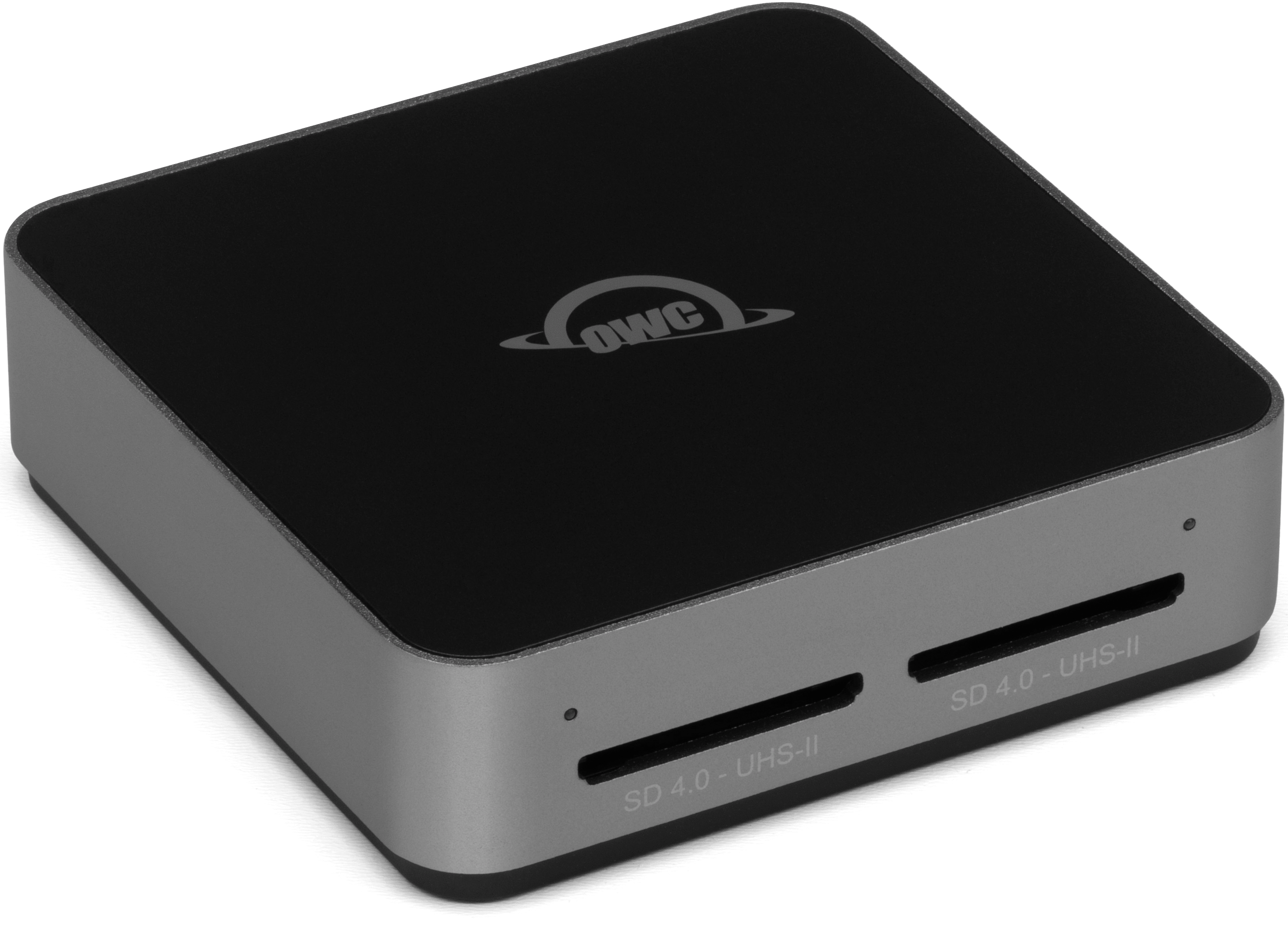 Introduction
1.1 - System Requirements
1.2 - Package Contents
1.3 - About This Manual
1.4 - Product Overview
Usage Information
2.1 – Setting up Device
2.2 – Write Protection Switch
2.3 – Innergize Software
2.4 – Usage Notes
Support Resources
3.1 - Troubleshooting
3.2 – Contacting Technical Support
Introduction
1.1 - System Requirements
Hardware:
Works with any Mac, PC, or tablet with a USB or Thunderbolt (USB-C) port.
Operating System:
MacOS 10.11 or later, Windows 10 or later, iPadOS 13 or later, Chrome OS, and Linux
Supported Memory Cards:
(2) SDXC (up to 4.0 UHS-II) cards (not included)
1.2 – Package Contents
(1) OWC Atlas Dual SD card reader
(1) Tethered USB Type-C cable
(1) Quick Start Guide
1.3 – About This Manual
The images and descriptions may vary slightly between this manual and the unit shipped. Functions and
features may change depending on the firmware version. The latest product details and warranty information
can be found on the product web page. OWC's Limited Warranty is not transferable and subject to limitations.
1.4 – Product Overview
A. Atlas Dual SD Reader – (2) SD 4.0 Slots support SD4.0 UHS-II cards
B. LED Indicator:
| Operation | LED Function |
| --- | --- |
| Connected card reader without memory cards. | Off |
| Connected card reader while the host is sleeping. | Off |
| Unmounted cards from the operating system. | Off |
| Mac Users: LED for SD cards will remain solid. | Off |
| Connected card reader with cards but no read or write activity. | Solid Blue |
| Waking the host from sleep with cards inserted. | Solid Blue |
| Actively reading or writing to the memory cards. | Flashes Blue |
C. Tethered USB-C cable – connect to the host when on the go.

D. Write protection switch – prevents unwanted file deletion and card formatting. Protects both inserted memory cards with one switch

E. OWC ClingOn-ready cable stabilizer mount – affix ClingOn to help prevent accidental cable disconnections (sold separately)

F. USB-C 10Gb/s port – use with longer cables to extend your connection while at home or in the office
Usage Information
2.1 – Device Set up
Connect the Atlas Dual SD card reader to your compatible host via the tethered USB-C cable or USB-C cable connected to the USB-C 10Gb/s port.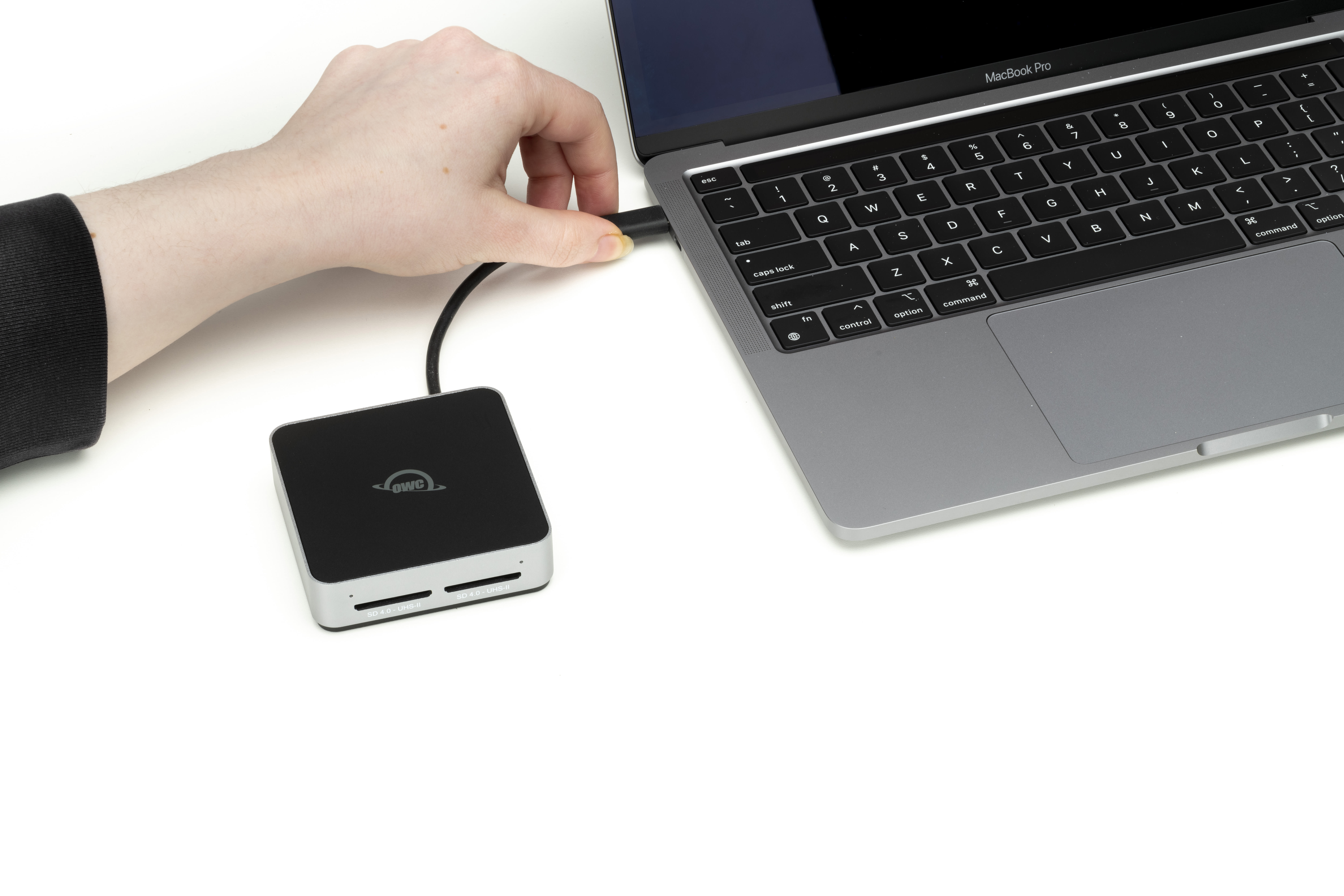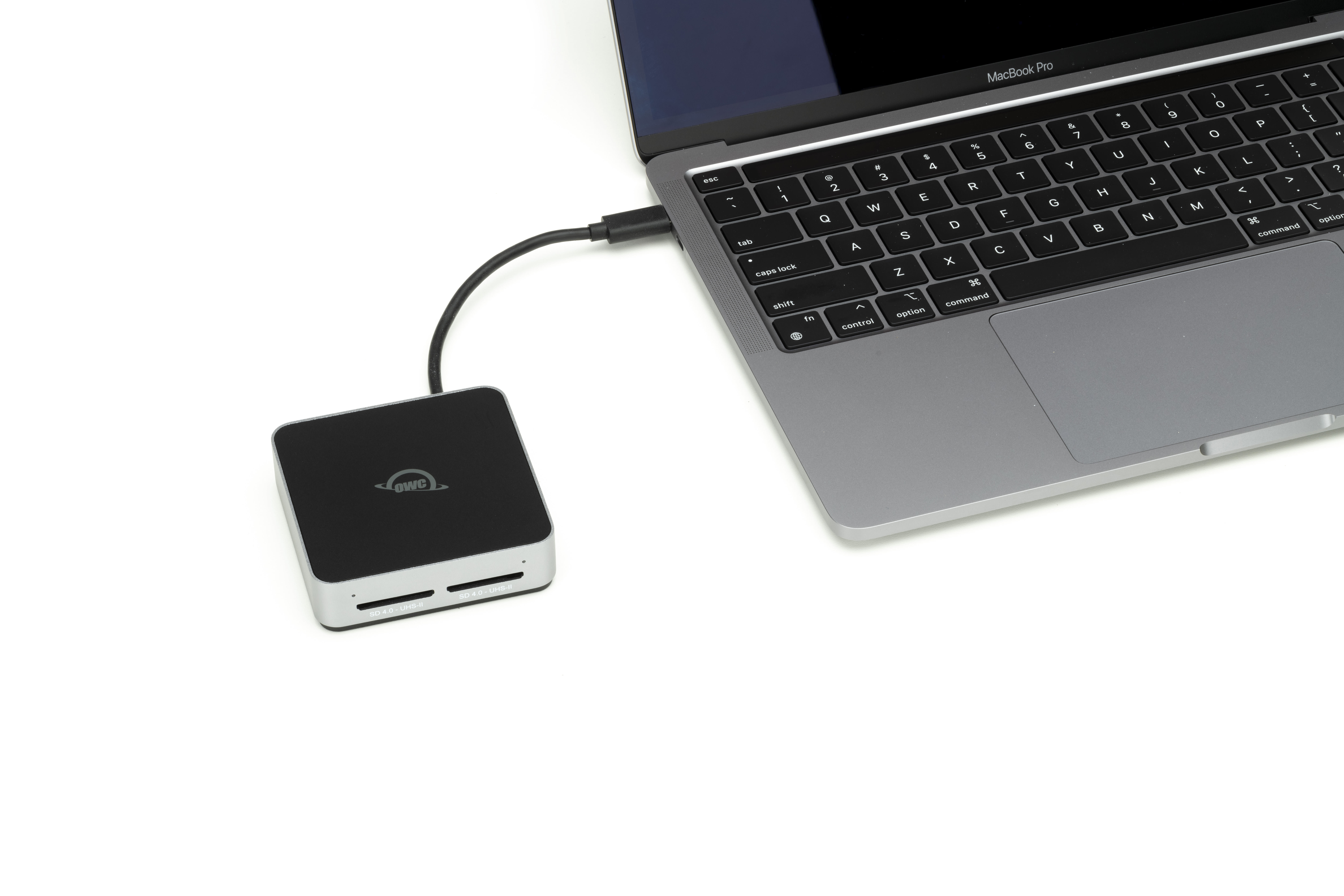 Insert an SDXC card into either card slot by aligning the memory card notches with the internal card reader connections. The gold contacts should be facing down when the memory card is inserted.

The card may take up to 30 seconds for the card to be recognized when using over iPadOS, Android, or Chrome OS.
macOS 13.x users will have to approve the pop-up window that appears when connecting the device.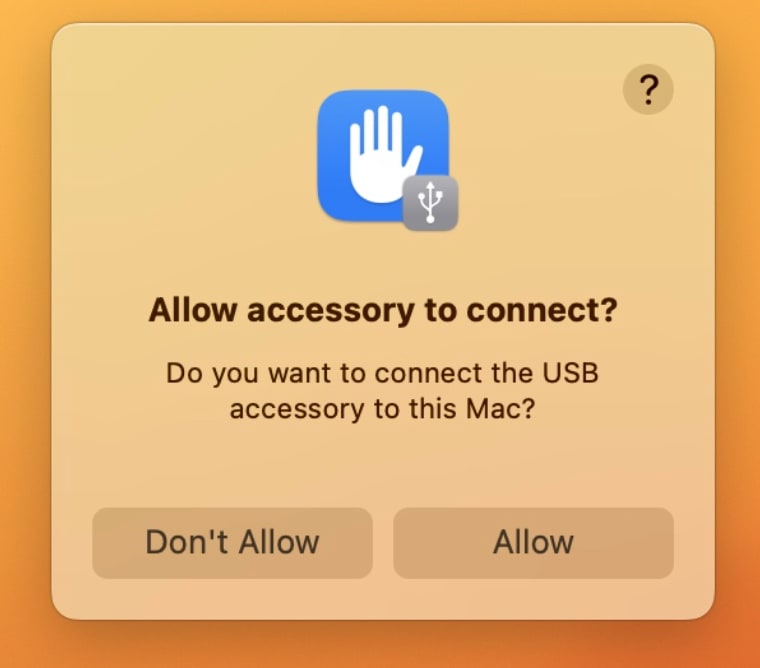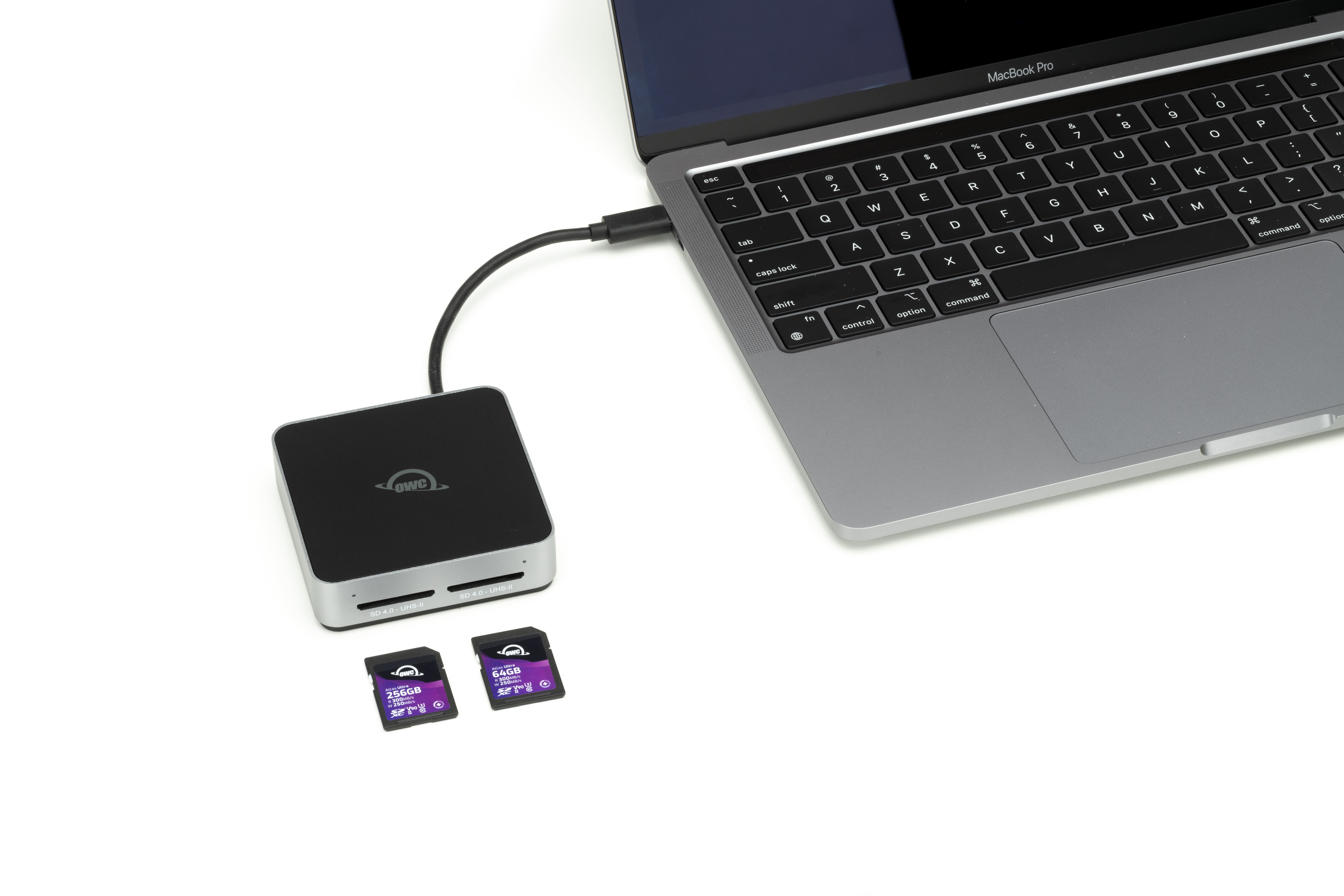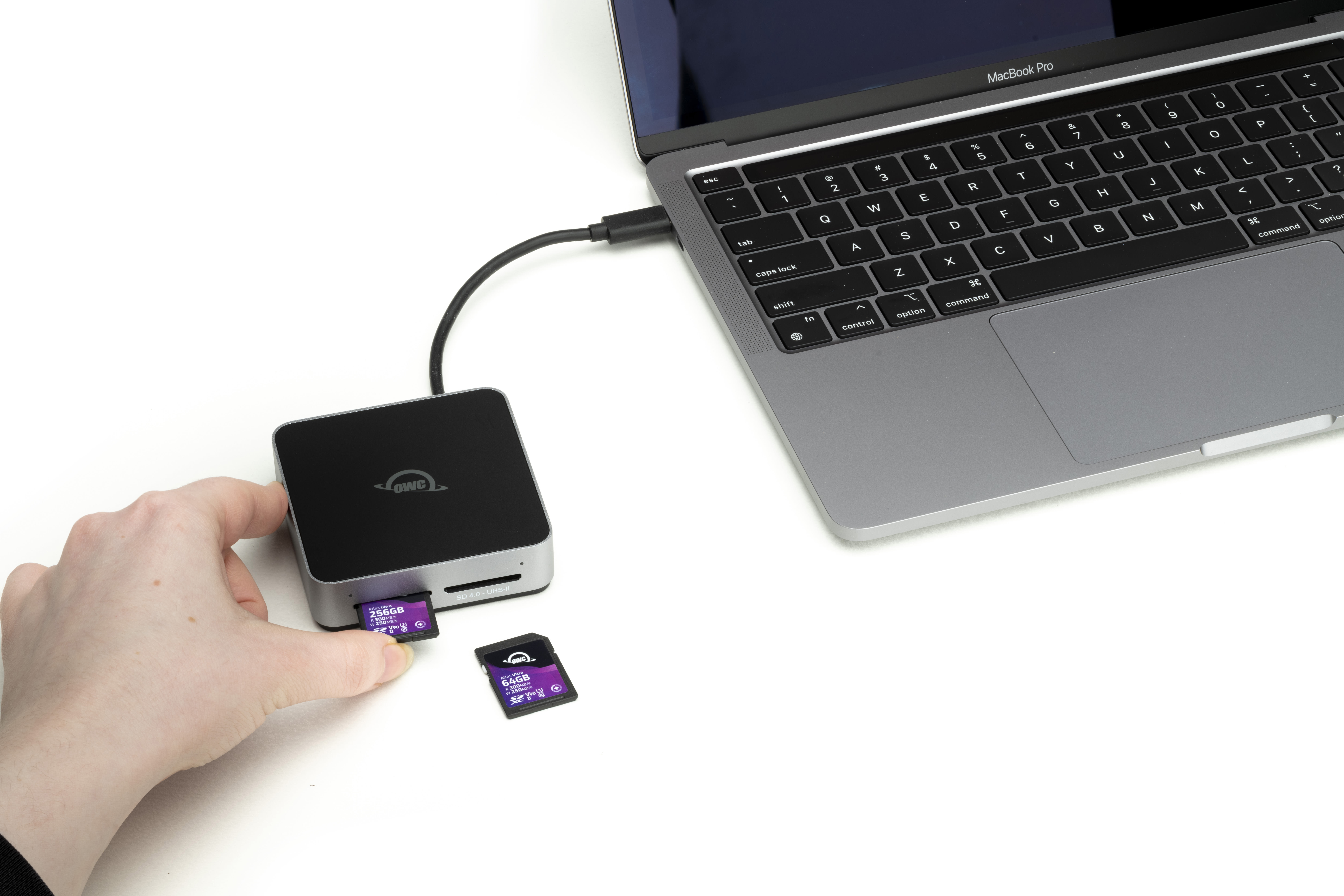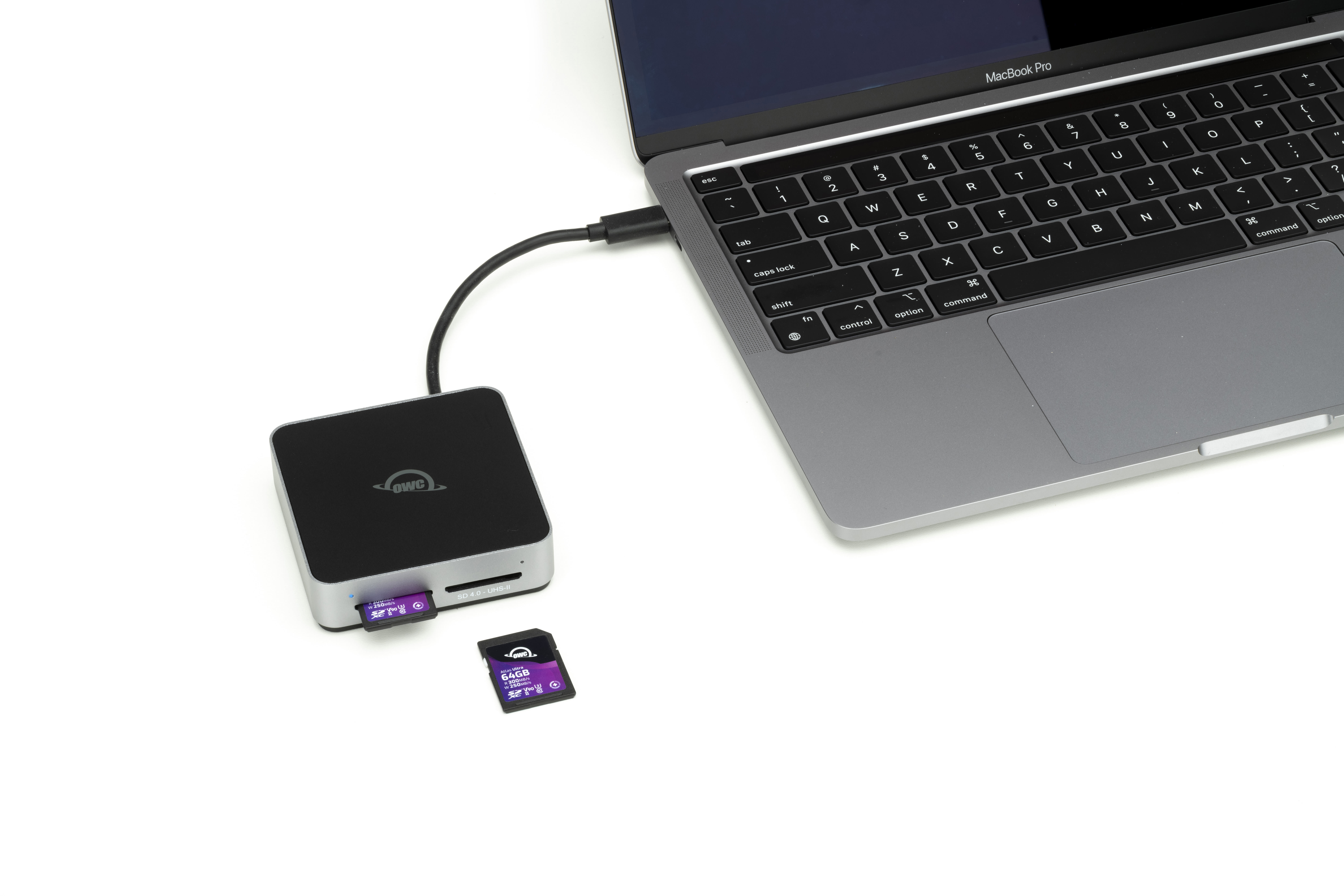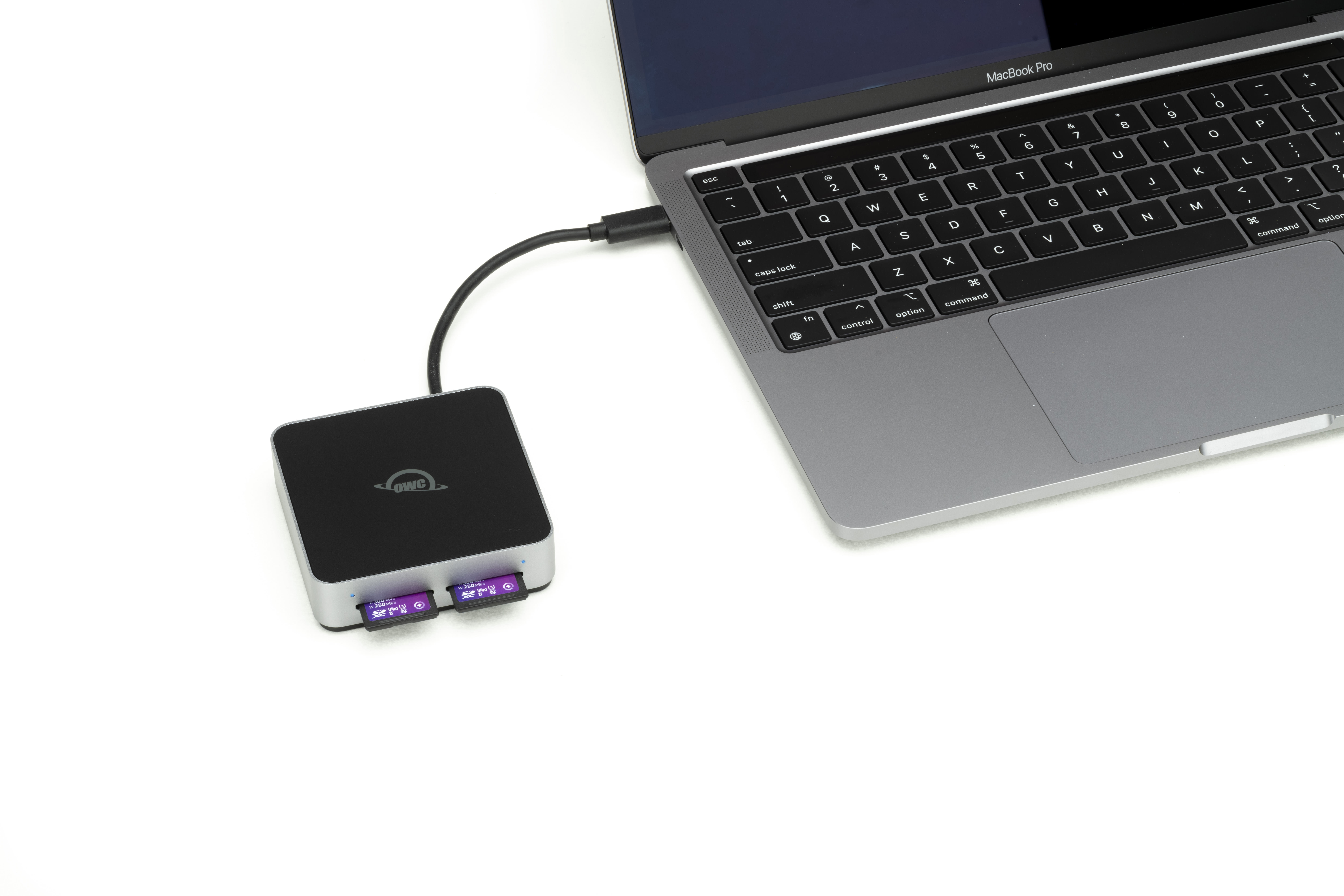 2.2 - Write Protection Switch
The inserted memory cards need to be properly unmounted from the operating system and removed from the Atlas Dual SD card reader before toggling the Write Protection Switch.

Note: Write protection will NOT enable or disable properly if toggled while the memory cards are connected.

Mac users will be unable to add files to memory cards while the Write protection switch is enabled. Drag and drop becomes disabled. Properly unmount any connected memory cards, and remove the memory cards from the Atlas Dual SD card reader. Toggle the Write protection switch to the desired position before inserting and connecting the memory cards
PC users will receive a pop-up window stating the disk is write-protected if write access is attempted while the Write protection switch is enabled. If this occurs, select "Cancel" on the pop-up window, properly unmount any connected memory cards, and remove the memory cards from the Atlas Dual SD card reader. Toggle the Write protection switch to the desired position before inserting and connecting the memory cards.
2.3 - OWC Innergize Software
A software application included with OWC Atlas media cards that currently provides three basic functionalities to the user: Health, Sanitize and Field Firmware Upgradability.

The Health function allows the user to know how much life is left on their OWC Atlas media card
Sanitize removes ghost data on OWC Atlas media cards which will allow the media cards to perform at their peak and out of factory condition performance in matter of seconds
Field Firmware upgradability allows OWC to deliver live updates to our memory cards without the hassle of sending them in for an update.
Installing OWC Innergize
Download OWC Innergize application based on the system:
Open the downloaded Innergize.dmg file to begin and complete the installation process.
For additional information regarding OWC Innergize please consult the support manual "OWC Innergize User Guide"
2.4 - Usage Notes
To store the tethered USB-C cable, place the USB-C connector into the cavity on the underside of the Atlas Dual SD card reader, press down on the black connector, and wrap the cable by pressing down into the notch.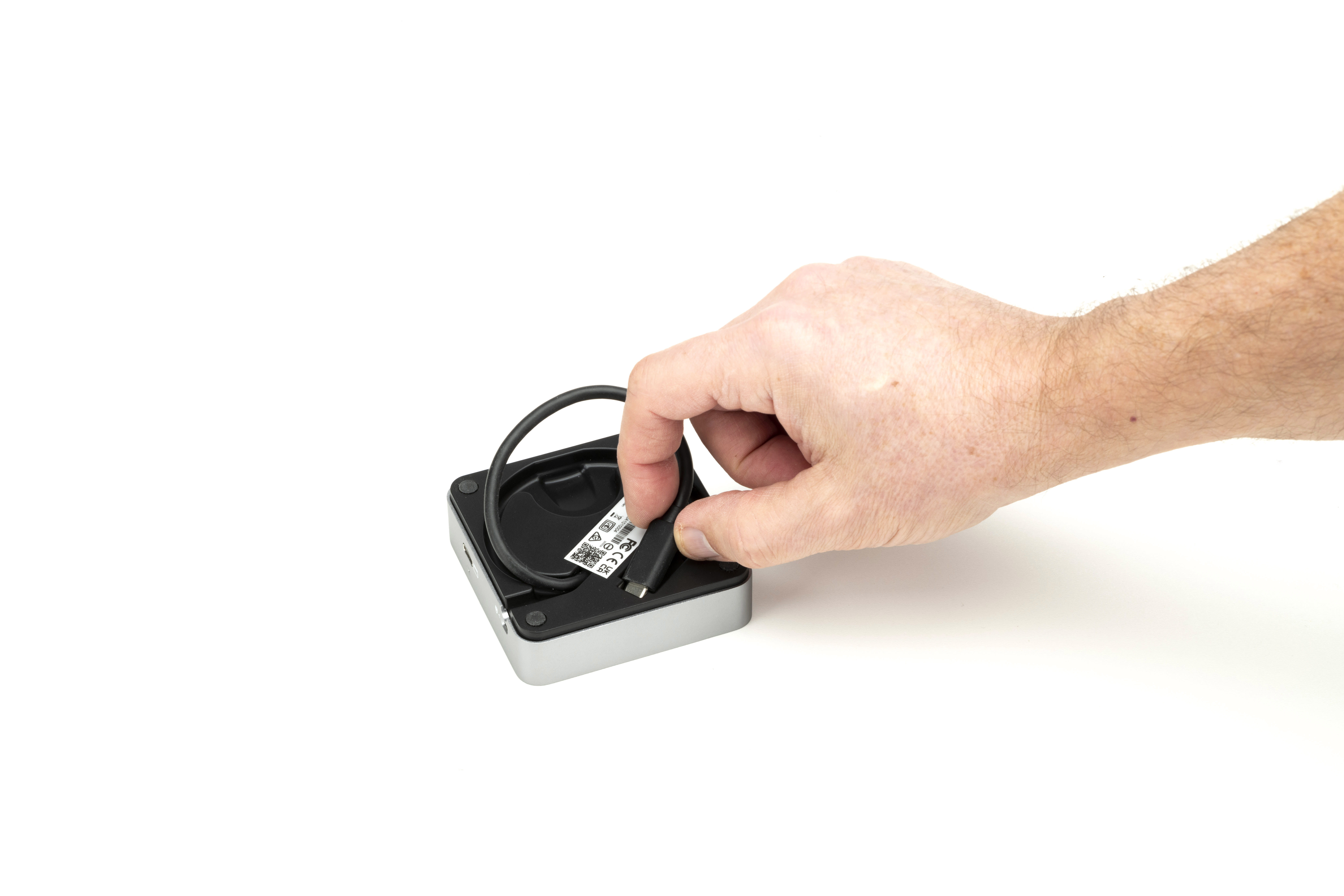 Chaining other docks off the USB-C 10Gb/s port is not supported.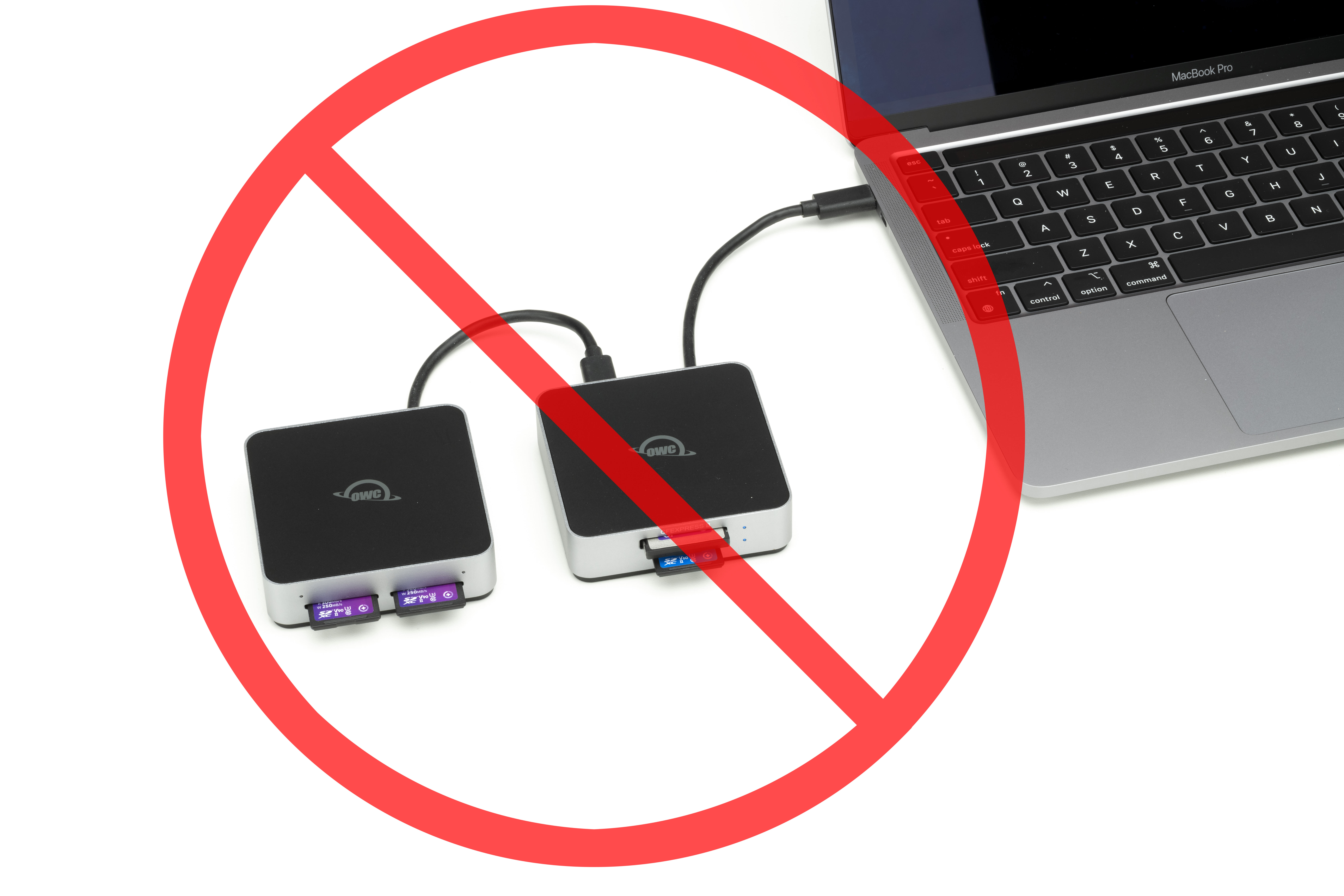 Performance results will vary depending on the SDXC card used.

SDXC specification supports speeds up to 312 MB/s

Both card slots operate independently allowing the memory cards to be inserted and removed separately without affecting each other.
For the safe removal of your memory card, and to ensure that no data is lost, always eject or unmount from your operating system before removing the card.
Users who acquire an OWC ClingOn should carefully install the connector securing device by avoiding over tightening the mounting screw.
Additional product information can be discovered by visiting start.owc.com/atlasreaders/dual-sd
Support Resources
3.1 – Troubleshooting
Ensure cable connections are secure and the memory card is fully seated if not being recognized by the host.
If you can't write to the memory card, check to see if the Write protection switch is enabled.
OWC support is here to help. Please have your serial number ready which can be located on the bottom of your Atlas Dual SD card reader and printed on the original packaging. Please contact support for further assistance.
3.2 - Contacting Technical Support
Phone: M–F, 8am–8pm CT 1.866.692.7100 (N. America) | +1.815.338.4751 (Int'l)
Legal Information
CHANGES:
The material in this document is for information purposes only and subject to change without notice.
While reasonable efforts have been made in the preparation of this document to assure its accuracy, OWC,
its parent, partners, affiliates, officers, employees, and agents assume no liability resulting from errors or
omissions in this document, or from the use of the information contained herein. OWC reserves the right
to make changes or revisions in the product design or the product manual without reservation and without
obligation to notify any person of such revisions and changes.
FCC STATEMENT:
Warning! Modifications not authorized by the manufacturer may void the user's authority to operate this device.
NOTE: This equipment has been tested and found to comply with the limits for a Class A digital device,
pursuant to Part 15 of the FCC Rules. These limits are designed to provide reasonable protection against
harmful interference when the equipment is operated in a commercial environment. This equipment
generates, uses, and can radiate radio frequency energy and, if not installed and used in accordance with the
instruction manual, may cause harmful interference with radio communications. Operation of this equipment
in a residential area is likely to cause harmful interference, in which case the user will be required to correct
the interference at his own expense.
- Reorient or relocate the receiving antenna.
- Increase the separation between the equipment and receiver.
- Connect the equipment to an outlet on a circuit different from that to which the receiver is connected.
WARRANTY:
The OWC Atlas Dual SD Card Reader has a 2 Year OWC Limited Warranty. For up-to-date product and warranty
information, please visit the product web page.
COPYRIGHTS AND TRADEMARKS:
No part of this publication may be reproduced, stored in a retrieval system, or transmitted in any form
or by any means, electronic, mechanical, photocopying, recording or otherwise, without the prior written
consent of OWC.
© 2023 Other World Computing, Inc. All rights reserved. OWC and the OWC logo are trademarks of New
Concepts Development Corporation, registered in the U.S. and/or other countries. Apple, Mac, macOS, and
OS X are trademarks of Apple Inc., registered in the United States and other countries. Thunderbolt and
the Thunderbolt logo are trademarks of Intel Corporation in the U.S. and/or other countries. Microsoft and
Windows are either registered trademarks or trademarks of Microsoft Corporation in the United States and/
or other countries. Other marks may be the trademark or registered trademark property of their owners.
Free 24/7 Support Chat
Our award-winning support team is ready to answer all of your questions. Talk with a human today...