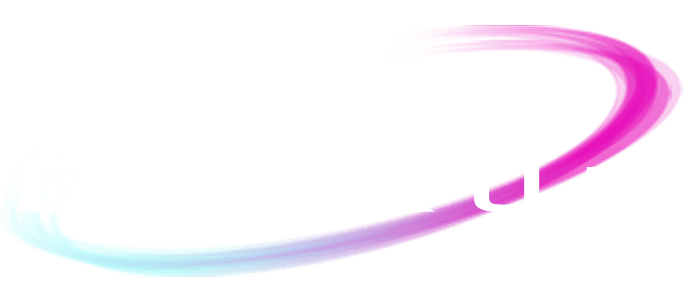 Easy Drag-and-Drop Backup/Archival and Restore Solution for Windows, Linux, and macOS Personal Desktop, Business Workstations, and Creative Pros in Film, TV, and Recording Industries
Or try ArGest Backup for FREE for 30 days!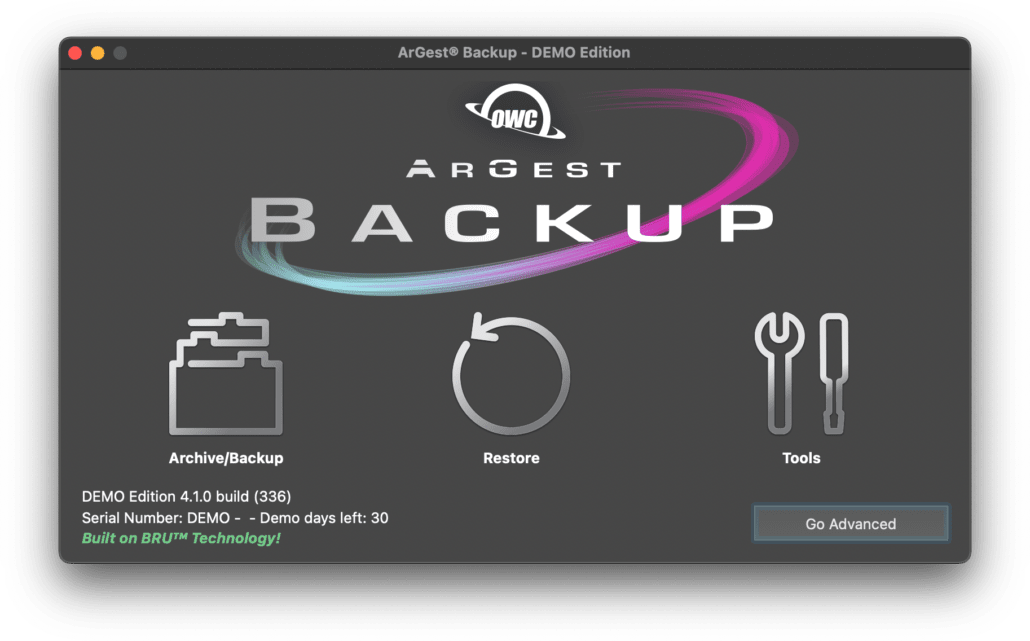 The Best Backup and Archiving Solution Available
Whether you're running a small business or are an M&E pro, whether you want to backup a single desktop machine to a single external drive or have a massive tape library with multiple tape drives1, ArGest® Backup is the best backup and archiving solution available. A drag and drop interface delivers unmatched ease of use while true cross platform restorability in all archive formats keeps your data protected and future-accessible. With unmatched speeds, proper and real verification, system and hardware error detection and recovery, and true cross platform restore, there is simply no other backup solution that can protect your assets as completely and as reliably as ArGest Backup.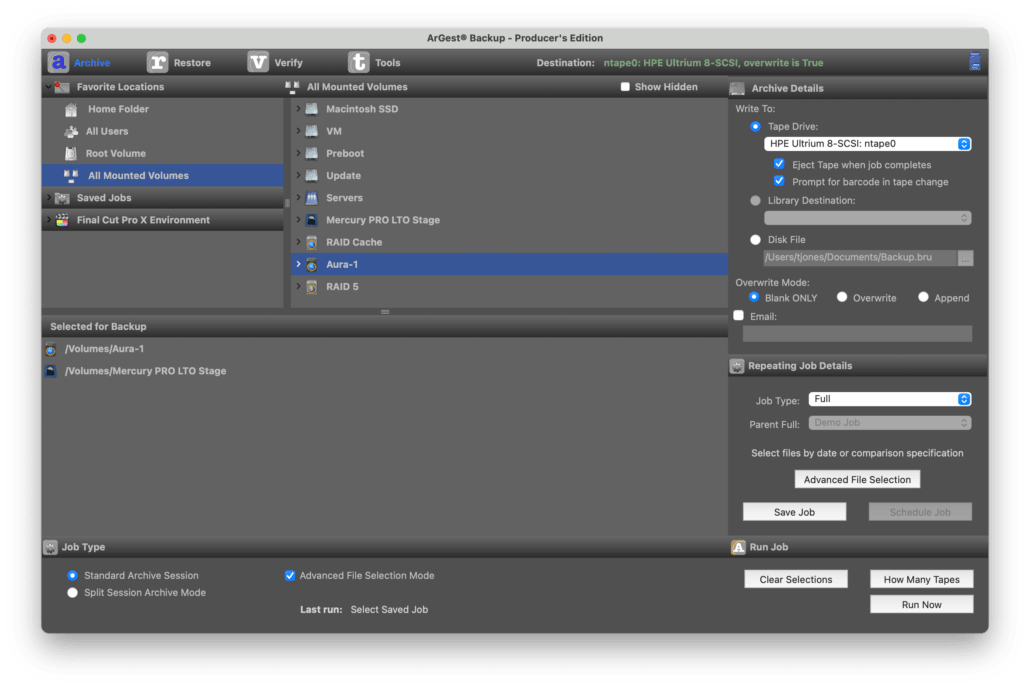 Assured Backup and Archival Reliability
ArGest Backup provides accountability of every bit of data to be backed-up to assure your future access. 32-bit checksum technology is applied to both the metadata and file data coming off the filesystem and the checksum is placed into the header of each 2K of data processed. This critical dual function process enables the verification operation to validate the ultra-reliable accuracy of your backup.
Easy and Familiar
Backup and archive folders, files, or session files with drag and drop simplicity in major applications
Fastest
Real-world LTO tape speeds up to 322MB/sec using LTO-7 and LTO-8 tape devices for the fastest backup and recovery available
Flexible
Verify BRU™ archives at any time on macOS, Windows, Linux, or other supported Unix platform
Diverse
Can be used to backup to portable USB or Thunderbolt drives, removable disk storage such as RDX and Lyve Mobile™, local cloud storage, and tape media
Reliable Recovery
Restore maximum possible data, even with a missing or damaged tape in a multiple tape archive
Fully Auditable
Check media status any time, even on a different system or OS with ANYTIME Verify™
Efficient
Create two identical tapes in a single backup or archive operation with Doubler Archival Mode™
Manage
Automatically creates organized tape catalogs for fast searching and restore access time
Complete
After archive is complete, create a self-contained CD/DVD/USB or network key with all components required files to restore on a non-BRU system
Diagnose
Built-in functions for checking and reporting LTO equipment operational status during all backup and restore operations
Risk-Free
30-day free trial of full featured, fully functional demo
Three Versions for Diverse Needs
Desktop Edition™
Designed for personal or small one to two person shops with a single tape drive and disk-based backup. Backups can be performed in more manageable segments where full and incremental data coverage fits on one or two tapes or can be safely stored on a removable disk or device such as the HPE RDX removable disk solution.
Workstation Edition™
Designed for the advanced user with two tape drives or a single autoloader/library seeking the efficiency of writing one group of data to two drives with Doubler Mode™. Makes managing large volumes of data more hands-free with automatic changing and spanning of multiple tapes.
Producer's Edition™
Designed to support the workflow and archival requirements of the Media and Entertainment industry with automated asset gathering in Final Cut Pro X, Adobe Premier Pro CS6/CC, and other applications. Provides drag and drop backup and restore using CMX3600 EDL files and exported XML project files. Studio and production detail metadata is tracked on a per job basis and provides an easily scannable QR code for media management.
What Makes BRU Better Than All Other Formats?
Highly Efficient Peace of Mind Protection
Unlike other backup tools, ArGest Backup doesn't need to access the disk or storage platforms to fully verify the backup. All information needed to proof a backup resides on the archive media. This allows the verification process to be performed separately from the primary system and returns that system to user availability immediately following the backup. This process efficiency reduces the time required for a fully verified backup by at least 50% compared to other tools. ArGest Backup archives can even be verified on a different hardware platform and operating systems whenever you want (or when required by regulations), giving you precious peace of mind that your data is safely protected AND retrievable.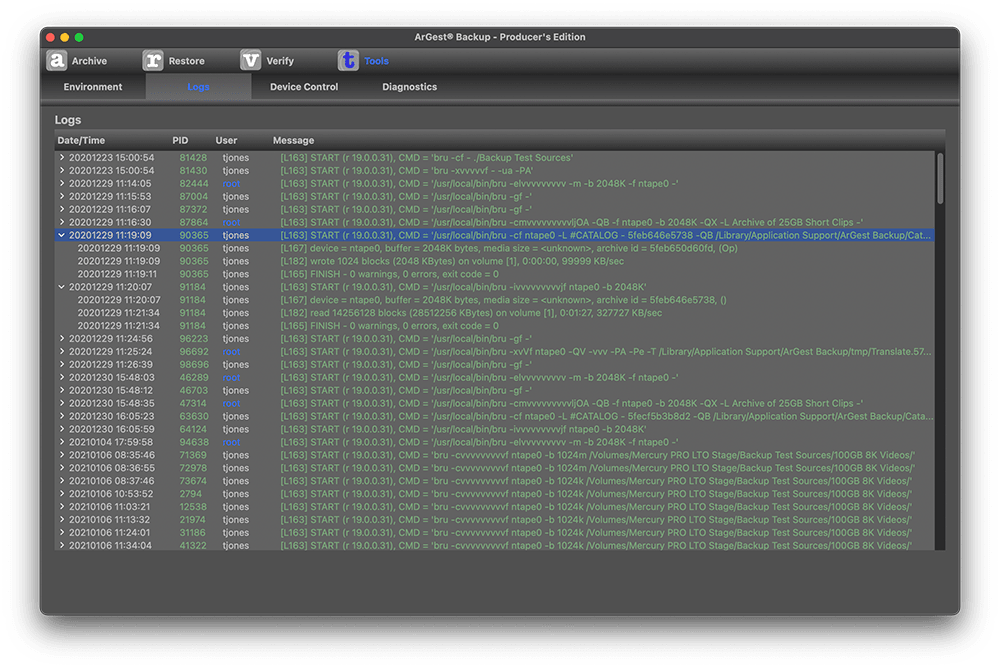 Unrivaled Speed and Restore Capabilities
ArGest® Backup powered by BRU™ technology is the fastest backup and archiving software available. You can backup and archive folders, files, or session files in major applications to LTO-7 and 8 tapes at real-world speeds up to 322MB/s. Your archives are then fully verifiable and restorable with the maximum amount of data on nearly any OS….something no other backup utility can provide. ArGest Backup is also the only backup and archiving tool that can recover from errors and will restore as much data as possible even in the event of a lost or damaged tape.
Supports All Filesystems and Storage Types
Regardless of the filesystem or storage connection type, if your operating system can read and write the files in your storage environment, ArGest Backup will properly backup and restore the data stored on those storage systems. It supports all special attributes, naming conventions, metadata, and application specific typing for both backup and restore.
ArGest Backup also acts as a data integrity early warning tool.  When the storage subsystem experiences file corruptions, errors, or even hardware issues, ArGest Backup reports these issues so you can take corrective action.

Expands OWC Storage and Archival Ecosystem
Digitized organizational content is projected to grow 50-70% annually while licensing, regulatory, and compliance requirements are becoming more stringent. With ArGest Software Solutions powered by BRU Technology and tape storage solutions like the Mercury Pro LTO, you can count on OWC to provide you ultra-reliable, high-performance backup and archival solutions.
ArGest Backup Workstation and Producers Edition licenses support 2 tape drives and up to 50 library slots.