OWC Mercury Elite Pro Quad RAID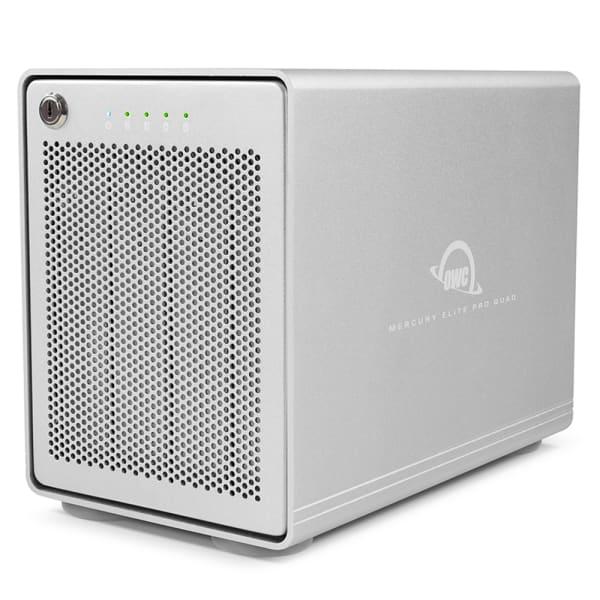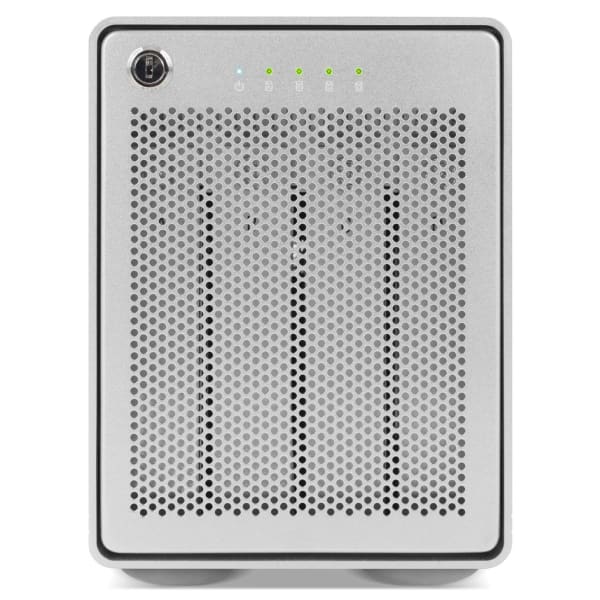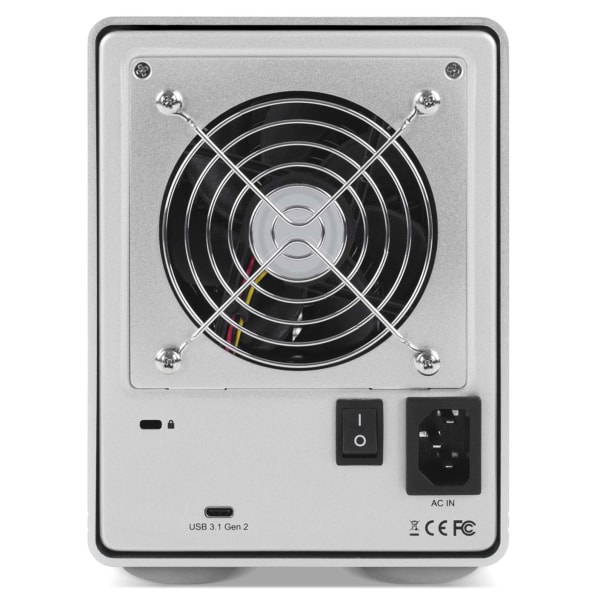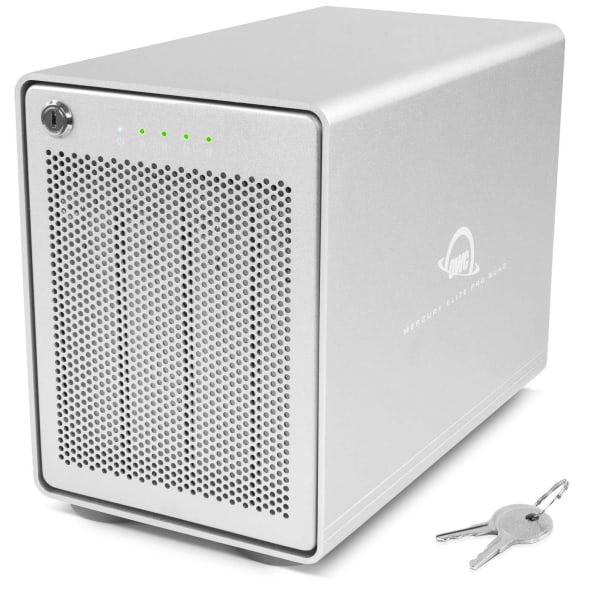 OWC Mercury Elite Pro Quad RAID
---
947

MB/s
Up to 947MB/s performance
72

TB
Up to 72TB of capacity
Quick Specs:
USB 3.2 (10Gb/s)
4 Universal Drive Bays
RAID
Mac & PC
The Preferred Storage Solution
Works with 3.5" or 2.5" drives – no adapter needed
User configurable in RAID 0, 1, 4, 5 & 1+0
Includes SoftRAID XT: robust software for creating, monitoring, and managing advanced RAID sets
Works with all USB systems, Thunderbolt 3 compatible
Ultra quiet, heat dissipating aluminum chassis
Rigorously pre-tested with multi-hour burn-in
Up to 3 Year OWC Limited Warranty1
---
DIY Enclosure
With SoftRAID XT — RAID 0/1/4/5/1+0 (10) or JBOD
DIY Enclosure
Add your own RAID software
Designed for Professionals
Every detail was considered when designing the Mercury Elite Pro Quad. Built with a heat-dissipating aluminum enclosure, a whisper-quiet fan, and vibration-absorbing feet, the Mercury Elite Pro Quad runs cool and quietly, making it ideal for noise-sensitive environments. Front-facing LEDs provide an instant drive-activity snapshot, while the front panel access lock keeps your drives safe. You can even secure the entire drive with the rear-mounted Kensington compatible lock slot. On top of that, drive-equipped models undergo OWC's multi-hour drive "burn-in" performance certification procedure to ensure that your drive arrives operating properly and ready to perform.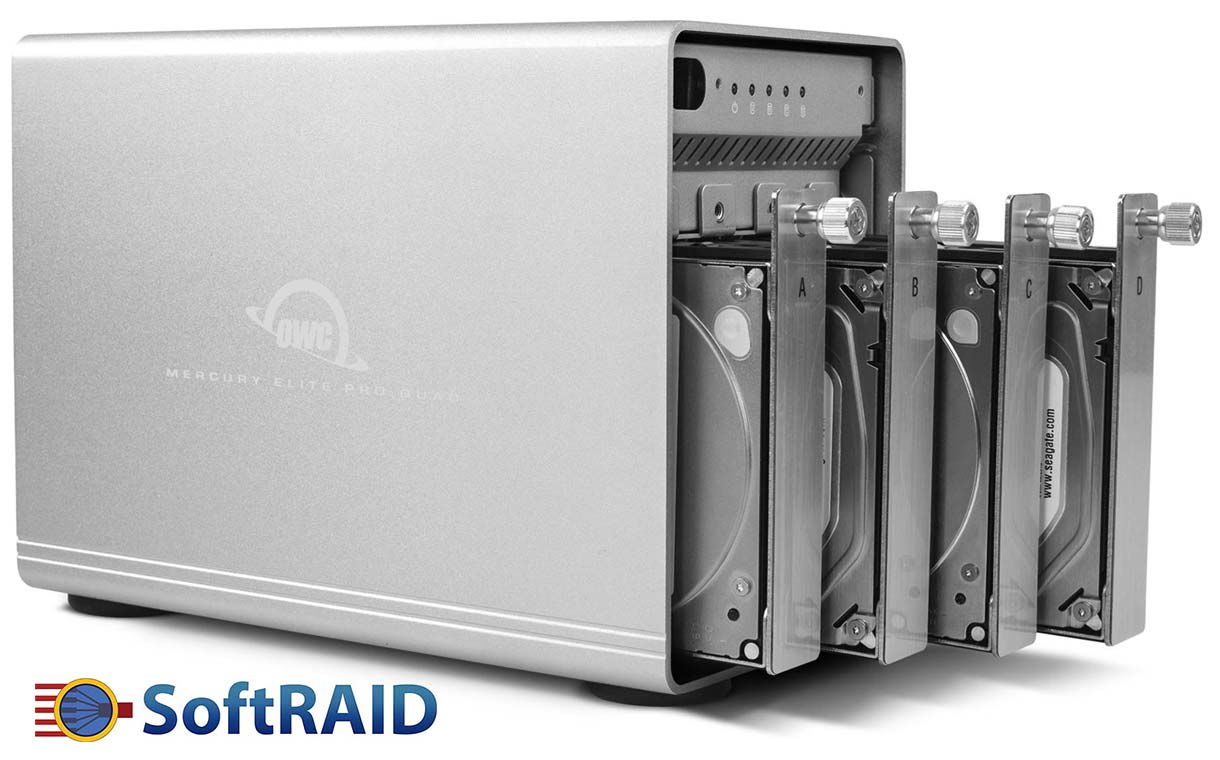 Capacity without Compromise
Compatible with 2.5" and 3.5" drives, the Mercury Elite Pro Quad's four universal drive bays let users pack up to a massive 72TB of storage. With this level of capacity and drive flexibility, you will not have to compromise when it comes to your storage.

Easy and Complete Drive Management with SoftRAID XT
SoftRAID XT is the most powerful, intuitive RAID management software on the market for macOS and Windows. SoftRAID's RAID creation and management technology has been finely tuned to perfection with over 20 years of development to provide rock solid protection of your data and optimize drive performance. It is packed with features like multiple RAID options, validation and verification of drives, and predictive disk failure with SoftRAID Monitor. SoftRAID provides a level of performance that you simply can't get with hardware RAID.
Multiple RAID Levels
Create advanced RAID 0/1/4/5/1+0 (10)1 volumes for higher performance and/or redundancy.2
Disk Health
More accurate than SMART, SoftRAID protects your data by alerting you to issues before anything happens, providing peace of mind and giving you more time to address issues. Solutions that rely exclusively on SMART data can be seeing performance loss or corruption before flagging an issue.
Cross-Platform
Built-in MacDrive technology lets you read/write SoftRAID HFS+ RAID 0/1/5 arrays and use them interchangeably between Windows and macOS.
Flexible, Upgradeable
With SoftRAID you're not locked to expensive hardware. SoftRAID is upgradable and portable.
Easy License Management
New license management enables quick activation or deactivation so your license can move between computers.
Compatible
Works with macOS 10.12 or later and Windows 10 and later.3
SoftRAID is ideal for anyone who needs to safely store and backup massive amounts of data, including video editors, audio producers, photographers and graphic designers.

RAID 4/1+0 (10) is available for Mac only at this time.
Improved data protection/redundancy requires RAID 1/4/5/1+0.
SoftRAID serial numbers work on both Mac and Windows. SoftRAID is licensed per computer. In order to use SoftRAID on multiple computers, you will need a unique, valid license per computer. Additional licenses can be purchased anytime.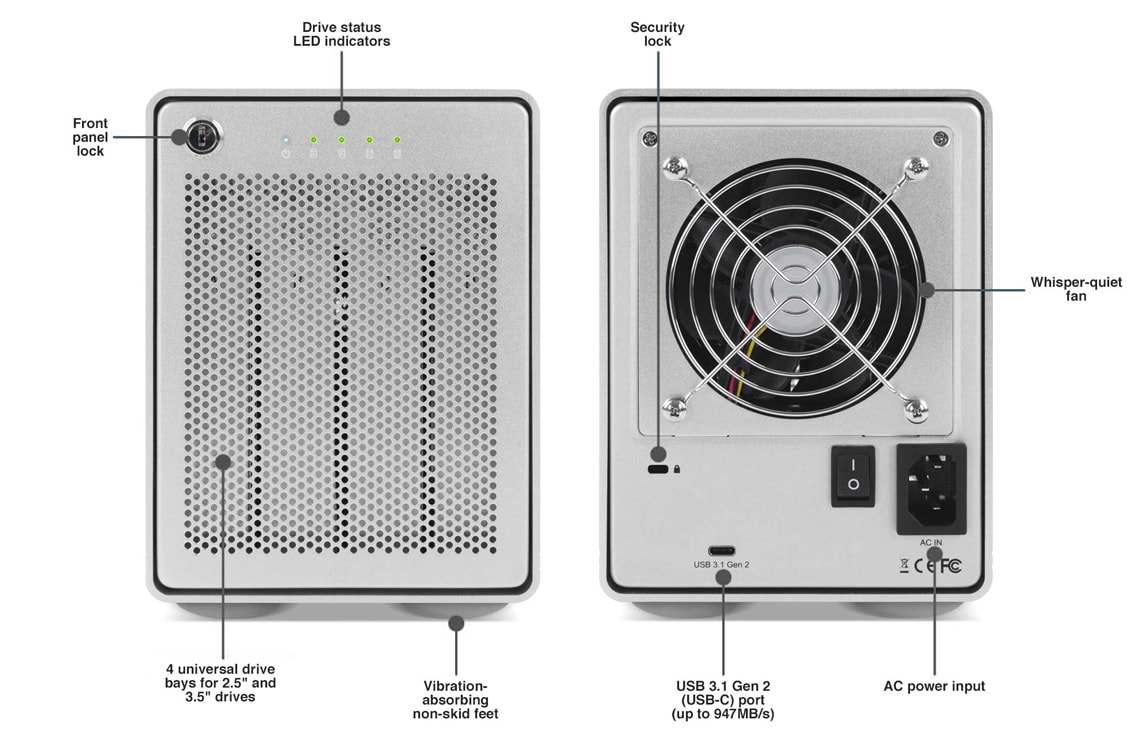 The Flexibility of USB-C
The Mercury Elite Pro Quad's powerful USB-C interface delivers 10Gb/s USB 3.2 bandwidth and works with any USB-C or Thunderbolt 3 equipped Mac or Windows PC. Simply connect the Mercury Elite Pro Quad via the included USB-C cable to experience next-level performance. If your computer doesn't feature USB-C connectivity, the included USB-C to USB-A cable brings backward compatibility for machines with legacy USB ports.
Your Digital Life...
Protected for Free
Your data is irreplaceable, and we take protecting it seriously. That's why this OWC Solution includes Acronis Cyber Protect Home Office – the world's only combination backup and antimalware solution that keeps your data protected from accidents, failures, and malware/ransomware attacks.
Complete Backup And Fast Recovery - Quickly restore your files or entire system at any time.
Easy Disk Cloning and Full Image Backup - Just two clicks to start a full disk image backup.
Cloud, Local or Hybrid Cloud Backup - Back up locally, to the cloud, or both. With 250GB of cloud storage, it's your choice.
Integrated Protection from Malware - Behavioral heuristics stop ransomware and cryptojacking.
Learn more about Acronis Cyber Protect Home Office »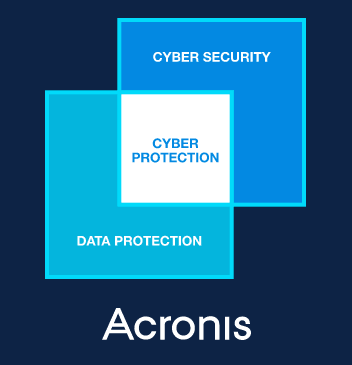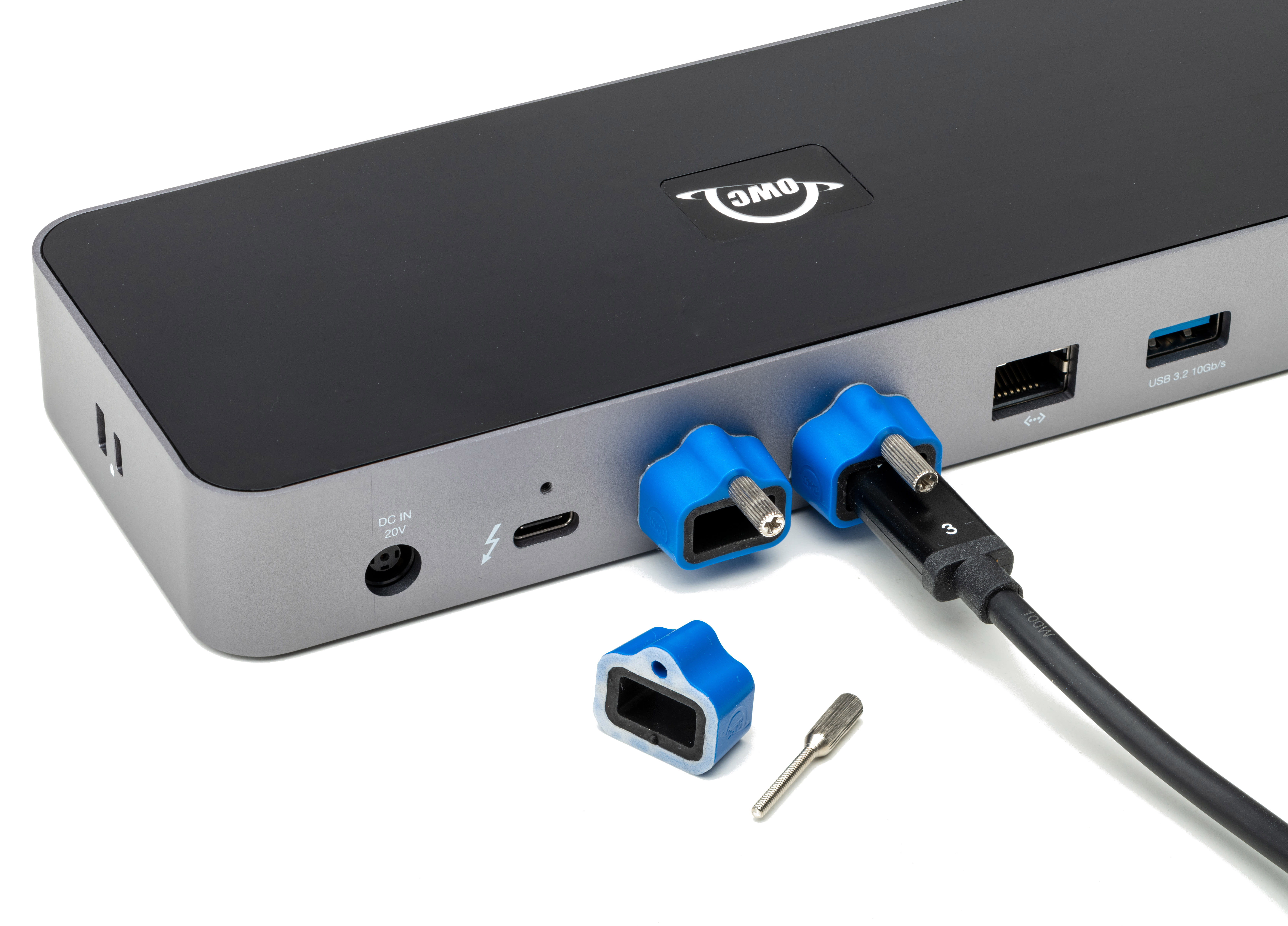 Stabilize Thunderbolt and USB-C Cables
Active workspaces expose gear to bumps, shoves, or even the random tail wag from a pet. OWC ClingOn custom cable stabilizers (sold separately) screw into the OWC Dock or OWC Drive housing to reduce – if not completely eliminate – cable strain on Thunderbolt and USB-C connections so you can work with confidence even in the highest foot traffic environments.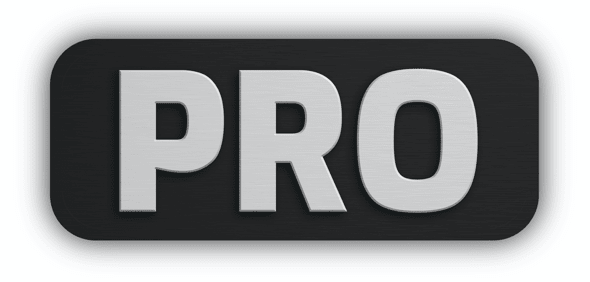 Professional Grade = Ready to Work
We understand having confidence in gear reliability is paramount to creative professionals. That's why every Mercury Elite Pro Quad undergoes OWC's multi-hour "burn-in" performance certification prior to shipping. This ensures your Mercury Elite Pro Quad arrives operating properly and immediately ready for demanding use.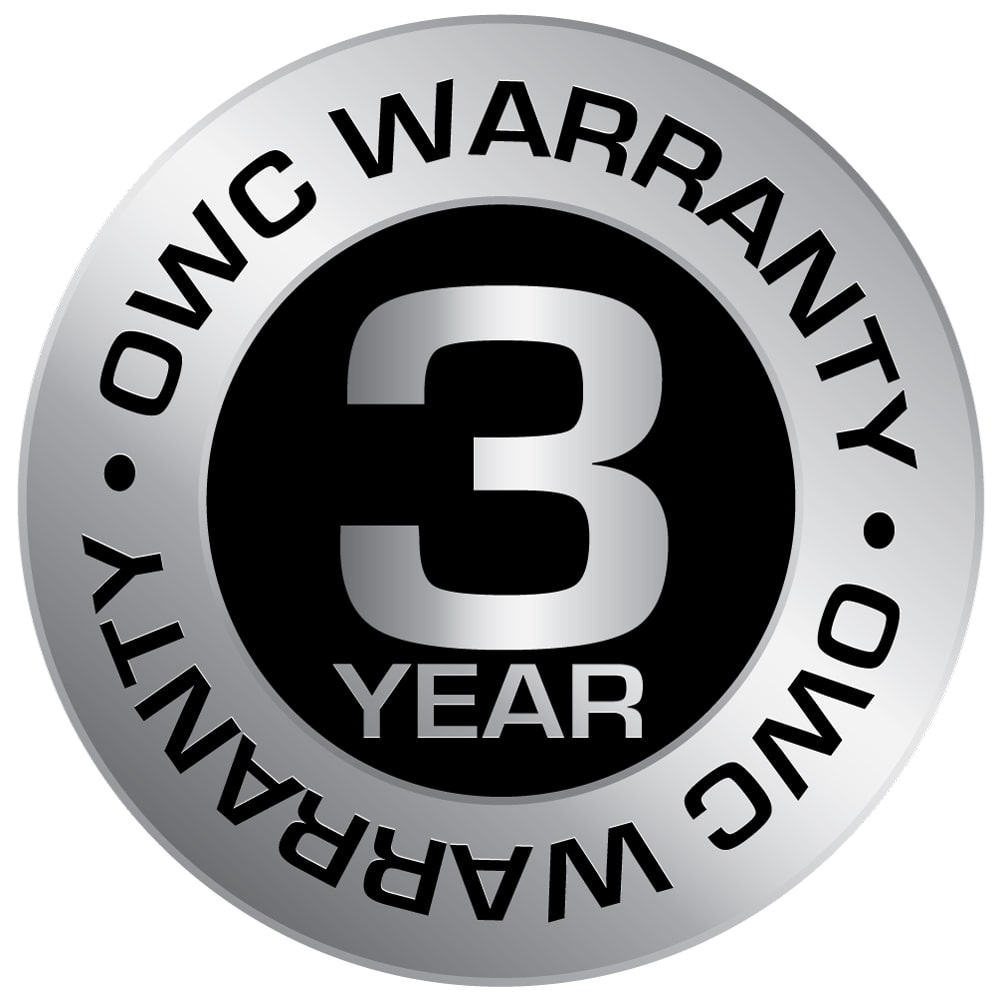 OWC, Trusted by Pros & Enthusiasts the World Over
We build our hardware to the highest standards of reliability and performance. Because 100% reliability is always the goal, we rigorously quality test and back our hardware with a 3 Year OWC Limited Warranty and award-winning customer support.
Learn More
3 Year OWC Limited Warranty for Hard Drive solutions. 1 year OWC Limited Warranty for enclosure only.