OWC miniStack STX
Stackable Storage + Thunderbolt Hub Xpansion Solution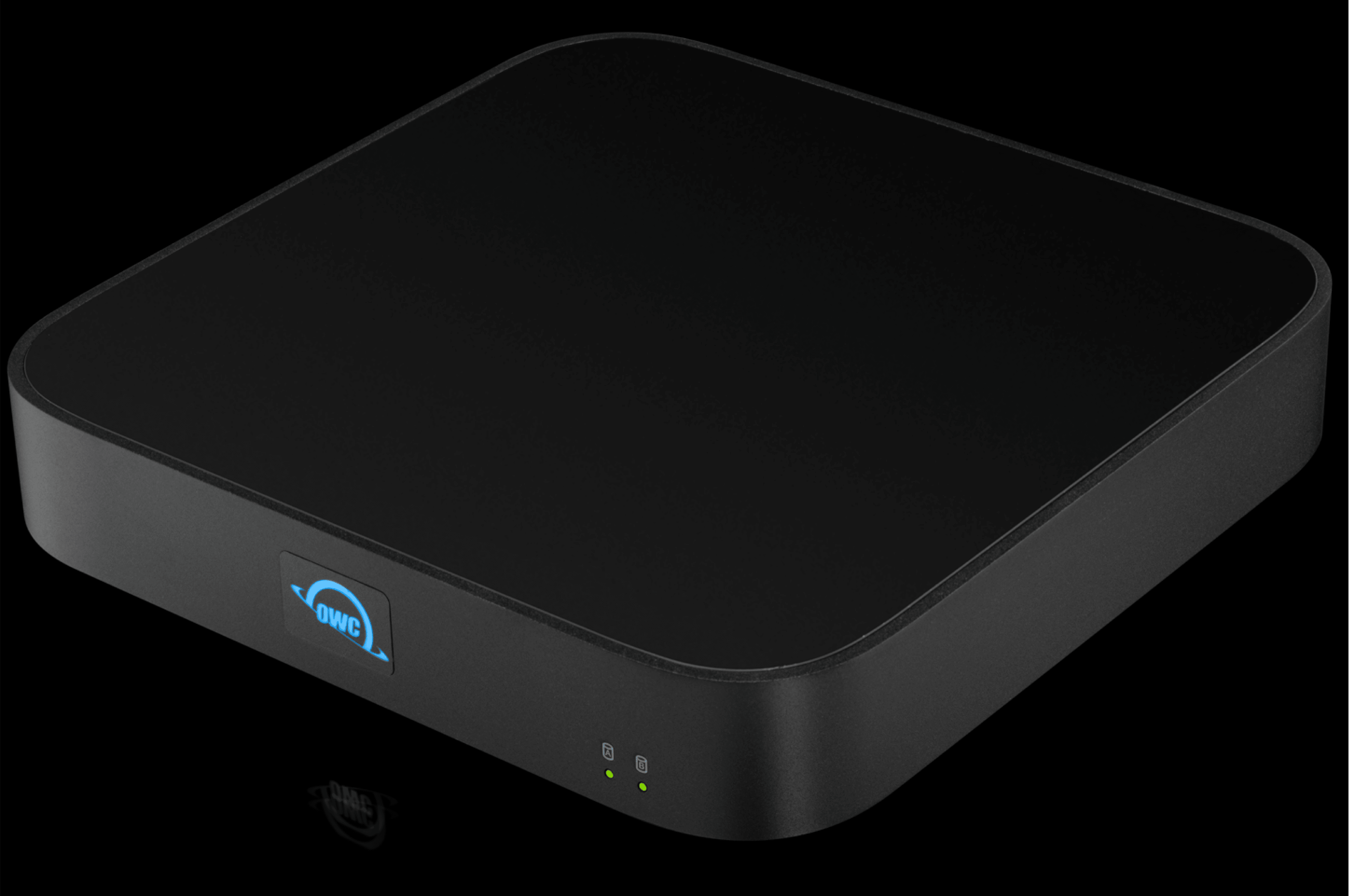 Edit
4KVIDEO
With up to 770MB/s Speed
Add Connectivity
3-PORT HUB
40Gb/s Thunderbolt
Expand Storage
200X
vs. Factory Options
First Thunderbolt-Certified
THUNDERBOLT 4
Storage Solution
---

Empty

Add your own
SATA Drive
or
Select a Capacity

Empty

Add your own
NVMe M.2 SSD
or
Select a Capacity

Your selected configuration
Mini Sized. Mammoth Possibilities.
Just like great duos Kirk and Spock, Frodo and Sam, or Woody and Buzz, the miniStack and the Mac mini have been the perfect pair since 2005. The miniStack STX now features Storage and Thunderbolt Xpansion, continuing its award-winning legacy as the best sidekick a Mac mini can have. Meet the world's first Thunderbolt certified Thunderbolt 4 storage solution.
With a universal SATA HDD/SSD bay AND an NVMe M.2 PCIe SSD slot, you can expand your mini's storage capacity to gigantic proportions. Three Thunderbolt (USB-C) ports enable you to connect to millions of Thunderbolt, USB, and future USB4 drives, displays, A/V mixers, cameras and tablets; as well as desktop accessories like a keyboard, card reader, or mouse. Now the possibilities of how you can use your Mac mini are limited only to your imagination.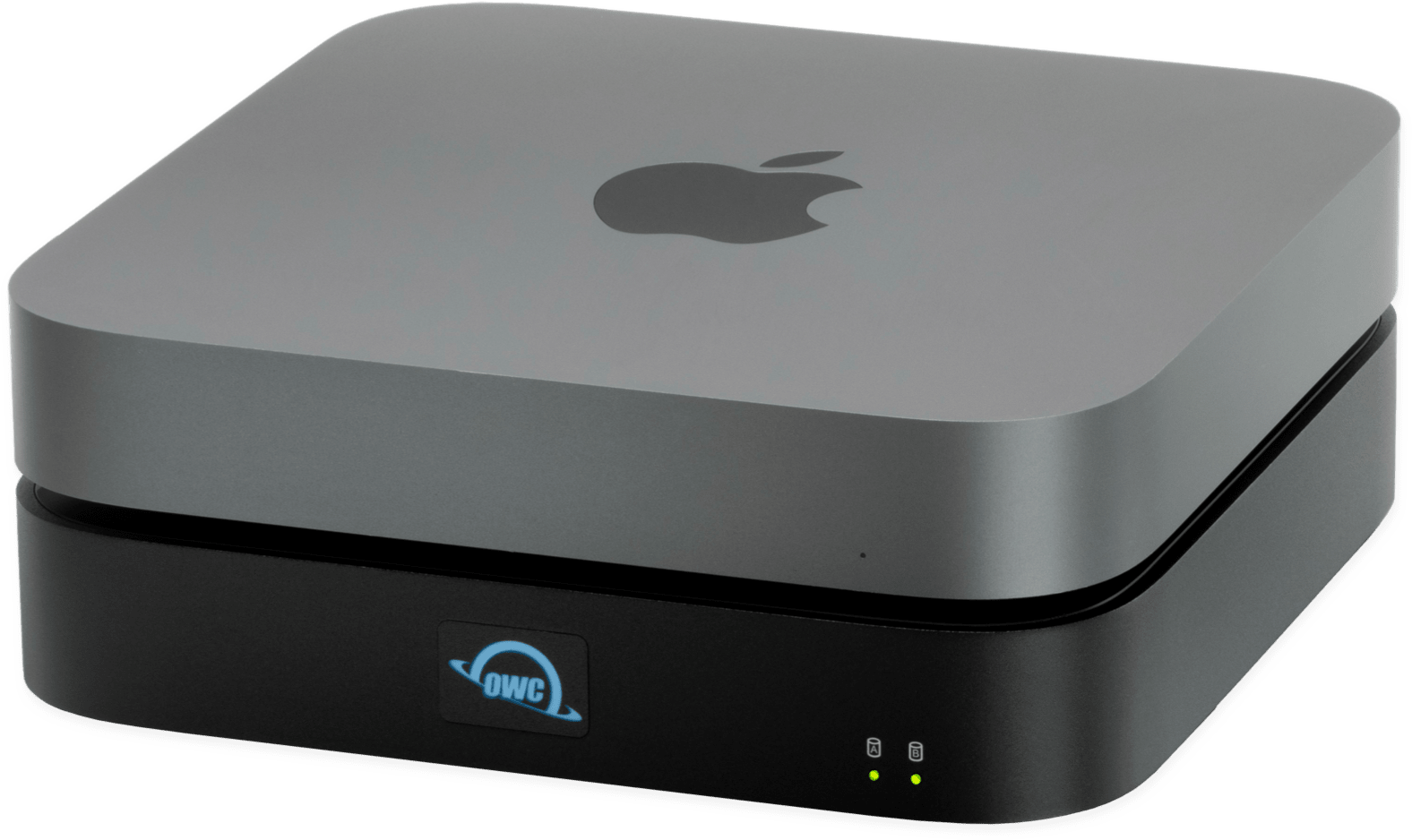 Massive Capacity
Add over 200x greater data storage on top of your Mac mini's built-in storage1
More Connectivity
Add a mix of up to five Thunderbolt devices, three USB devices, and two displays2,3
Whisper-Quiet
An aluminum housing with internal heat sink and high-efficiency cooling fan provides cool, nearly silent operation
Maximum Compatibility
Use with Thunderbolt or USB equipped Macs, PCs, iPads, Chromebooks, Android tablets… virtually anything that supports external storage2
Data Security
Add RAID 1 protection with optional OWC SoftRAID software
Easy Backups
Apple Time Machine and Windows File History ready
Plug and Play
Includes Thunderbolt cable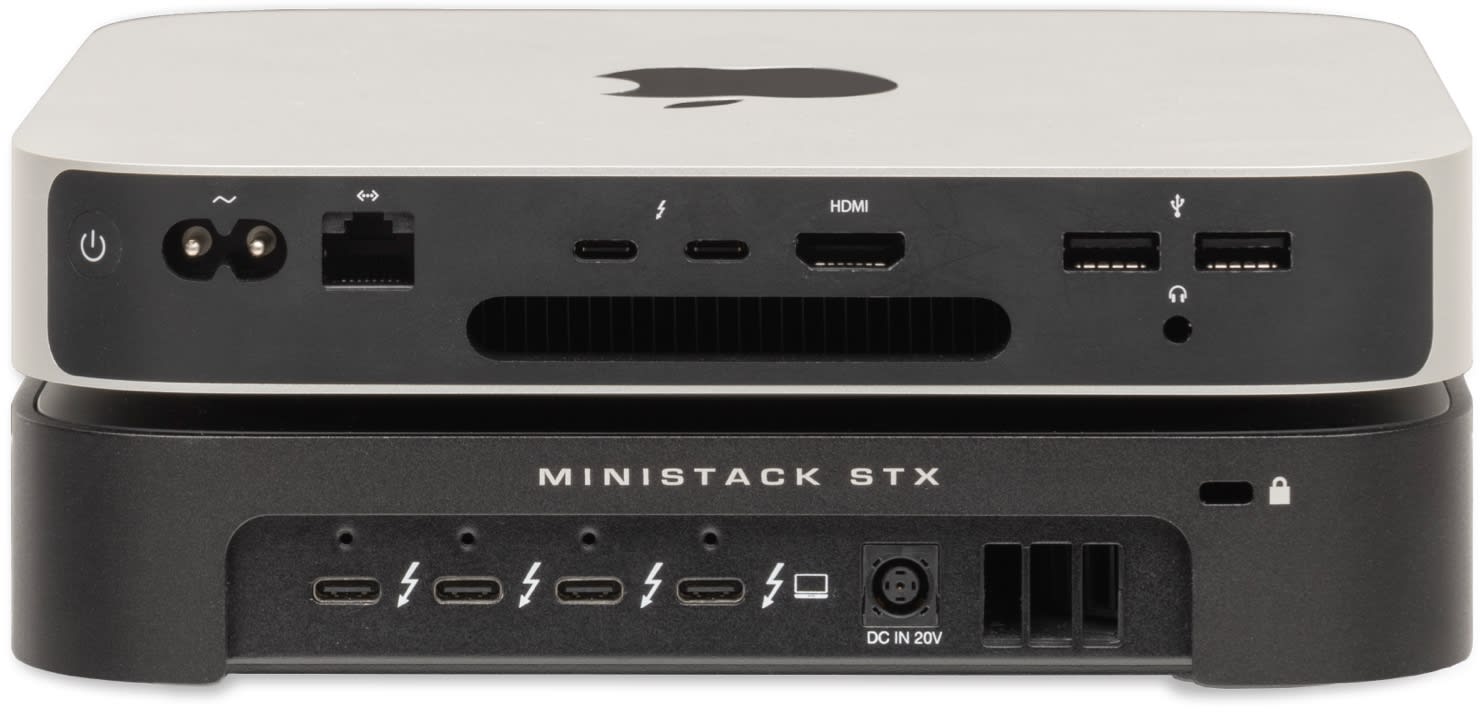 Xpands Notebooks, Tablets, and More
Sized identically to the Mac mini, the miniStack STX is also a sleek, complementary companion for MacBook and PC notebook and desktop machines, iPads, and Chromebooks. While highly powerful, these machines are often limited in the number and variety of ports they offer. The miniStack STX solves that expansion limitation with a new world of increased connectivity and storage capacity.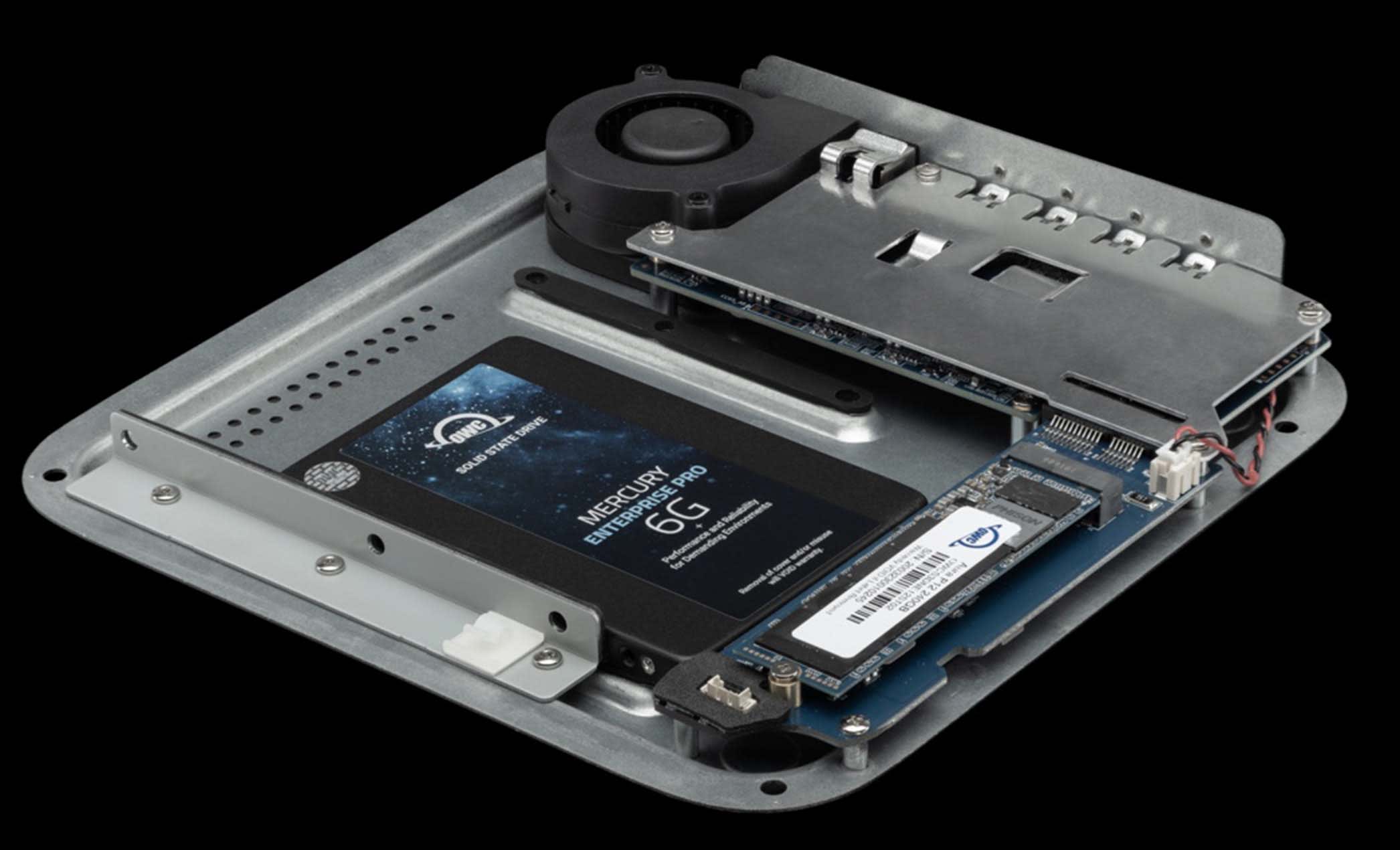 The Dual Drive Dynamo
Just like superheroes have an alter ego, so too does the miniStack STX. The universal SATA drive bay holds a hard disk drive or SSD for big capacity data storage performance. When you need to support low latency instant access operations, the NVMe M.2 SSD slot reveals miniStack STX's ferocious nature. NVMe was designed to deliver the speed potential of modern flash drive technology by using a more direct path to a computer's processor over PCIe.5 As a result, you can enjoy on-demand high performance with the miniStack STX.
Edit. Save. Access. Like a Pro
With multiple drive configurations available, you can experience up to 770MB/s of real-world data transfer speed. Move 5GB of GoPro footage in about 6 seconds. Transfer 1000s of photos from that priceless event in mere seconds. Use the SATA drive for Time Machine or File History backups while working off the NVMe drive. With heavyweight performance like this, the miniStack STX is great for multi-stream compressed 4K video editing, photography, audio, virtual machines, and everyday data tasks.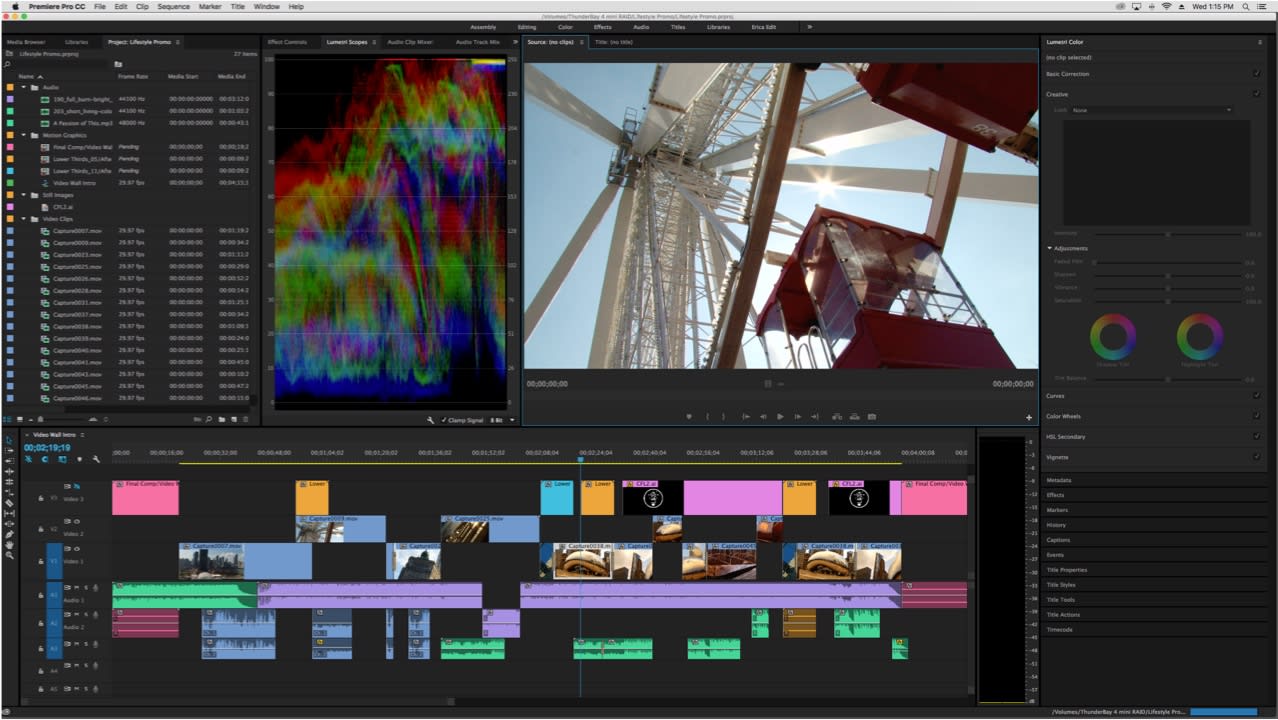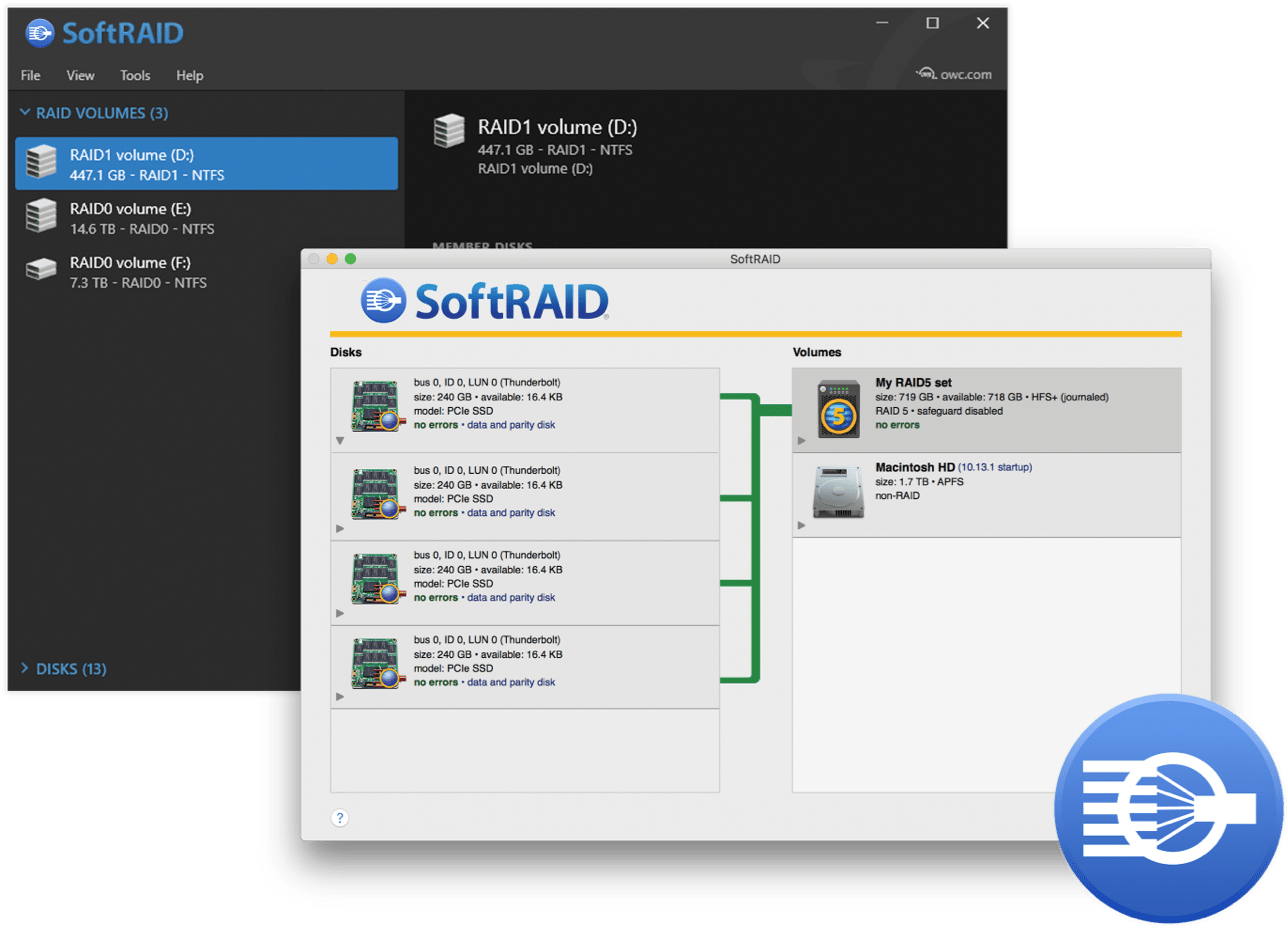 Easily Monitor and Protect Your Data
For even more power and security, add OWC's SoftRAID software to your miniStack STX and create a RAID 1 to automatically maintain identical copies of all your data on each drive. For over 25 years, SoftRAID has been the most fully featured and powerful software RAID solution available for Mac and Windows. It starts protecting your data even before you start saving by validating the miniStack STX drives are safe for data storage. In the improbable event that you experience a disk issue, your data is still complete and accessible on the miniStack STX's other drive! SoftRAID then constantly monitors your disks with a combination of S.M.A.R.T. (Self-Monitoring Analysis and Reporting Technology) attributes along with its own I/O statistics. This deep dive disk health analysis identifies potential problems so you can take preventive action. SoftRAID is available for both Mac and PC making it possible to share the miniStack STX between computers.
Move Between Macs and PCs
Accessing your miniStack STX on a Windows PC is remarkably easy with the addition of OWC's MacDrive. This seamless software runs in the background, so there's nothing to launch or learn. Just connect the miniStack STX and not only do you have instant read access, but full write access too! MacDrive also includes powerful features that enable you to format and partition drives as well as repair basic disk issues.

Learn more about MacDrive »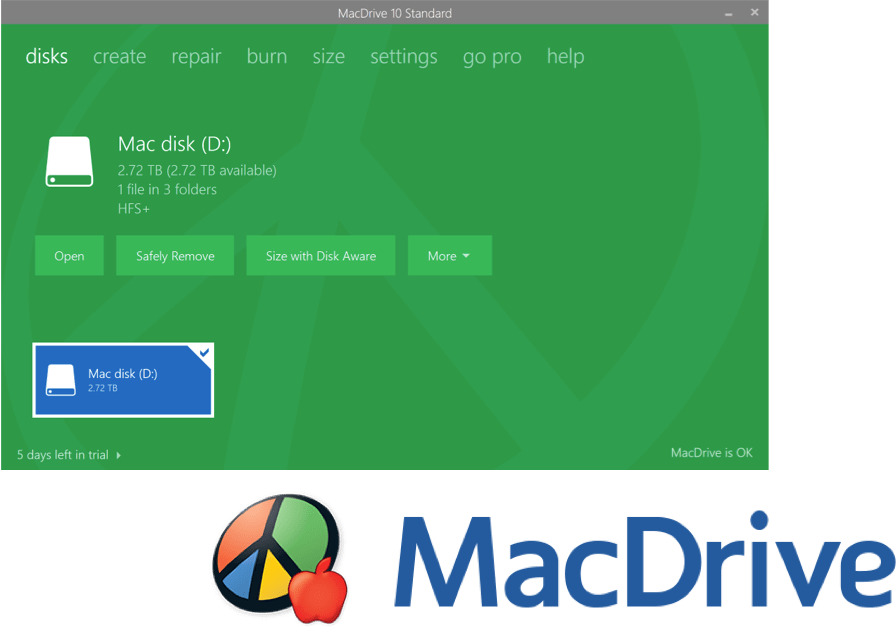 A Resolutionary Idea
Whether your computer or tablet is sporting the latest technology or is a few years loved, the OWC miniStack STX gives you multiple options to expand your visual horizons:
Single and Dual Display Support
4K @ 30Hz

4K @ 60Hz

Dual 4K @ 60Hz

5K @ 60Hz
(Apple Studio Display or LG Ultrafine 5K)

Dual 5K @ 60Hz
(Apple Studio Display)

6K @ 60Hz
(Apple Pro XDR)

Dual 6K @ 60Hz
Apple Pro XDR

8K @ 60Hz
| | | | | | | | | |
| --- | --- | --- | --- | --- | --- | --- | --- | --- |
| Apple silicon Mac (M1, M2)3 | | | | | | | | |
| Apple silicon Mac (M1 Pro, M1 Max, M1 Ultra, M2 Pro, M2 Max)3 | | | | | | | | |
| Intel Mac with Thunderbolt 33 | | | | see note 1 | | see note 2 | | |
| | | | | | | | | |
| --- | --- | --- | --- | --- | --- | --- | --- | --- |
| iPad Pro or iPad Air with Thunderbolt4 | | | | | | | | |
| iPad Pro with USB-C4 | | | | | | | | |
| iPad Air with USB-C4 | | | | | | | | |
| | | | | | | | | |
| --- | --- | --- | --- | --- | --- | --- | --- | --- |
| Chromebook | | | | | | | | |
| | | | | | | | | |
| --- | --- | --- | --- | --- | --- | --- | --- | --- |
| Windows PC with Thunderbolt 4 | | | | | | | | |
| Windows PC with Thunderbolt 3 / USB45 | | | | | | | | |
| Windows PC with 10Gb/s USB-C (with DisplayPort) | | | | | | | | |
| Windows PC with 5Gb/s USB-C (with DisplayPort) | | | | | | | | |
| Windows Tablet | | | | | | | | |
See Apple Studio Display specs for detailed Mac model support.
See Apple Pro Display XDR specs for detailed Mac model support.
OWC highly recommends that you verify the display support for your specific Mac model:
OWC highly recommends that you verify the display support for your specific iPad model:
OWC recommends that you verify the display support for your PC's Thunderbolt port. Some refresh rates require DisplayPort 1.4 HBR3 and DSC 1.2 support from the display and the host. Not all Thunderbolt ports support DisplayPort 1.4 – some are limited to DisplayPort 1.2, which may reduce refresh rate or resolution support.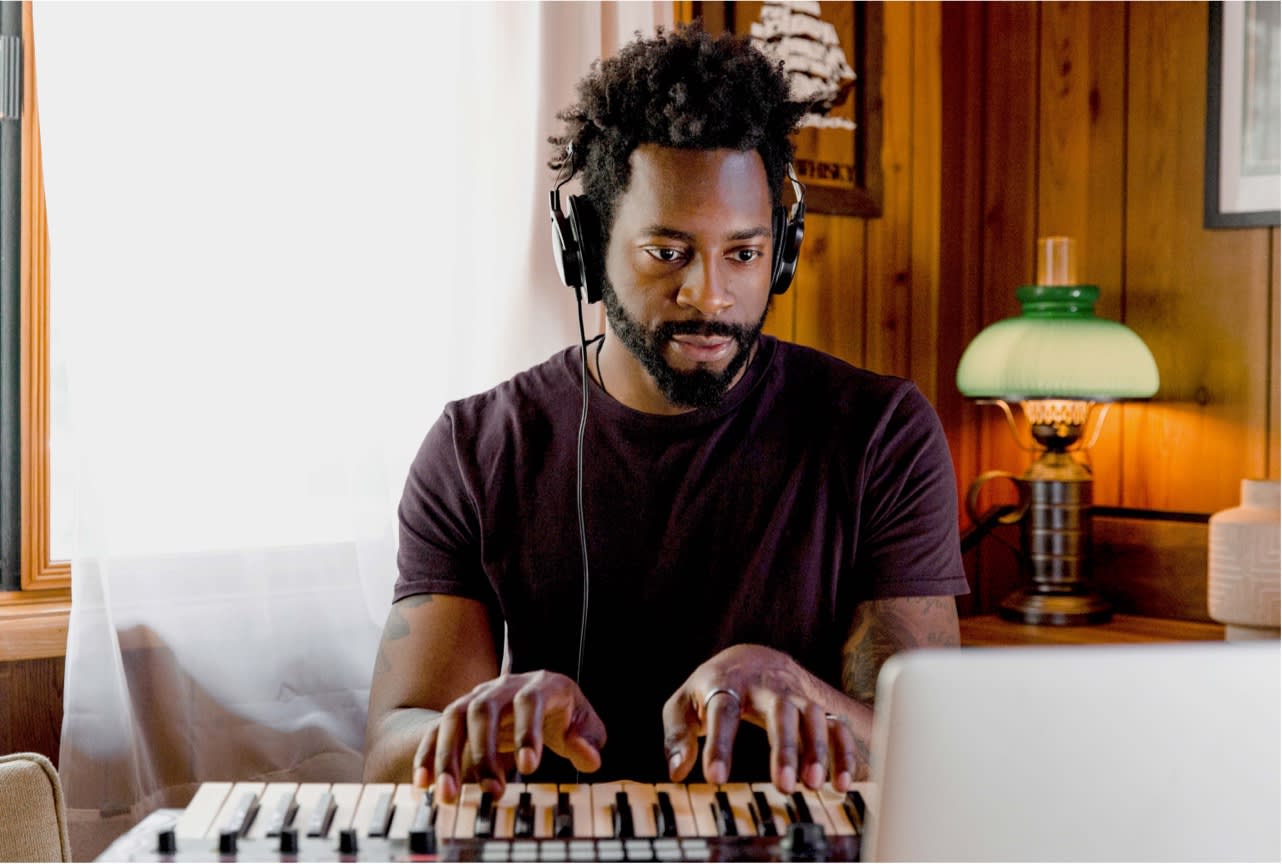 Xpand Your Sonic Journey
Building your music setup can be daunting. With two configurable drives in the OWC miniStack STX, it's easy to create a storage powerhouse for recording and playback of essential tracks in real-time. You can even store your entire loop and sample libraries on the NVMe SSD for in-a-flash use with near zero latency.5

Xpand Your Connections
You'll experience a newfound freedom when you're able to connect to nearly any past, present, or future device/accessory via three Thunderbolt (USB-C) ports.2,3,4 Just like the miniStack STX's innovative storage capability, these three ports have a second superpower: They reinvent the daisy chain by allowing you to create three independent chains with up to five total Thunderbolt devices with a USB device on the end of each chain (for 8 devices total). You can now also remove devices from one chain without affecting the other chain(s).
Xtend Your Investment
If you own a 2018 Intel Mac mini or the latest M1 version, the fact that the internal factory drive can't be upgraded is no longer a reason to sell your beloved little powerhouse. The miniStack STX maximizes your mini's investment with a mighty capacity punch for a fraction of the time and money you would spend in buying and setting up a new machine.
If you own a Mac, PC, or device equipped with USB-A only, you're not left behind. With a USB-C to USB-A adapter cable (available separately), you can utilize the miniStack STX's SATA drive bay to transfer data to/from your machine plus infuse your trusty setup with additional device connectivity.4,5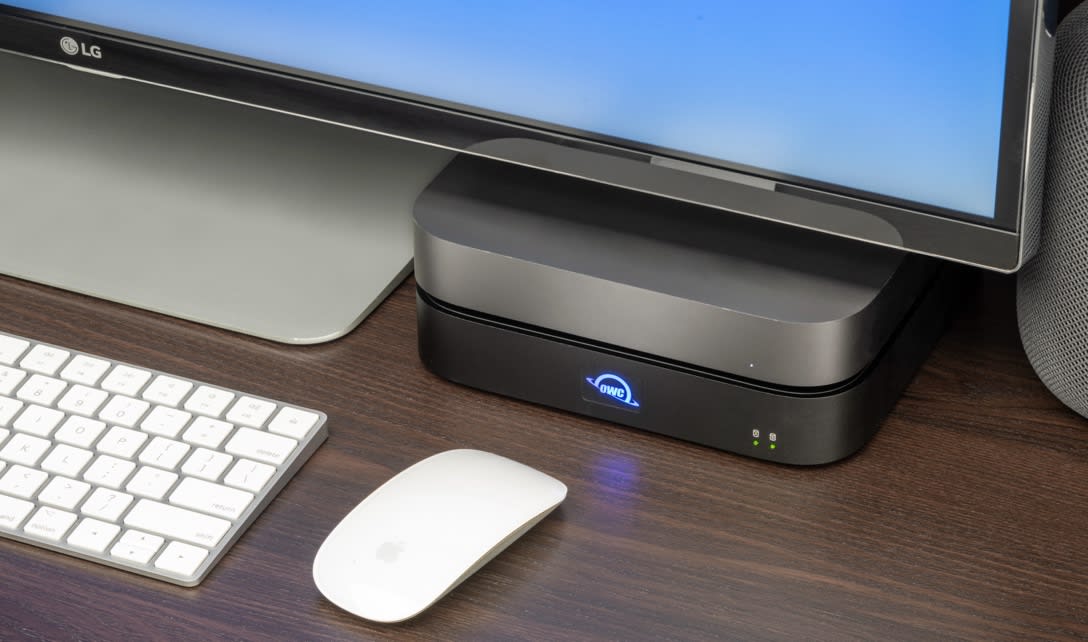 Store from Minutes to Millions
All the features and "technospeak" of an external drive don't mean a thing if you don't know how much of a particular file type it can hold. For every 1TB of miniStack STX capacity, you can store up to any of the following:6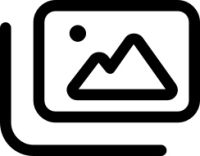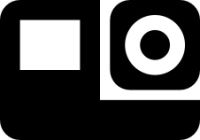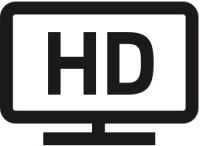 High / Standard Quality Songs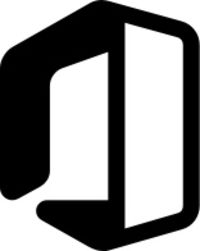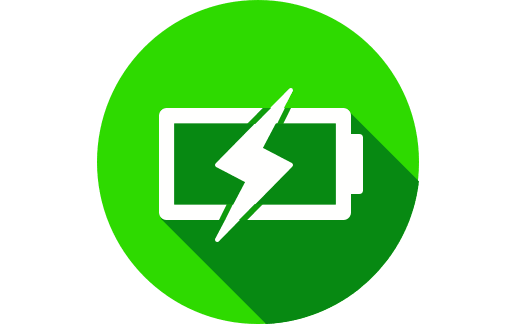 Keeps the Power Flowing
Whether you're taking a short break or are done for the day, the miniStack STX keeps you powering ahead. No matter if your machine or STX goes into sleep mode, the STX's Thunderbolt ports continue to power and/or charge connected devices. Your notebook will stay charged and ready too with up to 96 watts of power through its Thunderbolt or USB-C connection.4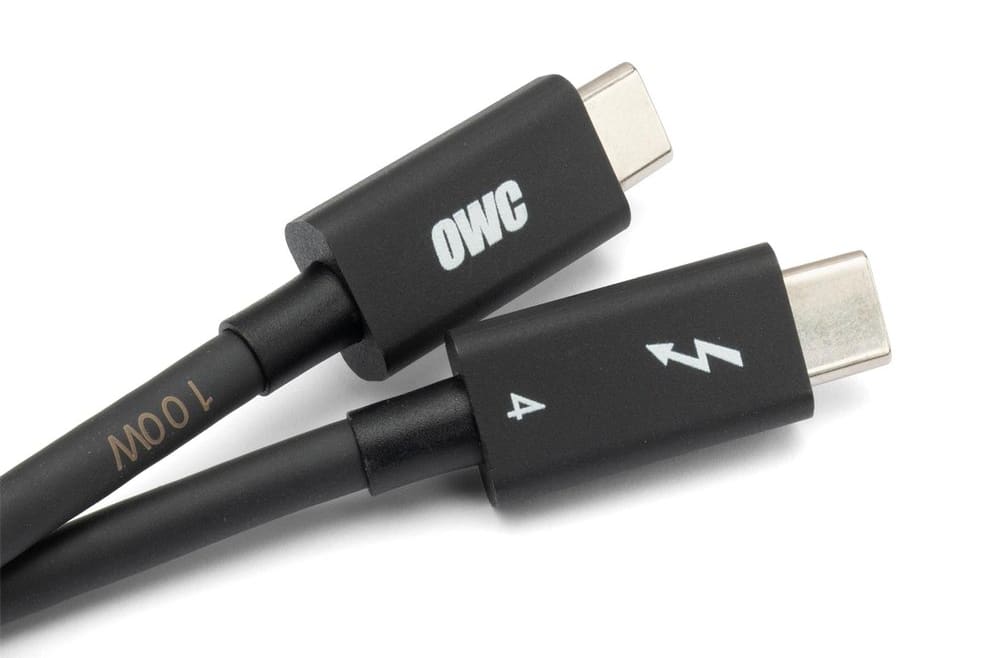 OWC Thunderbolt Cable Included
OWC miniStack STX comes with a certified 0.3M OWC Thunderbolt Cable. But if your workflow demands a different length to make the connection, OWC Thunderbolt (USB-C) Cables are the perfect choice.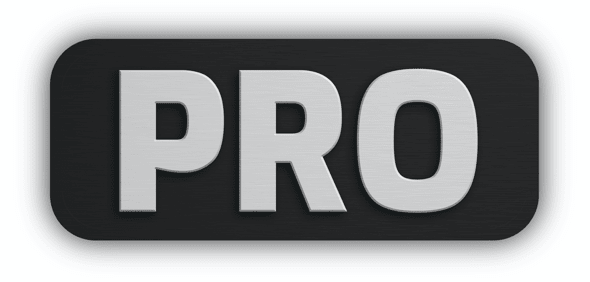 Professional Grade = Ready to Work
We understand having confidence in gear reliability is paramount to creative professionals. That's why every miniStack STX goes through a multi-step performance certification prior to shipping. This ensures your miniStack STX arrives operating properly and immediately ready for demanding use.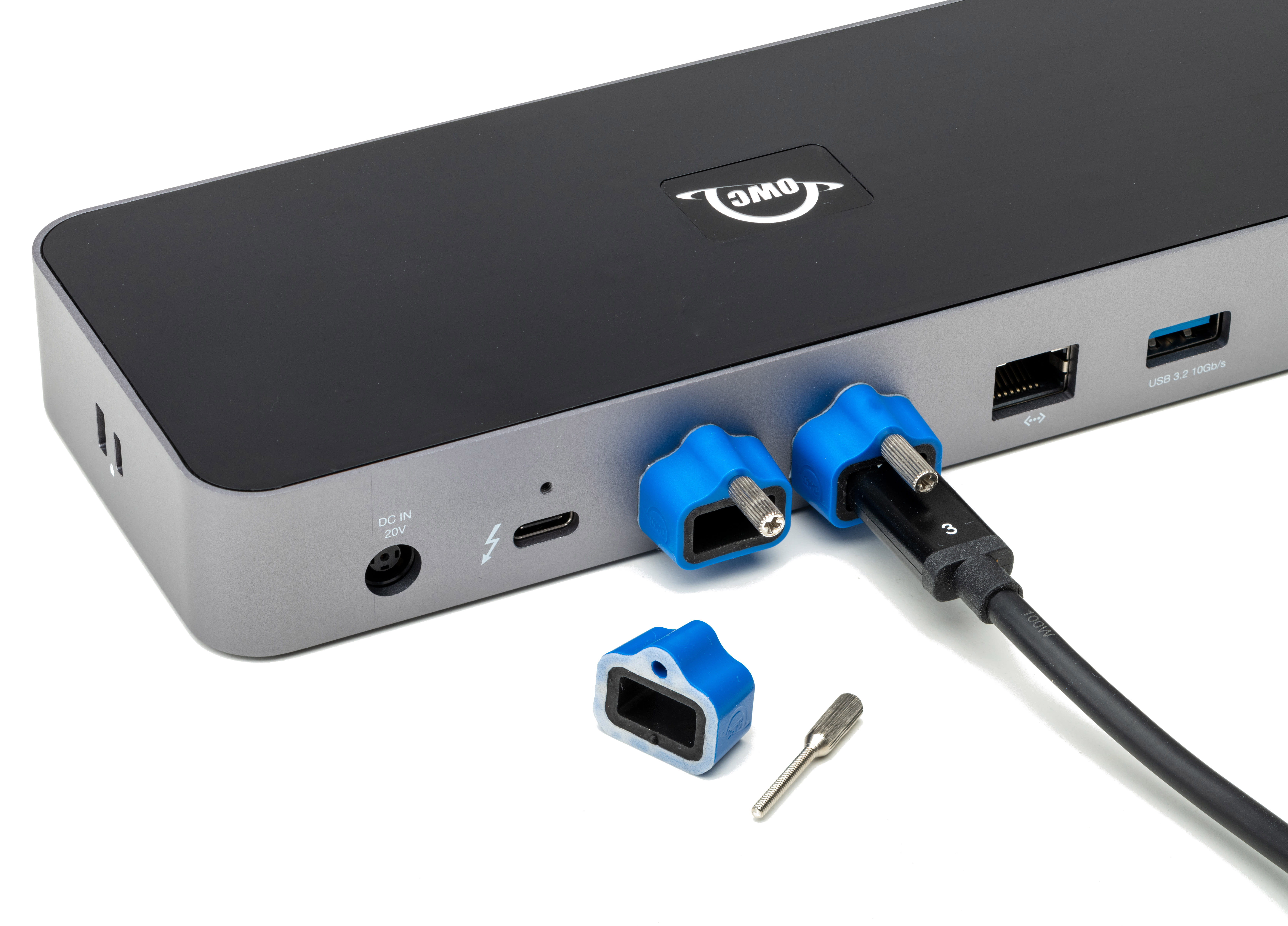 Stabilize Thunderbolt and USB-C Cables
Active workspaces expose gear to bumps, shoves, or even the random tail wag from a pet. OWC ClingOn custom cable stabilizers (available separately) screw into the OWC Dock or OWC Drive housing to reduce – if not completely eliminate – cable strain on Thunderbolt and USB-C connections so you can work with confidence even in the highest foot traffic environments.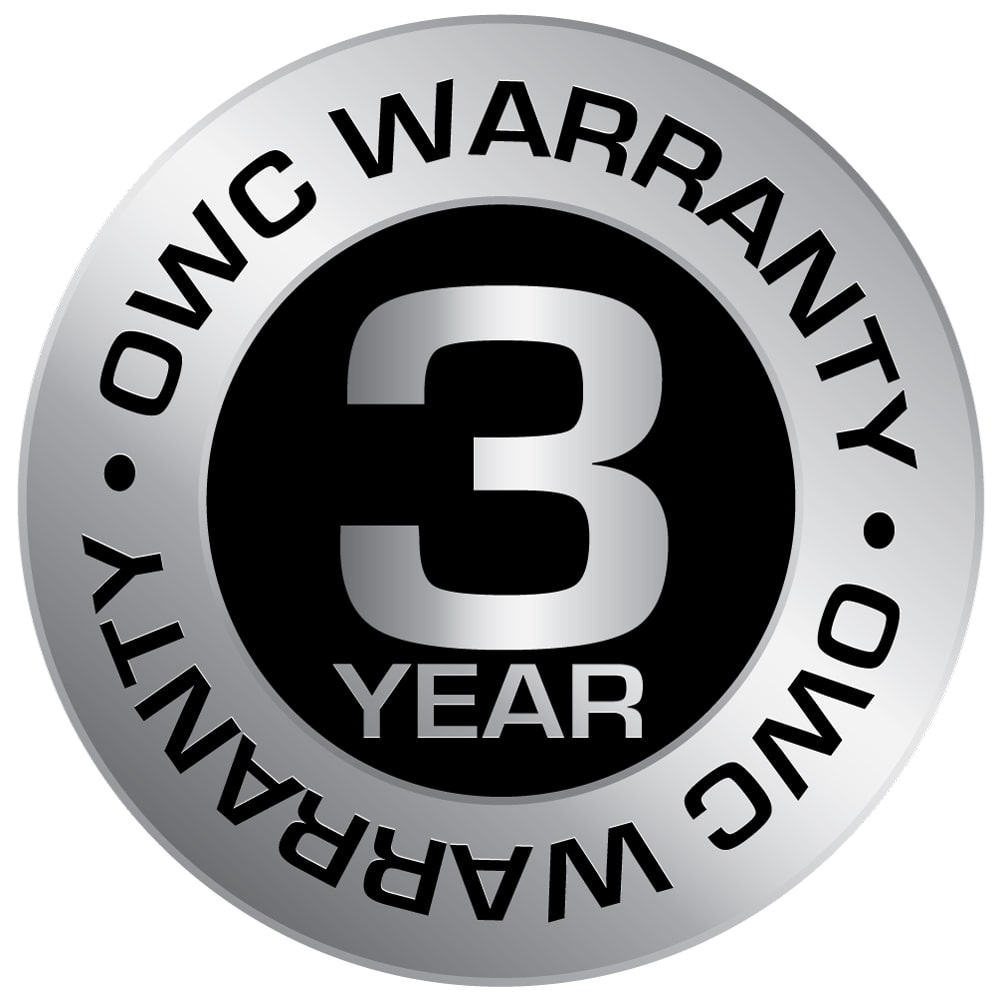 OWC, Trusted by Pros & Enthusiasts the World Over
We build our hardware to the highest standards of reliability and performance. Because 100% reliability is always the goal, we rigorously quality test and back our hardware with a 3 Year OWC Limited Warranty and award-winning customer support.
Learn More
28TB miniStack STX provides over 218x greater data storage than a 2018 Mac mini with factory equipped 128GB SSD.

Works with Thunderbolt (USB-C), Thunderbolt/Thunderbolt 2 (mDP), and USB devices. Thunderbolt/Thunderbolt 2 (mDP) device support requires a certified Thunderbolt 3 (USB-C) to Thunderbolt 2 (mDP) adapter and a Thunderbolt 2 cable (available separately) and provides data transfer at up to 20Gb/s.
Actual display support depends upon host. Please review the display specifications for your specific host system to determine the maximum supported resolution, refresh rate, color depth, and number of external displays over Thunderbolt or USB.
Works with Thunderbolt 4, Thunderbolt 3, USB4, and USB host computers and mobile devices. Thunderbolt/Thunderbolt 2 Mac models are supported via USB-A host connection. Thunderbolt/Thunderbolt 2 host connection is not supported.

With a USB host (such as a USB-C equipped MacBook, iPad, Chromebook, Android device, or PC), this device works as a USB hub. Bandwidth is reduced to USB speeds, Thunderbolt devices are not supported, and additional functionality will vary depending upon the host port's capabilities.
With a USB-C host, displays and power delivery support will depend upon the host port's capabilities.
With a USB-A host, displays and power delivery are not supported. Requires a USB-C to USB-A adapter cable (available separately).
A USB host connection is required for Mac systems running macOS 10.14 or 10.15.

NVMe SSD usage requires a Thunderbolt (USB-C) host connection with a compatible system running macOS 11.x or later. USB host connectivity provides SATA drive use only, and limits additional miniStack STX ports to USB connectivity only.
Storage examples for illustrative purposes only. Individual results may be different based on variety of factors including specific file size and format, settings, features, software and other factors. Storage estimates based on the following:

12-megapixel camera with 4MB image sizes
4-minute average 4MB MP3 songs
4-minute average uncompressed Apple Lossless (ALAC) songs
1080p HD videos with 5GB average file size
GoPro 4K footage at 60FPS 24GB/hr
250KB average MS Office document file size

3 Year OWC Limited Warranty for Hard Drive and Solid-State Drive solutions. 1 Year OWC Limited Warranty for Enclosure only.