OWC Accelsior 1A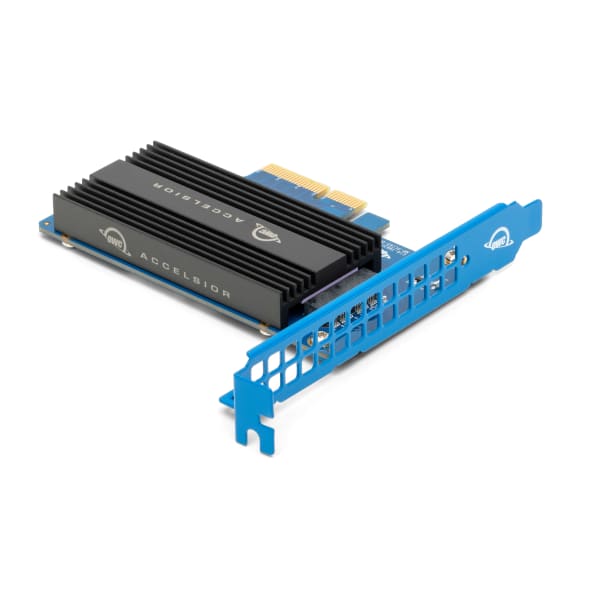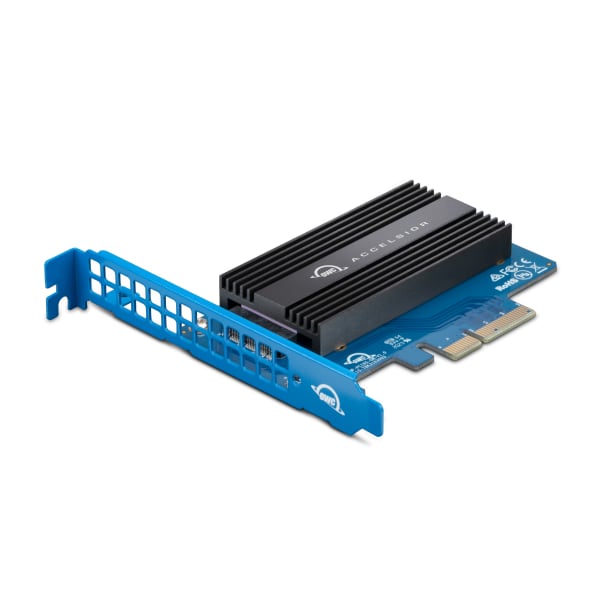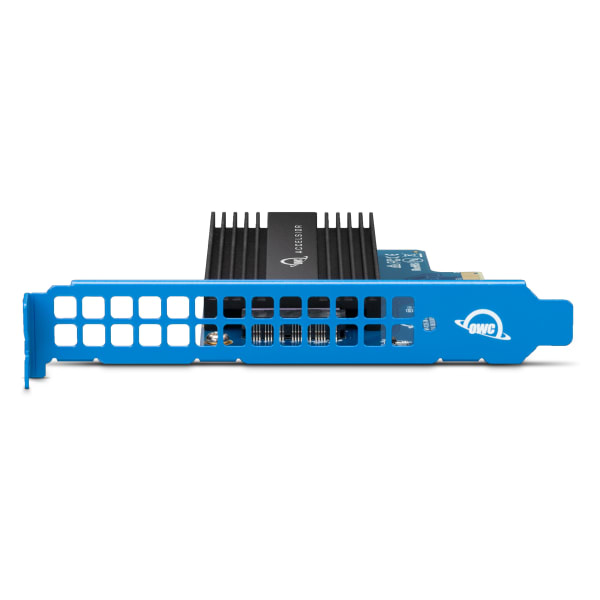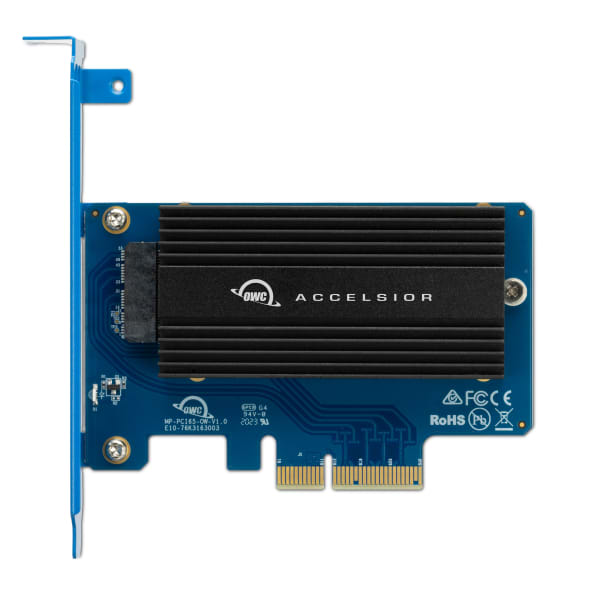 OWC Accelsior 1A
---
2013

and later
Apple Drive Compatible
Full

x4

PCIe
Drive Performance
Quick Specs:
(1) Apple SSD slot
x4 lane PCIe
Plug and play
Mac & PC
PCIe Adapter Card for Apple and OWC Aura SSDs
Access most late 2013 to current Apple factory SSD or OWC Aura PCIe SSD to recover, migrate, and store data.
Multipurpose: Provides a variety of continued use drive options
Compatible: Supports Late 2013 to current Apple SSDs and all OWC Aura PCIe SSDs1
Maximizes use: Extends your investment by increasing the use life of your original drive
Versatile: Installs into x4, x8 or x16 PCIe slots
Bootable: Start working in seconds2
Store more: Add capacity for critical projects, files and games
Slot-powered: No extra power cables needed
Plug and play: Just add your SSD and go. No drivers needed.
Worry-free: 1 Year OWC Limited Warranty
PCIe Adapter Card
Add your own Apple factory SSD or OWC Aura PCIe SSD
Enjoy Continued Drive Use
The Accelsior 1A PCIe Adapter Card lets you continue to use your Apple factory SSD or OWC Aura PCIe SSD in a variety of ways. Maybe with the affordability of SSDs and content continuing to grow, you've upgraded your Mac with a higher capacity drive. Or, maybe you can't access the data on your Mac. Whatever the scenario, the Accelsior 1A PCIe Adapter Card lets you use your drive with improved capabilities.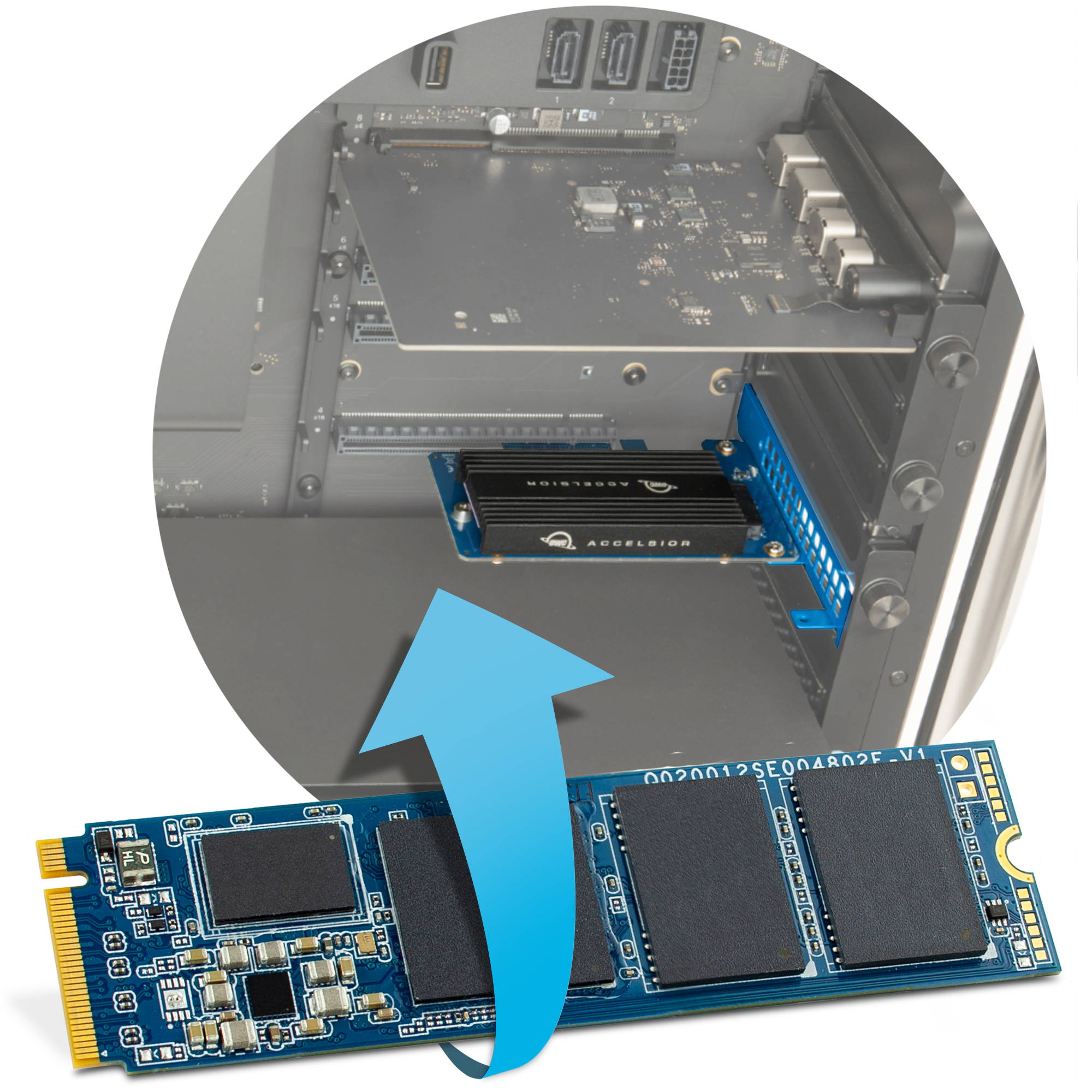 Some ways you can use the OWC Accelsior 1A:
Migrate data from your existing drive to a larger capacity upgrade drive
Access/recover data from a drive removed from an inoperative machine
Increase your data storage capacity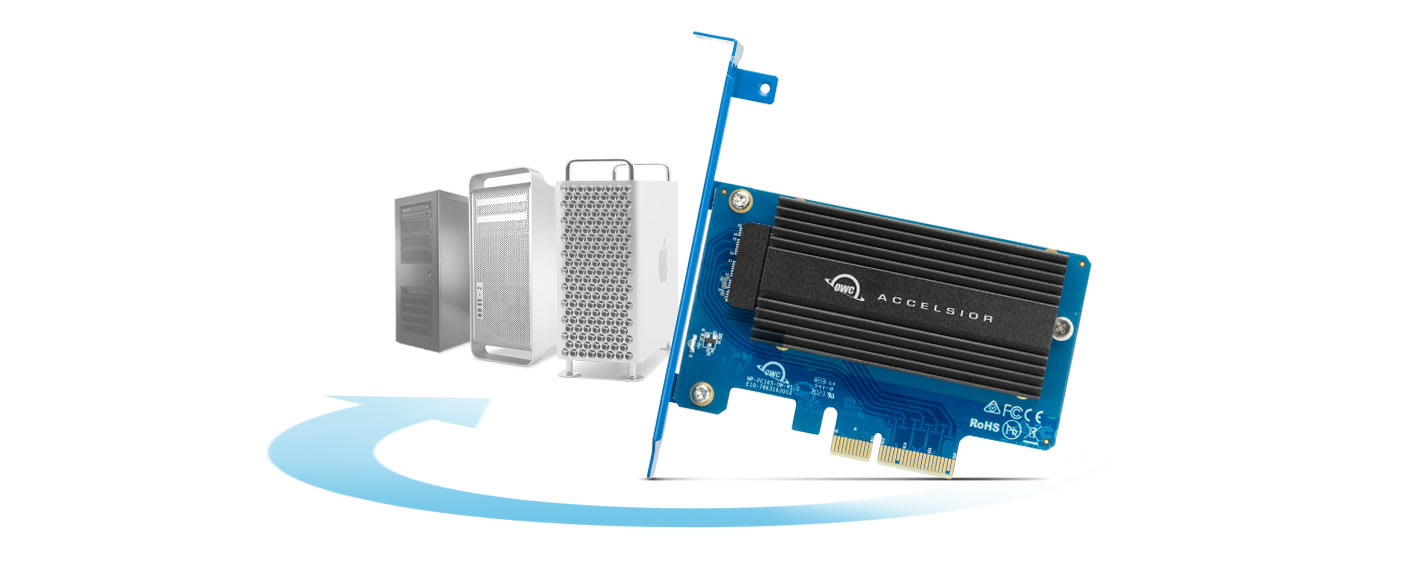 Extend your SSD Upgrade Path
After you add a higher capacity OWC Aura PCIe SSD to your Mac, the Accelsior 1A PCIe Adapter Card completes the upgrade path. Use your old drive to add more internal storage and unlock performance capabilities in any machine with an available PCIe slot, including Mac Pro towers, desktop PCs, and more.
Perfect Outside Too
If you only need occasional drive access, you might not want to use an internal PCIe slot. Lucky for you, the OWC Accelsior 1A can be used with an external PCIe expansion chassis, like the fast, flexible OWC Mercury Helios 3S with Thunderbolt 3.3 It's perfect for quick access - just load in your Accelsior 1A and SSD, plug the chassis into a Thunderbolt 3 enabled computer, and start using your drive.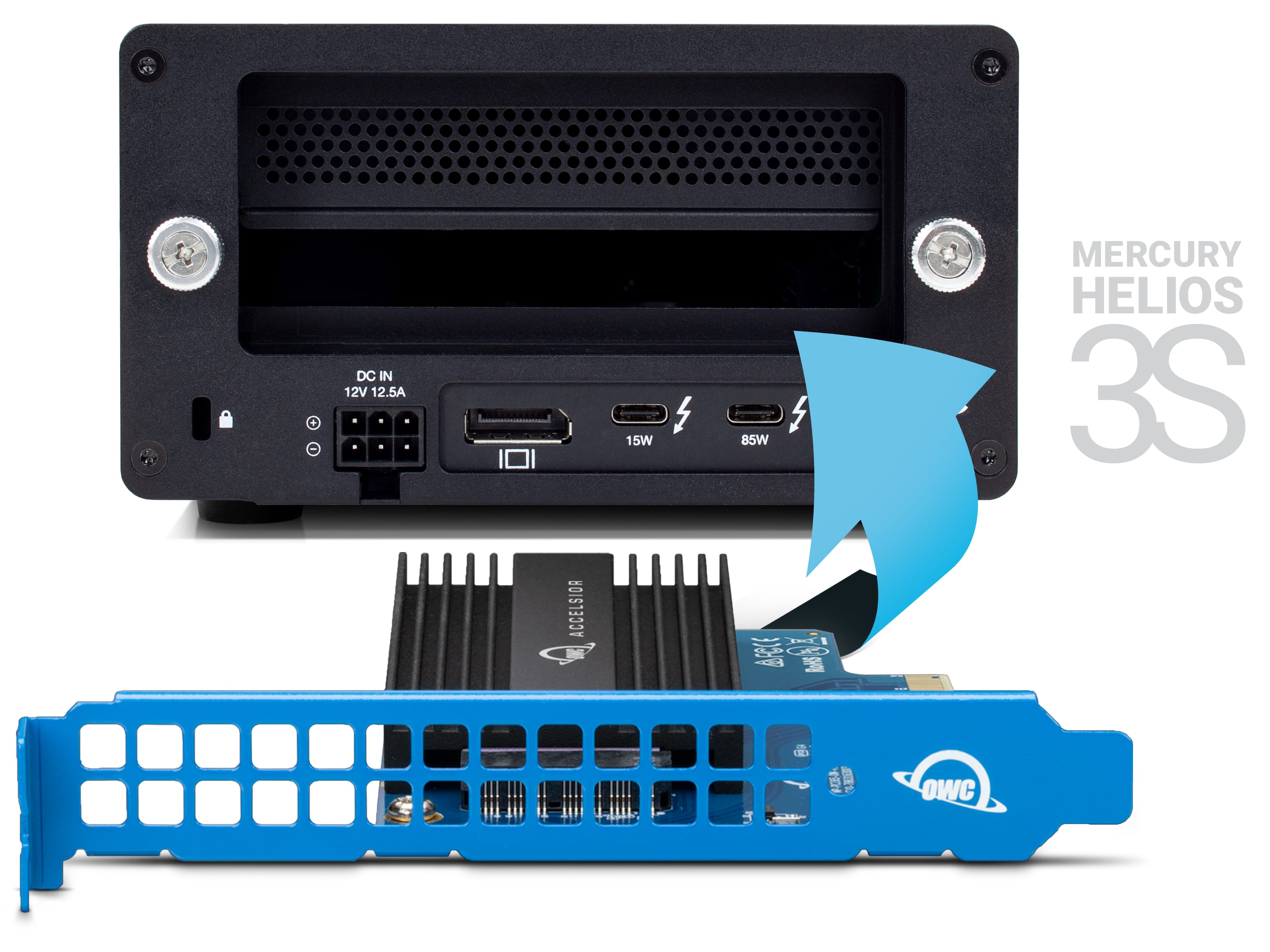 Insert your SSD into the Accelsior 1A
connector port.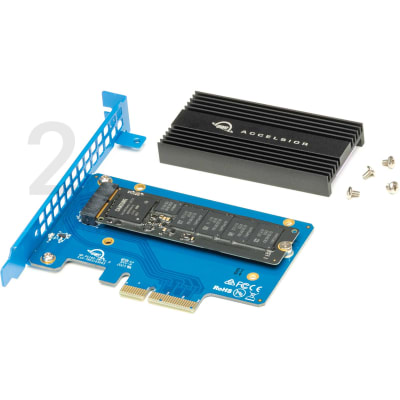 Secure the SSD to the Accelsior 1A
with supplied screw.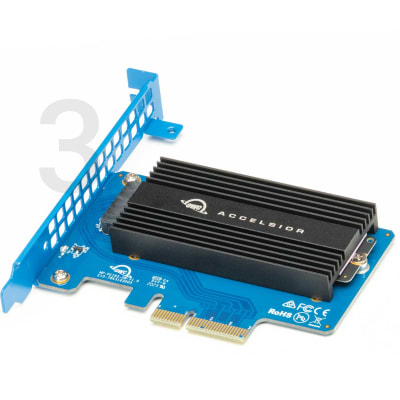 Install the Accelsior 1A into
an open PCIe slot.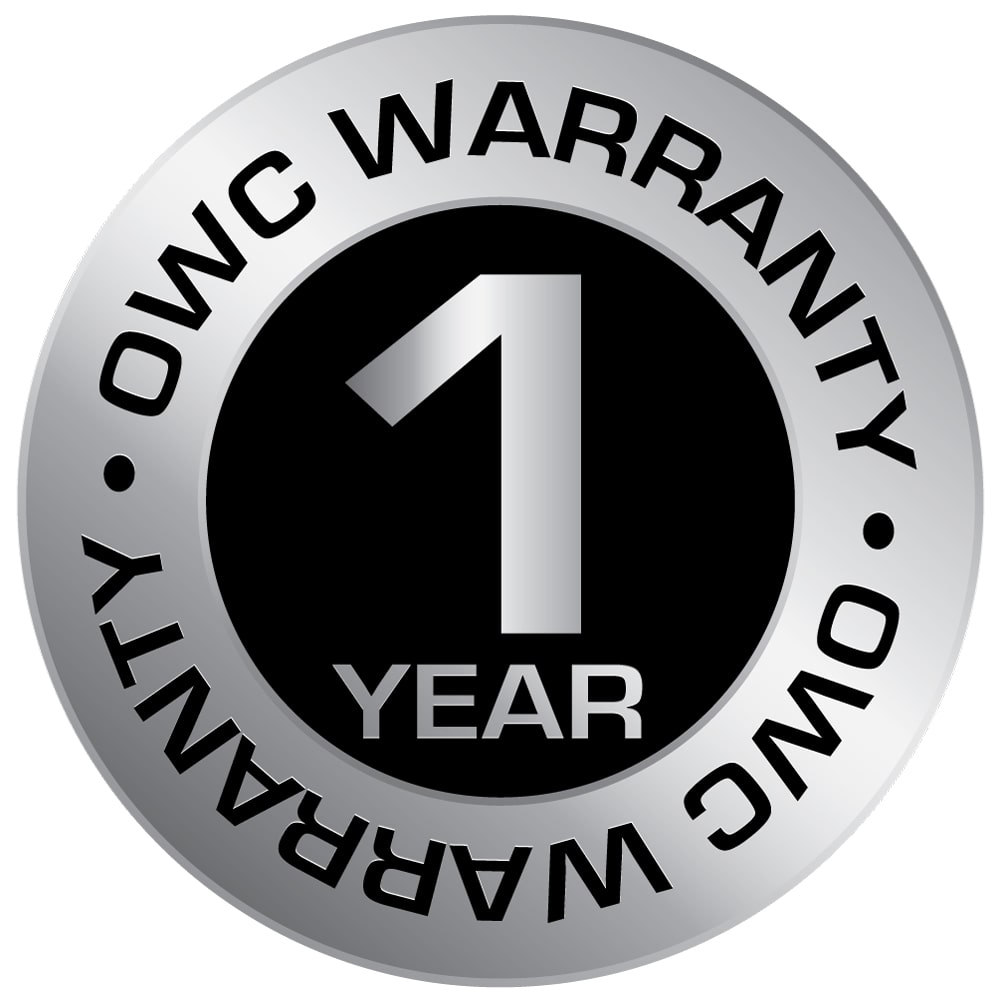 OWC, Trusted by Pros & Enthusiasts the World Over
We build our hardware to the highest standards of reliability and performance. Because 100% reliability is always the goal, we rigorously quality test and back our hardware with a 1 Year OWC Limited Warranty and award-winning customer support.
Learn More
Compatible with Apple factory SSD from Mid 2013 – 2017 MacBook Air, Late 2013 – 2015 MacBook Pro, 2013-2019 Mac Pro, Late 2014 Mac mini, and Late 2013 and later iMac models. Also compatible with OWC Aura Pro X2 SSDs, OWC Aura N SSDs, OWC Aura Pro X SSDs.
Motherboard BIOS must support booting from PCIe NVMe drive. Check with your PC manufacturer. Booting on Mac Pro (2010-2012) requires macOS 10.14.6.
Performance in a Thunderbolt 3 PCIe expansion chassis limited by maximum Thunderbolt 3 PCIe bandwidth of 2,800MB/s.