Skip to main content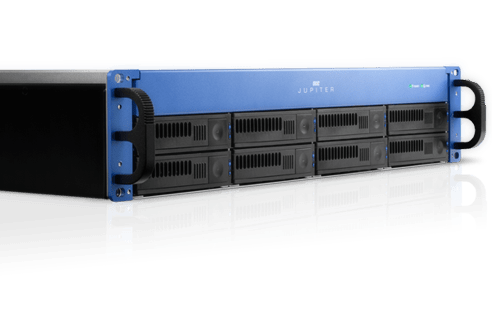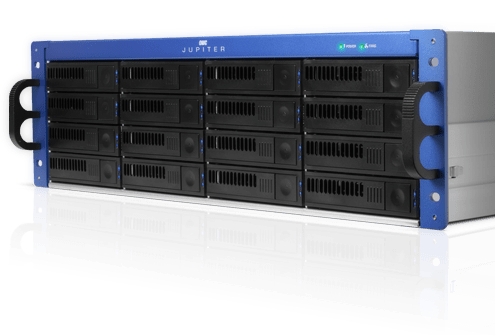 THE EVOLUTION OF STORAGE
FAST, FLEXIBLE, AFFORDABLE
SINGLE USER
SYSTEM
EXPANSION
UP TO
48
Gb/s
Mini-SAS
UP TO
192
TB
MULTI-USER
10
Gigabit
Ethernet
UP TO
768
TB
OWC JUPITER
KORE
OWC JUPITER
CALLISTO
MINI-SAS CONNECTED
JBOD STORAGE SYSTEM
2u + 3U Racks
Ethernet-connected
SHARED STORAGE SERVER
2u + 3U Racks
Upgrade your workflow with the performance, capacity, reliability, and affordability of OWC Jupiter Kore enterprise-class storage. With two Mini-SAS interface ports, each with 24Gb/s of pure performance, you'll be able to push though some serious data.

Use its dual Mini-SAS ports in tandem for staggering performance speeds up to 48Gb/s, or utilize the second Mini-SAS port to add greater JBOD storage capacity. You can also use Kore to expand an existing RAID system such as an OWC Jupiter Callisto.
As a unified storage system, OWC Jupiter Callisto can function both as a NAS (network attached storage) and as a SAN (storage area network) at the same time.

Tackle most any data need, from general document storage to video production with ethernet speeds up to 10Gb/s coupled with advanced data protection, optimization, and flexibility via Callisto's ZFS-based storage architecture.

Mini-SAS expansion supports up to three OWC Jupiter Kore storage racks for up to 768TB of managed storage from a single Callisto box.
Features:
Up to 192TB of storage capacity
Two Mini-SAS ports 24Gb/s per port with up to 48Gb/s total unit bandwidth
8-bay (2U rack or tower) and 16-bay (3U rack)
Hot-swappable drive trays and fan modules for quick installation and removal
Redundant hot-swappable power supplies with automatic load balancing
RAID via PCIe or Thunderbolt RAID controller
Compatible with SoftRAID
Features:
Ethernet-connected unified storage

NAS: File level access through CIFS/SMB, AFP, & NFS
SAN: Block-level access through iSCSI

Compatible with common 1GbE ports
10Gb (RJ45 or SFP+) and 40Gb QSFP+ Customizable
Straightforward management
Uses standard Cat 6a/7 cabling with lengths up to 100m per run
Easy expansion: add up to three Jupiter Kore storage systems; 768TB
Learn More
Learn More