Skip to main content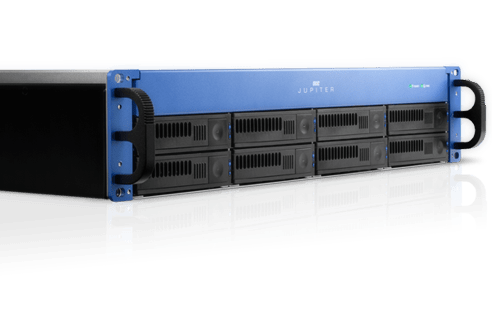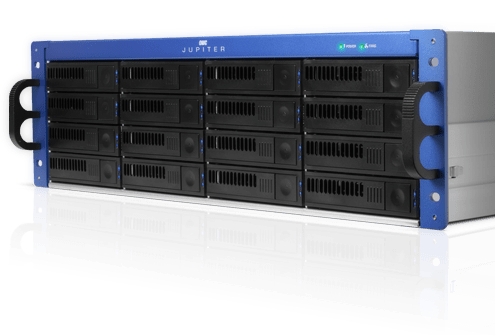 THE EVOLUTION OF STORAGE
FAST, FLEXIBLE, AFFORDABLE
Direct Attached

SAS / System Expansion
UP TO
96
Gb/s
Mini-SAS
UP TO
320
TB
MULTI-USER
10/40/100
Gigabit
Ethernet
UP TO
1.28
PB
OWC JUPITER
KORE
OWC JUPITER
CALLISTO
MINI-SAS CONNECTED
JBOD STORAGE SYSTEM
2u + 3U Racks
Ethernet-connected
SHARED STORAGE SERVER
2u + 3U Racks
Upgrade your workflow with the performance, capacity, reliability, and affordability of OWC Jupiter Kore enterprise-class storage. With two Mini-SAS interface ports, each with 48Gb/s of pure performance, you'll be able to push though some serious data.

Use its dual Mini-SAS ports in tandem for staggering performance speeds up to 96Gb/s, or utilize the second Mini-SAS port to add greater storage capacity by connecting an additional Kore or other 12Gb SAS JBOD device. You can also use Kore to expand an existing RAID system such as an OWC Jupiter Callisto.
As a unified storage system, OWC Jupiter Callisto can function both as a NAS (network attached storage) and as a member in a broader SAN (storage area network) at the same time.

Tackle most any data need, from general, shared document storage to backup and archival with ethernet speeds up to 100Gb/s coupled with advanced data protection, optimization, and flexibility via Callisto's ZFS-based storage architecture and our award winning ArGest Server client-server software suite.

Mini-SAS expansion supports up to three OWC Jupiter Kore storage racks for up to 1.28PB of managed storage control from a single Callisto server.
Features:
Up to 320TB of storage capacity
Configured with mirrored (RAID-1) system boot volumes for added, long term reliability
Two Mini-SAS ports 48Gb/s per port with up to 96Gb/s total unit bandwidth
8-bay (2U rack or tower) and 16-bay (3U rack)
Hot-swappable drive trays and fan modules for quick installation and removal
Redundant hot-swappable power supplies with automatic load balancing
Compatible with host computer hardware and software defined storage RAID configurations
Compatible with SoftRAID on Macintosh and Windows systems
Features:
Ethernet-connected unified storage

NAS: File level access through CIFS/SMB, AFP, & NFS
SAN: Block-level access through iSCSI

Compatible with common 1GbE ports
Additional 40Gb and 100Gb QSFP+ options available for very low latency uplink connectivity to enterprise-class networking fabrics
Straightforward web-based management
Uses standard Cat 6a/7 cabling with lengths up to 100m per run
Redundant hot-swappable power supplies with automatic load balancing
Easy expansion: add up to three Jupiter Kore storage systems for a total of 1.28PB of storage per Callisto server
Learn More
Learn More