Created on: April 15, 2016
Last updated: April 19, 2022
Relevant Part Numbers:
OWCTCDK10PMDSG
OWCTCDK10PMDSL
OWCTCDK10PMDRG
OWCTCDK10PMDGD
OWCTCDOCK11PSG
OWCTCDOCK11PSL
OWCTCDOCK11PGD
OWCTCDOCK11PRG
Depending upon the type of USB-C cable used to connect the USB-C Dock to the 2015 MacBook, the OS X System Information screen may display a mix of USB 3.0 and USB 2.0 (and Super-Speed vs. High-Speed) items in the device tree. If you connect to the dock with Apple's USB-C cable that came with the 2015 MacBook, no Super-Speed components are listed (see screenshot below). Apple uses a USB 2.0 cable — therefore the dock and all of its components will run at USB 2.0 speeds. NOTE: in this scenario the dock is listed as a "USB 3.0 High-Speed Bus" at the top level. This is denoting a USB 3.0 (Super-Speed) device, running at High-Speed (USB 2.0) rates.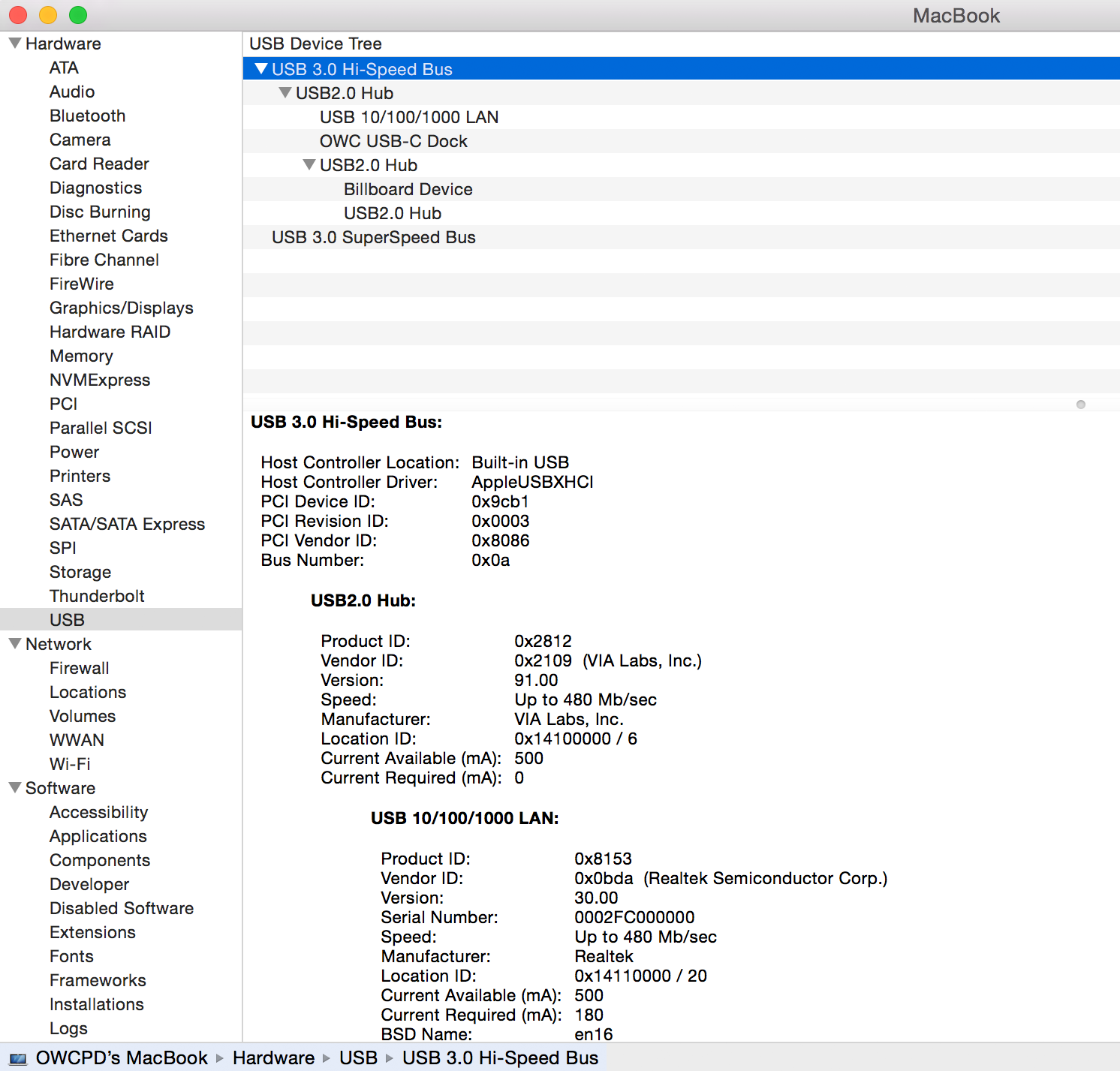 When you use the OWC-supplied USB-C cable (which is a USB 3.0 cable), you will see the USB 3.0 Super-Speed part of the device tree appear, but some items within the tree are still listed as "USB 2.0 Hub." These specific components are connecting, negotiating, and performing at USB 2.0 High-Speed rates. The audio ports are an example of two connections which do not require USB 3.0 bandwidth or performance to run smoothly. The USB ports, ethernet port, and video port all run at USB 3.0 Super-Speed rates, as long as the MacBook and the dock are connected with the OWC USB-C cable or other certified USB 3.0 (also referred to as USB 3.1 Gen 1) cable.