HighPoint
RocketRAID 4322


3Gb/s Enterprise Class SAS RAID Host Adapter
RAID 0, 1, 3, 5, 6, 10, 50 & JBOD | Up to 8 SAS/SATA devices
The HighPoint RocketRAID 4322 is the world's fastest internal SAS RAID controller utilizing Intel IOP348 1.2GHz processor. The RocketRAID 4322 is the latest product in storage technology, leveraging the storage performance in SAS and SATA II supporting the fastest available throughput while supporting enterprise level features such as Native Command Queuing (NCQ), staggered drive spin-up and SAF-TE (I2C) and SGPIO enclosure management support.

The RocketRAID 4322 is the highest performing SATA/SAS RAID controller for Apple Mac Pro's with Snow Leopard. Drivers for the RocketRAID 4322 are incorporated into the Snow Leopard Installation DVD.
HighPoint RAID Management
HighPoint RAID Management software offers a user friendly interface to create, manage and maintain your storage solutions. Email notification and remote management are some of the advance features that the RAID Management software has to offer.
The SAS Enterprise series are optimized for performance driven media applications, and are ideal for high-end PC's and workstations.
Online Capacity Expansion (OCE) and Online RAID Level Migration (ORLM)
OCE & ORLM is currently NOT supported on the Mac.
Quick and Background initialization for instant RAID configuration
Write Back and Write Through support
API Library for customization
CLI (Command Line Interface)
Web GUI RAID management (local and remote monitoring)
SHI (Storage Health Inspector - Drive analysis from S.M.A.R.T)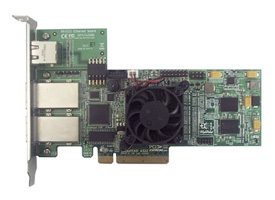 This Card Adds:
Two External Mini-SAS Port
(up to 8 devices)
Requires:
Available PCIe 2.0 x8 lane Slot
(backwards compatible with PCI-Express 1.0)
See specifications below for system and/or OS compatibility information