Skip to main content
OWC Aura SSD Upgrades
For Apple MacBook Air & Retina, Free Installation Videos

Memory Tip: The memory in the MacBook Air and MacBook Pro with Retina display is installed on the main board and is non-upgradeable. However, the SSD is easily DIY upgradeable with larger capacities and faster options available. When your system runs out of memory, it utilizes the SSD, and a faster and larger SSD will indeed help with some memory intensive tasks and improve overall system performance.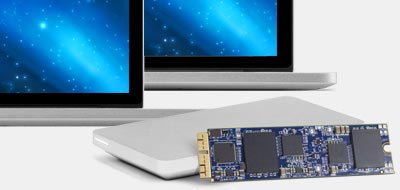 There's an OWC SSD for almost any Mac or PC from the last decade!
Aura is a trademark of New Concepts Development Corporation, registered in the U.S. Patent and Trademark Office. Apple, Mac, MacBook Air, MacBook Pro and Retina are trademarks of Apple Inc., registered in the U.S. and other countries. Other marks may be the trademark or registered trademark property of their owners.