OWC SSD upgrades for MacBook Air: 2008 2008-2009 2010 2011 2012


OWC SSD upgrades for MacBook Pro Retina display: 2012 & 2013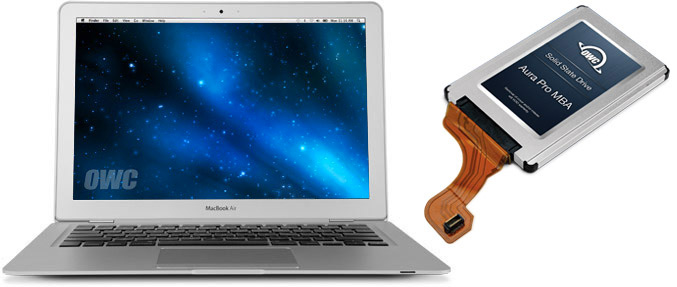 MacBook Air with the OWC Aura Pro & OWC Aura Envoy

OWC Aura Pro MBA
Upgrade your 2008/2009 MacBook Air's drive to greater speed and capacity!

1. Transfer
Copy data from factory drive to external drive of your choice.
2. Install
Use the included tools to install the Aura Pro MBA SSD into your MacBook Air.
3. Install/Migrate
Reinstall OS and use Migration Assistant to migrate data from external drive to Aura Pro MBA.
4. Enjoy
Enjoy the benefits of a higher capacity/faster drive.
3G
provides over 275MB/s performance
for MacBook Air 2008-2009
One of the fastest Internal SATA 1.8" SSD available.
Ultra-efficient Block Management & Wear Leveling
EXTREME Power Efficiency
OWC Free Install Videos make it easy to upgrade!
Aura is a trademark of New Concepts Development Corporation, registered in the U.S. Patent and Trademark Office. MacBook Air, MacBook Pro and Retina are trademarks of Apple Inc., registered in the U.S. and other countries. Other marks may be the trademark or registered trademark property of their owners.