Attention MacSales.com Customers: We will be performing scheduled maintenance starting in 35 minutes, please excuse us for any interruptions in service. -OWC Staff

Dual Thunderbolt 2 | RAID Ready | 4 Drive Bays | Mac
The Speed You Need
Four 3.5" drive bays for up to 24TB
Incredible Thunderbolt 2 performance over 1.3GB/s
Ultra quiet, heat dissipating aluminum chassis
Rigorously pre-tested with multi-hour burn-in
Plug and play RAID-ready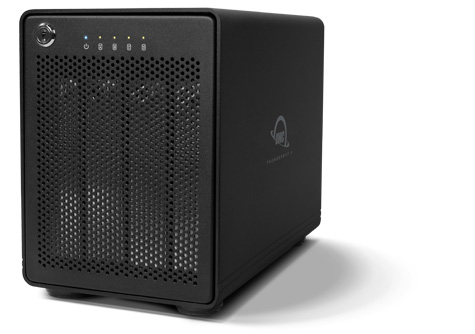 UP TO
790
MB/s
READ / WRITE
4

TB

1.0TB x 4

128MB cache

$649.88

Learn More »

Add to Cart
8

TB

2.0TB x 4

256MB cache

$779.99

Learn More »

Add to Cart
12

TB

3.0TB x 4

256MB cache

$879.99

Learn More »

Add to Cart
16

TB

4.0TB x 4

256MB cache

$1,097.99

Learn More »

Add to Cart
20

TB

5.0TB x 4

256MB cache

$1,199.99

Learn More »

Add to Cart
24

TB

6.0TB x 4

512MB cache

$1,599.99

Learn More »

Add to Cart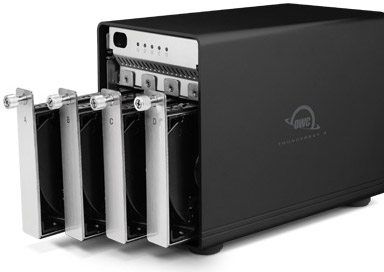 Enclosure-Only Kit

Add your own drives

Enclosure Kit

4 drive bays

RAID Ready

$399.75

Learn More »

Add to Cart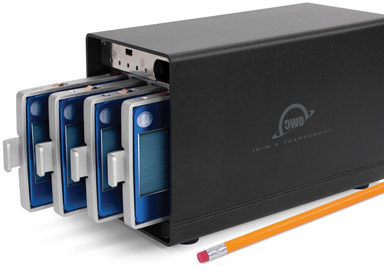 ThunderBay 4 mini
For use with SSDs
Four 2.5" drive bays
SSDs up to 4TB
HDDs up to 8TB
RAID Ready
Learn More »
Also see OWC ThunderBay 4 RAID Edition with RAID 5
up to 32TB from $489.99

Edit, view, stream, and produce more with ThunderBay in your 2K, 4K, and audio production workflow.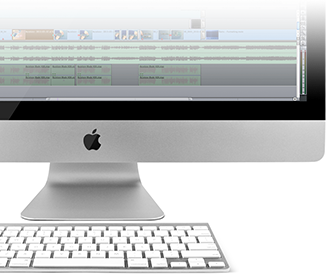 With ThunderBay's performance capabilities you can complete projects faster, have more time to experiment, and push your creations to the next level.

Enhance editing capabilities in video apps like Apple Final Cut Pro, Adobe Premiere, and Avid Media Composer. Empower greater audio production capabilities in audio apps like Avid Pro Tools and Logic Pro X. Edit large photos in apps like Adobe Photoshop, and browse large photo libraries in apps like Apple Aperture and Adobe Lightroom. Simply put, you can do more with a ThunderBay 4 enhanced workflow, and with a RAID 5 array you get data redundancy on top of great performance!

Each ThunderBay undergoes OWC's multi-hour drive "burn-in" performance certification procedure prior to shipping. This ensures your ThunderBay arrives operating properly and ready for demanding use.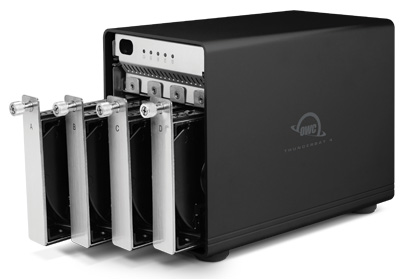 Time-Tested Cooling

Built on OWC's time-tested enclosure cooling technology, ThunderBay utilizes an open "flow-thru" vented design with an oversized 92 mm, low-turbulence, noise-quieting fan to keep the drives running cool and reliably.

Vibration Dampened

ThunderBay's drive isolating design reduces sonic resonance, and is aided by over-sized, rugged, vibration-absorbing, non-skid feet.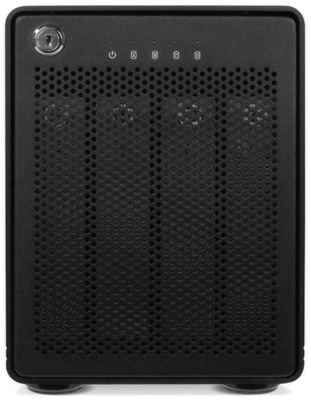 Multi-Drive

Daisy-chain up to six ThunderBays for massive storage capabilities and increased performance, or connect multiple ThunderBays to multiple Thunderbolt 2 ports to achieve exponential speed capabilities.

DisplayPort 1.2 Support

Dual Thunderbolt 2 ports let you connect the display of your choice that your computer can support, including 4K displays.

OWC Thunderbolt Cable

ThunderBay comes with an OWC one-meter certified Thunderbolt cable, with other lengths from 0.5 meter to 30 meters available separately.

"OWC's ThunderBay 4 brings to the market capacities that have yet to be seen in such a compact
medium, as well as the performance and data security that only RAID 5 can provide!"
- Les Tokar, The SSD Review