OWC Express 4M2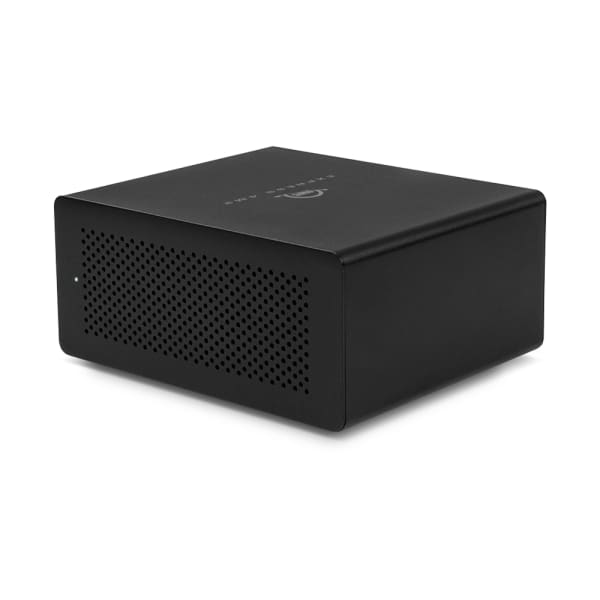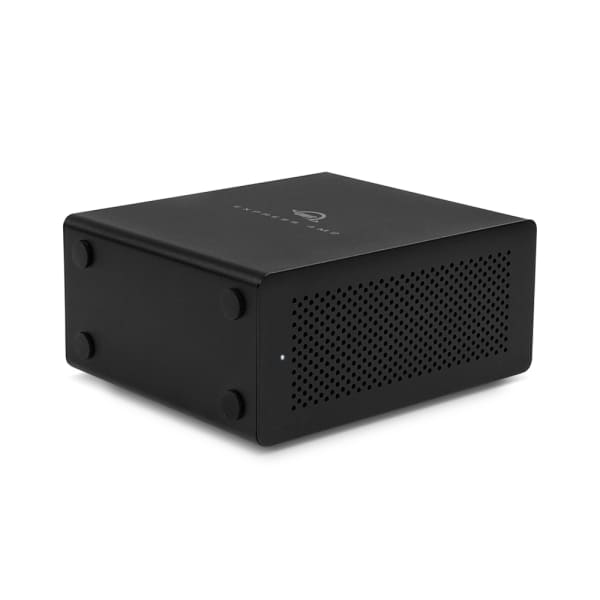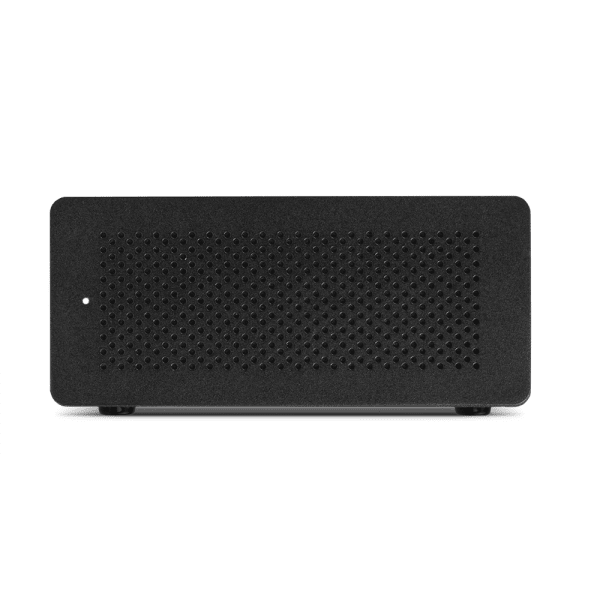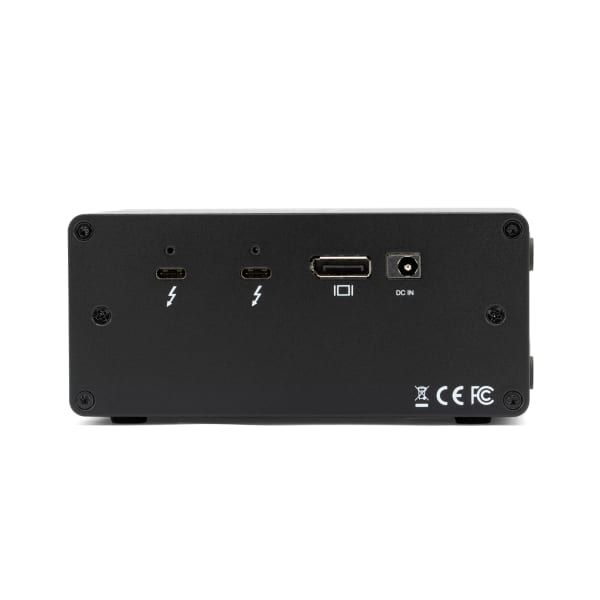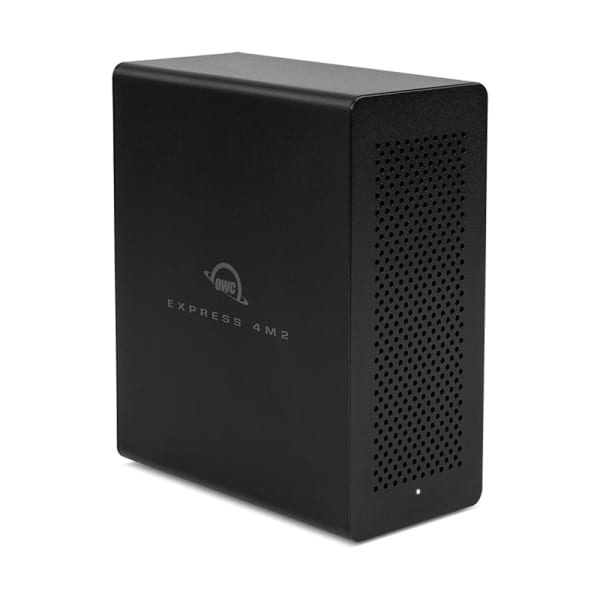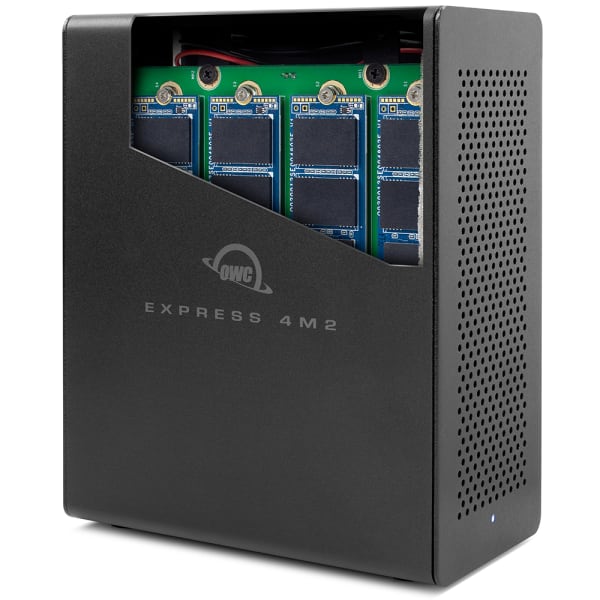 OWC Express 4M2
---
Up to

2800

MB/s
Blazing fast transfer speeds
Up to

32

TB
Storage capacity
Quick Specs:
Thunderbolt (USB-C)
4 NVMe M.2 Drive Slots
SoftRAID
DisplayPort 1.2
Mac & Windows
DIY Enclosure
With SoftRAID XT — RAID 0/1/4/5/1+0 (10) or JBOD
DIY Enclosure
Add your own RAID software
Pint-Sized Powerhouse
Small in stature. Big on capability. The OWC Express 4M2 is ready to serve with four easy-to-access NVMe M.2 SSD slots customizable for any workflow with vibration damping feet that allow for vertical or horizontal orientation. Install up to 32TB of capacity and experience up to 2800MB/s of mind-bending performance via Thunderbolt 3. The Express 4M2 is an amazingly small digital workhorse with world-renowned OWC quality and award-winning support built in.
Built Smaller and Faster from Input by Pros Like You.
The OWC Express 4M2 is designed with superior ease-of use in mind. We worked with award-winning creatives and listened to the kudos they heaped onto the OWC ThunderBay mini, and we put all that shared knowledge to good use when we set out to build the next-gen Thunderbolt 3 multi-bay drive. The result is the 57% smaller and 2.5x faster OWC Express 4M2.
It's smaller and easier to fit into your workflow, studio and on stage. It's faster with four easy-access M.2 slots so you can swap, upgrade or expand your Express 4M2 to configure and reconfigure it to serve any project need.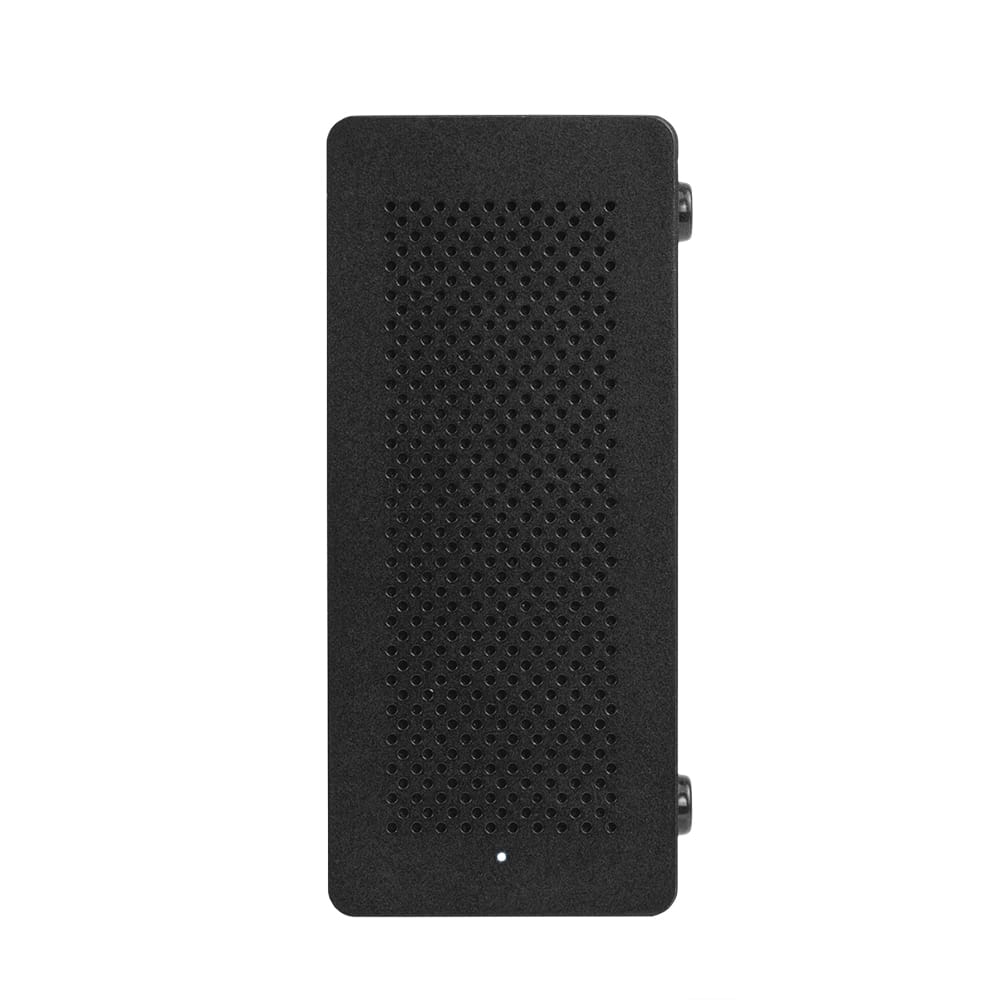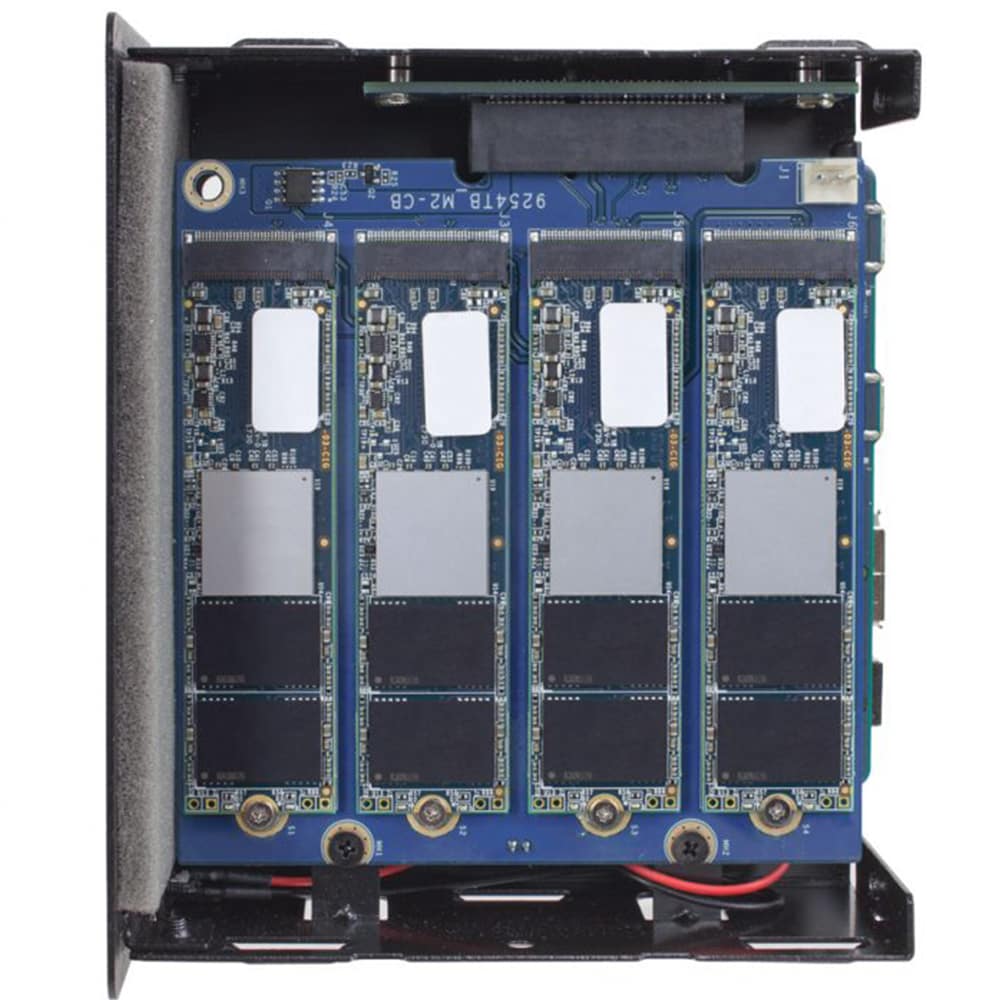 Game-Changing NVMe SSD Performance
NVMe (Non-Volatile Memory Express) is a hyper-efficient communications interface protocol built from the ground up to properly take advantage of SSD technology and high-performance connection buses like PCIe. The result is exponentially faster and efficient SSD storage, and the OWC Express 4M2 has room for four NVMe SSDs.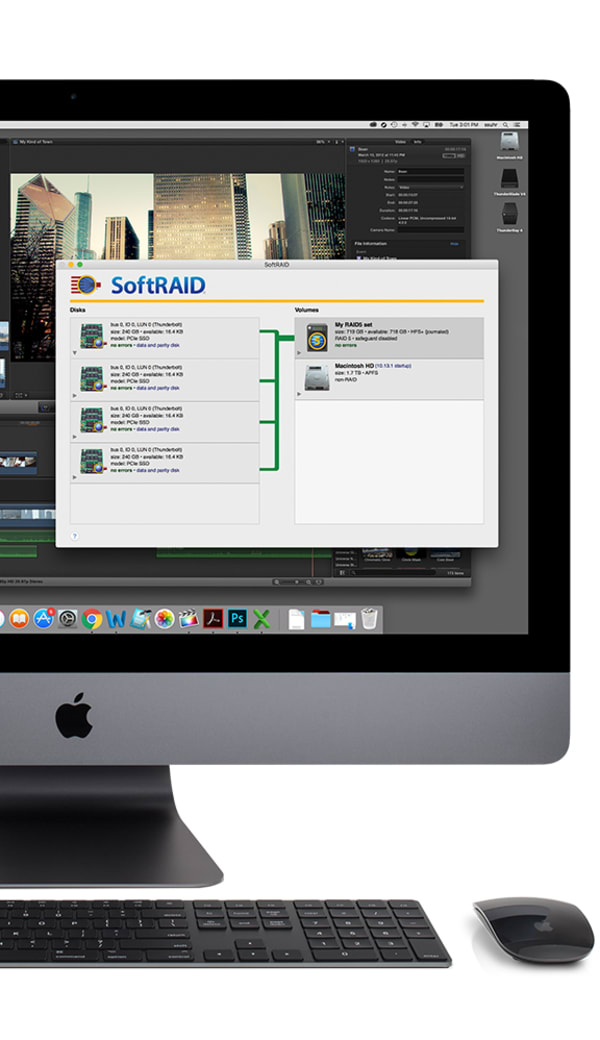 RAID Made Easy
Harness the full capability of your OWC drive array with the included SoftRAID XT, the most powerful, intuitive RAID management software on the market for macOS and Windows. SoftRAID's RAID creation and management technology has been finely tuned to perfection with over 20 years of development to provide rock solid protection of your data and optimize drive performance.
Packed with Features
SoftRAID XT provides an unbeatable combination of speed, protection, and compatibility:
Advanced: Create RAID 0/1/4/5/1+0 (10) arrays1
Protected: SoftRAID Monitor constantly watches your disks and alerts you if problems are detected
Validated: Volume validation ensures sectors can be read and parity is correct
Certified: Checks disks before use to ensure they are safe for data storage
Vigilant: Error prediction helps protect against unexpected failure
Universal: Move SoftRAID arrays seamlessly between Mac and PC2 with built-in OWC MacDrive technology
Beyond Hardware RAID
SoftRAID provides a level of storage performance that you simply can't get with hardware RAID. Software RAID gives you increased power and control over your RAID drives and disks that hardware RAID can't deliver and doesn't lock you into technology that you can't upgrade or expand.

Dive deeper into the benefits of SoftRAID »
RAID 4/1+0 (10) is available for Mac only at this time.
SoftRAID serial numbers work on both Mac and Windows. SoftRAID is licensed per computer. In order to use SoftRAID on multiple computers, you will need a unique, valid license per computer. Additional licenses can be purchased anytime.

Multi-Drive Flexibility
Configure and reconfigure your storage however you need by combining multiple OWC Express 4M2 drives together on Mac and Windows. With OWC SoftRAID (included with Express 4M2) you get the amazing capability to RAID across multiple drive enclosures. On a Windows PC, add more Express 4M2 drives to your storage pool using Windows Storage Spaces.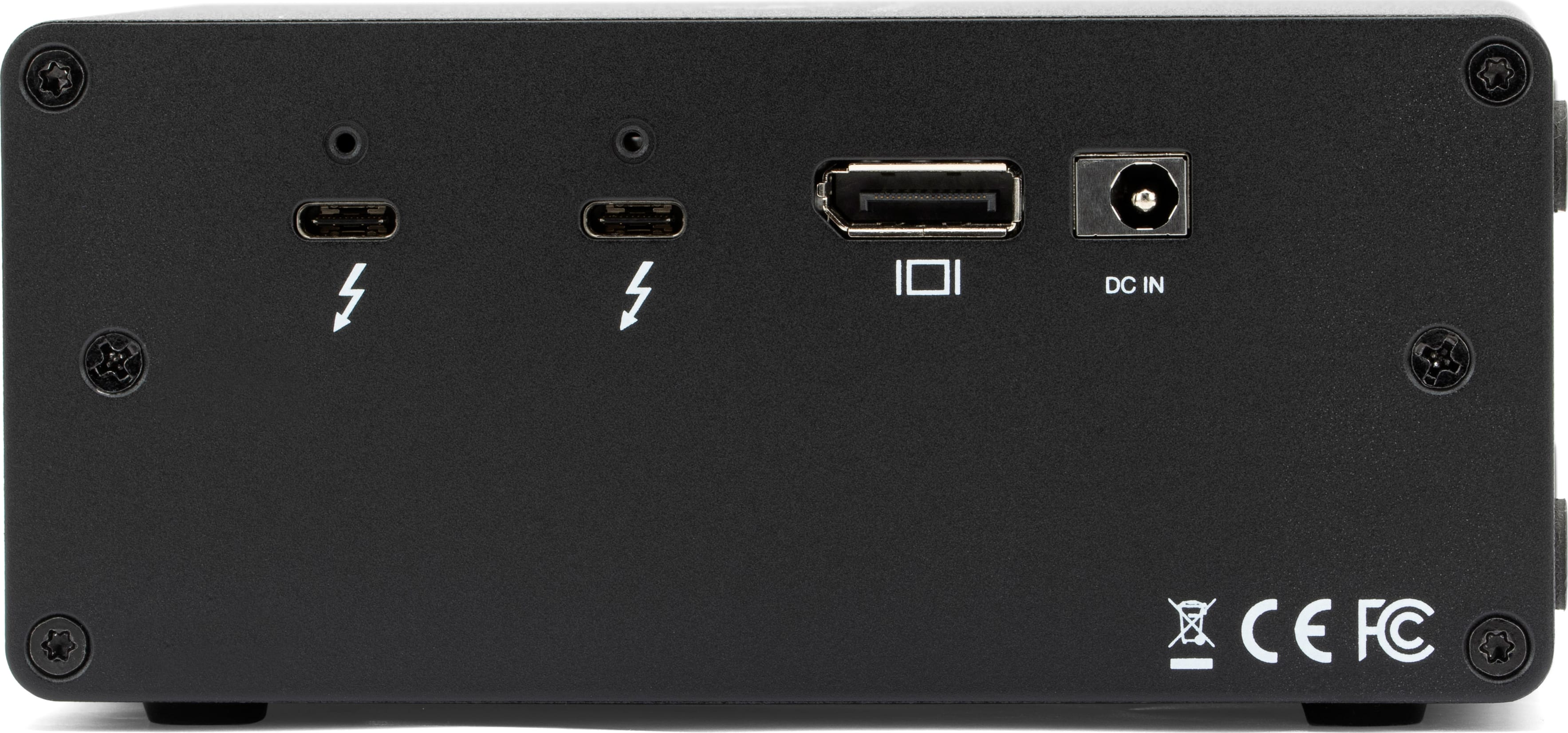 DisplayPort
Display connection flexibility is yours with a convenient DisplayPort located right on the rear of the OWC Express 4M2. There's no need to worry about adapters or extra long cables. Just plug your display directly into the Express 4M2 and you're all set.

Thunderbolt Made Easy
We make it easy to choose the right gear. Our Thunderbolt Certified products offer the same performance and functionality whether they are Thunderbolt 3 or Thunderbolt 4. And if you're rocking a beloved Thunderbolt 2 machine, we offer an adapter so you can plug into our universe of award-winning solutions. No hassles, no confusion. That's the OWC Difference.
Apple Mac models with Thunderbolt 2/Thunderbolt ports can be connected using an Apple Thunderbolt 3 (USB-C) to Thunderbolt 2 Adapter and a Thunderbolt 2 cable (available separately). This configuration provides data transfer at up to 20Gb/s but does not support notebook charging.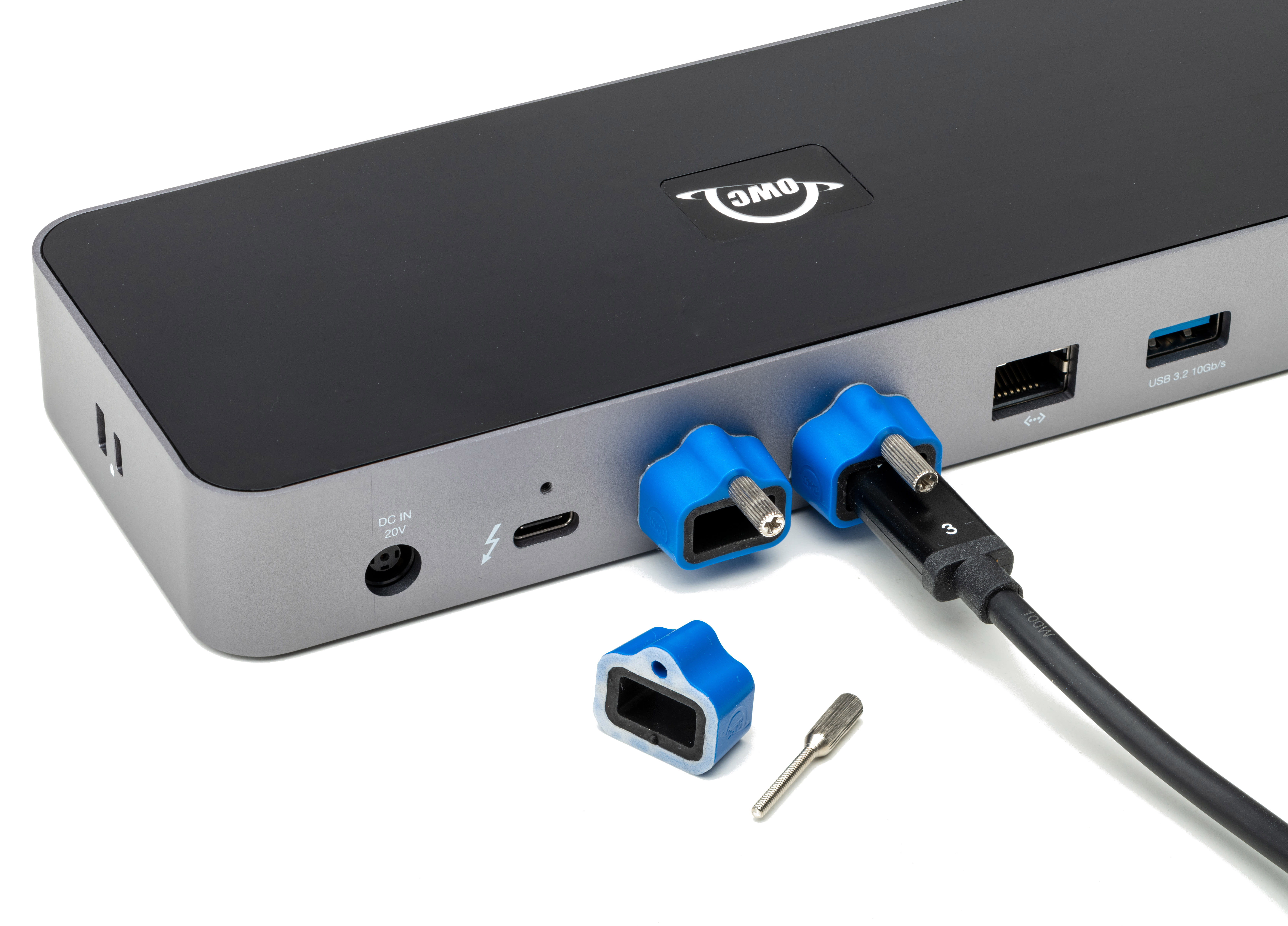 Stabilize Thunderbolt and USB-C Cables
Active workspaces expose gear to bumps, shoves, or even the random tail wag from a pet. OWC ClingOn custom cable stabilizers (available separately) screw into the OWC Dock or OWC Drive housing to reduce – if not completely eliminate – cable strain on Thunderbolt and USB-C connections so you can work with confidence even in the highest foot traffic environments.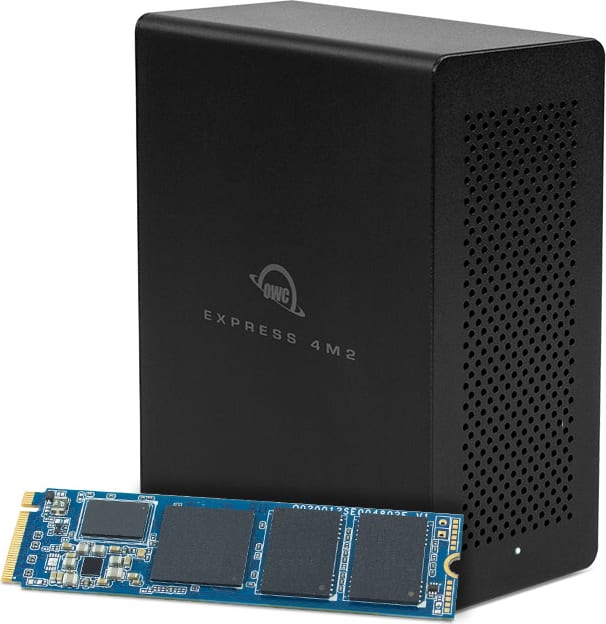 OWC Aura Ultra III
The perfect match for Express 4M2
Combine Express 4M2 with its perfect performance match – fast OWC Aura Ultra III NVMe M.2 SSDs. Build your own ultra-fast portable Thunderbolt 3 RAID ready external SSD, and enjoy incredible transfer speeds, capacity, and OWC reliability!


OWC Thunderbolt Cable Included
OWC Express 4M2 solutions come with a certified 0.7 meter OWC Thunderbolt Cable. But if your workflow demands a different length to make the connection, OWC Thunderbolt (USB-C) Cables are the perfect choice.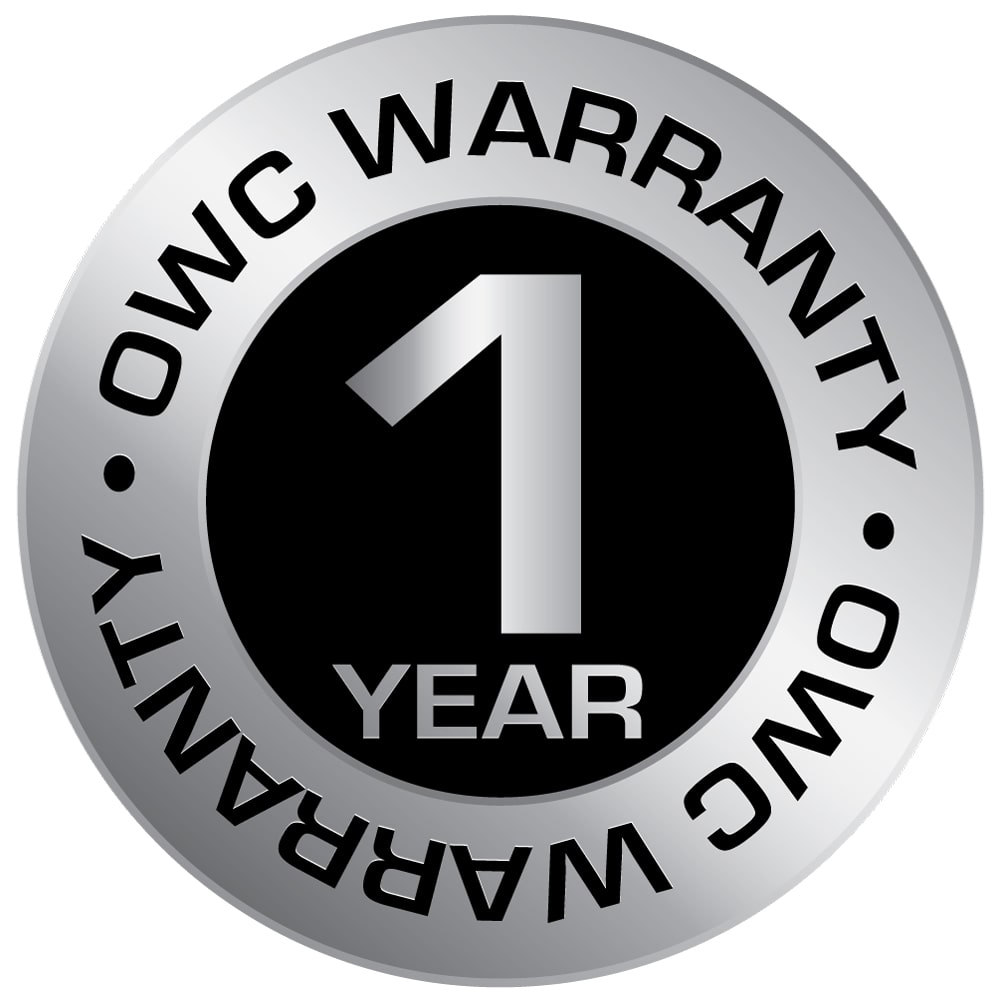 OWC, Trusted by Pros & Enthusiasts the World Over
We build our hardware to the highest standards of reliability and performance. Because 100% reliability is always the goal, we rigorously quality test and back our hardware with a 1 Year OWC Limited Warranty and award-winning customer support.
Learn More
Thunderbolt 2/Thunderbolt compatibility requires a certified Thunderbolt 3 (USB-C) to Thunderbolt 2 (mDP) adapter and a Thunderbolt 2 cable (available separately). This configuration provides data transfer at up to 20Gb/s but does not support notebook charging.