OWC Express 4M2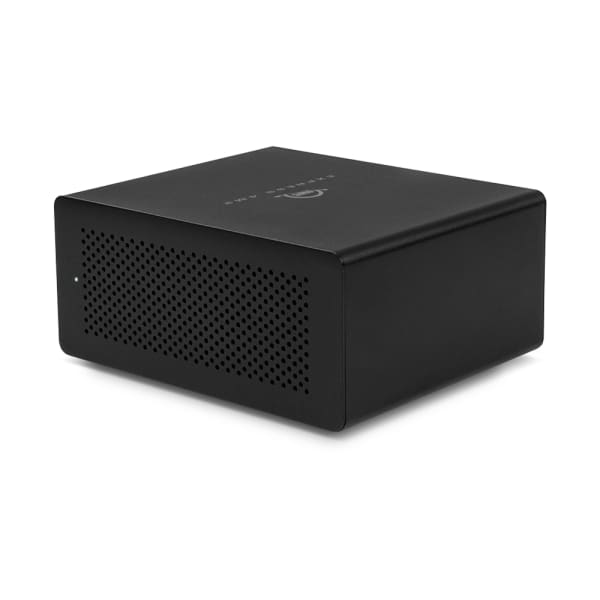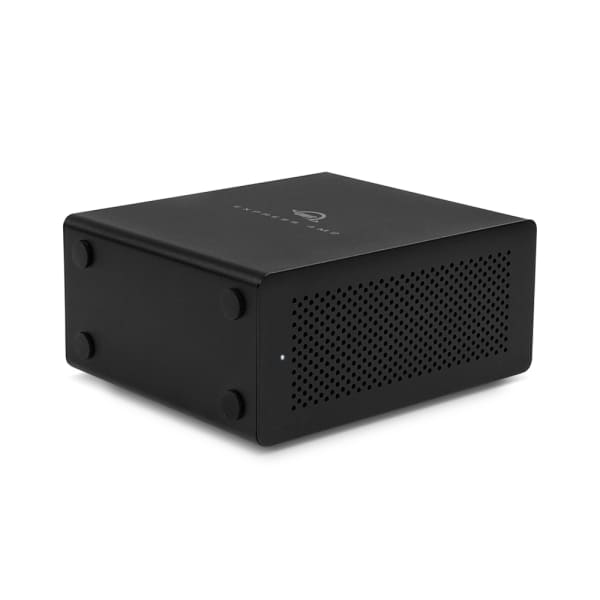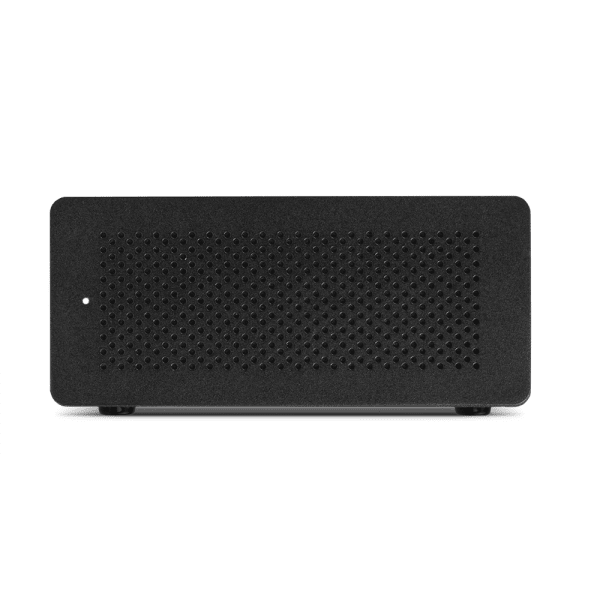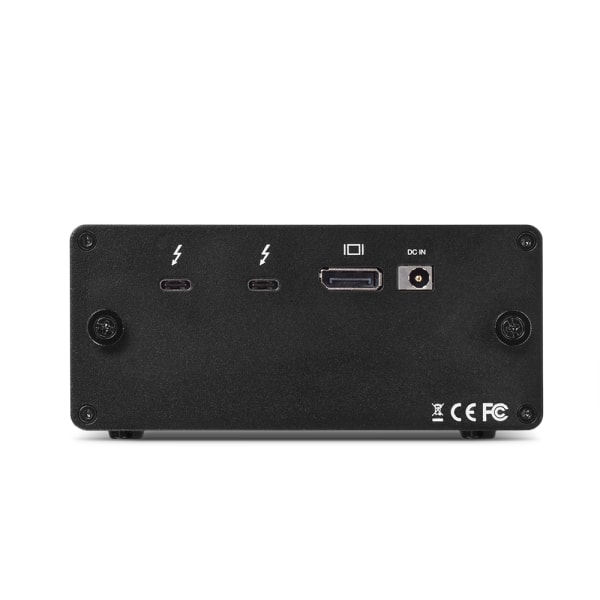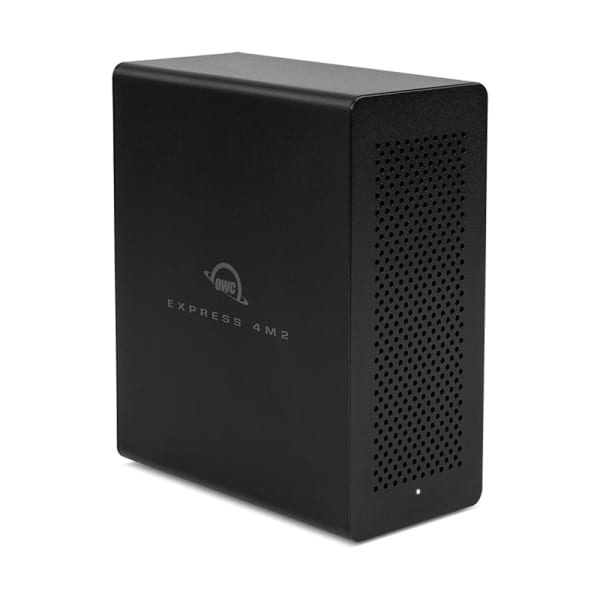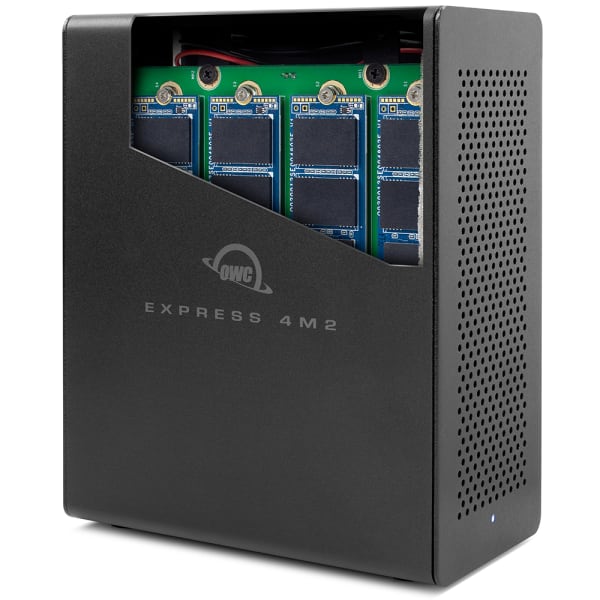 OWC Express 4M2
---
Up to

2800

MB/s
Blazing fast transfer speeds
Up to

16

TB
Storage capacity
Performance & reliability at an exceptional value

Wide array of model configurations

OWC storage solutions consistently receive top ratings

Industry-leading warranty & support
Pint-Sized Powerhouse
Small in stature. Big on capability. The OWC Express 4M2 is ready to serve with four easy-to-access M.2 NVMe SSD slots customizable for any workflow with vibration damping feet that allow for vertical or horizontal orientation. Install up to 16TB of capacity and experience up to 2800MB/s of mind-bending performance via Thunderbolt 3. The Express 4M2 is an amazingly small digital workhorse with world-renowned OWC quality and award-winning support built in.
Built Smaller and Faster from Input by Pros Like You.
The OWC Express 4M2 is designed with superior ease-of use in mind. We worked with award-winning creatives and listened to the kudos they heaped onto the OWC ThunderBay mini, and we put all that shared knowledge to good use when we set out to build the next-gen Thunderbolt 3 multi-bay drive. The result is the 57% smaller and 2.5x faster OWC Express 4M2.
It's smaller and easier to fit into your workflow, studio and on stage. It's faster with four easy-access M.2 slots so you can swap, upgrade or expand your Express 4M2 to configure and reconfigure it to serve any project need.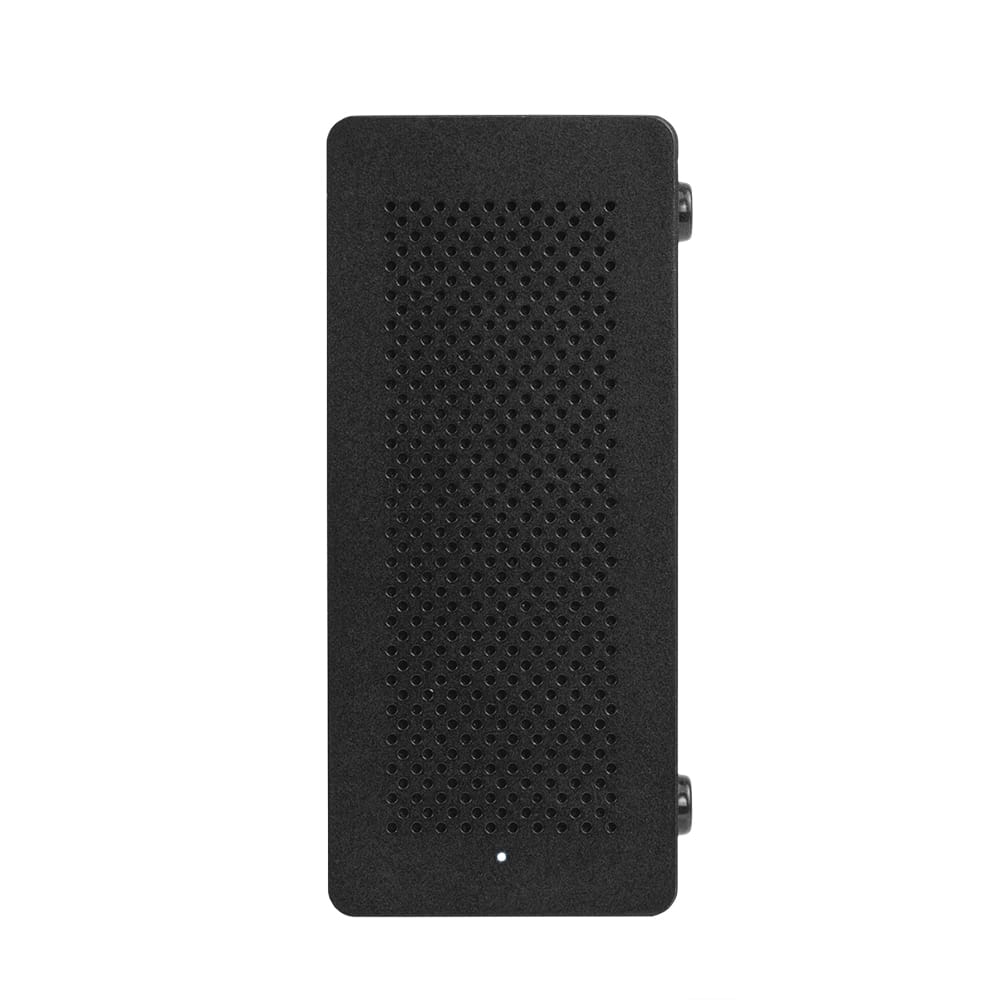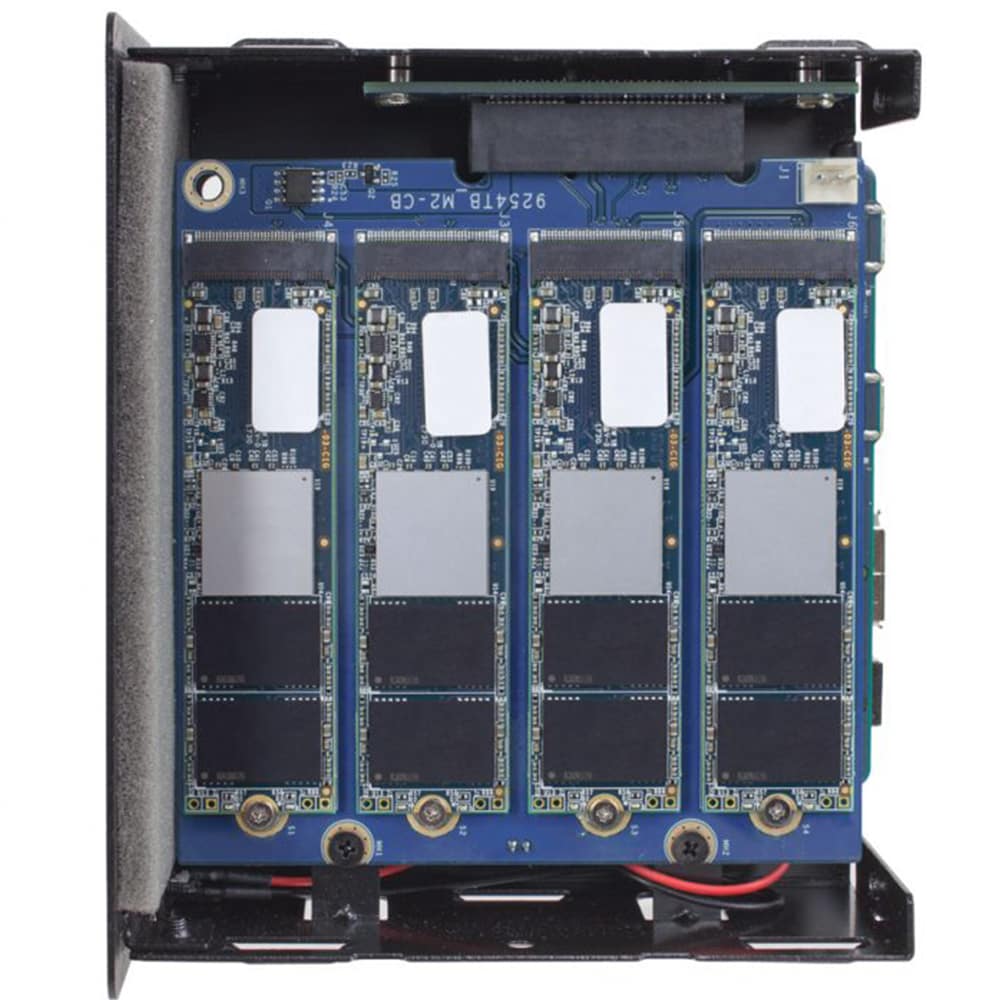 Game-Changing NVMe SSD Performance
NVMe (Non-Volatile Memory Express) is a hyper-efficient communications interface protocol built from the ground up to properly take advantage of SSD technology and high-performance connection buses like PCIe. The result is exponentially faster and efficient SSD storage, and the OWC Express 4M2 has room for four NVMe SSDs.

SoftRAID: Conventional Wisdom Turned on its Head
It's often thought that hardware RAID is better than software RAID, but we've proven that not to be true. We've combined the performance and capacity of the OWC Express 4M2 with our robust SoftRAID engine. Experience breathtaking performance, multi-enclosure capability, advanced drive monitoring, e-notifications and downloadable updates. Once you do, you'll see how hardware RAID doesn't even come close.
The Better and Simpler Way to RAID
We created SoftRAID to make it easier to maintain mission-critical workflows to save you time and money. With SoftRAID you no longer need to be locked into expensive hardware RAID technology that's not upgradeable or expandable. SoftRAID future-proofs your data and storage with software updates that provide cutting edge capabilities and robust stability.
SoftRAID takes advantage of your computer's processor versus the slow processors found in most hardware RAID enclosures. The result is a fast and flexible RAID array with no discernible impact to your favorite apps. SoftRAID drive certification tells you whether or not a drive is up to the task before creating a RAID array. Advanced monitoring tools work behind the scenes to keep your RAID running in tip-top shape.
SoftRAID protects your data by alerting you to issues before anything happens, ensuring you're protected when you're on a critical deadline. SoftRAID rebuilds your RAID in a fraction of the time it would take a hardware RAID to complete the same task, sparing you from significant downtime when you're ready to upgrade or replace a drive.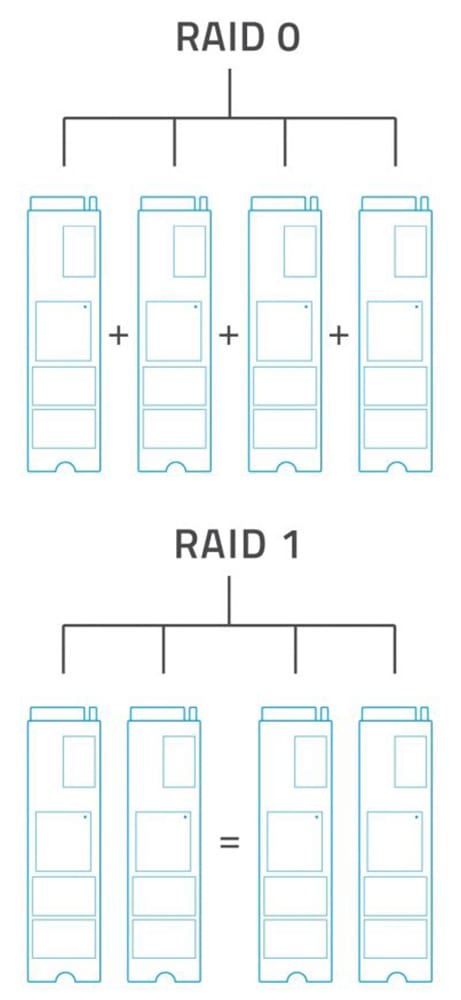 Multi-Drive Flexibility
Configure and reconfigure your storage however you need by combining multiple OWC Express 4M2 drives together on Mac and Windows. With OWC SoftRAID (included with Express 4M2) you get the amazing capability to RAID across multiple drive enclosures. On a Windows PC, add more Express 4M2 drives to your storage pool using Windows Storage Spaces.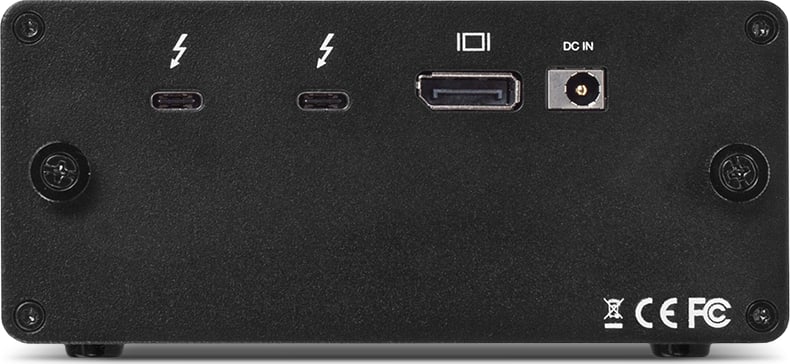 DisplayPort
Display connection flexibility is yours with a convenient DisplayPort located right on the rear of the OWC Express 4M2. There's no need to worry about adapters or extra long cables. Just plug your display directly into the Express 4M2 and you're all set.

OWC Thunderbolt 3 Cable Included
OWC Express 4M2 comes with an OWC Thunderbolt 3 cable which is Thunderbolt certified for Mac and Windows, with additional 0.5 meter to 2.0 meter lengths available separately.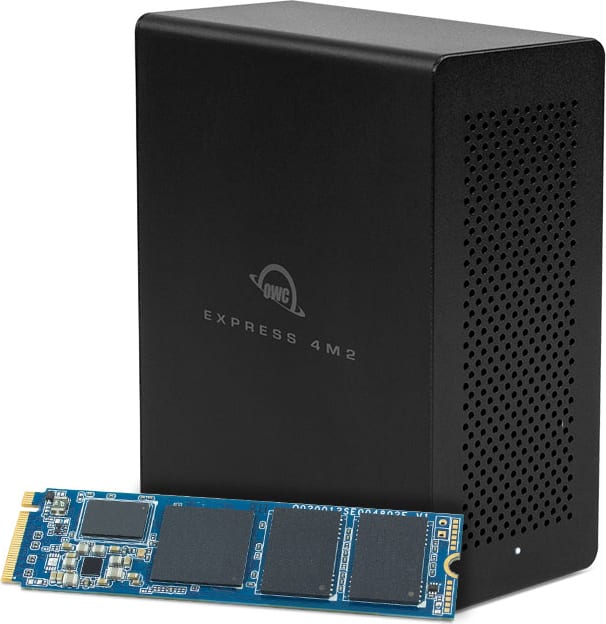 OWC Aura P12 Pro
The perfect match for Express 4M2
Combine Express 4M2 with its perfect performance match – fast OWC Aura P12 Pro NVMe M.2 SSDs. Build your own ultra-fast portable Thunderbolt 3 RAID ready external SSD, and enjoy incredible transfer speeds, capacity, and OWC reliability!

Connect to Thunderbolt and Thunderbolt 2 Systems with Ease
The OWC Express 4M2 is fully backward compatible with Thunderbolt and Thunderbolt 2. Utilize Thunderbolt 3 performance to work at full speed, and step back to Thunderbolt or Thunderbolt 2 whenever connectivity compatibility is needed for your workflow. Add a Thunderbolt 3 (USB-C) to Thunderbolt 2 Adapter along with the appropriate Thunderbolt cable, and you're all set.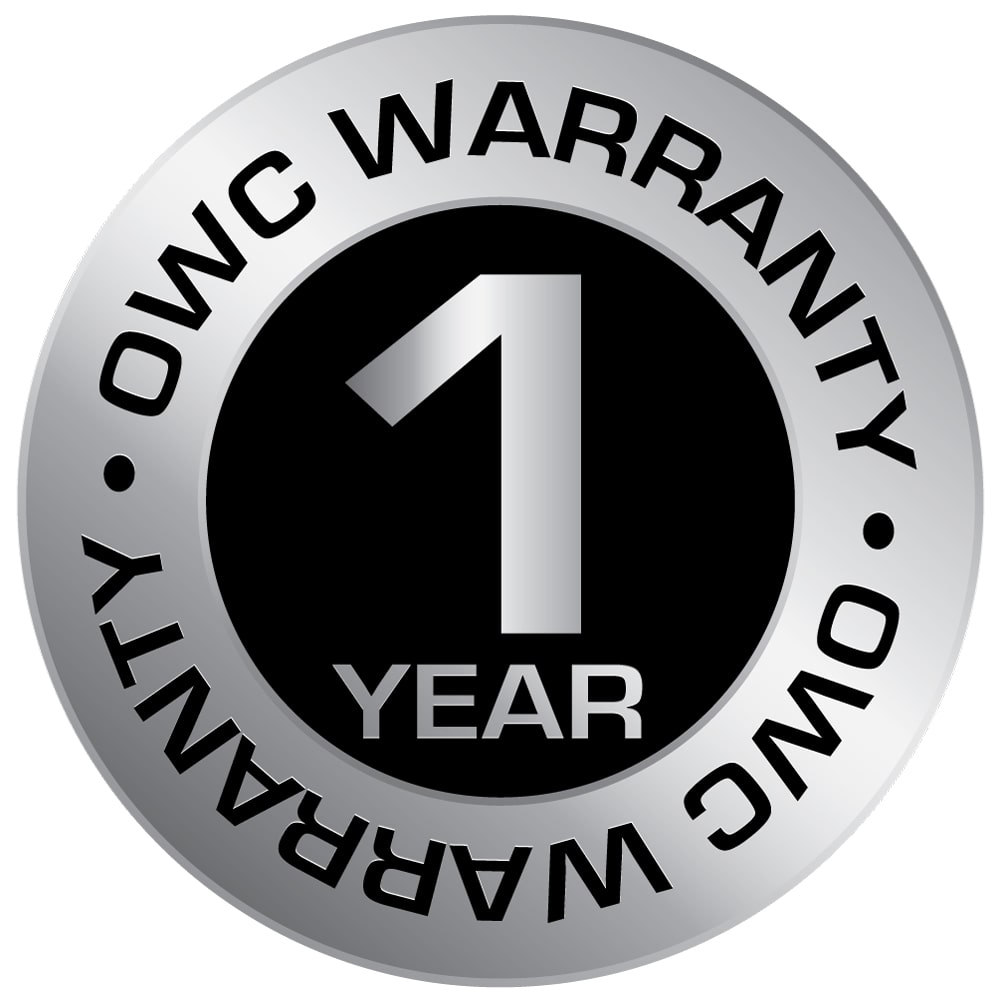 OWC, Trusted by Pros & Enthusiasts the World Over
We build our hardware to the highest standards of reliability and performance. Because 100% reliability is always the goal, we rigorously quality test and back our hardware with a 1 Year OWC Limited Warranty and award-winning customer support.
Learn More