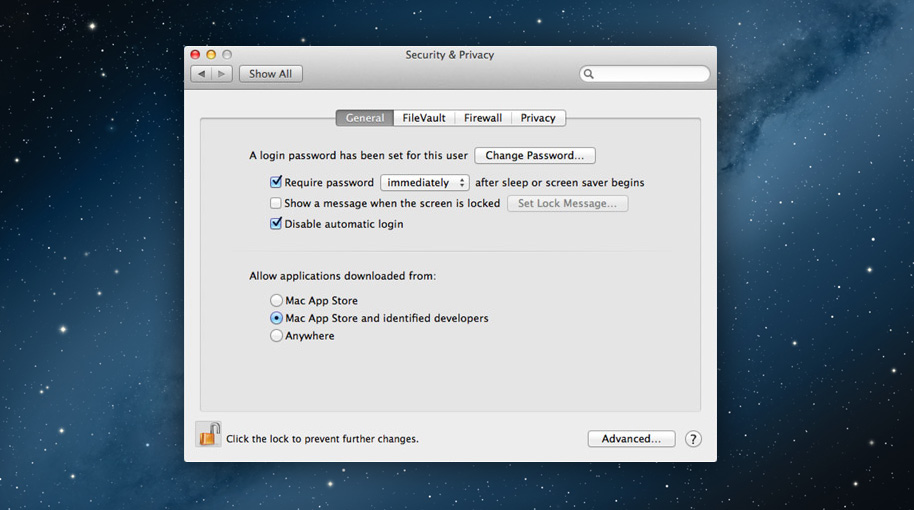 Gatekeeper
GateKeeper is like a guardian for your Mac. It has the authority to allow or deny applications from being installed and run. The goal is to keep your Mac free of unknown and potentially malicious software.
There are three settings for GateKeeper to allow applications downloaded from:
Mac App Store

Allows installation of applications only from the Mac App Store

Mac App Store and identified developers

Allows installation of applications from the Mac App Store and developers that have valid Developer IDs
This is the default setting. It provides the most flexibility

Anywhere

Allows any application from anywhere to be installed. This is the most dangerous setting, as it does not offer any protection.
To see the current GateKeeper settings and make adjustments:
Click on the Apple menu in the upper right-hand corner of the screen
Click on System Preferences
Click on Security & Privacy
GateKeeper is located in the General tab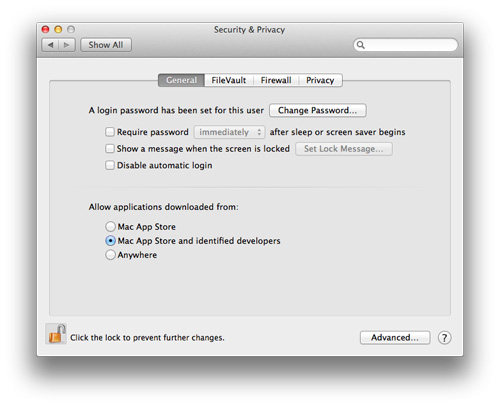 Here is GateKeeper in action when opening a program that is not from the Mac App Store and is not from an identified developer: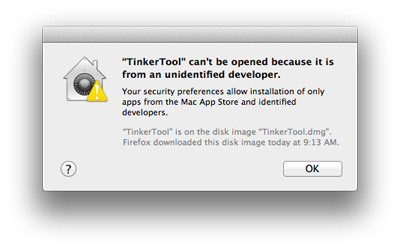 If you know where the application is from and are certain the application is not malicious, you can right-click, two-finger click, or control-click on the application and select "Open" to allow the program to run. You only need to do this the very first time the application is run; GateKeeper will remember that you OK'd it being opened.
OWC Security Note:
We recommend never turning off Gatekeeper. The simple right-click feature fixes the issue on a program-by-program basis while keeping Gatekeeper on.
The information contained on the OWC OS Update Guide page is provided as a resource and does not include any implicit or implied guarantee. Usage environments are all slightly different and results may vary from what has been reported. Every effort is made to provide the most accurate information possible, however it is upon your sole judgment as to whether the information and content is applicable to your situation.
By use of this page, you agree to indemnify and hold Other World Computing, Inc., its parent operating company, New Concepts Development Corporation, and its officers, directors, shareholders, predecessors, successors in interest, employees, agents, subsidiaries and affiliates, harmless from any demands, loss, liability, claims or expenses (including attorneys' fees), made against OWC by any third party due to or arising out of or in connection with your use of the Site.

YOU FURTHER AGREE THAT THE SITE AND ITS CONTENT, INCLUDING, BUT NOT LIMITED TO THE OWC OS UPDATE GUIDE PAGE, ARE DELIVERED ON AN "AS-IS" AND "AS-AVAILABLE" BASIS. ALL INFORMATION PROVIDED ON THE SITE IS SUBJECT TO CHANGE WITHOUT NOTICE. OWC DISCLAIMS ALL WARRANTIES, EXPRESS OR IMPLIED, INCLUDING ANY WARRANTIES OF ACCURACY, NON-INFRINGEMENT, MERCHANTABILITY AND FITNESS FOR A PARTICULAR PURPOSE. OWC DISCLAIMS ANY AND ALL LIABILITY FOR THE ACTS, OMISSIONS AND CONDUCT OF ANY THIRD PARTIES IN CONNECTION WITH OR RELATED TO YOUR USE OF THE SITE AND/OR ANY OWC SERVICES. YOU ASSUME TOTAL RESPONSIBILITY FOR YOUR USE OF THE SITE AND ANY LINKED SITES. YOUR SOLE REMEDY AGAINST OWC FOR DISSATISFACTION WITH THE SITE OR ANY CONTENT IS TO STOP USING THE SITE OR ANY SUCH CONTENT.

For the full Site Terms, please visit: http://eshop.macsales.com/service/terms