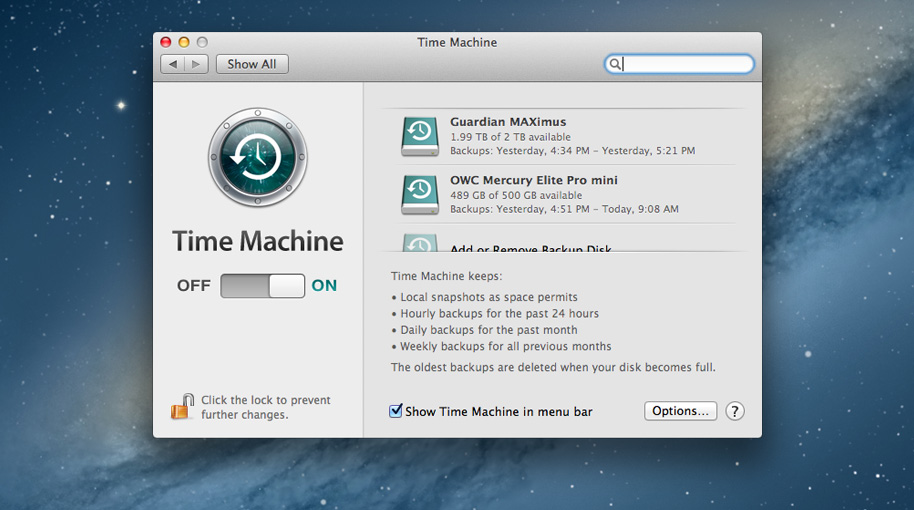 Time Machine
Time Machine may look the same as it did before but it has a new feature that is fantastic. In Mac OS X Mountain Lion you are able to set-up multiple Time Machine backup destinations. Time Machine will rotate the backup destinations to ensure that each backup destination is used regularly.
Here is an example scenario where this would be very handy:
Lets say you have a MacBook Pro as your main workstation. You have a desktop-sized Time Machine destination, such as the
NewerTech Guardian Maximus
, on your desk at work. You work from home often but the Guardian Maximus stays on your desk at work. Each night you are playing a game of chance with your data since your only backup device is at work.
You could ensure your data backup sanity by using a portable drive, such as the
OWC Elite Pro mini
, at home or on business trips. Time Machine will automatically backup to the Guardian Maximus at work and the Elite Pro mini at home or on the road.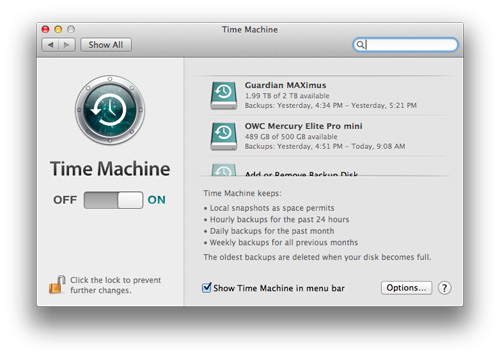 The information contained on the OWC OS Update Guide page is provided as a resource and does not include any implicit or implied guarantee. Usage environments are all slightly different and results may vary from what has been reported. Every effort is made to provide the most accurate information possible, however it is upon your sole judgment as to whether the information and content is applicable to your situation.
By use of this page, you agree to indemnify and hold Other World Computing, Inc., its parent operating company, New Concepts Development Corporation, and its officers, directors, shareholders, predecessors, successors in interest, employees, agents, subsidiaries and affiliates, harmless from any demands, loss, liability, claims or expenses (including attorneys' fees), made against OWC by any third party due to or arising out of or in connection with your use of the Site.

YOU FURTHER AGREE THAT THE SITE AND ITS CONTENT, INCLUDING, BUT NOT LIMITED TO THE OWC OS UPDATE GUIDE PAGE, ARE DELIVERED ON AN "AS-IS" AND "AS-AVAILABLE" BASIS. ALL INFORMATION PROVIDED ON THE SITE IS SUBJECT TO CHANGE WITHOUT NOTICE. OWC DISCLAIMS ALL WARRANTIES, EXPRESS OR IMPLIED, INCLUDING ANY WARRANTIES OF ACCURACY, NON-INFRINGEMENT, MERCHANTABILITY AND FITNESS FOR A PARTICULAR PURPOSE. OWC DISCLAIMS ANY AND ALL LIABILITY FOR THE ACTS, OMISSIONS AND CONDUCT OF ANY THIRD PARTIES IN CONNECTION WITH OR RELATED TO YOUR USE OF THE SITE AND/OR ANY OWC SERVICES. YOU ASSUME TOTAL RESPONSIBILITY FOR YOUR USE OF THE SITE AND ANY LINKED SITES. YOUR SOLE REMEDY AGAINST OWC FOR DISSATISFACTION WITH THE SITE OR ANY CONTENT IS TO STOP USING THE SITE OR ANY SUCH CONTENT.

For the full Site Terms, please visit: http://eshop.macsales.com/service/terms