AKiTiO
Node Titan


eGPU Enclosure with Radeon Pro W5700 Workstation GPU Bundle
Plug & Play Thunderbolt 3 External Radeon Pro W5700 Workstation GPU (eGPU) for video editors and creative professionals
Graphics. Exponentially Faster.
Perform rapidly smooth video renders and playback, run VR, AR, and animation apps, and use VR headsets with notebook and other slotless computers.
Simply plug-in the AKiTiO Node Titan and transform your MacBook Pro, MacBook Air, Mac mini, iMac, and any Thunderbolt 3 equipped PC into a high-end graphics processing workstation.
WORKSTATION OPTIMIZED UP TO 6 DISPLAYS
5x MiniDP ports and 1x VR-ready USB-C display connection
UP TO 18x FASTER EFFECTS AND RENDERS
Save time and money with accelerated effects, renders, and computation in pro apps and games
Connect to a World of Stunning Visuals
The AKiTiO Node Titan delivers desktop-class gaming, professional video editing, and graphics performance to notebook, all-in-one, and small form factor computers like the Mac mini, iMac, and NUC lacking a PCIe expansion slot. Just connect this high-performance eGPU solution to a Thunderbolt 3-equipped computer to utilize the power of the Radeon Pro W5700.
Explore a Different Reality
Without an eGPU like Node Titan and the WS5700 graphics card, easily exploring new dimensions with an Oculus Rift or HTC Vive VR headset on a standard notebook was pure fantasy. With the WS5700's built-in USB-C display connection, you can easily work with VR, AR, and animation apps all without compromise or the big cost of buying/building a new machine. You can also connect up to 5 additional external mini DisplayPort equipped displays for extra workspace.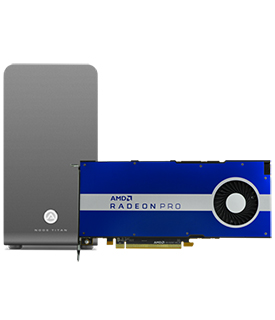 Highlights
Transforms: gives Mac notebooks, Mac mini, iMac, NUC and other slotless machines high-performance gaming, video editing, and graphics functionality
Immediate ROI: up to 18x the Metal performance to reduce effects and render times
Workstation optimized: 5x MiniDP ports and 1x VR-ready USB-C display connection
3D realism: enables effective use of VR headsets
Toolless access: thumb screws for easy card installation
Grab n' go: retractable handle for portability
Power up: up to 85W for notebook charging
The eGPU Solution for Everyone
At OWC, we believe in pairing people with the precise solution for their needs so they can experience the full performance potential from the Node Titan's graphics power:
VIDEO EDITORS
Experience desktop-class performance from your MacBook Pro in editing suites like DaVinci Resolve and Final Cut Pro X.
PC GAMERS
Can use a normal sized notebook and ditch the heavier weight and bulkiness of gaming notebooks.
BUSINESS PROS
Ditch the desktop and enhance your notebook with gaming, computational modeling, and extreme graphics capabilities abilities too.
High-End Video Editing. Now for Notebooks.
If you've dreamed of a portable editing system, welcome to a new workflow reality. The Node Titan turns internally limited graphics editing notebook computers like the MacBook Pro into a powerful editing machine. No more system performance slowing to a crawl with even basic effects. Knock out effects-laden timelines and high-quality exports in dramatic fashion with an immediate time-saving ROI.
Accelerate Pro Apps and Games
A mobile work and entertainment game-changer, Node Titan easily accelerates 3D graphics-based pro apps, games, and VR. In macOS 10.14 and later, turn on "Prefer external GPU". On Windows 10, adjust display graphics settings in your app/game to "High performance". That's all it takes to experience vastly improved lighting, richly detailed textures, and breathtaking visual effects.
Grab n' Go Graphics
Gaming or editing video on-the-go has never been easier. The Node Titan features a commercial quality electrogalvanized steel case with a retractable carrying handle to safely and easily take powerful graphics capabilities along with your notebook wherever you roam.
Fully Upgradeable and Future Ready
Unlike many eGPUs that are a one-size fits all solution just for current graphics need, the Node Titan gives you the immediate power of the Radeon Pro W5700 Workstation plus the power of future upgradability. The biggest performance advancements over the past five years have been with GPUs, not processors. The Node Titan keeps you on graphics leading edge with ease and economy.
Easily Handles Power-Hungry Cards
The Node Titan lets you play and create without limits. There's a class-leading 650W power supply that can handle the most power-hungry cards. Speaking of handling, thanks to Node Titan's spacious design, you can even use double-wide full-length/full-height cards.
Product Notes
Up to 18x faster effects and renders based on GeekBench Metal score of 2192 with the built-in Intel HD Graphics 630 GPU of a 2017 15-inch MacBook Pro (14,3) with 2.8GHz Intel Core i7 processor and 16GB memory. GeekBench Metal score of 39401 on same MacBook Pro connected via Thunderbolt 3 to an AKiTiO Node Titan eGPU with an AMD Radeon Pro W5700 8GB graphics card.
AKiTiO Node Titan Specifications:
AKiTiO Part Number
Mac OS Compatibility
macOS 10.13 High Sierra
macOS 10.14 Mojave
macOS 10.15 Catalina
PC OS Compatibility
Windows 10 64-bit Edition
Windows Server 2016
Other Requirements
Mac or PC with a Thunderbolt 3 port
Mac: Requires macOS 10.13.4 or later
PC: Requires Windows 10 64-bit v1709 or later
OS compatibility will vary by installed GPU
PCIe Cards Supported
One full-length, full-height, and double-width PCIe Card
Internal Connectivity
Dual 8-pin auxiliary power
External Connectivity
Housing Color
Housing Material
Chipset
Thunderbolt 3: Intel JHL7440
RoHS Compliant
Certifications
Expansion Slots
Supports up to PCIe x16 mechanical, x4 electrical
Power Supply
AC Input
100-240V, 50-60Hz, 10.0A (@100V) 5.0A (@ 220V)
DC Output
Wattage
Dimensions
Height: 26.6 cm (10.5 in)
Width: 13.5 cm (5.3 in)
Length: 35.7 cm (14.1 in)
Weight
Notes
Supports up to a full-length (max 12.59 in / 32 cm), full-height (max 6.69 in / 17 cm) and double-width (max 2.5 slots) card.
PCIe (x16 mechanical) slot provides a maximum of 75W but additional power can be supplied to the PCIe card by connecting a pair of 8-pin (6+2) PCIe connectors (max 500W).
The PSU fan of the 650W power supply spins up once at startup to indicate that the power has been turned on but afterwards, it only turns on when needed to cool down the power supply.
The host computer must support external graphics cards (eGPUs).
Not supported on Boot Camp
Sapphire Radeon Pro W5700 Workstation Product Specifications:
AMD Part Number
Mac OS Compatibility
PC OS Compatibility
Windows 10 64-bit Edition
Other OS Compatibility
Drivers Available For Linux X86_64 Systems But Not Tested Or Supported At This Time.
Other Requirements
Requires macOS 10.15.4 or later.
For Windows, PCIe 3.0 or later PC is required with available x16 lane graphics slot.
For computer hosts, power supply with 650W or more recommended (600W minimum).
Chipset
RAM
Card Type
Card Form Factor
Card Slot Requirements
External Connectivity
(5) Mini-DisplayPort 1.4
(1) USB-C
Resolution
7680 x 4320
3840 x 2160
1920 x 1080
Dimensions
Height: 13.5 cm (5.3 in)
Width: 4.7 cm (1.9 in)
Length: 26.7 cm (10.5 in)
Notes
Game Clock is the expected GPU clock when running typical gaming applications, set to typical TGP(Total Graphics Power). Actual individual game clock results may vary.
Manufacturer provided specifications for AKiTiO p/n NPTNT3W5700
Includes
(1) Node Titan
(1) Radeon Pro W5700 Workstation graphics card
(1) Thunderbolt 3 cable
(1) Quick start guide
Videos