Parallels
1 Year License | Digital Download
Parallels Desktop® 12 for Mac is the #1-selling, fastest, easiest, and most powerful solution for running Windows® applications on a Mac—without rebooting.
The Mac you Love. The Windows you Need.
Easily switch between Mac and Windows apps, launch Windows apps from the Mac Dock, and use Mac gestures in your Windows apps, and copy & paste or drag & drop between Windows and Mac apps. Powerful performance lets you run common Windows applications, like Internet Explorer® and Microsoft Office®, and the most demanding graphical apps, such as Visio® or Adobe Photoshop® without compromise. You can even extend Microsoft Cortana®, your virtual personal assistant, to your Mac.
Seamless Integration
If you're new to Mac, you can keep the familiar Windows experience, including using your desktop in full screen.
Versatile for Home, Work and School
Leverage Google Drive, Dropbox, OneDrive, or other cloud services, seamlessly between Windows and Mac. Parallels Desktop 12 is ready for macOS® Sierra (10.12), and supports a variety of operating systems, including Windows 10, Ubuntu and other Linux distributions, Chrome, and older versions of Windows.
Getting started is easy
In the Virtual Machine Wizard, select your primary usage scenario and Parallels Desktop will optimize performance for you. Travel Mode will optimize settings to extend battery life, as well. Now includes Parallels Toolbox, making it easy to perform dozens of essential daily tasks on your Mac—take screenshots, secure private files with password, convert Facebook or YouTube face videos, and much more. Parallels Desktop—the #1 choice of Mac users for over 10 years.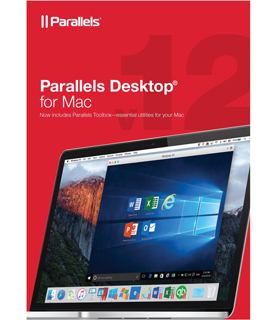 New in Desktop 12
Optomized for macOS Sierra.
Open Windows documents faster!
Best performance ever - up to 50% faster and 15% longer battery life.
Improved Battery Life - New "Travel Mode" temporarily shuts down resource intensive services in order to extend battery life while away from a power source.
Always on Cortana®- Use Cortana, the Microsoft speech enabled virtual assistant, even when Windows 10 is not the forefront application.
Mac OS X Yosemite, El Capitan, & MacOS Sierra Support
Run Windows applications like they were made for Mac. Experience El Capitan intuitive features like Dictionary, Dictation, Launchpad and Mission Control in your Windows applications
Fast performance
Work with graphic and resource hungry applications with lightning speed or play your favorite PC game on Mac.
A must-have in the Mac-based business
An office full of Macs can still run the business-critical Windows applications that you, your customers and your partners need.
Need More than Windows?
Run Google Chrome, Linux and many other operating systems simultaneously. With Parallels Desktop 12 for Mac, you've made the leap to anywhere, anytime, any platform computing. Unite your Mac and Windows world into one harmonious universe.
System Requirements
Minimum System Requirements (Mac)
A Mac computer with an Intel Core 2 Duo, Core i3, Core i5, Core i7, Intel Core M or Xeon processor (Core Solo and Core Duo processors are no longer supported)
4 GB of memory (8 GB recommended)
850 MB of disk space on the boot volume (Macintosh HD) for Parallels Desktop installation
Additional disk space for virtual machines (varies on operating system installed)
Internet connection
macOS Sierra 10.12, OS X El Capitan 10.11.5, OS X Yosemite 10.10.5, or newer
One of the following:
A Windows installation disc, or other installation media for the operating systems you want to use alongside Mac OS X
An Internet connection to download and install freely available operating system such as Ubuntu or Google Chrome.
Notes
If you're using OS X Yoesmite or later, you can setup a second copy of OS X to be used as a guest operating system alongside your main system, without having to purchase or download another copy of OS X.
Manufacturer provided specifications for Parallels p/n PDFM12-SUB-1Y-NA