MacSales.com & OWC make it easy to replace, service, or add a drive to your iMac.
Get more capacity and performance with upgrade options custom designed for iMac.
Backed by award winning FREE Technical Support

Detailed step by step video guides that make replacement / installation of your iMac drive(s) a breeze!
OWC HDD Upgrade/Replacement Kits for iMac
Complete HDD Upgrade Kits for Apple iMac 2009 – 2019. Install up to a 16TB Hard Drive.
Thanks to OWC's innovative drive upgrade kit, you can add up to a 16TB hard drive to your iMac. OWC's iMac Drive Upgrade Kit is the only solution on the market to offer full compatibility with the digital thermal reporting in Apple's SMC.

Unlike Prior Generations, Apple iMacs from late 2009 to 2019 utilize digital reporting and even custom firmware for SMC drive temperature reporting. OWC's Exclusive HDD Kits include our custom digital monitor that 'talks Apple SMC' and maintains proper temperature reporting and Apple Diagnostic compatibility allowing you to upgrade an existing 3.5" HDD with any 3.5" SATA HDD of your choice up to 16TB.
Each Upgrade Kit is designed specifically for iMac, requires no software hacks and ensures compatibility with Apple's built-in diagnostic processes. Without the OWC in-line thermal sensor, included in the kit, your system can't accurately manage cooling, and the fan will run all the time. With the sensor, your new drive works with the SMC, just like a factory installation.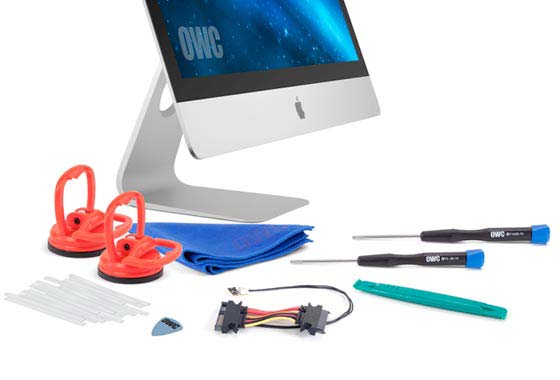 for 2012 – 2019 iMac 27"
models

Model ID: iMac19,1; iMac18,3; iMac17,1; iMac15,1; iMac14,2; iMac13,2
How to find your Model ID
Complete Kit
As shown with tools & accessories
Only $39.99


Have your own Tools?
Solution + Screen Adhesion

Only $34.99


OWC Internal SSD Add-On Kits for iMac
Complete SSD upgrade kits for Apple iMac 2010 - 2012. Install an internal SSD into a system currently equipped with hard drive only.